Breaking News From France: My Hidden Beers Discovered!
Six containers of lager remain hidden in remote crevices and crannies in the French countryside. If you wish to find them, read these instructions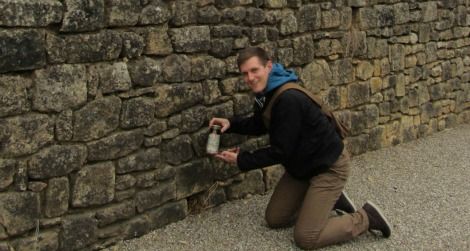 For almost six months, they resided in a cramped dungeon in southern France. The summer sun blazed outside, hoards of tourists unwittingly came and went from the region of the Périgord, and the two cans of strong, cheap lager endured their days of isolation in the damp cobblestone cavity where I'd left them last May. Could beers think and feel loneliness, the two might have cried, "Why have you forsaken me?" But, in fact, someone in the world was thinking of them, and one day in early November a man stuck his hand into the cobwebbed cavity in the base of a cemetery retaining wall in the riverside village of Grolejac, and pulled it out again with a half-liter tallboy of malt beverage, namely Gayant La Démon.
Edward Heseltine, a Briton living in the Dordogne department, which includes the Périgord, also read the note I had affixed to the can and, shortly after drinking the cheap yet stimulating beverage, sent me an e-mail about his discovery—and just when I was beginning to think that readers of this blog weren't interested in this game of go-to-France-and-find-the-beer. But people, it seems, are catching on. Just days after Heseltine contacted me, a traveler named Andrew Quinn sent me a similar e-mail describing how he'd found another of the multiple beers I stashed last spring in remote locations throughout from the Dordogne River Valley, as far west as the Bordeaux region and as far south as the high Pyrenees. Quinn, an American documentary filmmaker from southern California, was traveling in the Dordogne with his wife, Hilary, in September when they made a side excursion, followed the instructions that I posted on this blog in May and parked their rental car at the described mile marker. They walked 100 yards along a stone wall paralleling the Vezere River, a Dordogne tributary, before Quinn dropped to his knees. His hand went went into a drainage hole, and it came out again with a can of beer. Quinn was thrilled, he told me later by phone, "like a little kid" on a successful treasure hunt.
Quinn also picked up on the game's subtler, deeper significance that had inspired me last spring.
"It was neat to have this interactive experience with another traveler who had been there before," Quinn said. "There's so much history in that area of things that humans have left behind, whether hand prints or dwellings or cave paintings, and I appreciated that this was sort of the same thing—that this beer was something that another person had left behind."
Speaking of leaving things behind, Heseltine took only one of the two beers he discovered in Grolejac, leaving the other for anyone else who may like the sound of a cheap beer at the end of a treasure hunt in the beautiful Périgord. And Quinn, too, reciprocated, going back to the car and taking inventory of his available selection of libations: They had an expensive bottle of wine and a €6 bottle of Normandy cider. The cider went into the hole, and the treasure hunt in the Dordogne remains a live game.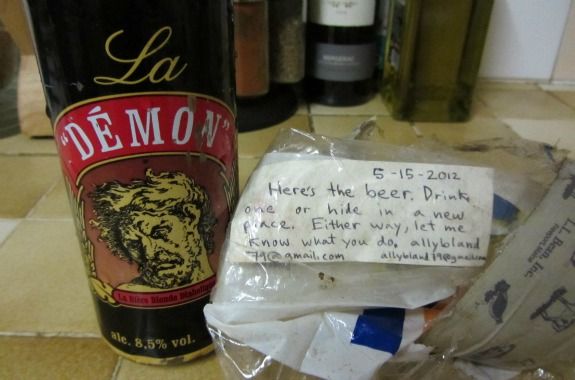 All told, and to the best of my knowledge, six containers of alcoholic beverage remain hidden in remote crevices and crannies in rural France. If you wish to find them, read these instructions pulled from prior Off the Road posts: "I left a bottle of something extra special just 2.2 kilometers from the top , under a table-like rock on the left side of the road , 200 meters past a roadside auberge, and just 20 meters past a metal grate over the road. E-mail me when you find it." And: "I stashed a beer halfway between the two passes in the cliff. It's a Kellegen blond special, 8.6 percent alcohol, stuffed into a hole in the left end of the cobblestone retaining wall. On the wall is spray-painted a Basque freedom message, 'LIBERTAT.' You can't miss it." And: "There's a beer on top . If you're coming up from the east side, you'll see a concrete bunker-like structure on the right side of the highway. It'll just take you a second; jump off the bike, reach under the ground-level ledge (you'll see what I mean), and find the beer. I left it directly beneath the "L" in the spray-painted political message about Basque freedom." And: "In Sauternes, on road D116 E1, in the base of the cobblestone rock wall facing the entrance to Chateau Lafaurie-Peyragney, a can of beer now dwells in a hole just 40 meters west of the four-way intersection. Let me know when you find it. The beer's name starts with an "M," is as strong as a wine but a whole lot cheaper than Chateau d'Yquem's latest release."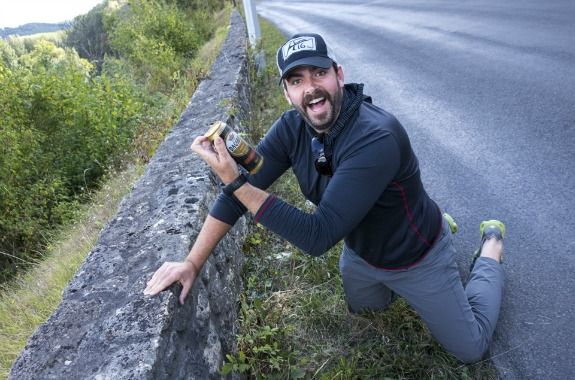 The ultimate experience in the sport of lost beer recovery may be the 2010 excavation of several unopened bottles from a Baltic Sea shipwreck. The vessel had gone down in the early 1800s and took to its frigid grave a shipment of sparkling wine and beer. The champagne was reported to be worth tens of thousands of Euros per bottle, while the beer proved later to be contaminated by seawater and, alas, undrinkable. Which makes me wonder about my own beer caches. Specifically, I wonder if the winter freeze could shatter the bottles, or burst the cans—especially those in the high Pyrenees. But perhaps the safest of the bunch will be that particularly strong ogre of a malt beverage named the Maximator that currently resides, as far as I am aware, in the relatively mild wine region of Sauternes. Still, I should hope the thrill of finding them will be enough to encourage you to go looking.
Not a beer fan? Then consider another prize I've more recently hidden away: A bottle of homemade maple syrup mead that I brewed and bottled in 2008. It now occupies a cozy nook in Marin County, inside a pedestrian-accessible tunnel less than a mile north of the Golden Gate Bridge. Intrigued? Here is another hint to take you toward the prize: Looking south through the tunnel, you will see downtown San Francisco. E-mail me when you find the mead—and be gentle if you decide to critique my home-brew.
Want to contribute to the game? I invite anyone, anywhere, to stash a beer in a secret but accessible public place. Please provide written directions in the comments box below, and I will publish them in a new post. Additionally, please e-mail a photo of the beer going into its hiding place to [email protected].