The Best National Parks for Wildlife Spotting
Plan your national park visits around prime viewing hours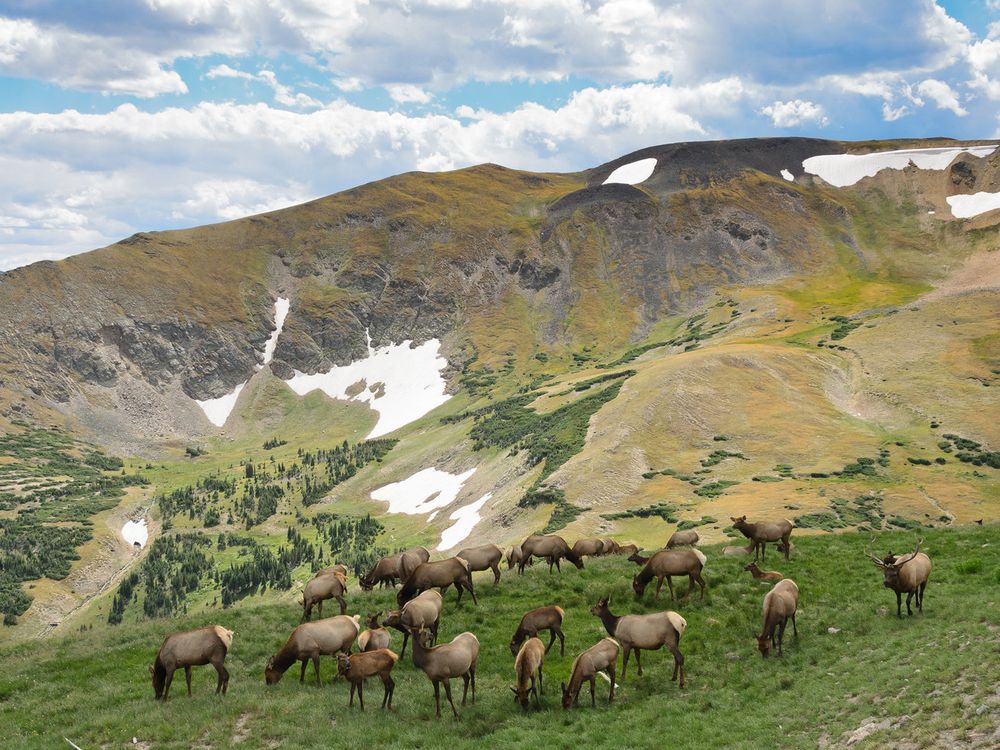 As an 11-year-old child, Bob Howells—whose only wildlife experience at that point had been spotting chipmunks during picnics and camping trips—prepared for his first trip to a national park by reading books, appointing himself as his family's tour guide, and mentally staking out the best places to see animals.
But nothing quite prepared him for the abundant fauna he encountered at Yellowstone. At the park, Howells saw bison, red foxes, trumpeter swans, and even a mischievous black bear that passed 10 feet away from his family's station wagon.
"It blew me away," recalls Howells, who's now a wildlife aficionado (most recently, he contributed to National Geographic's The 10 Best of Everything National Parks book). "It's quite something to graduate from chipmunks to black bears."
Because of their size and untouched landscapes, our national parks are premier places to spot wildlife. Ever since 1872, when the U.S. government designated Yellowstone as the first American national park, these vast swaths of pristine nature have provided protected habitats for creatures to live in—and for visitors to enjoy. Today, our national parkland comprises 52 million acres and (according to the National Park Service) is home to some 5,399 species of vertebrates.
Most tourists are interested in seeing large, majestic animals—like moose (commonly spotted in Alaska's Denali National Park) and grizzlies (especially populous in Montana's Glacier National Park). But spying smaller species can be just as rewarding. "My favorite animals are the least appreciated ones," says Jared Gricoskie of Yellow Wood Guiding, a tour company based in the nearby town of Estes Park that specializes in Rocky Mountain National Park. Gricoskie especially loves pikas, furry mouselike creatures that scurry along alpine taluses. "What's most endearing is they bark...it's the cutest little thing," he says.
Whatever wildlife you plan to see, remember that national parks aren't zoos, so there are guidelines to follow. Generally, you should keep at least 100 yards away from bears and wolves, and 25 yards away from other large animals. To catch a glimpse, consult literature and park rangers for the best spots, and use telephoto lenses, binoculars, or spotting scopes. Plan your park visits around prime viewing hours—dawn, dusk, and after dark.
Oh, and remember to feel grateful for the spectacular creatures living right on our home soil. As Bob Howells puts it, "For variety and preservation, the national parks are the envy of the world."
Yellowstone National Park, WY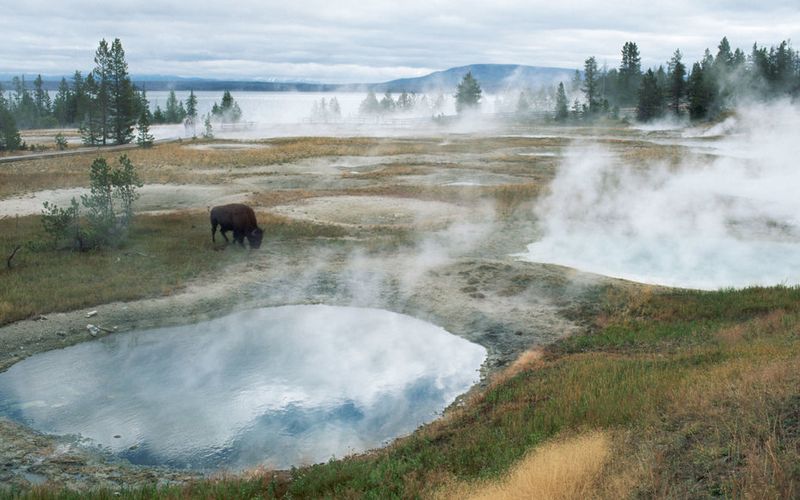 Known as the American Serengeti because of its sprawling landscape and rich wildlife, the 2.2-million acre Yellowstone contains 67 different mammal species—the largest concentration in the lower 48 states. Among the most commonly sighted animals are bison, elk, grizzly and black bears, mule deer, bighorn sheep, coyotes, wolverines, mountain lions, bald eagles, and pronghorn (antelope-like creatures that can run up to 60 miles per hour). Gray wolves were reintroduced in 1995, after a near 70-year absence.
Viewing Tip: Hayden Valley is the place to see bison, elk, and grizzlies; Lamar Valley is the best for spotting wolves.
Everglades National Park, FL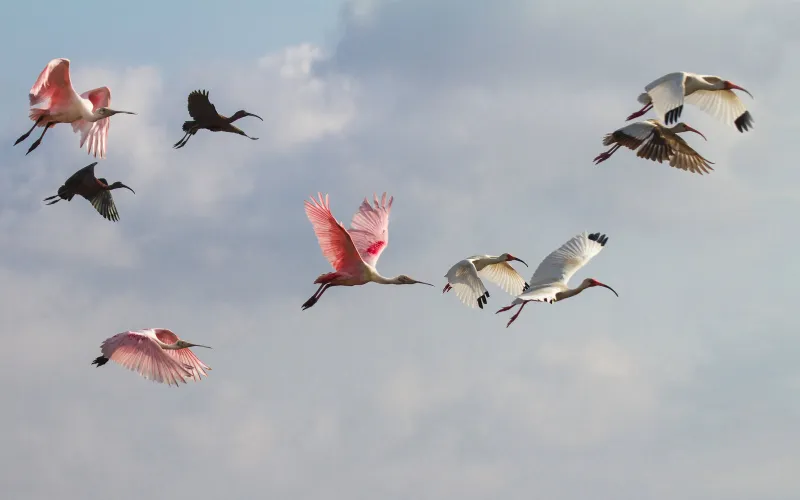 The largest subtropical wilderness in the country (some 1.5 million acres) lies in the southern tip of Florida, where freshwater, seawater, and terrestrial ecosystems collide. It's the only place in the country to spot crocodiles, and the most reliable place stateside to see greater flamingoes. Other animals living in the marshy habitat include alligators; wading birds such as egrets, ibises, wood storks, and herons; and bobcats, which forage in salt-tolerant mangrove forests. Harder to see, but still in residence, are endangered species like manatees and rare Florida panthers.
Viewing Tip: Although you can explore the park by strolling on boardwalks, you'll get much closer to wildlife by boat, canoe, or kayak.
Glacier National Park, MT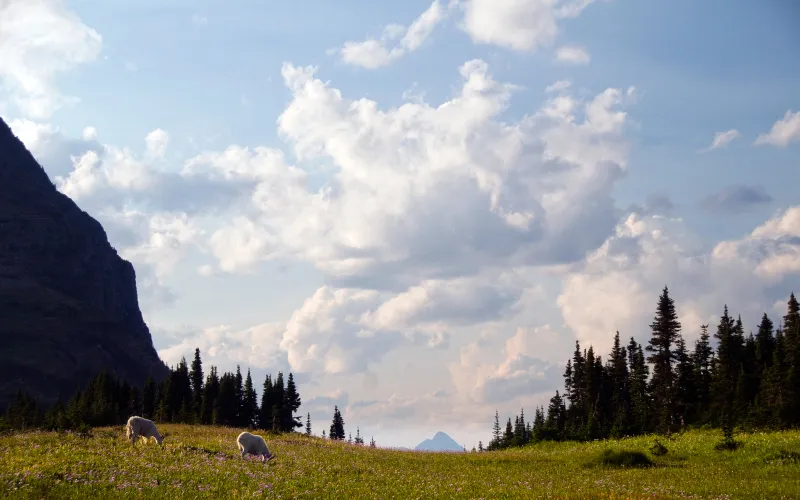 Known to Blackfeet Native Americans as the Backbone of the World, this park's million acres encompass glacier-carved mountains, approximately 200 lakes, and pristine forests. One of North America's largest grizzly populations makes its home here—along with lynx, mountain lions, white-tailed deer, moose, mountain goats—and more than 270 species of birds, including bald and golden eagles.
Viewing Tip: Grizzlies are common on the trail near Garden Wall, while moose congregate instreams and meadows at lower elevations.
Hawai'i Volcanoes National Park, Big Island, HI
Isolation, a volcanic landscape, and a tropical climate have given this 323,400-acre park an unsurpassed number of endemic species; more than 90 percent of the plants and animals here are found nowhere else on earth. The park is best for spotting birds, including the nēnē (the state bird, a goose), 'io (Hawaiian hawk), honeycreeper, and white-tailed tropic bird (which nests in the walls of volcanoes). Other highlights include carnivorous caterpillars, giant Hawaiian darners (the country's largest dragonflies, with a wingspan of about six inches), and hawksbill turtles.
Viewing Tip: Nectar feeders, like green-yellow 'amakihi and bright-red 'i'iwi honeycreepers, flock toward flowers—but since they stop to sip only fleetingly, you'll need to be patient and alert to spy them.
Rocky Mountain National Park, CO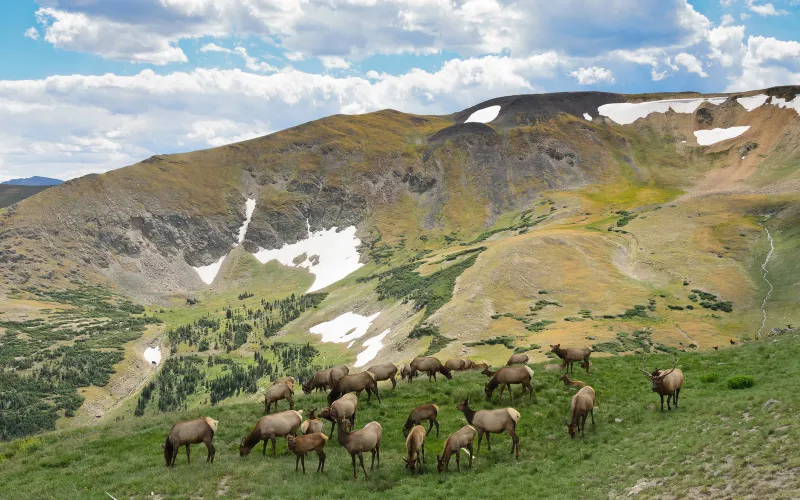 With the herds of elk, moose, bighorn sheep, and deer—and clouds of bluebirds, Steller's jays, and butterflies—at this 265,800-acre park, it's no wonder most visitors cite wildlife watching as the top draw here. Many find the resident small mammals, like chubby yellow-bellied marmots, Abert's squirrels (which have long, tassel-like ears), and pikas (resembling hamsters but actually related to rabbits), especially adorable. Stay in the nearby town of Estes Park and check out the animals with the naturalists at Yellow Wood Guiding.
Viewing Tip: In summer, low-lying meadows and tundra are the best places to see wildlife. In cold-weather months, though, look to southern-facing hillsides.
Saguaro National Park, AZ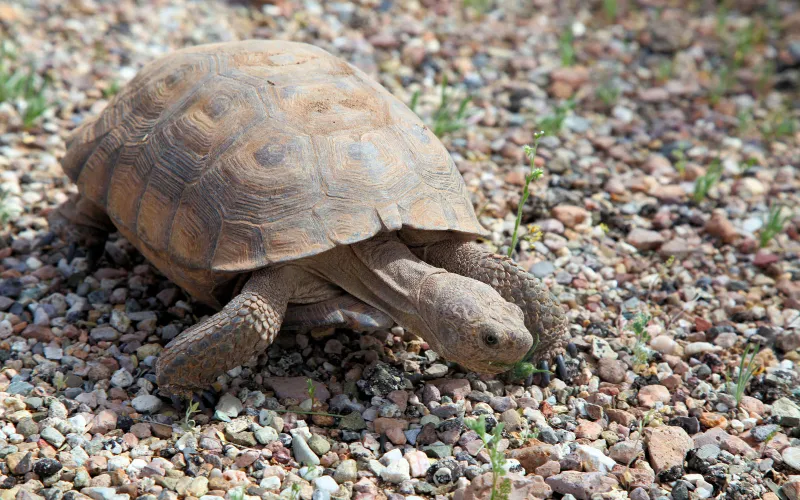 Darwinism is on full display at the 91,400-acre Saguaro, where animals have had to adapt to wildly swinging temperatures and incessant drought. Jackrabbits cool off through their large ears, javelinas can eat prickly pear cacti without harm, and kangaroo rats draw water from seeds. This reptilian paradise houses desert tortoises, desert iguanas, regal horned lizards, Gila monsters (one of two poisonous lizards in the world), Sonoran mountain king snakes, and six species of rattlesnakes. Birds, such as roadrunners, American kestrels, Gila woodpeckers, and Gambel's quail, are also common.
Viewing Tip: Resourceful birds often nest inside saguaro cacti, which number about 1.6 million in the park.
Denali National Park and Wildlife Preserve, AK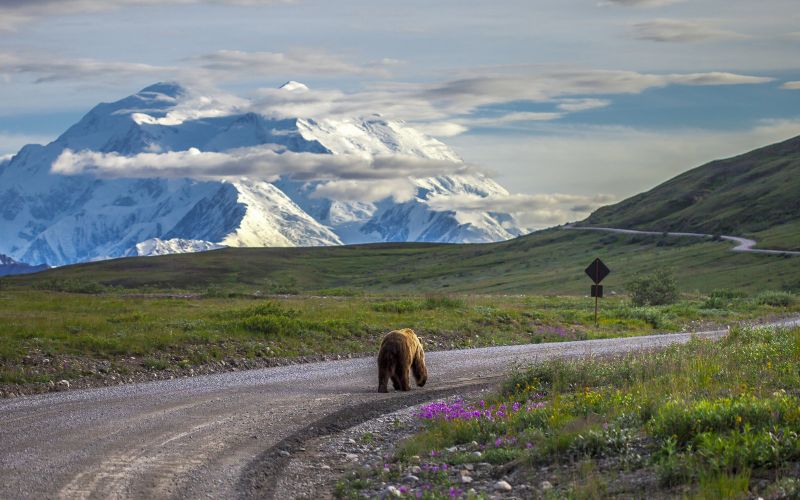 Alaska's most popular park is one of the last great wildernesses of the world, with six million acres of sanctuary for animals ranging from 1,200-pound moose to 1.5-gram shrews. The "big five," or most exciting animals to spot, are caribou, moose, Dall sheep (the only white sheep on the continent), wolves, and grizzly bears. Also commonly seen are lynx, wolverines, coyotes, porcupines, hoary marmots, and red foxes. From spring to fall, migratory birds from six continents call Denali home—including arctic warblers; birds of prey such as golden eagles, peregrine falcons, and red-tailed hawks; hummingbirds; and northern hawk owls.
Viewing Tip: Only one 92-mile road leads into the park. Private vehicles are restricted after mile 15; buses run beyond that. Either way, go in as far as time allows, where trees won't obstruct the view.
Olympic National Park, WA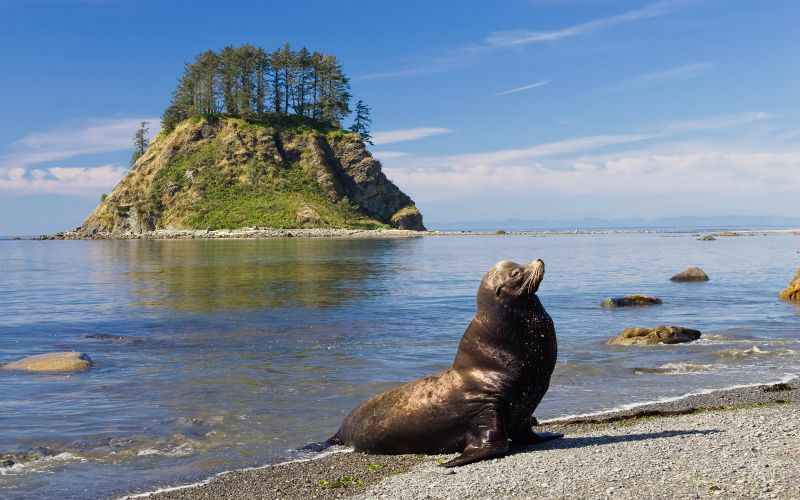 Olympic's diverse ecosystems include glacier-topped mountains, rainforests, and 73 linear miles of Pacific coast. The park protects the largest population of Roosevelt elk in the Pacific Northwest, plus snowshoe hares, Columbia black-tailed deer, Olympic marmots (found nowhere else in the world), newly reintroduced fishers (cat-size members of the weasel family), and underrated bright-yellow banana slugs. Near the shore, you can spot seals, sea otters, sea lions, and—between March and May—migrating gray whales.
Viewing Tip: Columbia black-tailed deer congregate in Hurricane Ridge; elk are common on Upper Hoh Road.
Great Smoky Mountains National Park, TN and NC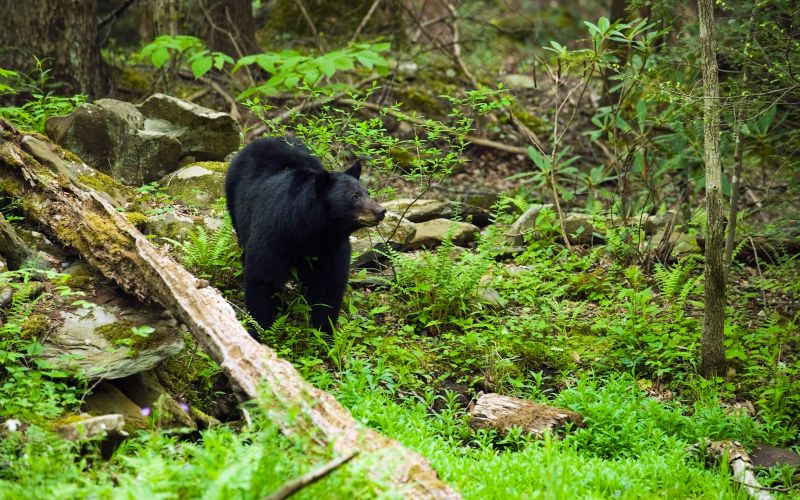 Most famous for its 1,500 resident black bears, this 522,400-acre park is also one of the few refuges for elk and white-tailed deer east of the Mississippi River. Plenty of smaller animals, though, are also worth looking for here—like the park's 30 varieties of salamander. In June, hundreds of thousands of synchronous fireflies—the only species in North America to synchronize its flashing patterns—put on a mind-boggling display.
Viewing Tip: While 95 percent of the park is forested, Cades Cove offers rare unobstructed views. The Cataloochee area is the best place to spot elk, which were reintroduced in 2001.
Acadia National Park, ME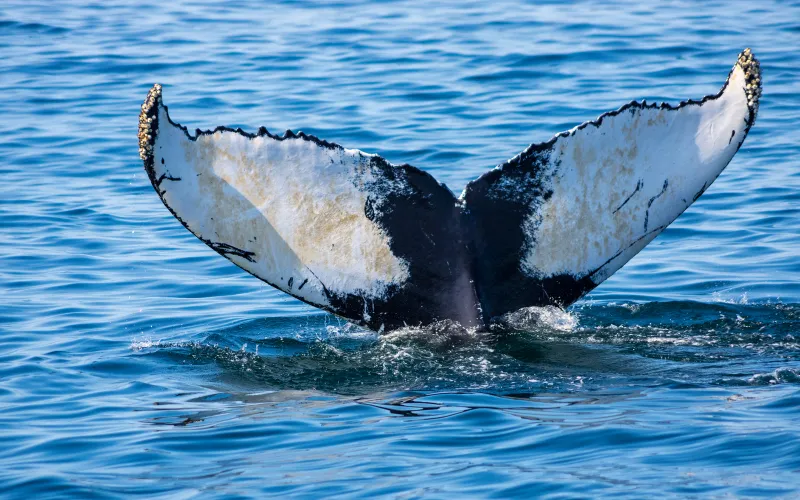 This Maine-coast archipelago, covering some 47,500 acres, is a transitional zone, where mountains meet the sea. Accordingly, wildlife here is of both the arboreal and marine varieties: red foxes, long-tailed weasels, and beavers call the forest home; seals, porpoises, and minke and humpback whales inhabit the surrounding waters. With 338 identified bird species, Acadia is also one of the best bird-watching areas in the country; peregrine falcons, bald eagles, herons, and multitudes of seabirds are commonly seen.
Viewing Tip: Thousands of birds (including American kestrels and broad-winged hawks) pass by Cadillac Mountain during Hawk Watch season, from August to mid-October.
Other articles from Travel + Leisure