Baby, It's Cold Outside
Discover one of the country's oldest winter festivals—Saranac's Winter Carnival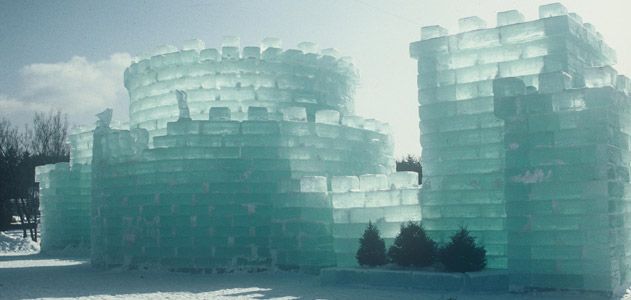 Ice may be dwindling in other places, but every year in this Adirondack Mountain village (pop. 5,000), there's a spectacular buildup of it, in the form of an ice palace. Complete with towers, arches and crenelated ramparts, it's the centerpiece of Saranac's Winter Carnival. The townspeople make the palace themselves with 1,500 huge ice blocks cut from a frozen lake, then shine colored light through the translucent blocks, turning the structure a dazzling red or perhaps a cool blue-green (and occasionally revealing a dead fish).
Saranac Lake began throwing the carnival in 1887 to cheer up the patients at the local tuberculosis sanitarium during the long winters. This year's event (February 1-10) will also feature the crowning of a king and queen, cross-country ski races, figure-skating, a ladies' frying pan toss (that's hurling a five- to seven-pound cast-iron skillet) and softball on snowshoes. More than 30,000 people attend the event. Pick up carnival buttons designed by cartoonist Garry Trudeau (great-grandson of Dr. Edward Trudeau, who started the sanitarium) and perhaps catch a glimpse of a Marilyn Monroe look-alike on a parade float; this year's theme is "Hooray for Hollywood."
If you want to watch the ice palace go up, or even lend a hand, plan to arrive a few weeks early. Check the schedule. With winters getting warmer, explains carnival chairman Don Duso, the lake ice isn't always ready on time. "We've even made the palace during carnival."