From Astrophysical Observatories to Abandoned Factories, Art Pop-Ups Are Taking Over Armenia's Unusual Spaces
In 1971, at the height of the Cold War, renowned U.S. and Soviet scientists gathered at Armenia's Byurakan Astrophysical Observatory (BAO) to ponder what contact with alien life would mean for humankind and how communication would be possible. "Communication with Extraterrestrial Intelligence (CETI)," as the symposium was called, was the first international scientific conference of its kind. 46 years later, at the exact same spot, six artists—a poet, sculptor, photographer, architect, installation artist and sound artist—came together for a residency and site-specific exhibition to pay homage to this historic gathering and to explore the theme of communication with extraterrestrial lifeforms through art.
This new pop-up exhibition, called CETI Lab: HAYP at BAO, lasted for 10 days last September and featured music, interactive installations (including the creation of hand-crafted "alien tracking devices") and a space-inspired al fresco dinner. Berlin-based Lvis Mejia turned a large, inactive parabolic dish in nearby Orgov into an interactive sound installation that generated audio feedback from the massive neighboring gorge. "The dish looked post-Apocalyptic, like something out of a Kubrick movie," says Anna Gargarian, co-founder of HAYP Pop-Up Gallery, who put together the exhibit. "Local shepherds were telling us they could hear it reverberating at the other end of the gorge. They were amazed."
CETI Lab was a huge success, attracting approximately 700 visitors to the slopes of Mount Aragats, but the event was just one in a series of exciting new temporary exhibitions organized by HAYP Pop Up Gallery around Armenia. Gargarian and her cousin Charlotte Poulain founded the NGO as an experimental project in 2014 to draw attention to Armenia's contemporary art scene. (The "hay" in HAYP is the local word for Armenians, and "P" stands for "pop-up." The name also plays on the word "hype," with the gallery's slogan being "Check Out the Hayp.")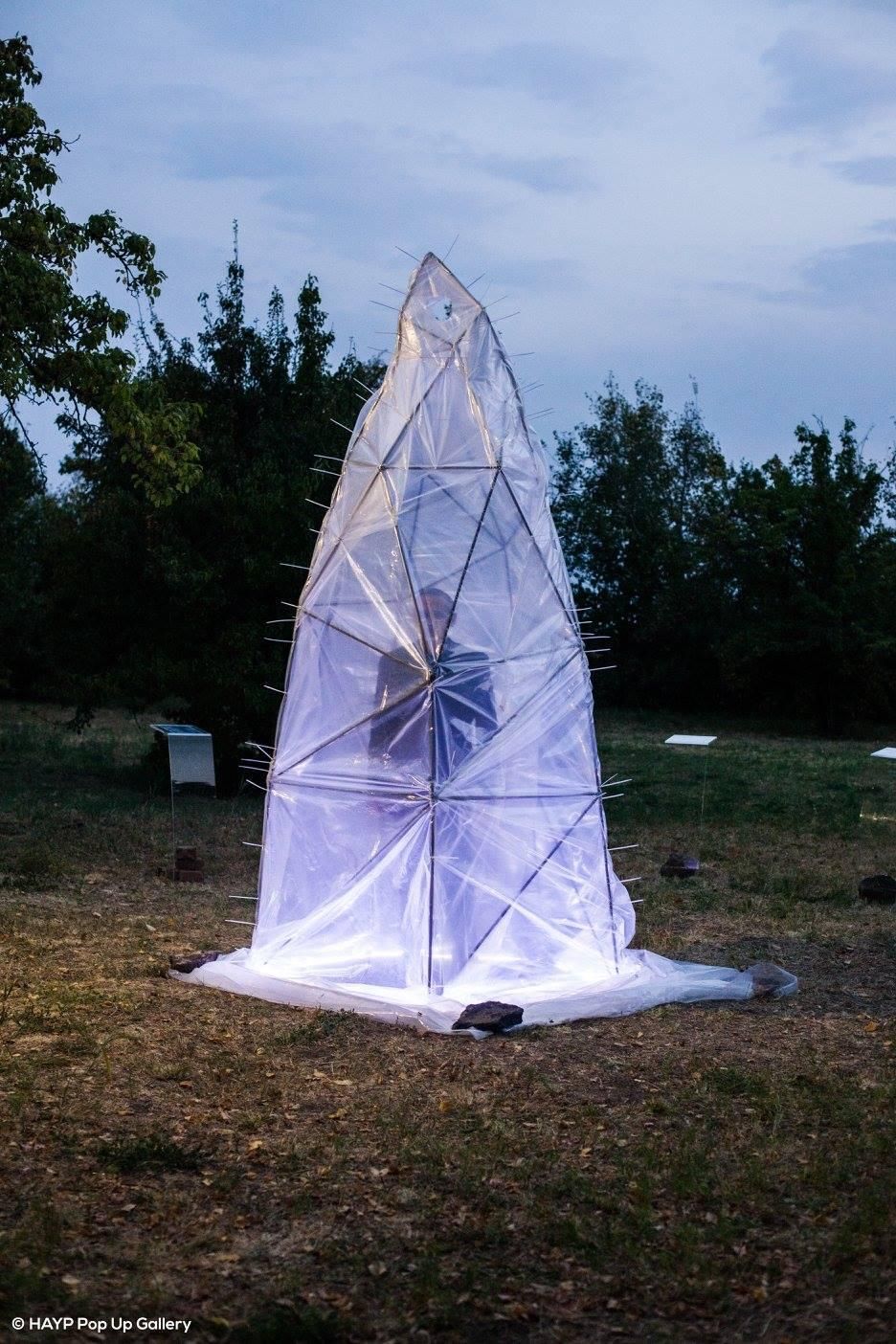 Gargarian and Poulain looked to match the country's emerging artists with unused spaces, using online crowdsourcing to find buildings, ranging from vacant storefronts to deserted factories, that could be converted into pop-up galleries. HAYP hosted its first show in December 2014 in a then-empty floor of what is now one of Yerevan's elite business centers. Hosting various art installations, an improvisational instrumental duo and even an onsite film screening, they completely transformed the space into a short-lived modern gallery.
From there, HAYP's pop-ups flourished: a solo art show in the back room of an electronic cigarette shop (complete with e-cigarette flavor tastings that coincided with the exhibit), the takeover of an abandoned home and a mobile exhibition aboard a series of Soviet-made multi-stop trains running between Yerevan and Gyumri, Armenia's second largest city. "The [trains'] ticket controllers were almost becoming our ambassadors," Gargarian said. "They'd explain to curious passengers what was happening: why two women were dancing together in one car while there was opera in another. It spurred a totally different type of conversation between the controllers and the passengers, many who ride the same route day in and day out."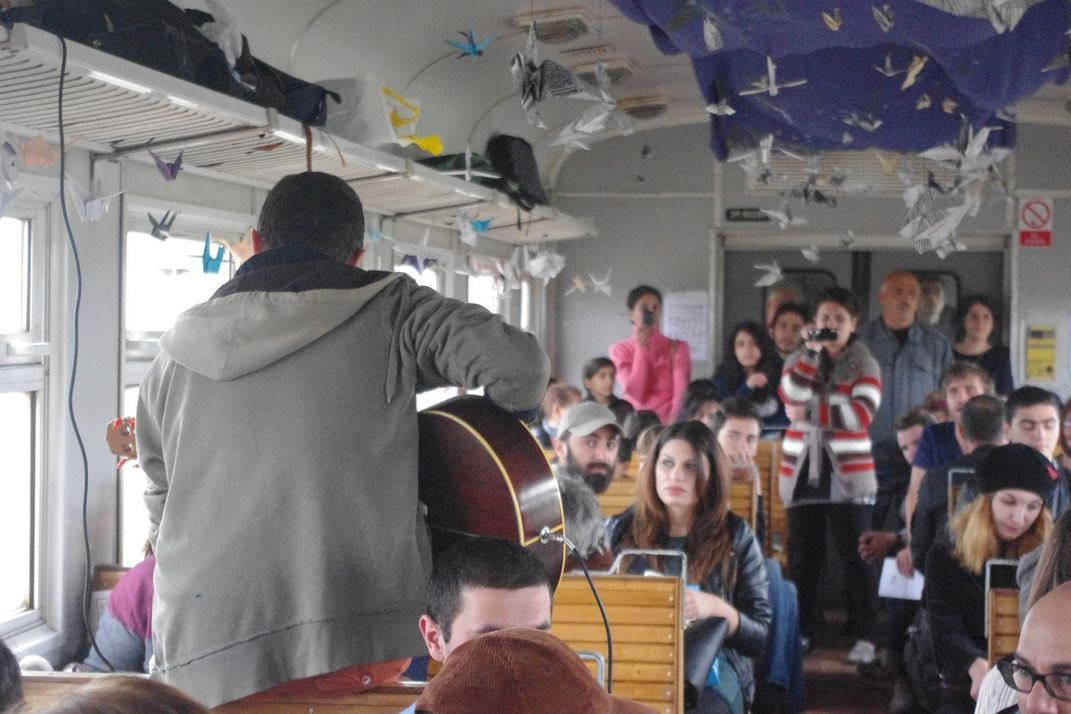 The key to keeping audiences engaged in the shows, Gargarian says, is to include variety – and to keep them short. Pop-ups typically run between four and 10 days, the latter being the perfect span, says Gargarian, because it's enough time to get the word out, but "not too long that people think they have a ton of time, and then miss it."
While HAYP's rule of thumb is that it never exhibits in the same space twice, BAO may be an exception. The pop-up is already planning a large-scale partnership with the observatory for its 50th anniversary in 2021. This fall, in addition to a series of smaller pop-ups, HAYP is also joining forces with U.S.-based audio festival MEGAPOLIS to put on a sound/art pop-up in the northern Armenia town of Dilijan, featuring sound artists from Armenia, Iran, Europe and the U.S. This 10-day festival-style exhibition will highlight Dilijan's own historic musical ties, as well as its more recent experimental art initiatives.
In the three-plus years since HAYP's inception, Armenia's local art scene has grown exponentially. The Armenian Art Foundation—an independent non-profit that works directly with a diverse array of contemporary artists—launched in 2016, and Standart: Triennial of Contemporary Arts, an Armenian-based triennial international contemporary art exhibition, held its first event in July 2017. In 2016, the Nerka Design Pavilion, a pop-up dedicated to Armenia's emerging design scene, became the first Yerevan pop-up outside of HAYP, with UP Design Pavilion succeeding it the following year. Gargarian says she's happy to see the progress, since one of HAYP's goals was to inspire other similar spaces.
"Armenia is an exciting place to be right now, in terms of both art and in general" says Gargarian, "and being on the margins of Armenia's newly emerging art scene [as we are], without a fixed space, is actually quite powerful. We are not tied down to a specific location and its architectural, financial, audience and other restrictions, allowing us a more flexible format. We can be the connector between people, places and ideas."
Check the HAYP website for a full list of upcoming shows.