Can Ancient Techniques Make Modern Wine Better?
A new generation of wineries are going to painstaking lengths to acquire hundreds of historic clay karases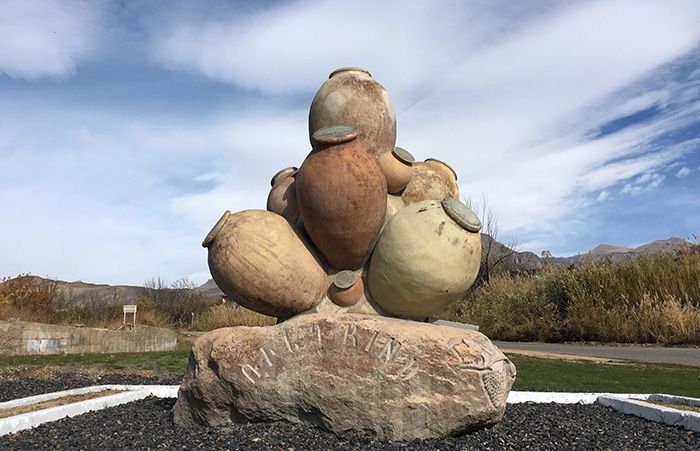 This is the second article in a two-part series on Armenian karases. Read part one.
After a bit of searching, my driver and I arrive at our destination: Rind, a remote village on Armenia's western border. Modest residences are strung together along its bumpy, dirt roads. The little community seemingly in the middle of nowhere belies very little to the uninformed traveler, except for an oddly shaped monument placed at the entrance.
It's almost hard to believe Rind is home to a world-renowned winemaking facility.
"We're in the remotest village in Yeghegnadzor," Zorik Gharibian says proudly.
In 1998, Zorik and his wife Yeraz, Iranian Armenians living in Italy, ditched their lifelong dream of opening a winery in Tuscany. Instead, they took their chances in the countrysides of Vayots Dzor, Armenia—a region historically tied to ancient winemaking—and opened Zorah Wines in Rind, located less than a twenty minute-drive from the famous Areni-1 cave complex.
In 2012, Zorah released its first batch of wine to the international market. Mere months afterward, the wine appeared in Bloomberg's list of top ten wines of 2012. The $45 bottle of Karasì 2010 was pinned up next to wines that had been on the market for generations, with bottles costing upwards of $14,000.
The Gharibians have spared no expense in ensuring the quality of their wine. They've consulted with the finest experts. They've invested heavily in stocking their facility with state-of-the-art technology. But their secret ingredient? Armenian history.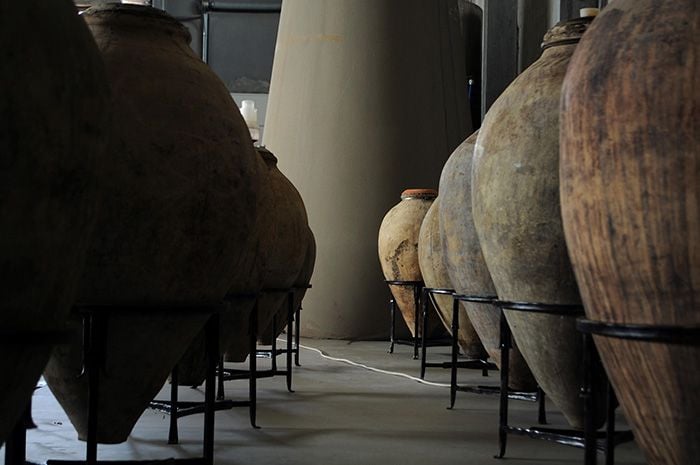 The husband-wife duo are committed to Armenia's karases, terracotta pots used in winemaking in Armenia for millennia, and they've taken painstaking lengths to acquire hundreds of these vessels for their winery, often by demolishing walls of villagers' basements to retrieve them as they are often too large to fit through the door.
Karases are no longer produced in modern-day in Armenia. Wineries who have renewed interest in this ancient method of winemaking must acquire them secondhand, sometimes taking painstaking measures to ensure their safe arrival. Trinity Canyon Vineyards, another winery based out of Vayots Dzor, is so committed that they have their karases transported via traditional donkey-led carriage
Zorik says karas should be considered "a sanctity," lamenting the loss of this ancient cultural heritage. He points to Georgia, Armenia's northern neighbors, who he says "have had the sensibility" to pioneer the preservation of their regional terracotta pots, qvevris.
Georgia has been at the forefront of the terracotta movement since the 1990s, when Italian winemaker Josko Gravner experimented with using imported qvevri. In 2013, qvevris were inscribed to UNESCO's list of intangible cultural heritage. To satisfy overwhelming demand, the Georgian government has allocated nearly $1 million to build a qvevri making school.
Mere years ago, the craft of qvevri making was on the brink of extinction. In 2013, The Real Wine Fair reported there were only five qvevri makers in the whole country, and they were living in poverty. This is the story that more closely resembles the situation in Armenia today. In fact, the demand to make new karas is so small that it would be financially disastrous for potters to maintain the equipment required.
Ceramicist Serioj Asatryan is from a village called Shahumyan in the Ararat region, bordering Turkey. Better known by its pre-Soviet name Yuva, the village is famous for having the country's best clay deposits. For this reason, it has been home to hundreds of pottery masters for the last 800 years. Today, Serioj is the last one.
Although he comes from a long line of potters, he can no longer create karases the way his grandfather did. Rather than using the intense coiling process to make larger karases, he relies solely on a potter's wheel. He no longer owns the poor, or stove, required for baking karases suitable for industrial winemaking.
"Much knowledge and technology has been lost that we have to revive," says Boris Gasparyan, a researcher who has investigated karases' archaeological significance in Armenia. "Today, not everyone is able to create a karas. I have ordered some karases for my experiments, and they can't do it!"
But while karas's historical significance in Armenia is both tantalizing and undeniable, can it actually compete with modern winemaking technologies? In Armenia's burgeoning wine industry, there is room for skepticism.
"Some producers say clay is good because it allows for breathing, but the amount of air exchange is minimal at best and insignificant," says Vahe Keushguerian, an Armenian wine expert and owner of Yerevan-based winery consultancy Semina Consulting. "Some talk about the shape of the amphora and how it aids the fermentation process, but it is impossible to keep them clean, so it is the perfect place for breeding undesirable bacteria that give wine funky and stinky aromas."
Today, Yerevan is scattered with trendy wine bars featuring both local and international brands that will satisfy a mature palette. Citing a return to ancient grape varieties and the country's rich terroir as catalysts, wine professionals are documenting the increase in quality of Armenian wines. The resurgence of karases, it appears, plays but a small role.
So, other than their historical appeal, what practical reasons do winemakers have for keeping karases around? Is the terracotta trend a purely sentimental pursuit? Or are there tangible benefits?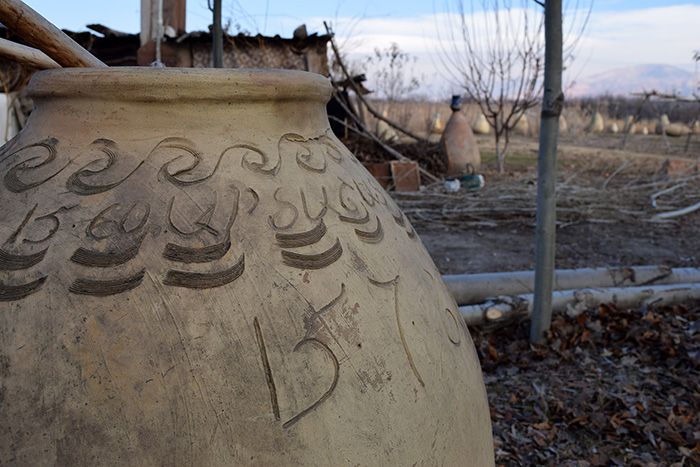 Charine Tan and Dr. Matthew Horkey, full-time wine writers at Exotic Wine Travel and authors of Uncorking the Caucasus, have tasted amphora wines from the Americas to the Caucasus with countless stops in between. Over the course of their travels, they have observed a "tight-knitted, opinionated community of wine lovers who champion 'natural wines'—wines made with minimal intervention." While not all amphora wines are "natural wines," most of them are. Re-embracing these ancient ways provides an escape from many contemporary homogenizing techniques.
If winemakers are intent on bringing back terracotta winemaking, there is a great deal of work to be done, much of which is unrelated to winemaking altogether. There are so many technical elements, from the clay baking technology, to the physical form, right down to the actual clay quality—all of which should be experimented with, says Boris Gasparyan.
"All the ancient potters, they were researchers," he says. "Each time, people were searching for new things, experimenting, trying to find new solutions, trying to find new variations. Even if you have a master, it doesn't contradict your efforts to do some experimental research and even find some ways of making them better."
Predicting this need, Zorik and Yeraz hope to one day build a karas making school on their factory's grounds and inspire the next generation of young ceramicists to continue this trade. Rejuvenating this specialty craft may bring economic opportunities for artisans back to regions like Yuva that have desperately needed it since the collapse of the USSR.
At the end of the day, the Gharibians admit that a large part of the appeal of karas-made wines isn't in its efficiency or its economic potential, but rather in its impressive story. 
"Wine, after all, is all about stories, and every bottle of wine you open is someone's story," Yeraz says. "The karas, in turn, is part of Armenia's collective wine story."
Given their history at the crossroads of Armenian commerce and innovation for centuries, it seems like there's much to be gained by keeping the karas around a little while longer.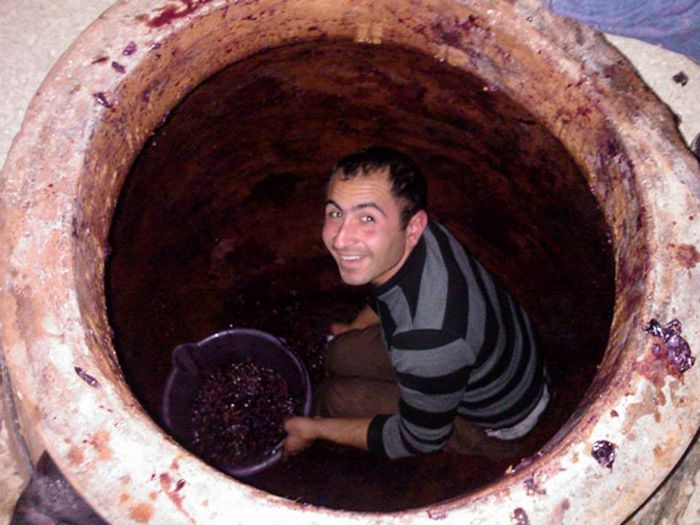 Karine Vann is a freelance writer based in Brooklyn and a storytelling contributor to My Armenia, where she writes about Armenia's rich natural and cultural heritage.