An Illuminated View of Iguazu Falls
A series of 200 separate waterfalls, Iguazu is best viewed when the river is high and the moon is full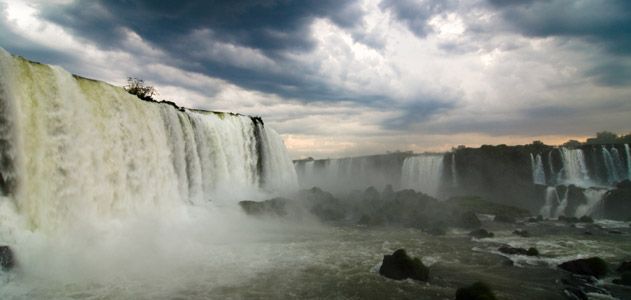 "Muggers you won't have to worry about" advised the concierge at Hotel das Cataratas in Brazil. "Nobody ever goes down there at night. Just watch out for snakes on the trail."
Nobody is more snake-phobic than I am, but I couldn't resist seeing Iguazu Falls by the light of a full moon. Iguazu is a series of more than 200 separate waterfalls strung along 230-foot-high cliffs on both sides of a narrow gorge. At my side I could see and feel several falls right next to me. Across the gorge, in the illuminated night, a few dozen more emerged and faded into the mist like apparitions.
Only Victoria Falls, between Zambia and Zimbabwe in southern Africa, rivals Iguazu in grandeur. But the sheer variety of vistas at Iguazu—located near where Paraguay, Brazil and Argentina meet—give these falls a special edge.
January through March, when the river is high, is the best time to appreciate the wonders of Iguazu Falls. Nowadays, however, nighttime access to the trails is mostly restricted, except for organized group walks on full-moon nights. Boat tours and an extensive system of walkways and viewing platforms offer a wealth of views. Even veteran travelers gape at the sight. "I was awestruck," says Mara Vorhees, a co-author of Lonely Planet's forthcoming guide to Brazil. "You're nearly completely surrounded by enormous thundering water. Above there was a rainbow—a rain ring, really, since it nearly formed a circle. I couldn't stop looking."