An Art Deco Masterpiece for Eleanor Roosevelt
Birmingham, Alabama, the art museum's "Jazz Bowl" by famed U.S. industrial designer Viktor Schreckengost was an artistic, and civil rights, turning point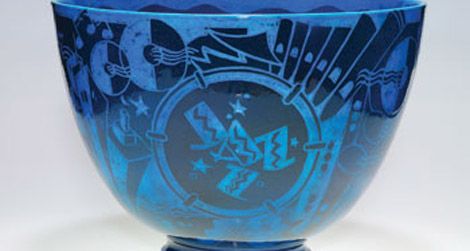 It's enough to make you want to start doing the Charleston: A masterpiece of earthenware, a Jazz Bowl by Viktor Schreckengost, has been newly acquired and newly displayed at the Birmingham Museum of Art in Alabama. In my view, the Jazz Bowl —several dozen of which were produced—has emerged in the last decade as not only the single finest example of American Art Deco, but as an icon of a new mode of American cultural identity.
Viktor was just 25 years old when he made the first piece at the Cowan Pottery Studio in Rocky River, Ohio, in 1930. One day at the studio's office when he didn't have an assignment, as the story goes, he pulled a letter out of a hopper. A woman in New York wanted a punch bowl with a New York theme.
Viktor started by making a plaster mold of the shape—a bold parabolic form. The next challenge was to decorate it. A few months before, he had spent Christmas Eve in New York City, where he was impressed by the skyscrapers, went to Radio City where an organ rose up out of the floor, and took in the music of Duke Ellington and Cab Calloway at the Cotton Club in Harlem. He sketched all these images in a jazzy style. One of the last things he put in was a drum head with the word "Jazz," which ended up providing a name for the piece.
To achieve his desired effect he developed a novel technique. First he covered the bowl with black engobe—watery clay mixed with glaze. He then scratched out the design, in a pattern of black and white; fired it; then covered the whole bowl with a glaze of "Egyptian Blue"—a sort of radiant turquoise, similar to that of some beads found in Tutankhamen's tomb. He then fired it again. The result was richly decorative, since the irregular scratching of the design created a kind of glow, almost like stained glass. And the Egyptian Blue evoked a feeling he was trying to capture—his recollection of the strange blue light of New York at night.
When it was done, Guy Cowan sent the piece to New York—and promptly heard back that the woman who had commissioned it wanted two more. Only then did Viktor learn that the woman was Eleanor Roosevelt.
After Viktor produced the Jazz Bowls for Roosevelt, Cowan Pottery put it into production. But the company folded in 1931, done in by the Depression. It's not known exactly how many Jazz Bowls were made, but probably about 50 large ones similar to the original and perhaps as many as 25 of a different design that was less expensive to make, sometimes known as "The Poor Man's Bowl." Since the decoration was scratched out by hand the large bowls all differ a good deal in execution. It's not known what happened to the bowls that were made for Eleanor, although her role in providing the commission is documented in newspaper articles from the 1930s, so I believe that the story is true.
The son of a potter, Viktor Schreckengost was born in Sebring, Ohio, and died in 2008 at the age of 101. (Two of his brothers, Don and Paul, were also major figures in ceramic design.) Viktor was one of the founding figures of modern industrial design in the United States. His credits include the first modern mass-produced American dinnerware, the first cab-over-engine truck, the first inexpensive children's pedal cars and the first bicycle welded in a single step in an electric brazing chamber—an innovation that cut production cost by 50 percent and was used in some 50 million bicylces. He also designed costumes, stage sets, lighting fixtures and lawn furniture; produced watercolors and oil paintings, many of which won prizes in museum exhibitions, and monumental sculptuank">Børge Ousland crossed the continent in the summer of 1996 to 97, but he took advantage of the wind when it blew in his favor by letting out a parachute to drag him forward. Aston is using nothing but muscle power—and muscle she needs. At the outset, the 5-foot-11 Aston had with her about 200 pounds of gear, which she is dragging behind her on two sleds. Her baggage is a no-nonsense assembly of tent, stove, fuel and a carefully rationed two pounds of food land this past June, but the debut has been delayed.)
Artworks derive meaning not only from the thought and feeling that the artist put into them, but from where they are placed. There's poignancy to having a Jazz Bowl in Birmingham, which as everyone knows was the site of one of the most ghastly atrocities of the Civil Rights era, when the Klu Klux Klan placed a bomb in the 16th Street Baptist Church and killed four young African-American girls. But Birmingham is also a city that has gone to great lengths to atone. The art museum has built up an important collection of works by African-American artists, and it's not far from the Birmingham Civil Rights District, where the Birmingham Civil Rights Institute, Kelly Ingram Park, the Sixteenth Street Baptist Church, and the Alabama Jazz Hall of Fame are located.
In this context, Viktor's Jazz Bowl has a special resonance. Viktor's central goal in creating Jazz Bowl was to find a visual analogue to black jazz music. Indeed, he himself was something of a musician (he played the clarinet) and a personal friend of such jazz greats as Art Tatum. Let's not pretend that this sort of cross-over can be achieved in an absolutely perfect way, based on perfect understanding, or entirely liberated from the cultural norms of a period. Nonetheless, Jazz Bowl marks a significant turning point in American culture, when a white artist could look to black jazz music as a paradigm of great artistic achievement—as something to ardently celebrate, a model for what he hoped to achieve in the visual arts.
In short, Jazz Bowl marks step toward a new kind of cultural conversation—one that needs to be continued further. What's more, it's stunningly beautiful. It's something not to be missed.