An American Library in Paris
Founded after World War I, the City of Light's English-language library has long been a haven for expats, including Hemingway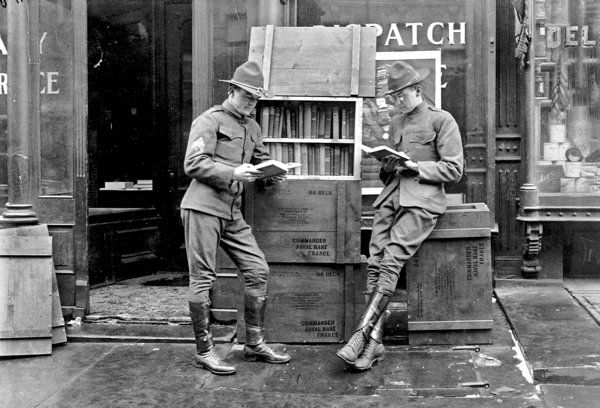 I spent the first few months I lived in Paris—from 2003 to 2006—seeing almost every sight in the Blue Guide, but after a while I stopped running around and discovered that the true pleasure of living in the City of Light is having the luxury of taking it for granted. A good day started with un café at the bar on the corner, a little shopping and then an afternoon at the American Library in Paris.
On rue du Général Camou near the Eiffel Tower, the library is unknown to most tourists, but deeply embedded in the hearts of expats from dozens of countries, not just the United States, who sometimes need to read and think in English. A quarter of its 2,500 members are French, in fact, drawn to the library's Anglophone-friendly 120,000-book collection. Compared with other libraries in Paris, it is a quiet, uncrowded oasis offering two to three special events every week, including children's programs, book groups and author lectures.
With a constant stream of writers from the U.S. passing through Paris, the library serves as a literary center. "There is something about an expatriate library—a tentacle, an emissary, a piece of another civilization residing in an alien one—that is very moving," says Adam Gopnik, author of the acclaimed essay collection Paris to the Moon.
The not-for-profit library was founded in 1920 as a home for 1.5 million books sent to soldiers in World War I trenches by the American War Service. Its motto reflected the origins: After the darkness, the light of books. American writers who began flocking to Paris after the war were frequent visitors. Young Thornton Wilder and Archibald MacLeish spent time there in the 20s; Gertrude Stein and Ernest Hemingway were among its first trustees and both contributed to its still-published newsletter, Ex Libris. When an even deeper darkness fell over Paris during the World War II German occupation, the library managed to stay open and uncensored against all odds because the French director's son was married to the daughter of Vichy prime minister Pierre Laval. Unbeknown to the authorities, it lent books to Jews banned from other libraries, though a staff member was shot by the Gestapo.
After the war, a new generation of writers like James Jones, Mary McCarthy and Richard Wright could be found in the stacks and satellite branches opened around Paris. In the 1950s, when the library occupied quarters on the Champs-Elysées, it was the scene of a tense standoff between staff and anti-Communist censors sent by Senator Joseph McCarthy to eradicate Red books from American libraries in Europe.
Its current 7th Arrondissement home was renovated last summer, but still seems unprepossessing compared with nearby Belle Époque landmarks like Jules Lavirotte's flamboyant Beaux-Arts apartment house at 29 Avenue Rapp. You have to go inside to appreciate its treasures: big biography and mystery collections, DVDs, 500 periodicals, a computerized catalog, books for teens and children. The stacks are open (though you have to be a member to check books out) and eccentrically arranged with secret nooks scattered throughout. Librarians often can be found reading to groups of children; habitués come in for their morning look at the International Herald Tribune; best-selling writers research works-in-progress, rarely recognized by people at the next carrel.
Anyone who grew up in an American town with a good public library will feel at home as soon as he or she walks in. "It feels like a little piece of the U.S.," says director Charles Trueheart, who came to the library in 2007 after serving as Paris correspondent for The Washington Post.
American tourists, too, are welcome, Trueheart says. It's a good place to check e-mail and research the next leg of a trip, surrounded by Anglophones and great books in the mother tongue.