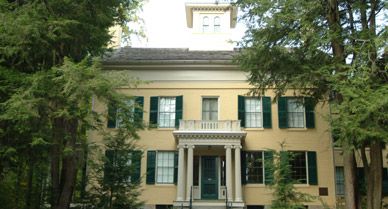 Population: 34,049 in 2006
Percentage of retirees: Around 6.63% in 2006
Cost of living index: Above average
Public libraries: 3
Public transportation: Pioneer Valley Transit Authority provides bus service through 24 communities. Includes door-to-door van service to seniors over 60. Amtrak rail service available at Amherst station.
Access to airports: Closest airport is Westover Metropolitan Airport (served by low-cost carrier Skybus), about 15 minutes away. Bradley International Airport in Hartford, CT, is the closest major airport, about 1 hour from Amherst. Major international service is available through Boston Logan International, about 90 minutes away.
Tax breaks: in Massachusetts, Social Security, civil service, state/local government pensions are exempt. Pension income from other state or local governments that do not tax pension income from Massachusetts public employees is exempt from Massachusetts taxable income.
Number of museums: 4
Number of cinemas: 1
Cultural Highlights: Strong museum and performance arts through five colleges in the area.
Access to Healthcare: Fair, with several hospitals nearby.
Climate: Pleasant summer and fall, with muddy springs and cold winters.
Annual precipitation: 45.57 inches
Nearby Attractions: Springfield, limitless charming hill towns, lakes, and Quabbin Reservoir less than an hour's drive, Jacob's Pillow Dance and Tanglewood roughly 1.5 hours (summer festivals).
Useful links:
Amherst homepage
Massachusets gov page
City data page
In the Know: "I moved to Amherst in 1979 after a year of studying in Finland. I discovered a remarkable concentration of weavers as well as nationally recognized artists and craftspeople who made the valley a special and inspiring place to live, many of whom were making a living being artists. Everyone was so helpful and interested in helping Amherst grow and retain its allure while retaining its character. I never intended to stay this long, but the spirit of the people, the place and the arts keep me here."
-Susan Loring-Wells, founding executive director of Amherst's Fiber Art Center
This little city near the Berkshire foothills is a college town par excellence. Within the city limits are three august institutions-Amherst College, Hampshire College and the much larger University of Massachusetts. They're part of the "five colleges" consortium, the other two being Smith College, in nearby Northampton, and Mount Holyoke, to the south in South Hadley. A parade of cultural offerings, both traditional and experimental, is ongoing.
Founded in 1759, Amherst occupies an ancient lake bed in the middle of Massachusetts' fertile Connecticut River Valley. Time has not tarnished the city's smalltown connectedness, and the downtown itself is still centered on a traditional New England town common, with shops, cafés and restaurants lining the streets around it. Amherst College's Mead Art Museum has fine offerings. While UMass's 10,000-seat Mullins Center is a venue for sports events and pop concerts, the Fine Arts Center hosts internally acclaimed performing arts groups and houses a visual arts gallery.
Downtown, you'll also find the preserved, 19th-century home of the beloved poet Emily Dickinson. Readings and other literary events are held there.
Lovely old neighborhoods are within walking distance of downtown, and Hampshire College south of town is now developing a 'green' condominium community where residents can also participate in educational offerings from the five colleges.
Throughout the area, endless trails loop around lakes and through the dense New England woodlands. The nearby Connecticut River and various streams feeding into it offer fishing and boating opportunities.
Just on the other side of the Connecticut River, Northampton holds its own charms, with a dynamic downtown, more lovely old neighborhoods, and the stunning setting of Smith College, with its excellent Museum of Art and plenty of performing arts offerings.
Correction: A previous version of this article mistakenly referred to Hampshire College as Baird College and misstated the location of Mt. Holyoke College. It is in South Hadley, Massachusetts. We regret the errors.