Play Paul Simon's Piano or Croon Into Elvis' Mic at These Seven Historic Recording Studios
Take a tour through Americana music history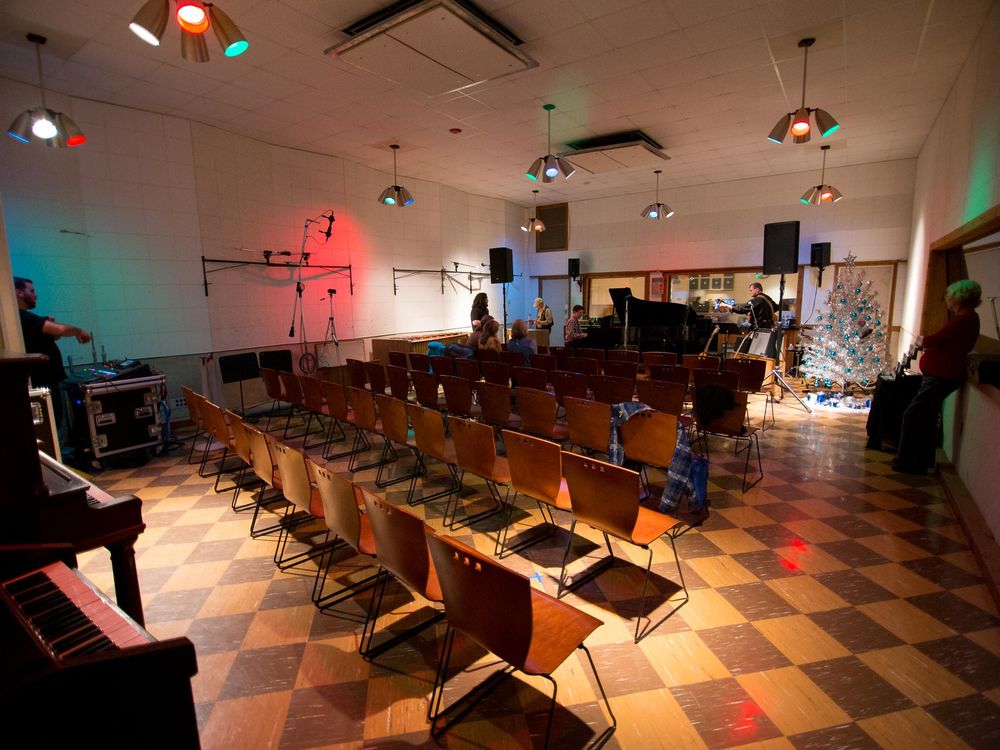 On January 9 of this year, an important piece of American music history opened its doors for public tours in Sheffield, Alabama. The Muscle Shoals Sound Studio (otherwise known as 3614 Jackson Highway) officially reopened for tours and recording sessions. It had closed in 1978 following years of notable recording sessions with a long list of major artists, from the Rolling Stones and the Staple Singers to Willie Nelson and Rod Stewart. From 1999 to 2013, it was operational again, landing on the National Register of Historic Places in 2006 and producing an album of the year for the Black Keys.
With it's reopening, the facility joins the ranks of studio tours already available to travelers along the Americana Music Triangle. This driving tour is comprised of routes between Nashville, Memphis, and New Orleans, all designed to help travelers connect with the history and culture of this small corner of the U.S. that birthed nine distinct musical genres: Blues, Jazz, Country, Rock 'n' Roll, R&B/Soul, Gospel, Southern Gospel, Cajun/Zydeco and Bluegrass.
To experience your own piece of Americana music history, tour these studios in the historic Triangle and get a feel for some of the myriad influential songs recorded here.
RCA Studio B, Nashville, Tennessee
Historic RCA Studio B opened in Nashville in 1957. Though it wasn't the first studio built in town, it quickly catapulted into the most productive and arguably the most successful, thanks to artists like Roy Orbison, The Browns, and the Everly Brothers. The studio became known for producing the iconic "Nashville Sound," a style known for its particular use of background vocals and strings. In total, the studio recorded more than 35,000 songs, of which more than 1,000 went on to become American hits. Elvis loved this studio, too; The King recorded more than 200 songs here. Guests on the tour today can still see—and even play—the piano he used while recording. If there's a can't-miss stop on your route, this may be it; Aubrey Preston, founder of the Americana Music Triangle, told Smithsonian.com that this studio churned out the most chart-topping hits of all on the list.
Sun Studio, Memphis, Tennessee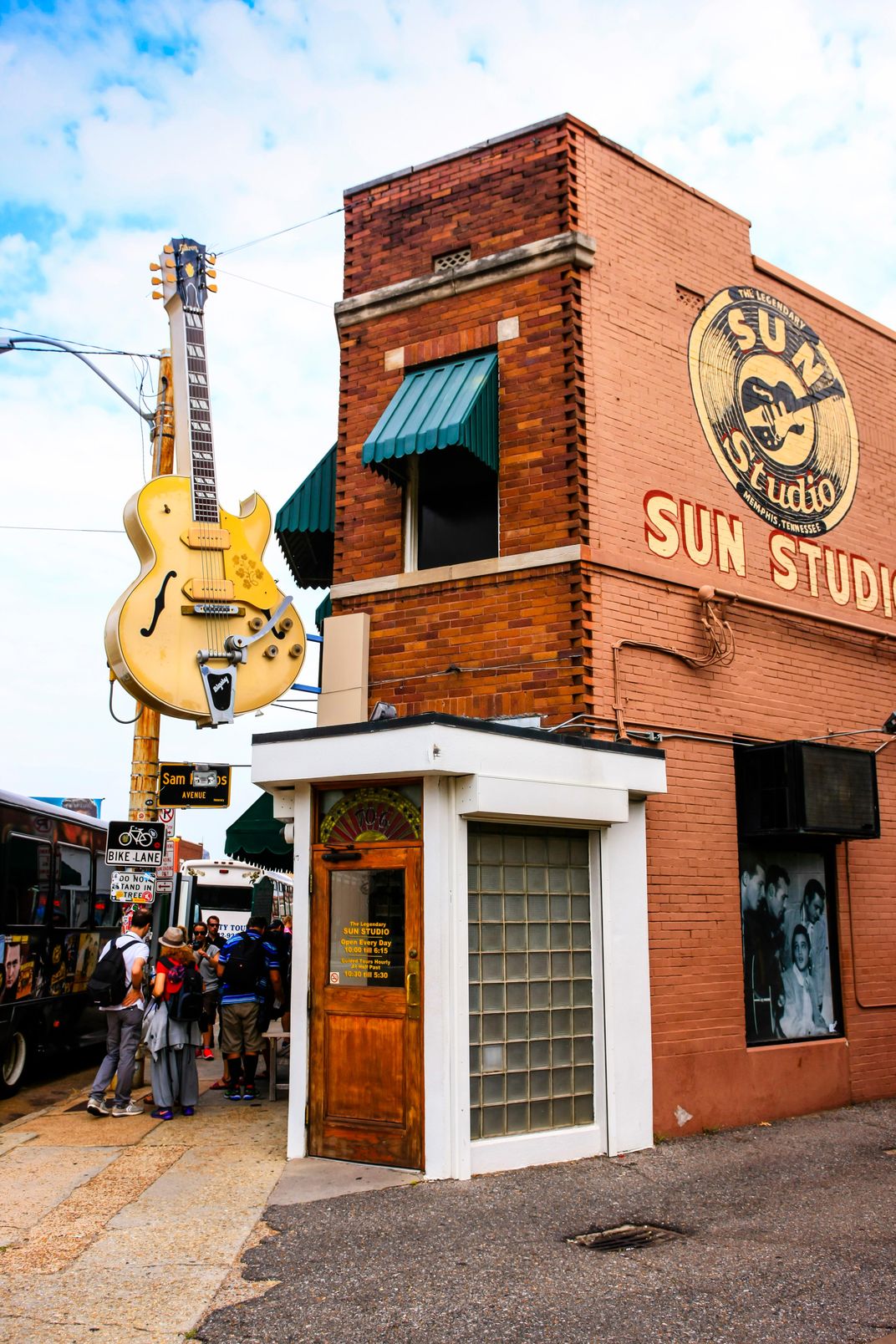 Many consider this studio to be the birthplace of rock 'n' roll. In fact, the first song actually considered to be rock 'n' roll was recorded here in 1951: Rocket 88, credited to Jackie Brenston & His Delta Cats. The actual band name, though, was Ike Turner's Kings of Rhythm—Brenston just sang lead vocals, and so was credited for the song. In 1956, the studio became home to one of the most famous events in musical history, the "Million Dollar Quartet" jam session with Elvis, Carl Perkins, Jerry Lee Lewis, and Johnny Cash—now a successful musical touring in the United States, Australia and the UK. Guests on Sun's tour can even hold Elvis' mic, or play Jerry Lee's piano.
Stax Records, Memphis, Tennessee
Now called the Stax Museum of American Soul Music, this studio has played a role in American soul from the beginning. Acts like Sam Cooke, James Brown, Otis Redding, and Aretha Franklin are all known to have recorded here. The building itself had a former life as a movie theater, which the owners, Estelle Axton and Jim Stewart, converted into a working recording studio—the concession stand of which was reborn as a record store. In 1962, Otis Redding came to Stax—but not as a recording musician. At the time, he was the chauffeur for another group who was recording there. As the story goes, the session didn't go particularly well, so Redding was allowed to come in and sing in the studio—in the process, catching everyone off guard with his raw talent. Later, he recorded "(Sittin' On) The Dock Of The Bay" at Stax just three days before his fateful plane crash in Lake Monona by Madison, Wisconsin, which killed him and nearly his entire backing band. Four months later, the song would hit number one on the pop charts. 
Malaco Records, Jackson, Mississippi
When Malaco got its start in 1960, it spent its early days booking Black rhythm and blues acts for fraternity parties at nearby University of Mississippi. The actual recording studio opened in 1967, though revenue from the records didn't start to pick up until 1970, when producer-arranger Wardell Quezergue arrived, having worked with acts like Fats Domino and Professor Longhair. At one point, he brought a school bus to the studio with five musicians on it for a marathon recording session, which resulted in Jean Knight's smash hit "Mr. Big Stuff." Today, Malaco focuses solely on southern soul, blues, and gospel, and is known as "The Last Soul Company." Be sure to call first if you're interested in stopping by—this is a working studio so you'll be able to see modern processes, but only when staff is available.
FAME Studios, Muscle Shoals, Alabama
Some of the biggest artists in music history have recorded at FAME Studios—including Paul Anka, Etta James, Wilson Pickett, Aretha Franklin, Duane Allman, and Donny Osmond, to name but a few. The studio is also famous for launching the Swampers (actually named the Muscle Shoals Rhythm Section) who played as FAME's session band and eventually went on to open their own studio. The Swampers became so well known that they were even mentioned in Lynyrd Skynyrd's classic "Sweet Home Alabama." Among the most recent international acts to record here is Finland's Anna Puu, and the studio continues to attract artists from across the world looking for that famous "Muscle Shoals sound"—said to be found only at FAME. Want to know how it feels to be a recording artist? Step into one of the isolation booths and belt out a few notes of your own.
Muscle Shoals Sound Studio, Muscle Shoals, Alabama
If you've ever dreamed of sitting at Paul Simon's piano or lounging on the Rolling Stones' couch, here's your chance. The Muscle Shoals Sound Studio has officially reopened for tours. The studio was originally started by The Swampers after leaving FAME Studios, and the unmistakable sound they brought with them to the new studio pulled in major acts—from Paul Simon and the Stones to Bob Seger and even Cher, who featured the studio's exterior on one of her album covers. In addition to tours of the historic space, it will soon begin to welcome recording musicians for new sessions.
Preservation Hall, New Orleans, Lousiana
Technically, this one isn't a studio—but one could argue it's every bit as important to the history of Americana music as all the rest. Preservation Hall debuted in 1961 with a mission to protect the New Orleans jazz tradition. By the time it opened, all the historic jazz clubs in New Orleans had been demolished (or, as in the case of the great Cosimo Matassa's J&M Music Shop—the first studio home to musical greats Fats Domino, Ray Charles, Jerry Lee Lewis, and Little Richard—converted into a laundromat). Today, visitors to Preservation Hall can take in daily live shows that throw back to that traditional New Orleans jazz sound.