Where Do the Largest Airplanes Go to Die?
Explore this 1,500-acre aircraft boneyard in the Sonoran Desert
As a kid growing up in Arizona, there was a particular stretch of desert along Interstate 10 that I always looked forward to passing while on family road trips. I remember pressing my face up against the backseat passenger window in anticipation as our car crept north, staring out at the multicolored tail fins of 737s, 747s and other commercial airliners in the distance that stood in stark contrast against the surrounding monochromatic desert. I heard stories about how the aridness of the Sonoran Desert made Pinal Airpark in Marana, located 30 minutes north of Tucson, ideal for protecting commercial aircraft against corrosion. But beyond these fleeting drive-bys, its existence remained a mystery to me.
During a visit home earlier this month, I heard a rumor that Pinal Airpark had opened its gates to the public and was now offering tours. I knew I had to see this elusive place in person once and for all, so I contacted Jim Petty, the airport's manager, to schedule a tour. Pinal Airpark is one of only a handful of such aircraft boneyards located around the world, with the majority found in the American Southwest.
It's sunny and seasonably warm the morning I pull my car up to one of the airport's portable buildings where Petty greets me. With a footprint of approximately 1,500 acres, there's too much ground to cover on foot, so we hop into his SUV and head for the boneyard, passing the airport's single 6,850-foot runway and an aircraft hangar before driving past a chain link fence with a sign that warns: "Restricted Area, No Trespassing." As his vehicle bounces along the dirt road, Petty fills me in on some of the history of this airport, which was known as Marana Army Air Field when construction began in 1942. Upon completion, the U.S. military used the property for cadet training during the heart of World War II. After changing hands several times over the years—including a rumored stint during the Vietnam War as the CIA's headquarters for air operations (Petty says he can't confirm this, but has heard stories)—the airpark is currently owned and operated by Pinal County, which leases space on this solitary stretch of land to the aging aircrafts' owners, typically banks.
During my visit, about 124 airliners currently rest on this swath of desert, some with their engines swaddled in mylar as protection until the owner can get them back into rotation—as is the case for one Korean Air jumbo jet we drive past, its pale blue paint job still shiny from the factory.
"Sometimes a deal will fall through, so we'll store them here until things are worked out between the company and the buyer," Petty tells me before pulling up to a grouping of six airliners, their paint bleached by the sun. I climb out of his SUV and head toward a 747-200 that was once part of the (now defunct) TWA fleet, its recognizable logo faded to a pale red. Nearby, a Northwest Airlines 747-200 cargo plane, its logo since painted over, also rests, a tangle of weeds creeping up its front tire.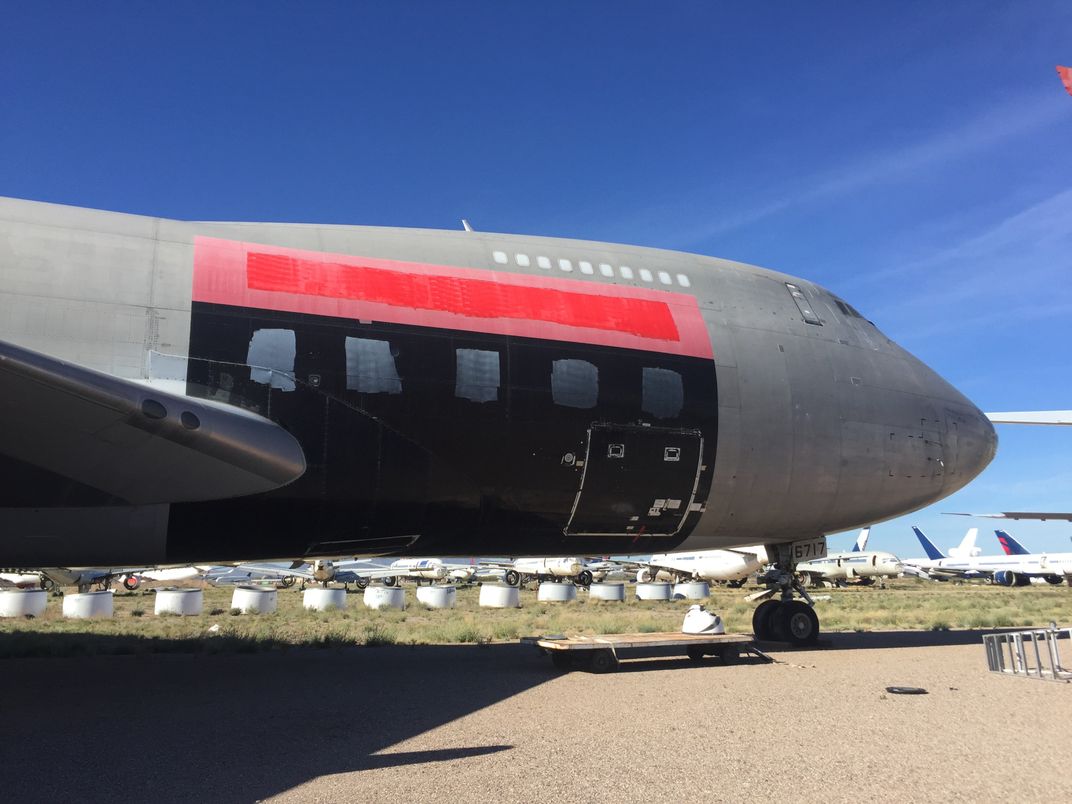 "Watch out for snakes," Petty warns me as I move in for a closer look, craning my neck in an attempt to see the pilots' windows as if looking up from the base of a skyscraper. Unlike the Korean Air jet, these are in various states of disrepair and are years removed from their last voyages in the sky. Petty explains that many of the airpark's planes have been scrapped of their engines, landing gear, seats and other valuable parts, which have since been sold. Many of the planes, including a grouping of Southwest and Delta jets in the distance, reside there, their parts being swapped out and used by each airline's operating fleet. (Due to certain restrictions, I was only allowed to photograph and see specific aircraft up close after gaining permission from their owners, which Petty had coordinated for this article.)
If aircraft are past their prime, a team of mechanics will "pickle" them, filling their engines with enough oil to keep them lubricated until parts can be salvaged; other times, planes will be crushed, their aluminum alloy recycled and turned into goods from soda cans to circuit boards. One or two are even used for unconventional purposes, including a China Eastern McDonnell Douglas MD-82, which sits at a distance from the other planes that are parked in tidy rows. Local emergency services use this one for drills, Petty says.
"I know one owner of a 747 who is thinking about moving his plane elsewhere and turning it into a sushi restaurant," Petty says, as we head back to his office, passing by what could possibly be the airpark's most unique holdings: a grouping of Grumman Albatross from the 1940s.
As a pilot himself, Petty says that he has always had an appreciation for airplanes, starting from when he was a child watching his father serve in the U.S. Air Force. And although over time he has grown used to seeing these massive airliners that would otherwise never cross into Marana airspace roaring down the landing strip, he realizes how lucky he is to be doing such unique work—and is excited to finally get the opportunity to share it with the public.
"I've come to love and respect what these planes can do," he says. 
To coordinate your own tour, email Jim Petty at [email protected].