Restaurants and Hotels Breathe New Life into Beautiful, Abandoned Churches and Monasteries
Vaulted ceilings and stained glass windows adorn these restored and reimagined structures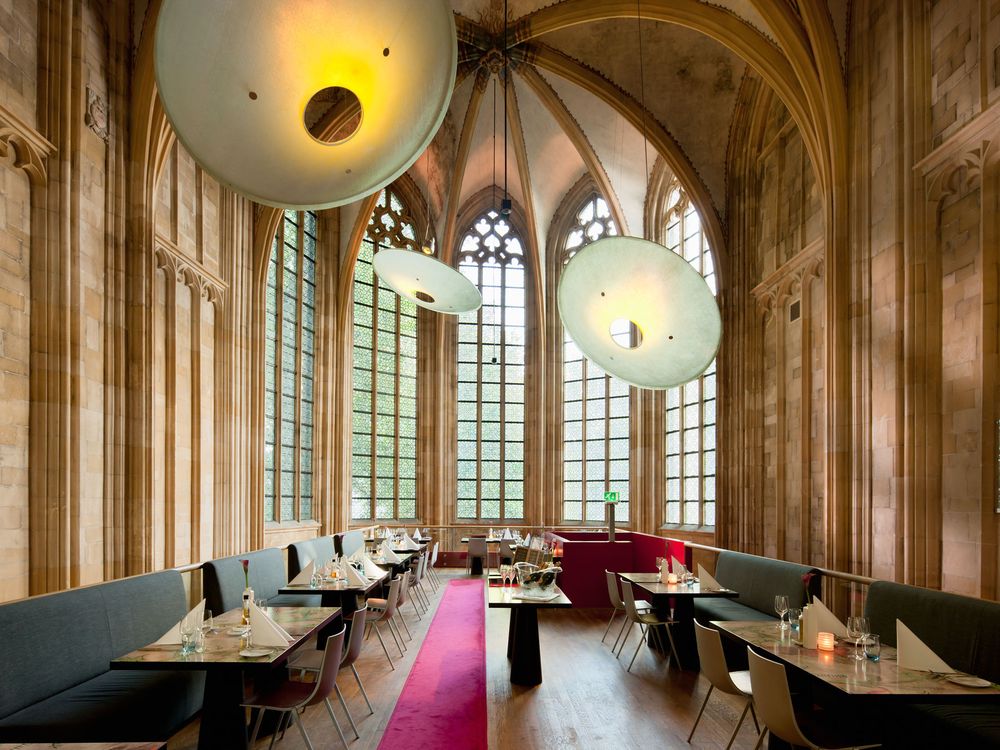 It took nearly 500 years to complete London's great Westminster Abbey as it exists today. Notre Dame de Paris was constructed over two centuries. Painstaking thought and hours of construction go into building houses of worship—meant to inspire worshipers, glorify the heavens above and last an age. But, through hard times, many fall into disrepair. Thankfully, in recent years, beautiful, forgotten churches have been blessed with new life, reincarnated as bucolic country hotels, atmospheric brewpubs, and breathtaking restaurants. Read on for reclaimed abbeys now returned to their former glory.
See more historic churches reimagined on Travel + Leisure.
Stanbrook Abbey in Worcester, England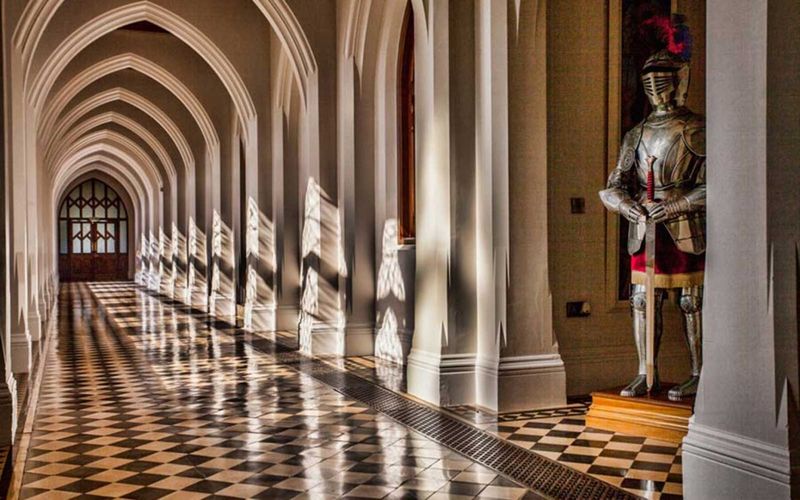 It hardly gets more romantic than Worcestershire's imposing Stanbrook Abbey, England's newest country house hotel. Built in 1625 as a Gothic Revival-style abbey for Benedictine nuns, the 52-room manor retains its red-brick façade, bell tower, Harry Potter-esque great hall (afternoon tea is at 4 p.m.), and landscaped gardens. Alternatively, guests can channel their inner lord (or lady) at the separate five-bedroom Georgian manor house on the grounds.
Fontevraud L'Hôtel in Saint-Lazare, France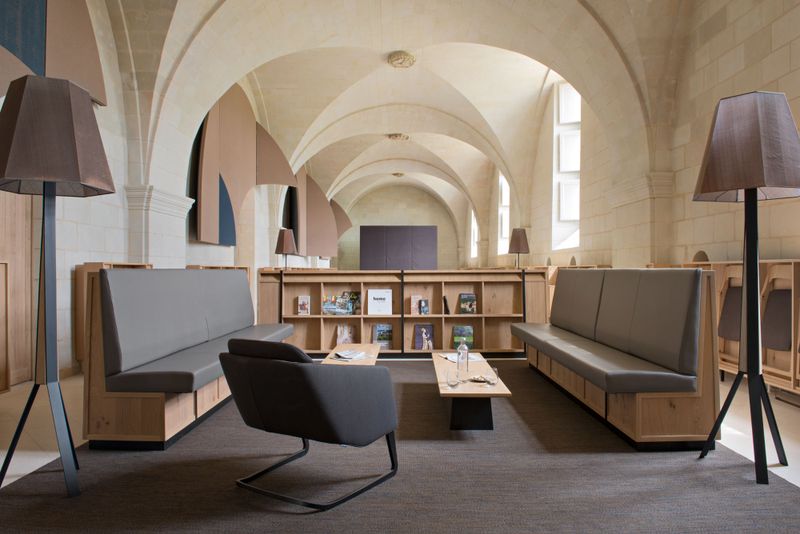 This stunning 12th-century landmark in the heart of the Loire Valley has lived many lives, from monastery to prison to the burial ground for Richard the Lionheart and Eleanor of Aquitaine. Its latest iteration: a 54-room hotel from Parisian design duo Patrick Jouin and Sanjit Manku, who, careful not to disturb the historic ceilings and walls, incorporated raw materials like beechwood, linen and blackened steel as well as a simplistic aesthetic into custom-created furniture in order to recall the former abbey's monastic legacy.
The Jane in Antwerp, Belgium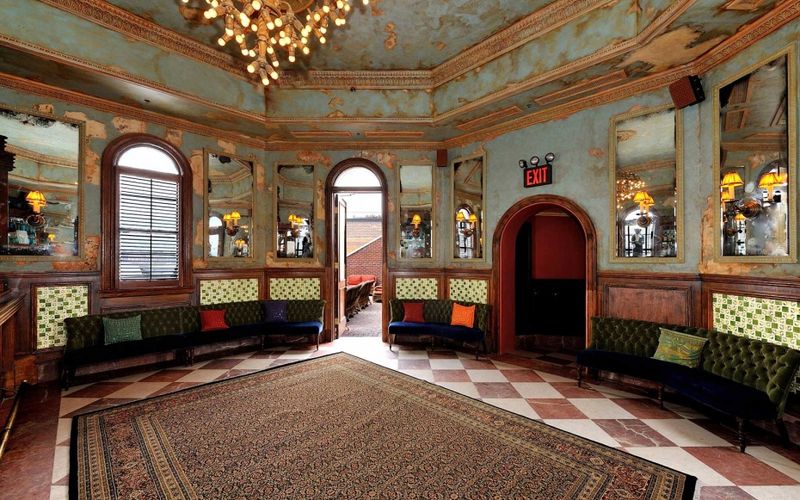 There's nothing clinical about this military hospital chapel, now a hip, high-concept restaurant courtesy of Dutch design firm Piet Boon. Details of its minimalist-meets-rock-and-roll theme—mosaic floors, tattoo-printed steel surfaces, a giant neon skull, a show-stopping chandelier by lighting designers PSLAB—are rivaled only by the small bites (jellied oyster ceviche, pumpkin falafel) prepared by Michelin-starred chef Sergio Herman.
At the Chapel in Bruton, England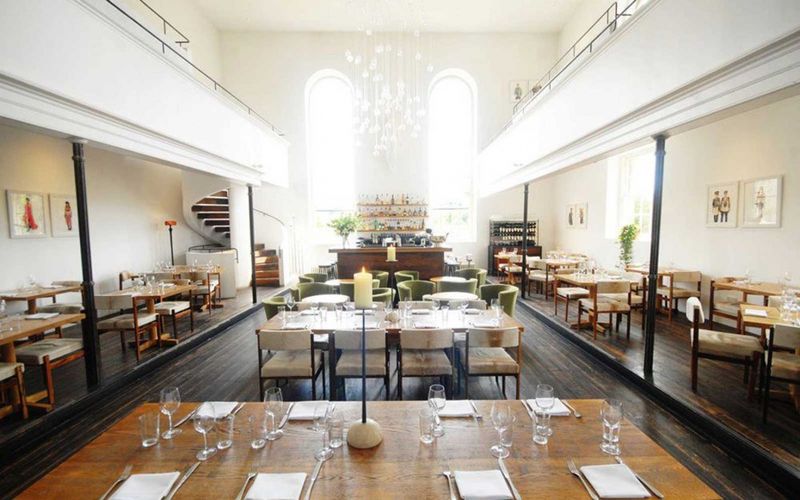 Former Notting Hill restaurateur Catherine Butler and her architect husband have brought new life to this 17th-century congregational chapel, converting the space into a country bolthole and community gathering space, complete with an on-site artisan bakery, double-height restaurant, wine shop and hotel whose eight sophisticated rooms overlook the neighborhood's rust-red Saxony rooftops.
Hotel Sozo in Nantes, France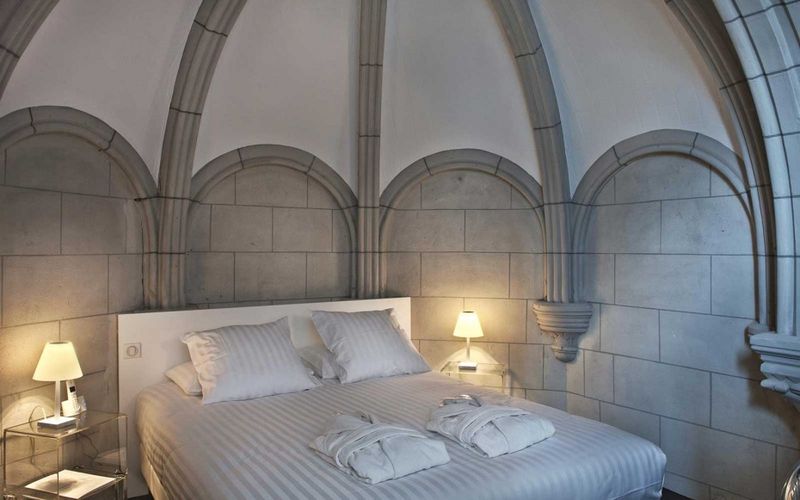 The revamped 19th-century chapel turned hotel, in the fast-growing port town of Nantes at the mouth of the Loire River, is a true feat of design. The big idea? Construct a hotel that can be disassembled without damaging the original structure. The result: 28 rooms that retain the building's original exposed vaulting and stained-glass windows with the addition of all the essential modern amenities (iPod docks, mini-bars).
Kruisherenhotel Maastricht in the Netherlands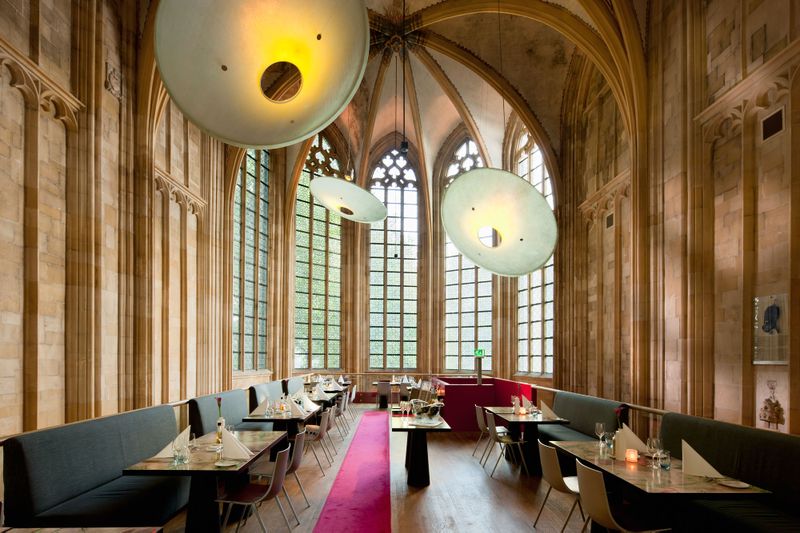 One of the most beautiful cities in Holland might also have claim to one of the country's most beautiful hotels. A 15th-century Crutched Friar monastery and the connecting Gothic church were given a contemporary refresh, with statement chandeliers, muralled walls, a glass wine cellar and a new-build mezzanine, where guests can enjoy a light lunch accompanied by views of the city through chancel windows.
Martins Patershof in Mechelen, Belgium
Escape the city life for Mechelen, a charmingly picturesque Flemish town just a 20-minute drive from Brussels, and take sanctuary at this neo-Gothic Franciscan church turned hotel. Vaulted ceilings, stained glass rose windows, arched alcoves, stone pillars—the space has it all. Guests take continental breakfast within the choir room and its looming 19th-century original altarpiece. Room to book: the Best of Home suite, in the church's top dome.
Restaurant Grace in Portland, Maine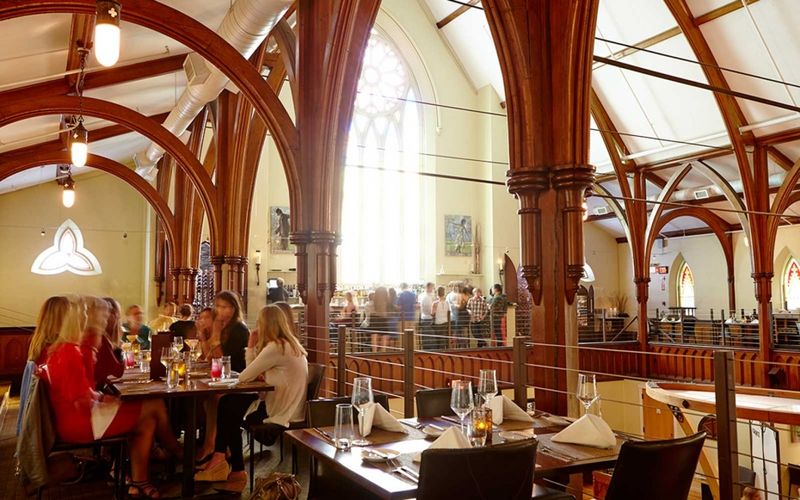 Diners can't help but look up inside Restaurant Grace, which occupies an 1856 Gothic Revival former Methodist church in the heart of downtown. What was saved: the structure's 27 original stained glass windows, exposed beams, organ, and meticulously restored woodwork. What was added: a central bar beneath a triquetra chandelier, where bartenders mix playfully titled cocktails like Redemption and Holier Than Thou.
See more historic churches reimagined on Travel + Leisure.