A Ring of Fire, Millions of Monarchs and Other Rare Natural Phenomena Worth Traveling For
Be in the right place at the right time to witness these sublime sights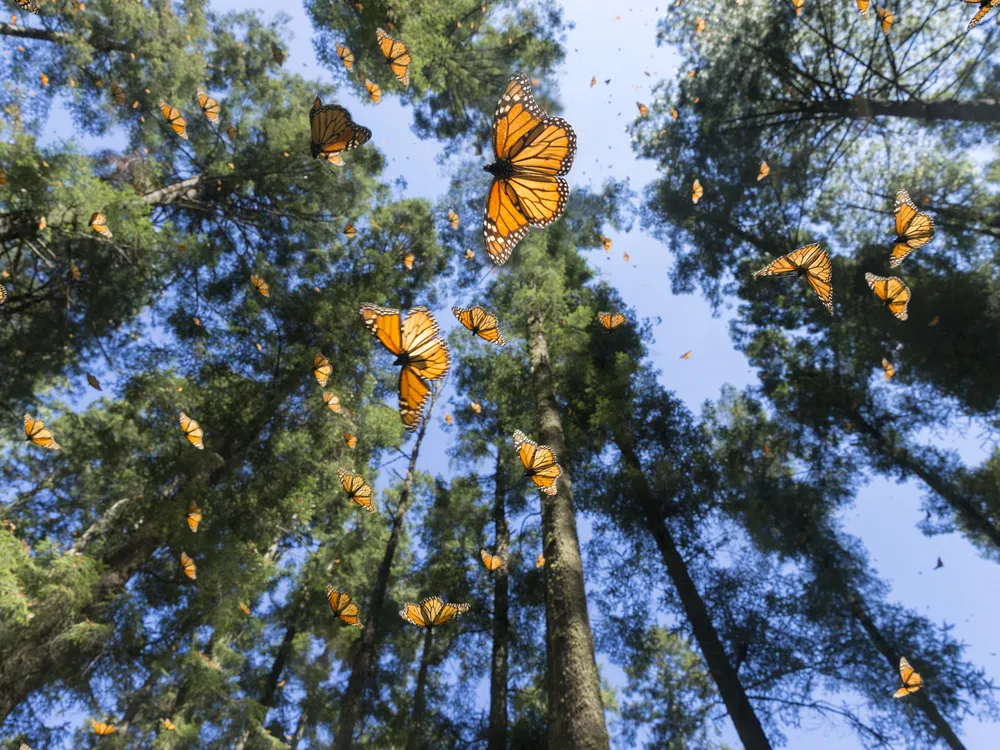 Travel satisfies and whets our appetite for wonder all at once. The more you explore, the more you realize just how much more there is of the world to see. These eight magnificent and unusual natural sights call for careful planning from spectators—and if you make the effort to coincide with them, your view of everything else might change as well.
Annular eclipse; Albuquerque, New Mexico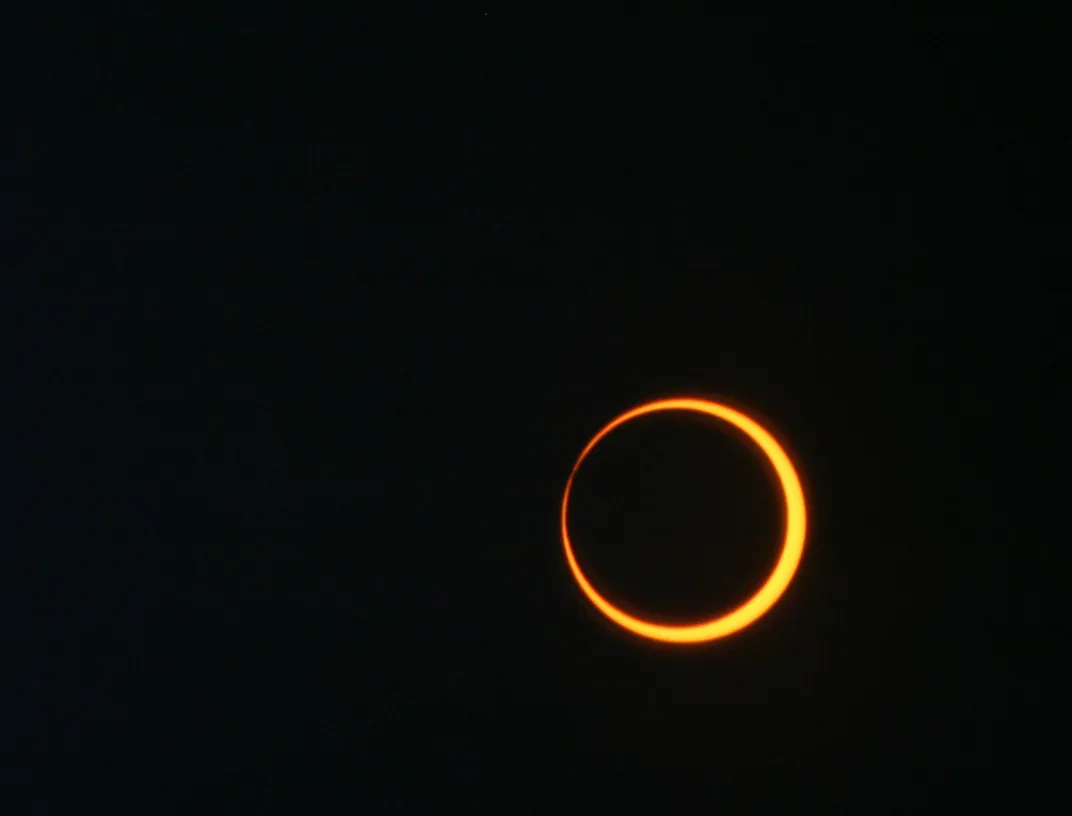 Not all solar eclipses are created alike. They all happen when the moon passes between us and the sun, casting a shadow over the earth. When the moon is close enough to Earth to cover the entire sun, a total eclipse occurs. When it's farther away, on the other hand, the full solar disk isn't covered, and a dramatic band of light surrounds it. "We see a ring around the black moon disk, sometimes called the 'ring of fire,' so we call this 'annular eclipse,'" explains Ylva Pihlström, the associate director of the Center for Astrophysical Research and Technologies at the University of New Mexico. An annular eclipse will cross the United States on October 14, 2023, entering in Oregon at 9:13 a.m. PDT and exiting through Texas at 12:03 p.m. CDT. To see the full ring, you'll need to be in the path of annularity—and the skies must be clear. Albuquerque is one of the American cities most likely to meet both of those conditions. There, "the full ring of fire will be seen for about 4 minutes and 48 seconds, peaking close to 10:37 a.m.," Pihlström says. Her university will be hosting a free, public viewing party in an athletic field with stations where visitors can build solar viewers and learn more about eclipses. "In one of the Physics and Astronomy lecture halls we have a heliostat, which projects the solar disc inside the room and will allow people to enjoy this way of viewing the sun and the eclipse," she adds.
Firefly squid; Toyama Bay, Japan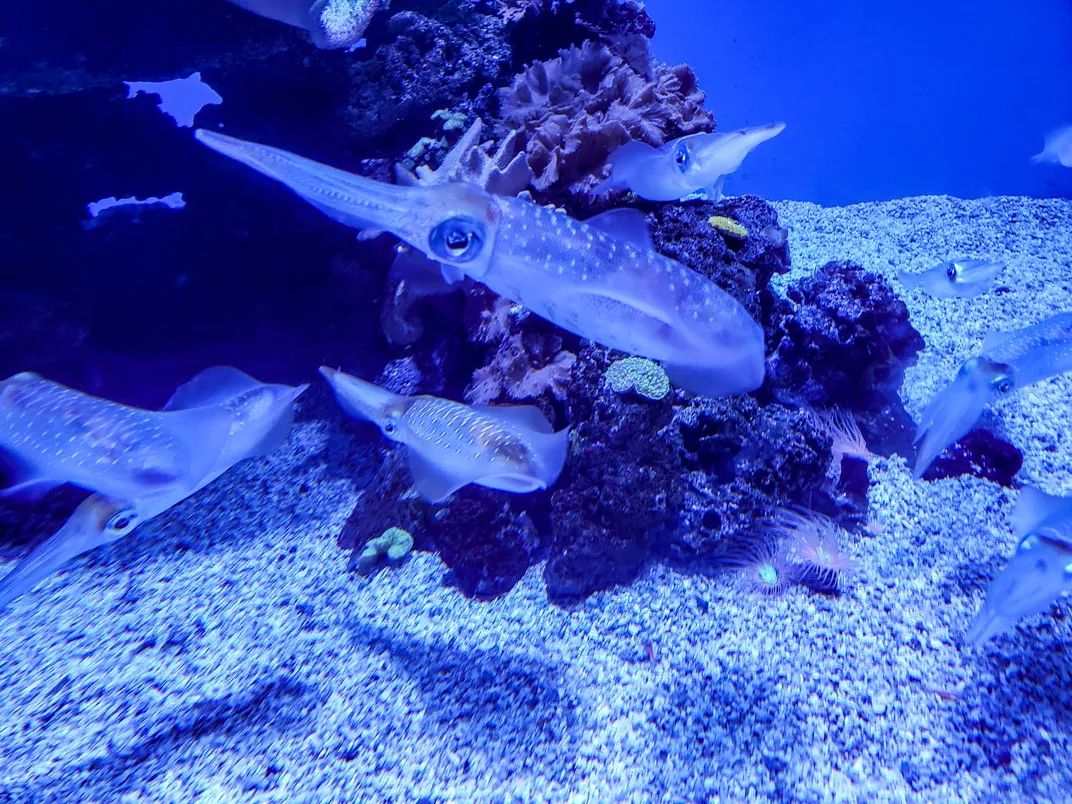 The diminutive Watasenia scintillans, or firefly squid, has a reputation that dwarfs its three-inch body: Each spring, the creatures rise from the deep waters of the Japan Sea and converge to breed in Toyama Bay, a V-shaped canyon that drives the current and the squids' glowing bodies toward fishing boats and the shore. Travelers have visited Toyama Bay to behold the otherworldly spring squid harvest for hundreds of years.
Bioluminescence researchers have long made the spring pilgrimage as well, and they've discovered that the "firefly" moniker the squid acquired in the 19th century was a canny choice. "Both the squid and the beetles have an enzyme that oxidizes substrates to produce light, and those enzymes have a common ancestor," says Miriam Sharpe, a biochemist and communications officer at New Zealand's University of Otago who analyzed the bioluminescent crystal proteins in the animals' arm tips and found that they share 19 to 21 percent sequence identity with fireflies' light-producing enzymes. That is, they evolved from a common ancestor gene, "albeit an extremely long time ago." Toyama Bay's historic Uozu Aquarium displays firefly squid from late March until the end of May—and holds hands-on events about their glow on Sundays and holidays during that time. For even more squid science, visit the Hotaruika Museum in Namerikawa, where squid-season shows display live animals and year-round exhibits detail their biology and history in the region.
Overwintering monarch butterflies, Mexico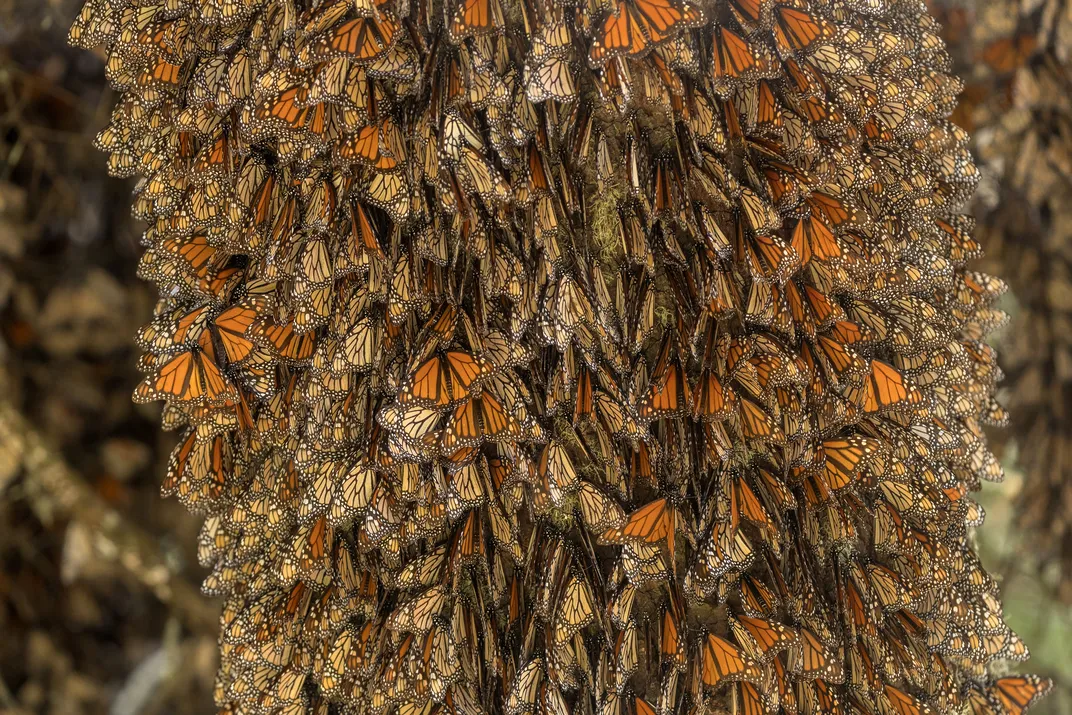 If holiday travel as a vertebrate with access to technology sounds daunting, consider the feat of the delicate monarch butterflies that migrate all the way from the United States and Canada to central Mexico's high-altitude oyamel fir forests each fall. About 100 miles northwest of Mexico City in the UNESCO-designated Monarch Butterfly Biosphere Reserve, up to a billion of the brilliant-winged insects spend November to March clustered on branches like living bits of amber.
"It is awe-inspiring to see fir trees covered by so many monarchs—tens of thousands—that the branches and trunks barely show through. Where the butterflies are dense, you see an outline of a tree completely shingled in butterflies," says Ernest H. Williams Jr., a professor emeritus at Hamilton College in New York and an expert on the population biology and conservation of butterflies. "Everyone thinks of butterflies as being quiet, but with sunlight and days [that are] sufficiently warm, monarchs fly out from the trees to find water to drink, and when thousands of monarchs are in the air at once, they produce a constant whooshing sound."
Avid hikers interested in a day trip from Mexico City can follow a loop trail at Cerro Pelon, the "least touristy" of the sanctuaries, according to Monarch Joint Venture, a U.S.-based nonprofit that preserves monarchs and other pollinators. If you prefer to join a multiday, nonprofit-approved tour, groups like the World Wildlife Fund and Ecolife offer organized visits through affiliates.
Namaqualand superbloom, South Africa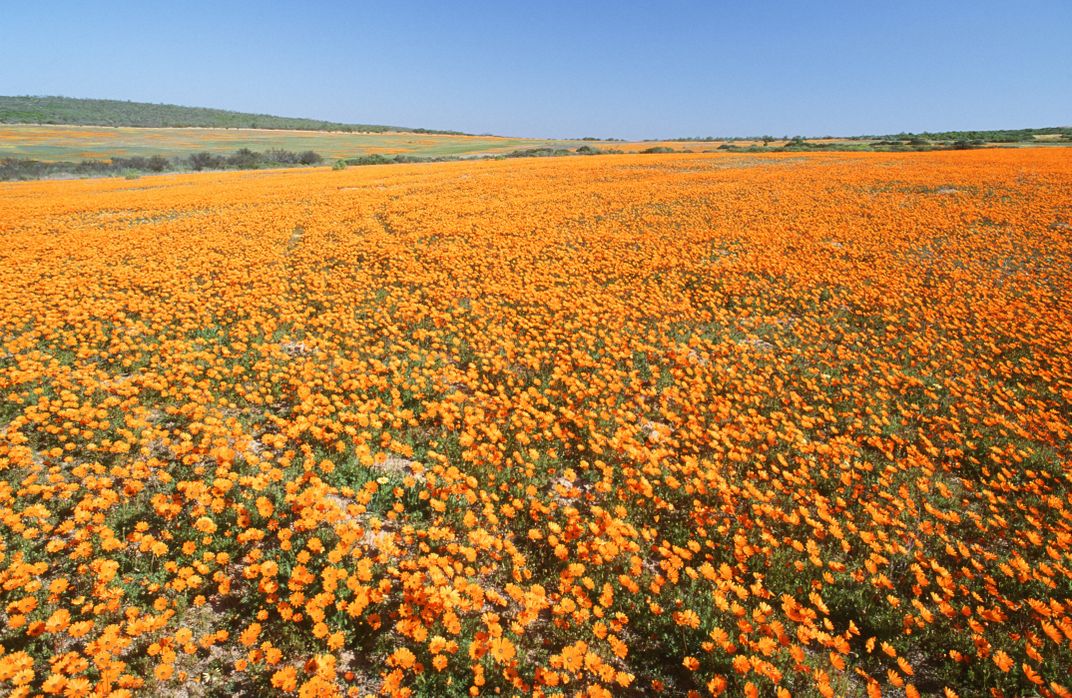 The Succulent Karoo Biome in South Africa and Namibia is downright extravagant in its biodiversity: 40 percent of its 6,400 plant species occur nowhere else in the world. About 300 miles north of Cape Town, South Africa's Namaqua National Park plays host to an annual coastal superbloom when the wildflowers among those species burst into kaleidoscopic life and carpet the arid land with vivid color.
Brilliant Namaqualand daisies and other flora are at their peak in the Southern Hemisphere's spring months of August and September, and they've earned a reputation as one of the world's most spectacular natural flower shows. Road trippers can follow a "wildflower route" from Cape Town that passes through botanical gardens, floral hotspots and nature preserves; two popular walking trails, in turn, loop from the park's main offices at Skilpad Rest Camp through wildflower "carpets" and bushy areas teeming with both flowers and succulents. Visitors interested in overnight stays can reserve luxury tents at two flower camps.
Pink lake; Melbourne, Australia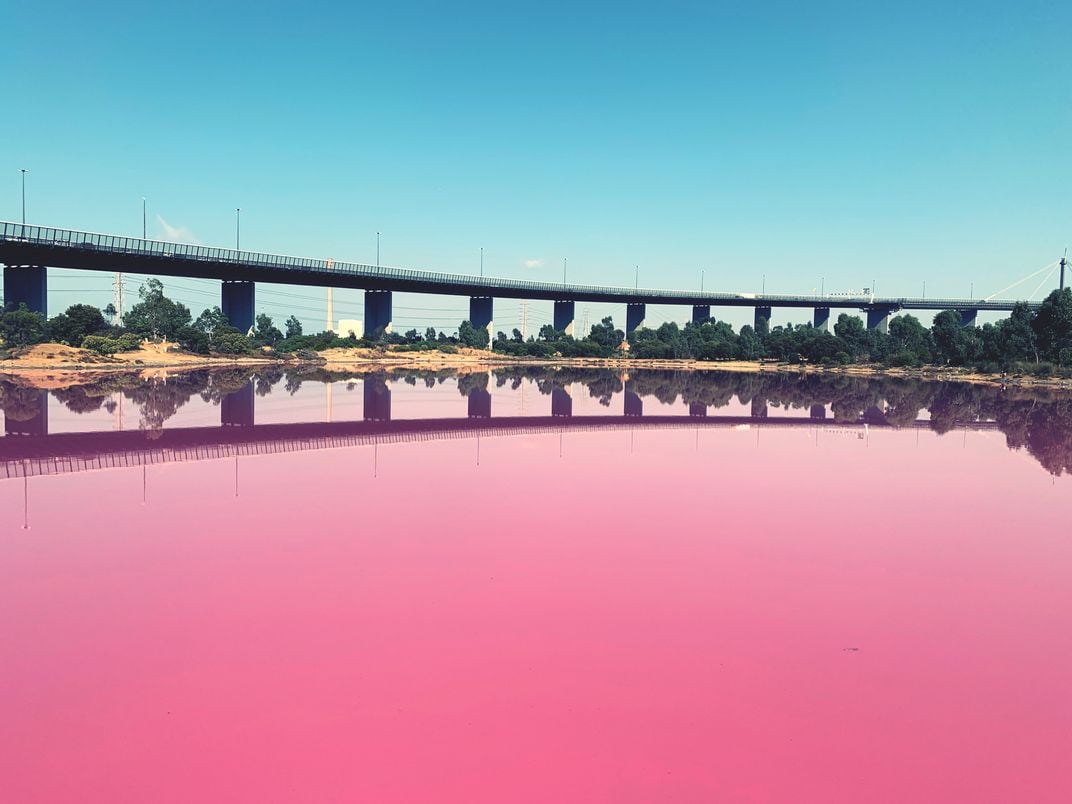 On the eastern banks of the Yarra River, under the Westgate Bridge in industrial Melbourne, a salt lake in the verdant retreat known as Westgate Park has a habit of turning… pink. When a prolonged dry spell (and the evaporation that ensues) causes an extreme spike in the lake's salinity, a single-celled algae known as Dunaliella salina is the only organism that can survive. "When the weather and water conditions are just right, the algae produces pink or red [carotenoids] (basically a filter, like a pair of sunglasses, to protect their chlorophyll cells and help photosynthesis), which give the lake its pink color," Parks Victoria's chief conservation scientist, Mark Norman, explained in a news release last year.
The Australian summer months of December and January are reliably hot and dry enough to trigger an annual blush in Westgate Park; the lake water becomes gray-green again months later as the weather cools, rainfall increases and the ultra-hardy algae begins to share space with other organisms once more. Westgate's lake isn't the only body of water to occasionally take on the tone of Pepto Bismol; more remote lakes in Victoria have been known to do the same. Its metropolitan location, on the other hand, is truly unique. "Some people have traveled all over the world to see this phenomenon and we've got it right on our doorstep," Norman said.
World's largest bat maternity colony, San Antonio, Texas
Each summer, the northern outskirts of San Antonio in Texas' scenic hill country play host to one of the largest concentrations of mammals on the planet. After spending the winter in Mexico and Central and South America, expectant Mexican free-tailed bats converge in March and April on Bracken Cave, a formation composed of karst, or porous limestone, created when a sinkhole collapsed on the side of a hill. When the mothers-to-be each give birth to a single pup in June and pack their babies in clusters on the walls, Bracken Cave reaches a staggering total population of more than 15 million bats.
The tornado of winged creatures that emerges from its mouth to feed each summer evening is more than an awe-inspiring spectacle: it's also an essential element of agricultural pest control. Bat Conservation International (BCI), the nonprofit that purchased the cave in 1991 and now owns 1,500 acres of former ranchland surrounding it, estimates that the bats consume more than 100 tons of potentially devastating corn earworm moths every summer night. Since Bracken Cave Preserve is a privately operated property, would-be bat watchers need to make reservations well in advance of the colony's dusk flights from May to September; BCI posts its annual visit schedule and reservation instructions in March each year.
Migrating wildebeests crossing the Mara River, Kenya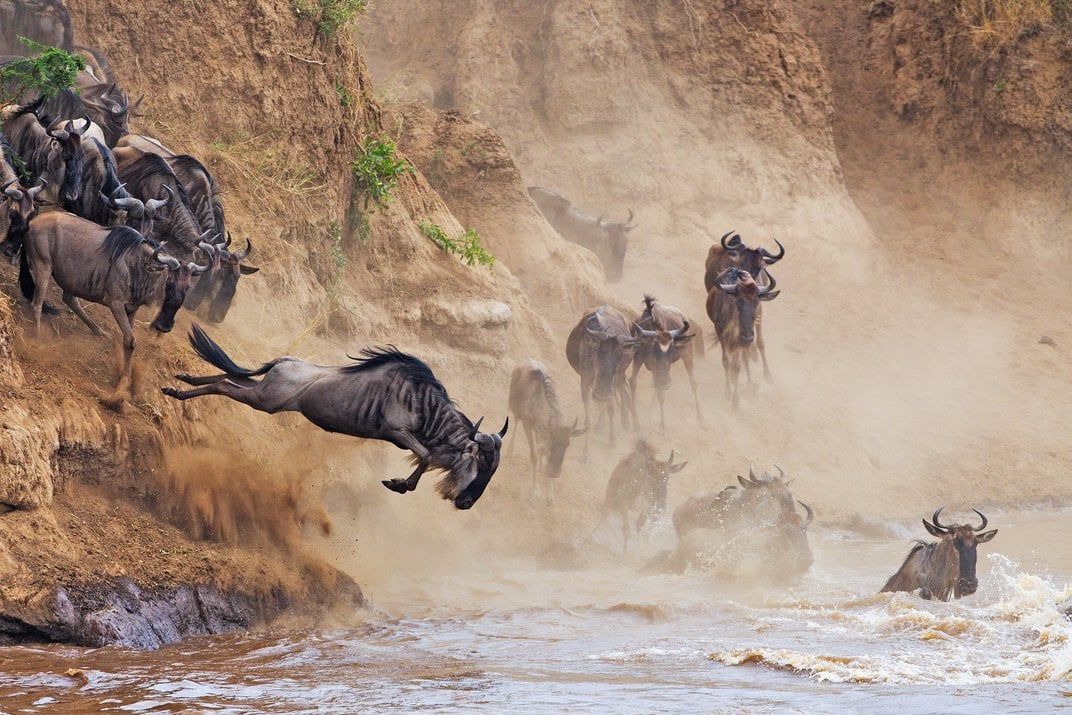 Following the seasonal rains on a massive, clockwise grazing path that sweeps around the southern Serengeti in Tanzania, northwest toward Lake Victoria, northeast into Kenya and the Masai Mara, then south again into Tanzania, the perpetual movement of 1.2 million wildebeests in southeast Africa is the largest overland migration in the world. When those animals confront the Mara River, a segment of their journey that claims thousands of lives each year, an inherently awe-inspiring spectacle becomes utterly riveting. "Most river crossings are successful for most wildebeest," explains Amanda Subalusky, an ecologist and principal investigator at the University of Florida who spent four years conducting field surveys in Kenya to explore how mass drownings influence nutrient cycling in the Mara. "There are usually a few individuals lost to crocodile attacks, or who get injured jumping or falling down steep riverbanks, but most individuals will make it across and almost immediately start grazing on the other side. However, if the river is a bit high, and the crossing is treacherous, or the exit out of the river is a bit narrow, wildebeest can struggle"—and massive tragedy can ensue.
The journey's stakes underscore the fragility of the Serengeti ecosystem, and Subalusky emphasizes that responsible tourism that benefits local communities is a viable way to support its conservation. It's also crucial to observe this massive migration without impacting it, as overeager operators have been known to do. "For tourists interested in observing this incredible spectacle ethically, I think it's really important to go with well-trained, ecologically conscious tour guides," she says. "These guides will know the park rules and will know how to observe and interpret animals' behavior and signs of stress." Competition for vantage points is at its fiercest in July and August, but wildebeests are also crossing the Mara in June and September—and you and your binoculars will have more space.
Puffling rescue; Vestmannaeyjar, Iceland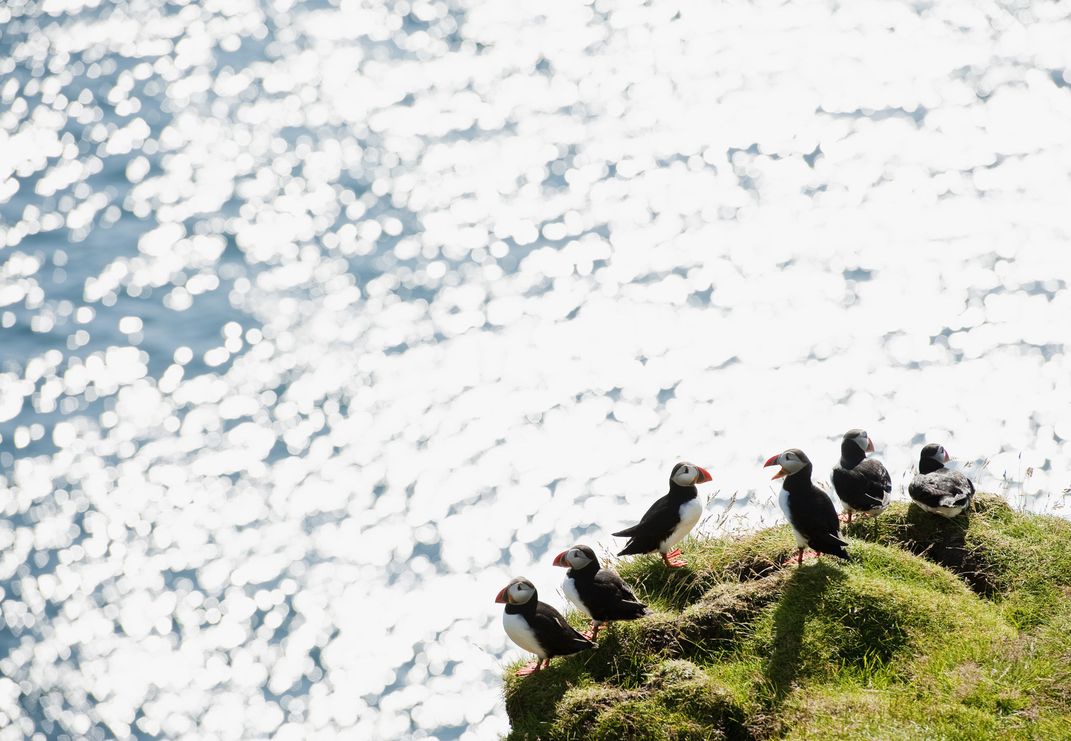 The adorably Pierrot-faced and now-vulnerable Atlantic puffin is the most common bird in Iceland, and the colony that resides in Vestmannaeyjar (the Westman Islands), an archipelago off the south coast, contains 40 percent of the country's population. The 1.1 million cliffside burrows they occupy are just across the long, narrow harbor from 4,400 humans and their artificial light. When it comes time for the juvenile puffins to take their first night flights in late August and early September, some are drawn not to the Atlantic, but to the illuminated town, where they crash to the pavement. Happily, a brigade of children permitted to stay up past their bedtimes, puffin-loving adults and even eager tourists patrol the streets with cardboard boxes to rescue the stranded little ones and release them oceanward the next morning. That's right: Puffling rescue, followed by gentle puffling-tossing. (For the last few years, injured, oily and underweight pufflings, of which there were 60 in 2022, go to local rehabilitators at the Sea Life Trust Beluga Whale Sanctuary; more than 3,000 pufflings were rescued and released last year.)
Erpur Hansen, director of the Southwest Iceland Nature Research Center at Vestmannaeyjar, notes that the physical and chronological data that rescuers help him collect about the youngest puffins continues a long tradition of citizen science in Iceland—and that volunteers have been helping band puffins there for six decades. He also notes that though adult puffins have an annual survival rate of 92 percent, "their first-year survival rate is very low, and that's common for long-lived species like seabirds in general." Changes in their mortality rate in their first year have a huge impact. The rescues affect human young as well: "We have foreigners coming with the sole purpose of bringing their kids to join in for a few days," Hansen says. "That's great: This has educational value, [encourages] respect for nature, offers a new experience—it's just positive, really."