A Prize-Winning Architecture Tour of Beijing
The next Pritzker Prize for architecture will be awarded in the Chinese capital, a tribute to its new crop of award-worthy structures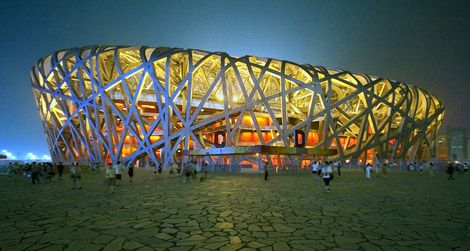 China's ever-growing global power and influence just got another mark of recognition: The 2011 Pritzker Prize—which goes to Portuguese architect Eduardo Souto de Moura—will be awarded on May 25, 2012, in Beijing.
Considered the Nobel of architecture, the prize was created by Hyatt Hotel chain co-founder Jay A. Pritzker in 1979 (Philip Johnson was the first laureate). Award ceremonies are traditionally held in different cities around the world, but this is the first time the Chinese capital has served. The foundation that governs the prize said it based its selection on the proliferation of projects by past Pritzker winners currently rising in Beijing.
I'll say. When I was last there in 2007, I watched a whole portfolio of them rise. A Pritzker-in-Bejing tour—not to attempt on foot, given the city's size—should include:
National Stadium on the Fourth Ring Road
Built for the 2008 Olympics and affectionately known as the "Bird's Nest" for its singular round, woven design, the stadium was created by the Swiss architectural team of Jacques Herzog and Pierre de Meuron, who collected a Pritzker in 2001.
Central Chinese Television headquarters in the Central Business District
It's impossible not to rubberneck at this truly amazing structure designed by Rem Koolhaas, Pritzker class of 2000, and his then partner Ole Scheeren. The CCT Building, which was damaged in a fire and is still under construction, has two 50-story legs, connected by an angling 13-story bridge; when the observation deck opens visits will discover that the garden below replicates an 18th century map of Rome by Piranesi.
Four rounded, interconnected, steel and glass mounds in the international business district of Dongzhimen are beginning to look like buildings, as intended by London-based architect Zaha Hadid (Pritzker 2004). When completed Galaxy Soho, an office and retail complex, will join a small handful of projects completed by an architect know for mind and space-bending designs sometimes too complex to execute.
T3 Beijing International Airport
Capital Airport about 20 miles northeast of the city center used to be dowdy and inefficient. But in the run-up to the 2008 Olympics it got an ultra-modern new terminal designed by Norman Foster, whose 1999 Pritzker came about a decade after he was knighted by Queen Elizabeth II. Cool, window-clad and massive, T3 Beijing is the hub for Air China and thus unavoidable if you fly in on the national carrier.