While most artists measure their artworks in inches, Stan Herd measures his in acres. For the past 40 years, the Kansas-based artist has been using farmland, pastures, grassy fields and any other large swaths of open land as his canvas, creating massive earthworks that are best seen from the sky, including a massive vase of flowers and a 2005 edition of the Kansas state quarter. 
Fittingly, for his next creation, which will debut today at Woodruff Park in downtown Atlanta, the 71-year-old crop artist is looking up to the sky for inspiration. Stretching 4,800 square feet in size, the piece coincides with the United Nations' International Day of the Girl Child initiative and is also part of World Space Week, an annual event that celebrates global accomplishments in science and technology. Since this year's theme is Women in Space, Herd has created a portrait of Stephanie Wilson, a veteran NASA astronaut with three space flights under her belt (she's also the second African American woman to go into space), and one of 18 astronauts who are a part of Artemis, NASA's lunar exploration program that is scheduled to send the first woman to the moon in 2024.
Herd, a painter and sculptor by trade who attended the University of Wichita on an art scholarship, admits that making artwork of this magnitude is no easy task. From start to finish, it can take weeks and even months to complete a single piece. To make each earthwork, Herd begins by creating a computer sketch using a grid technique that he says is "similar to the way Michelangelo created the [frescoes] on the Sistine Chapel ceiling," where each square segment translates to a specific measurement. In the case of the Atlanta artwork, one square inch of the sketch equals 10 actual feet.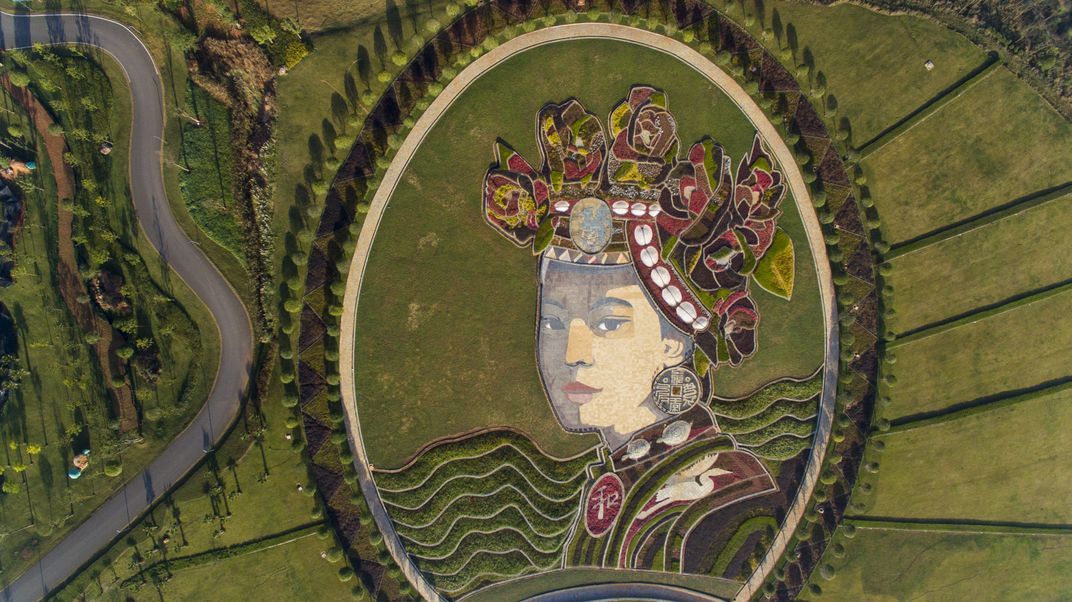 "The real art happens when I transfer the drawing onto the ground," says Herd, who will often incorporate found elements such as rocks, mulch and dirt to add dimension to a piece. In a piece he created in 1988 which he dubbed Cola Wars, he even had volunteers dress in red and blue T-shirts to replicate a duo of oversized Coca-Cola and Pepsi cans. 
To carve intricate portraits and bucolic scenes into the landscape, Herd and his team, which consists of his son and a group of volunteers, utilize everything from tractors and plows to lawn mowers and hand tools purchased at the local hardware store. Because the Wilson portrait is on the smaller side compared with other ones he's done (for example, his debut earthwork, a sprawling 160-acre image of Native American war chief and Kiowa leader Satanta that he sculpted in the early 1980s, measured 160 acres), he plans to use predominately weed wackers and manual hand trimmers to sculpt the quarter-acre plot into Wilson's likeness. The piece, made from existing grass, cut grass, river sand, compost, pecan shell mulch and a clay product, is a replica of a professional portrait of Wilson dressed in full astronaut gear. 
"As a creative," Herd says, "I'm always wanting to bring something into the universe that's new."
Herd first came up with the idea to make massive earthworks while on a flight from his home in Kansas. 
"I grew up surrounded by farm country, and one day it struck me that I could take my farming background and translate it into art," he says. "After college, I had been painting large murals—I'm better at making artworks that are larger than on a sketchpad—and the idea to make earthworks came while I was on a flight and looking down at the fields. I knew about [the late artist] Christo and how he was doing stuff outside the gallery and museum and pushing art out into the landscape."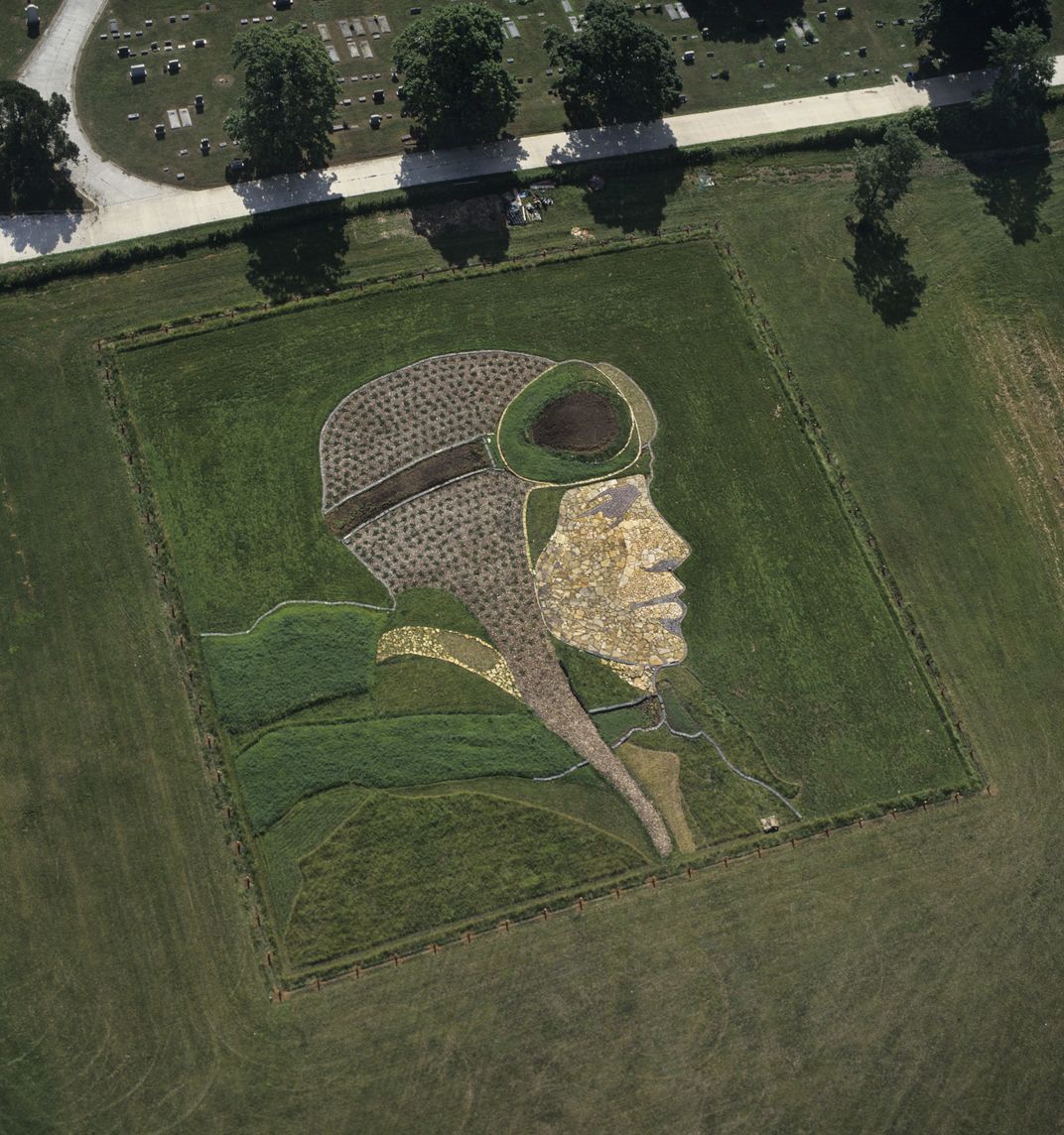 In the time since, Herd has built an impressive collection of several dozen sprawling artworks, from politicians and historical figures like Satanta and Amelia Earhart, to more commercial endeavors for companies like Absolut Vodka, Shock Top Beer and Papa John's Pizza. (He's also the subject of a 2009 movie about his life as an artist called "Earthwork" starring John Hawkes). The lifespan of each work varies depending on its location and the weather.
This isn't the first time that Herd has created an earthwork in Atlanta. Earlier this year, he made a temporary portrait in remembrance of the late congressman and civil rights activist John Lewis in the city's Freedom Park. In an article published in Atlanta's SaportaReport, Herd says, "I hope to bring attention to land, and the people who work the land, who value the landscape and Mother Earth; that is my family. I also have been involved, all my life, in lending art to causes and issues and thoughts and opinions that have changed the world. That is John Lewis."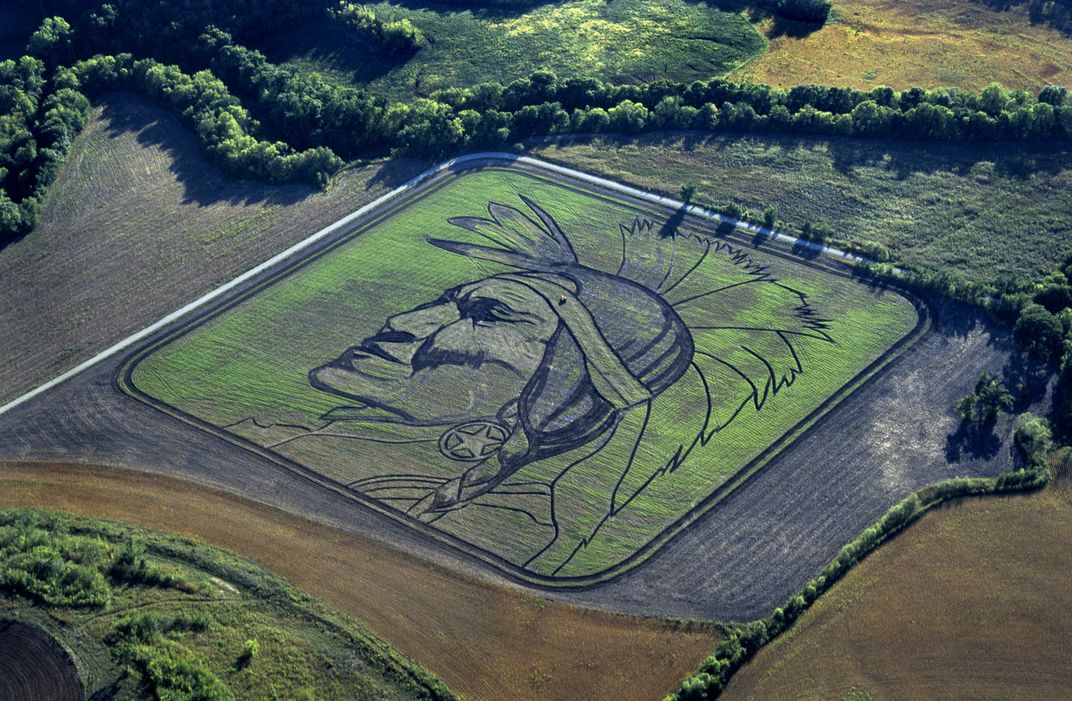 Herd's work caught the eye of Christine Korp, a self-proclaimed "astronaut wrangler" who served as astronaut Buzz Aldrin's manager, and who as the president of Purpose Entertainment works closely with NASA as an advisor on various projects.
"I wanted to do a monument honoring women, because there aren't that many around," Korp says. "I want to honor women on the same level as men." 
After doing some research online, Korp happened upon Herd's portfolio, which includes a permanent one-acre portrait he built into a hillside in Atchison, Kansas, of the famed aviator Amelia Earhart using plantings and pieces of rock, as well as an homage to Vice President Kamala Harris he cut into a field in Lawrence, Kansas, during the recent presidential election.
"I asked if he would be interested in creating giant eco-friendly portraits of women in the grass," she says. "He also wanted to honor women in a big way."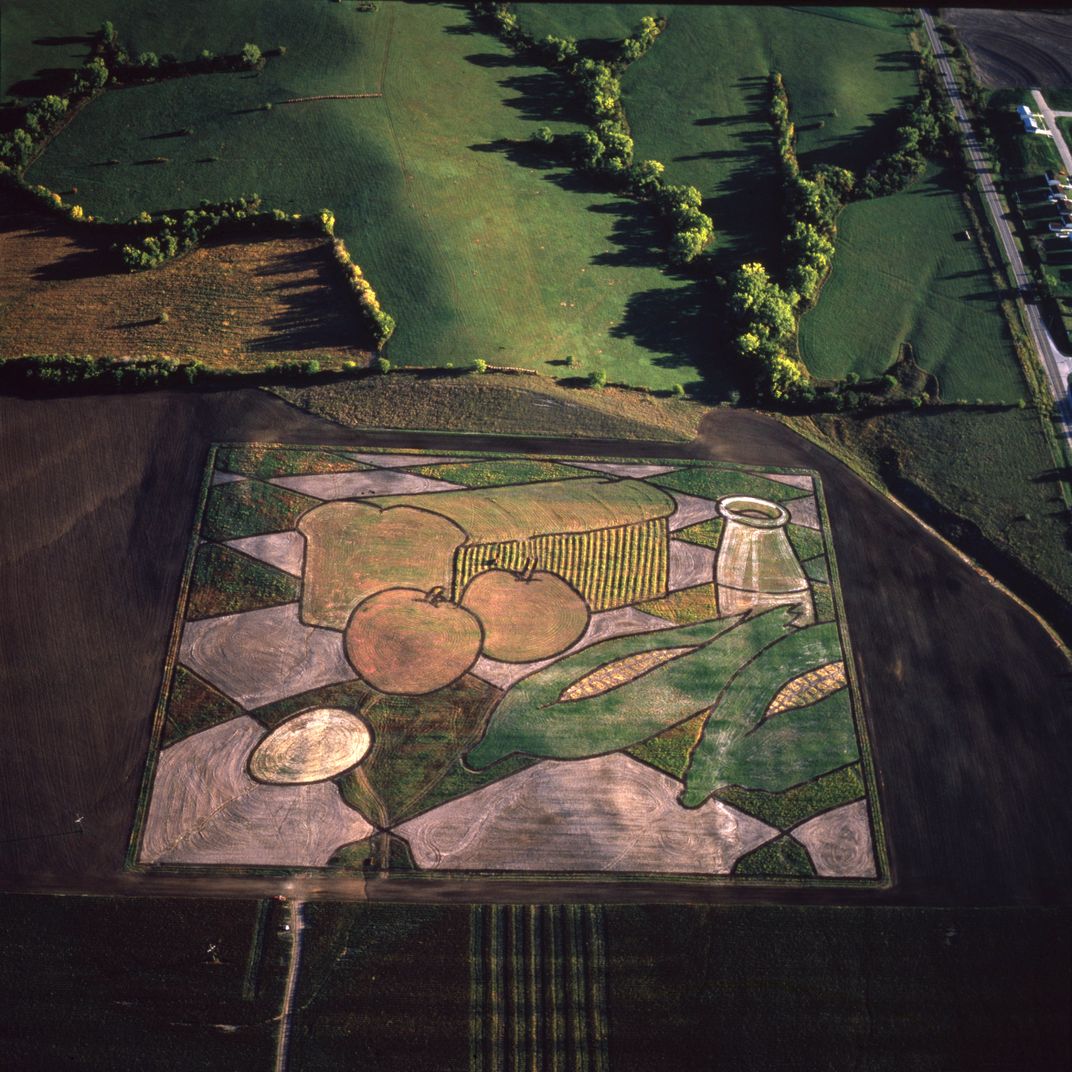 The result is the art piece he has created this month in Atlanta, which will be bordered by approximately 1,500 space-themed tiles created by students from 14 Atlanta Public Schools and children from three of the city's Children's Healthcare of Atlanta hospitals. Given that the portrait is small, as far as Herd's pieces go, visitors can appreciate it from the ground, as they walk through Woodruff Park. The final artwork will be captured by satellites in low-Earth orbit to commemorate the piece before it fades back into nature.  
"An important element to my artworks is that they're temporary and designed to fade back into their surrounding environment," Herd says. "There's something special about people having a shared experience on a field of grass before it goes back to its natural state."
The Stephanie Wilson earthwork will be on display in Woodruff Park in downtown Atlanta from October 11 to 22.