The 20 Best Small Towns to Visit in 2018
From Oregon Trail stops to Mister Rogers' original neighborhood, these towns are worth seeing this year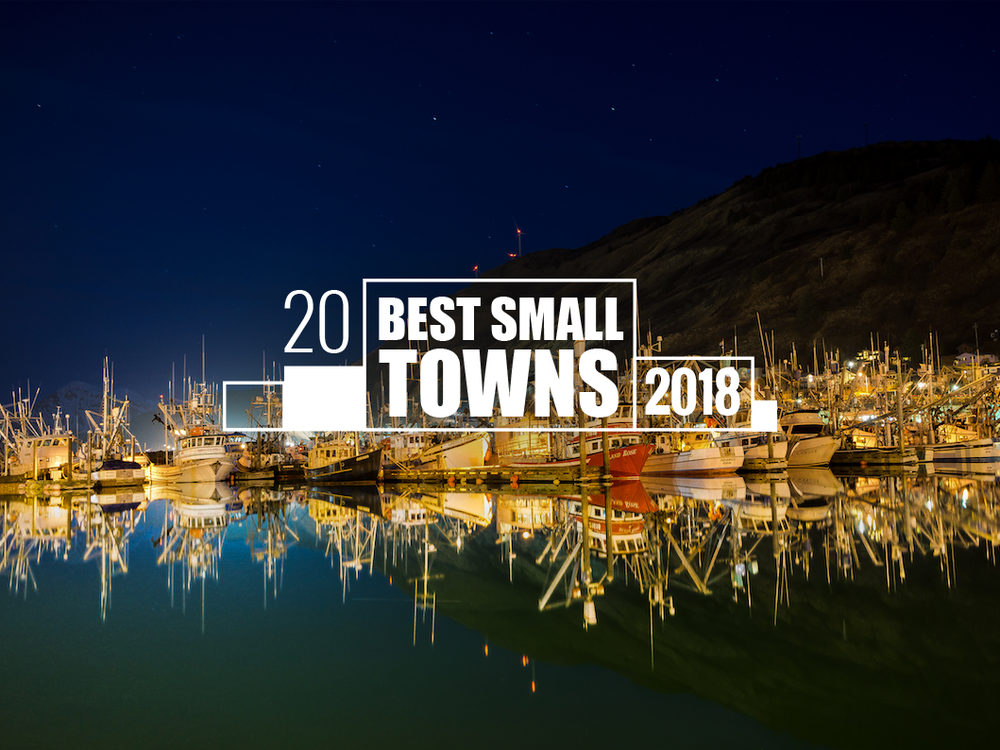 There's something about small towns that ignite our imaginations. Maybe it's the charming main streets lined with century-old structures, now filled with artisan shops and cozy family-owned breakfast eateries, or the meandering rivers that run through downtown centers and majestic mountains that rise in the not-too-far distance, offering access to a world of activity. Or perhaps it's one-of-a-kind museums, attractions and festivities that are brimming with hometown pride. This year, we're not only highlighting towns that embrace all these qualities, but those that are also celebrating a milestone anniversary, marking a major historic event, or unveiling a new museum or festival (there's even one town on the list that's been completely transformed by a television show) that make visiting in 2018 particularly special.
As in the past, we've once again turned to geographical information company Esri to help sort through the country's many small towns (those with a population under 20,000). From there, we compiled a list of 20 that combine historic elements with distinct cultural offerings, natural beauty and everything from the country's oldest whitewater rafting festival to legendary pirate lore.
Our 2018 list includes the Pennsylvania town that gave us Mr. Fred Rogers, a seaside hamlet that sits at the doorstep of Northern California's coastal redwoods—the tallest living trees on Earth—and an Idaho resort town that's been recognized for its clear night skies. Get ready to explore!
Corning, New York (Population: 10,925)
When what's now Corning Incorporated first relocated to this former lumber town in New York's southern Finger Lakes region 150 years ago, no one quite knew the impact one of the world's biggest glassmakers would have on its surroundings. Now the hands-on Corning Museum of Glass is celebrating the "Crystal City's" legacy with a summer's worth of activities. Their mobile GlassBarge, which sets out from Brooklyn—where the company originated—at the end of the month, will retrace the outfit's move, a century and a half ago, up the Hudson River, west along the Erie Canal and to Corning on September 22. It's the city's part in New York's larger Erie Canal Bicentennial anniversary.
Downtown's Gaffer District—"gaffer" is another name for glassblower—is Corning's main hub, a five-block walkable stretch of historic stone and brick buildings filled with antique stores, boutique and name brand shops, and dozens of diverse bars and restaurants like the step-back-in-time Hand + Foot, where craft cocktails, creative sandwiches and board games are par-for-the-course.
The city's award-winning Centerway Walking Bridge doubles as a "suspended park" between the Gaffer District and the glass museum across downtown's Chemung River, and is just one of Corning's impressive cultural offerings. There's The Rockwell Museum, a Smithsonian Affiliate housed within Corning's original City Hall building, which showcases the American experience through art—including a gallery devoted to Andy Warhol. Those interested in living history (and live blacksmith demos) should beeline for the Heritage Village of the Southern Finger Lakes, with nearly a dozen buildings including an 1850s log cabin and the historic 1796 Benjamin Patterson Inn that capture what area life was like during the 19th century.
Just outside of Corning, hikers have plenty to keep them satisfied with portions of both the 950-mile Finger Lakes Trail system and the overlapping Great Eastern long-distance trail nearby. The town sits on the cusp of three rivers, making it especially popular for kayaking and canoeing. The wineries for which New York's Finger Lakes region is known make for a sweet aprés-adventure scene. Just a half-hour drive away in Hammondsport are cellars like Dr. Konstantin Frank, with its Reisling pours and spectacular views of Keuka Lake.
Hanapepe, Hawaii (Population: 2,638)
It's been 25 years since Steven Spielberg's epic blockbuster Jurassic Park first brought dinosaurs back to life on the big screen, but visitors to Kauai's Hanapepe—a town on the Hawaiian island's south shore—still can't get enough of one of the film's most recognizable features: the opening scene's towering Manawaiopuna Falls. Each action-packed sequel, like this June's Jurassic World: Fallen Kingdom, ignites renewed interest, though the only way to see these normally inaccessible 400-foot falls (they're located on private land) is by air. Not only does Island Helicopters offer prime views of the iconic attraction; it's also the only operator permitted to land at its base.
Of course, "Kauai's Biggest Little Town," as the locals call it, is an attraction in itself, one with a history that includes immigrant entrepreneurism and its early 20th-century years as a G.I. hub. Today the bulk of Hanapepe's original colorful and rustic nearly century-old wooden structures still stand, lending the bohemian village an authentic Old West vibe. Hanapepe (the name means "crushed bay" in Hawaiian) even served as inspiration for the Disney film, Lilo and Stitch.
Restaurants run the gamut from traditional Hawaiian fare like huli huli chicken (grilled chicken marinated in a sweet pineapple, ginger and garlic sauce) to locally sourced Japanese-style cuisine, and there are plenty of shopping opportunities. Hanapepe is home to the western-most bookstore in the United States, a Hawaiian spice company, and Banana Patch Studio, a treasure trove of hand-painted pottery, art cards and ceramic tiles all created by more than 20 artists in a former bakery and pool hall. In fact, Hanapepe is known as Kauai's art capital, something that it highlights each week during Friday Night Art Walk, when more than a dozen art galleries open their doors and offer visitors the chance to talk with local artists.
For a fun thrill, take a walk across Hanapepe's precarious Swinging Bridge, then chow down on some of the best taro chips around from the town's Taro Ko Chips Factory to ease your adrenaline rush.
While area beaches are plentiful, Salt Pond Beach Park (named for traditional Hawaiian salt collecting ponds—manmade salt flats created for sea salt harvesting) is a must for its shallow snorkeling pools and reef protected waters. Just outside of town near Ele'ele's Port Allen Harbor is Glass Beach, covered in millions of bits of colorful sea glass in shades of blue, amber and aqua.
Dublin, Georgia (Population: 16,100)
It's been 50 years since shots rang out in Memphis, but the legacy of Martin Luther King, Jr., continues to reverberate worldwide. This is especially true in Dublin, a central Georgia city midway between Savannah and Atlanta where the future Civil Rights leader gave his first public speech at 15 years of age. King delivered "The Negro and the Constitution," his submission to an oratorical contest sponsored by the Colored Elks Clubs of Georgia, at Dublin's First African Baptist Church, which is now part of its larger MLK Monument Park, with a colorful, interactive mural by Georgia artist Corey Barksdale and audio stops, including a young man reading King's submission, opened last year. The church is also part of the newly launched, self-guided Footsteps of Dr. Martin Luther King, Jr., Trail, chronicling Georgia's role in the Civil Rights Movement in 28 distinct stops statewide.
Historic and architectural landmarks permeate Dublin's downtown, and many of them are part of the city's downloadable audio walking tour, including Railway Park—which commemorates the role of railways in Dublin's development—and the city's own Carnegie Library. It's also home to some top-notch eateries, including Deano's Italian Grill, with its signature pan-seared shrimp and garlic cheese grits, and the only imported Italian wood oven in Georgia. Southern-style rotisserie bistro Company Supply occupies a completely restored 120-year-old dry good store (and sports a full bar stocked with local micro brews), while Holy Smokes, dishes out award-winning barbecue from a stationary food truck. Pair a meal with a show at the renovated Theatre Dublin, a former Art Deco-style movie house that now hosts music and theatre performances as well.
Soak in a bit of natural reprieve at the River Bend Wildlife Management Area, home to primitive campsites, pristine fishing waters, wildlife such as alligators and the elusive Swainson's warbler, and approximately 1,700 hiking and biking trails that wind through remote cypress swampland. Or bed down at the Dublin Farm Bed and Breakfast, a four-guest room country retreat on 35 acres, complete with donkeys, horses and its own restaurant, serving up ever-changing Northern Italian fare.
A local citizen named Dublin after his own hometown in Ireland in 1812, so it makes perfect sense that the city's banner event is its annual St. Patrick's Festival, a six-week-long celebratory extravaganza featuring more than 40 events, including its backyard-style Pig in the Park BBQ Championship, an arts and crafts fair, and a family-themed St. Patrick's Day parade.
Pendleton, Oregon (Population: 16,791)
In the 150 years since what's now Eastern Oregon's cultural center received the name Pendleton, after former Democratic Vice-President nominee George Hunt Pendleton, this once trading post has flourished into one of America's best small towns. The Oregon Trail—which is marking its 175th anniversary this year—ran right through Pendleton's center, and that same pioneering Wild West spirit still permeates its streets today.
Situated at the foot of the Pacific Northwest's sprawling Blue Mountains, Pendleton's historic Old Town is brimming with unique stores selling antique heirlooms and western wear, from artisan cowboy boots to custom-made fur felt hats. Shop for locally handcrafted beaded belts and "fringe monsters" (fringe-layered handbags) at 23+, and don't miss Pendleton Woolen Mills, the factory-turned-retail store where the world-famous wool blanket, shirt and coat manufacturer first took off.
September's annual Pendleton Round-Up is one of the town's most exhilarating events, a more than century-old, week-long rodeo that includes a dress-up parade, Native American tipi village and the Happy Canyon Night Show, a reoccurring pageant showcasing the American West's formation, from its original Native American inhabitants to the arrival of Europeans, and through the days of the Oregon Trail pioneers to its formation as a rip-roaring frontier town. The Pendleton Round-Up and Happy Canyon Hall of Fame pays homage to both the rodeo's and show's legendary and long-associated figures, such as local African American cowboy George Fletcher, a fan-favorite who was denied the 1911 saddle-bronc title because of his skin color.
Discover the history, culture and impact of pioneer settlers on the area's native peoples at the Tamástslikt Cultural Institute, or embark on a subterranean tour beneath Pendleton's streets, where Chinese immigrants who'd come looking for work after the country's railroads were mostly complete faced bullying and discrimination from local cowboys, so took their businesses—which included legal shops as well as illegal brothels and opium dens—literally underground more than a century ago. It wasn't until that 1980s that the tunnels were rediscovered, when inexplicable potholes began appearing in the streets. The free Pendleton Center of the Arts is just one of the many stops along Pendleton's Charm Trail, a self-guided way to create your own charm bracelet while visiting antique stores, museums and restaurants throughout downtown.
Pendleton River Parkway follows the Umatilla River in the heart of town, offering nearly three miles of flat walking trail, while the town's outskirts are bursting with options for cycling, hiking and camping.
North Conway, New Hampshire (Population: 2,241)
President Woodrow Wilson first established New England's White Mountain National Forest in 1918, and this year the more-than 700,000 acres of protected forest and alpine peaks—including most of 6,266-foot-tall Mt. Washington—is celebrating its 100th birthday with a year's worth of centennial events. In the heart of the Mt. Washington Valley, North Conway makes the perfect hub for these festivities, especially since the picturesque village has a bevy of attractions all its own.
Earlier this year, North Conway became home to the Eastern Slope Branch of the New England Ski Museum, a new permanent gallery dedicated to the region's role in introducing skiing to the States. The resort town is often called the "Birthplace of Skiing," due to its early adoption from Europe in the 1930s and a combined interest from three main groups: local Scandinavian immigrants, the Dartmouth Outing Club, and members of the Boston-based Appalachian Mountain Club. Last year, a USA Today poll named North Conway the country's number one ski town, with more than a dozen ski resorts within a 30-minute drive. Skiing at the village's own 56-trail Cranmore Mountain Resort, dates back to 1939, though these days the resort is known just as much for its snowboarding terrain and tubing and mountain adventure park, where daredevils can zipline or ride a coaster up to 25 miles per hour down the mountain.
Camping, kayaking and canoeing, and hiking opportunities permeate the area, which is also known for its autumn leaf peeping and September's annual Mud Football Championship, bringing together approximately ten all-male, New England teams to compete knee-deep for the championship title at North Conway's Hog Coliseum—a natural amphitheater filled with White Mountain loam that's then doused with thousands of gallons of water.
Low-stung structures line North Conway's Main Street at the edge of the White Mountains, filled with outdoor retail and specialty shops like Zeb's General Store, stocked with more than 5,000 New England-made specialty foods and featuring its own penny arcade. Local eateries include Delaney's Hole in the Wall, a popular hangout that's known for its varied selection of sandwiches and—more surprisingly—some of the state's best sushi; and The White Mountain Hotel & Resort's Ledges Restaurant, sporting incredible views and a superb Sunday brunch.
Hop aboard the Conway Scenic Railroad for a journey aboard vintage railway cars departing from the village's iconic yellow train station, or experience the Mount Washington Observatory Weather Discovery Center, the country's only museum dedicated entirely to climate and weather.
Gering, Nebraska (Population: 8,439)
For pioneers making their way along the rugged Oregon Trail 175 years ago, the steep hills of Western Nebraska's Scotts Bluff National Monument served as a landmark of hope along their journey. The same rang true for Native Americans and immigrants along the California and Mormon trails. Gering lies just east of the monument, and offers its own reasons for making the trip to this hub of the Old West.
Although Gering wasn't founded until the late 19th century, it still honors the region's historic past with Oregon Trail Days, an annual July weekend celebration with a chili cook-off, street dance, parade, mud volleyball tournament and a 1.6-mile bicycle hill climb to the top of Scotts Bluff National Monument. Since 1950, downtown's Gering Bakery has been blazing a trail of its own with delicious cream-filled Long John donuts, frosted peanut butter soft pretzels and cabbage burgers (sometimes known as a runza), and serves as a modern-day beacon thanks to its fabulous neon sign.
Discover the history of the Nebraska prairie at Gering's Legacy of the Plains Museum, which highlights the lives of pioneer settlers through agricultural artifacts and even a working farmstead that harvests a featured crop each year (last year it was potatoes). Nearby Fort Mitchell Pass offers a glimpse into America's Western Expansion. This army outpost, one of hundreds the U.S. Army built to protect settlers, and later used to monitor traffic along the Oregon Trail, was abandoned after the war.
Natural monuments abound in the Gering area. The iconic pillar of Chimney Rock, 20 miles southeast of Gering, appeared in the diary entrees of thousands of pioneers, representing a new phase of their journeys. There's also the narrow Robidoux Pass, a gap that travelers used to traverse the Wildcat Hills and get their first glimpse of the Rocky Mountains. Wagon ruts and pioneer graves serve as reminders of the arduous journey, as does the reconstructed Robidoux Trading Post, in the spot where a Frenchman with the surname Robidoux built the original post that sold goods and blacksmithing services to travelers.
Explore the 1,100 piney acres of Wildcat Hills State Recreation Area and Nature Center, spread across a rocky escarpment within a region of rising canyons and forested buttes. The area is home to big horn sheep, wild turkeys and one of Nebraska's only permanent cougar populations. You'll find more hiking and mountain biking trails in the remote Buffalo Creek Wildlife Management Area, a place of tree-topped ridges and rolling prairies.
For manmade outdoor beauty, play a round at Gering's 18-hole Monument Shadows Golf Course, with stunning background views of Scotts Bluff National Monument.
Laurel, Mississippi (Population: 18,355)
It's been just over a year since Erin and Ben Napier, stars of HGTV's "Home Town," introduced their beloved Laurel, Mississippi, to the TV masses, and since then this Southern small town with big charm has taken off. Situated in southeast Mississippi's Pine Belt, the former mill city and oil town is today known for its Oak-lined sidewalks, brick roadways and a splendid mix of innovative restaurants and specialty shops.
Laurel is home to A Street Car Named Desire's fictional Blanche DuBois, as well as the Lindsey Eight-Wheeled Wagon, which native Mississippian John Lindsey manufactured at the town's Lindsey Log Wagon Company during the turn-of-the-20th century (one is on display inside the Laurel Welcome Center). It's also where you'll find the Napiers' own Laurel Mercantile, a shop that's home to Scotsman Co., Ben's own brand of hand-worked, reclaimed furniture and gentleman's work apparel, as well as American-manufactured heirloom wares that often feature in the historic Laurel homes the couple restores.
At downtown's Lauren Rogers Museum of Art, housed in a stunning, early 20th century Georgian Revival structure, works run the gamut from Hudson River School paintings to Japanese woodblock prints. The Laurel Little Theatre puts on community-led plays and musicals within a 1927 silent movie house.
Sip sour beers and "spontaneously fermented wild ales" at Slowboat Brewing Company, or dine on New Orleans-inspired gumbo at downtown's signature Cafe la Fleur. For brown bag lunches of custom-cut meats paired with Knight Sugar Fudge, stop by Laurel's Knight Butcher.
Each week through the end of June, experience Downtown Thursday, which combines an evening farmers market with a family-friendly outdoor movie night. Other community events range from October's Loblolly heritage festival to the February Chili Cook-Off, where one type of ticket for the all-you-can-eat stew comes with a keepsake bowl made by a local potter.
Easton, Maryland (Population: 16,573)
It's been 200 years since the birth of renowned abolitionist leader, author and orator Frederick Douglass in Maryland's Talbot County, and Maryland's governor has declared 2018 "The Year of Frederick Douglass." The state is commemorating his many lifetime achievements with everything from a self-guided driving tour to a Juneteenth celebration, marking the abolition of slavery in Texas, in Easton, just 12 miles south from where Douglass was born. There's signage marking the spot along Maryland Route 328.
Easton sits on the eastern shore of the Chesapeake Bay, North America's largest estuary, and is a significant stop along the Frederick Douglass route—including the grounds of the Talbot Country Courthouse, where Douglass gave his famous "Self-Made Men" speech in 1878. It's also home to "The Hill," believed to be the country's oldest continuously-inhabited free African American settlement.
As Talbot's largest town, Easton offers a blend of history, arts and culture. Each month, the town hosts First Weekend, in which its many art galleries open their doors to the public with extended hours and new exhibits. Locals also get their cultural fix at Easton's Academy Art Museum, known for its varied artworks spanning more than two centuries and a top concert and lectures series; as well as the Avalon Theatre, a historic vaudeville and movie house that now showcases live music and drama.
Easton's large historic district features approximately 900 Colonial- and Victorian-era structures, many of them now housing antique and collectible shops, coffee houses and restaurants offering a diverse mix of eats, such as the modern European offerings of Bas Rouge and Hunter Tavern's beloved crab cakes. This charming waterfront town and its tree-lined streets are also home to a wealth of B&Bs, including the Victorian-style Bishop's House, blending modern amenities with period furnishings.
Of course, Easton's prime Chesapeake Bay location assures it has no shortage of outdoor offerings. Rent a bicycle and enjoy miles of cycling trails through scenic villages and marshland, explore local tributaries via kayak, canoe or paddleboard or go crabbing in the bay.
Kodiak, Alaska (Population: 6,281)
One hundred years ago, President Woodrow Wilson created the Katmai National Monument in what was then the territory of Alaska, to protect an area rocked and rattled by the 1912 eruption of Novarupta Volcano. Today, what's now known as the Katmai National Park and Preserve is a still-active remote landscape teeming with forests, lakes and more than 2,000 brown bear. Located on Alaska's mainland, it's one of the state's prime spots for viewing them as they frolic and feed on salmon in their native habitat.
Katmai is also just across the Shelikof Strait from Alaska's Kodiak Island, the second largest island in the U.S. and home to a vibrant seaport and arts community of the same name. Surrounded by towering mountains and narrow fjords, Kodiak is itself a sight to behold. Many visitors make their way via the Alaska State Ferry—which runs from Bellingham, Washington, to Homer, with Chenega Bay being the closest stop east of Kodiak (14 hours distance)—to explore this once Russian-stronghold that morphed into a U.S. military outpost during World War II. Abandoned post-war, the purposely built Fort Abercrombie is today a state historical park filled with historic ruins, spruce forests and waterfront cliffs overlooking pounding surf and tide-pools—along with a tiny, volunteer-run military history museum housed in a former ammunition bunker.
But Kodiak's history dates back much earlier, something visitors can explore with a stop at the Baranov Museum. Occupying the oldest-standing building in the state, the museum's fascinating exhibits include stories on the island's Native Alutiiq people, Kodiak's once-lucrative fur trade, and the devastating Good Friday Earthquake of 1964, which nearly wiped out the town.
Enjoy some time wandering along downtown's St. Paul Boat Harbor and exploring its Kodiak Maritime Museum, a walkable "museum without walls" with exhibits that span the sidewalks. Talk with local fishers, get to know the area's best fly fishing spots and secluded campgrounds, or book a guided kayaking tour along protected inlets with a chance to see up-close migrating whales, with June through August being the best months. Outside the city, the Kodiak Wildlife Refuge is an incredible natural resource that is known for its fishing, kayaking, bear-viewing and camping. It occupies two-thirds of Alaska's "Emerald Isle," and is only accessible by flight (including air taxis or boat) but makes for an easy day trip or lengthy backcountry excursion.
Dine on beet borscht soup or housemade pastries at Monk's Rock Coffeehouse & Bookstore, then peruse their selection of Russian-themed souvenirs. Kodiak Island Brewing Brewing Co. is the place for imbibing pints of Snowshoe, a hoppy IPA with a smooth finish. Bring a picnic of your own (or food from one of Kodiak's local restaurants) and get tasting.
Keep on your calendar for next year the annual Kodiak Crab Festival, a Memorial Day weekend extravaganza that features everything from a fish toss to a survival suit race (an immersion suit to protect against hypothermia) through frigid waters.
Mystic, Connecticut (Population: 4,168)
Ever since securing a spot in the annals of Hollywood movie history with a starring role in the film of the same name (and a young Julia Roberts), Mystic Pizza has been luring hungry fans in droves. Thirty years later, the beloved pizzeria and its surrounding seaside hamlet are still buzzing with the delights of stardom. Mystic is even welcoming its own inaugural film festival this October.
The Connecticut coastal town, which sits at the mouth of the Mystic River, offers a wonderful combination of rich maritime past and charming New England allure, the same that it has for decades. Hollywood royalty Humphrey Bogart and Lauren Bacall chose the Inn at Mystic for their 1945 honeymoon. The village is ripe with seafaring history: old sea-captain's home still stand riverside along Mystic's outskirts, and centuries-old ships dock beside kayaks and standup paddleboards in its waters. Downtown, mystic's iconic Bascule Bridge stretches across the Mystic River, and is open to pedestrians too.
Learn about the village's role in shipbuilding and as a safe haven for tall ships at Mystic Seaport, the largest maritime museum in the U.S. It's home to the world's only surviving wooden whaling ship, as well as the coal-fired steamboat Sabino, which offers downriver cruises. Later, stop by Mystic Aquarium to see some of North America's only beluga whales. Some of Connecticut's best state beaches are nearby too.
There's delightful events in every season. Weekends throughout summer and fall the village springs to life with everything from a celebration of local eats to a kid-friendly "pirate invasion." An autumn highlight is joining the crowds lined up for fresh apple cider and donuts at B. F. Clyde's Cider Mill, the country's last-remaining steam-powered cider mill. In winter, Mystic's Holiday Lighted Boat Parade illuminates the night with a procession of decorated ships, and Santa arriving by tugboat.
Mystic's food and drink scene ranges from riverside seafood shacks to ingenious wine bars like M/Bar, housed in a restored gas station. Travel + Leisure voted Mystic's boat-to-table Oyster Club as one of America's Best Oyster Bars, while locals and visitors alike flock to the French-inspired Sift Bake Shop, where co-owner and pastry chef Adam Young recently competed for 'Best Baker in America' on the Food Network's "Spring Baking Championship."
Perham, Minnesota (Population: 3,335)
On your mark, get set, and go straight to central Minnesota for Perham's 40th annual International Turtle Races, a weekly occurrence in this "heart of Otter Tail County" on Wednesday mornings, June through August. Perham's shelled reptiles and their out-of-state competitors are local icons, vying against each other for turtle bragging rights all summer long. Turtles start out in the center of a paved ring at Turtle Park, located next door to Perham's area chamber, and must be first to maneuver their way to the outside ring to win. Heat winners then compete against one another for the top three slots. Each annual season kicks off with a June Turtle Fest, complete with a (human) half-marathon and grand parade. It's all just a bit of the small-town allure that makes Perham special.
Otter Tail County is an all-season destination that's home to more lakes that any other county in the country—over 1,100 of them—with Perham nestled among them. The county is celebrating its 150th anniversary this year, hosting numerous events that include walking tours and September plays honoring the area's history and heritage and held in numerous towns, including Perham.
Downtown Perham is filled with unique specialty shops and eateries: places like Nest, part-kitchenware retailer, part-cafe, with its own drive-through coffee window; and the two-story Gathering Grounds Coffee Shoppe, hailed for its soup and sandwich lunches, as well as the selection of jewelry, books and antiques at its gift shop—all housed in a two-story century-old downtown structure. For Minnesota craft beers and burgers, be sure and stop by locally owned Brew Ales & Eats.
Perham is home to the country's only museum based entirely on the oral history of American veterans, and the Perham Center for the Arts, an art, music and theater venue, occupies the city's century-old, former Saint Stanislaus Catholic Church. A downtown must-see is Perham's Waves of Discovery Mural, comprised of various bits of mosaics, agates, fossils and fused glass, and featuring more than 50 hidden symbols, from one of the many artists' initials to a series of dragon flies. Small-town pride is evident in everything from June's annual Rib Cook-Off to a December Parade of Lights, complete with floats and a lighting of town's Christmas tree.
The greater Otter Tail area offers a ton of outdoor activities as well—from fly fishing holes to more than two dozen campgrounds and resorts. Snowmobiling is especially popular, with over 250 miles of trails winding around lakes and through forests of maple and birch, as is cross country skiing. The county's Otter Trail Scenic Byway meanders past Native American hunting grounds, over oak-tree-covered hills and alongside vast wetlands.
Skowhegan, Maine (Population: 6,207)
It's pretty impressive that 200 years after Skowhegan held its inaugural state fair what's now known as the country's "oldest continuously running agricultural fair" is still going strong. The seat of Somerset County will be marking that milestone in August, but not before novice and professional moose-callers perform their best cow calls and bull grunts at the city's first-ever Skowhegan Moose Festival this June.
Things haven't always been easy for this former mill town, nestled in Central Maine's scenic Kennebec River Valley, at the gateway to the state's North Maine Woods. Keen-eyed visitors may recognize the city's 19th-century brick and granite structures from the 2003 HBO mini-series "Empire Falls," aptly depicting a struggling New England community. But this hasn't stopped Skowhegan from persisting. It's no wonder Margaret Chase Smith, the first woman ever to serve in both houses of Congress, was a Skowhegan native.
Repurposed buildings in the city's historic Flat Iron District now house furniture shops, antique stores, and artisan eateries like the Bankery, where along with delicious pastries and lunch specials, the staff whips up custom cakes from scratch, and the former bank's old vaults are now walk-in refrigerators. Their baked goods—along with a selection of local craft brews—are also on the menu at Showhegan's riverside Old Mill Pub, a former-mill-turned-restaurant. Local wholesale manufacturer Maine Grains is reviving New England's grain economy with its traditional stone milling process. See it for yourself during tours of their gristmill (in what used to be the Somerset County jail), then taste some samplings at the farm-to-table Miller's Table cafe next-door.
Wander outdoors among 21 folk-style sculptures—including the iconic 62-foot Skowhegan Indian—that are Skowhegan's part of the Langlais Art Trail, a state-wide showcase of artworks by incredibly imaginative Maine artist Bernard "Blackie" Langlais.
August's annual Skowhegan River Fest showcases another possible transformation: that of the city's Kennebec River Gorge into a focal point for whitewater recreation. The town of Skowhegan's proposed Run of River project would transform the area into a tourist destination, complete with a three-feature whitewater park that could be used by everyone from kayakers to boogie boarders, a slalom course, river promenade and 300 acres of surrounding trails.
Latrobe, Pennsylvania (Population: 8,086)
He may have been everyone's favorite neighbor, but the small western Pennsylvania town of Latrobe was lucky enough to have Fred Rogers as its own, at least during his younger years (he eventually moved to nearby Pittsburgh). With the 50th anniversary of the debut of "Mister Rogers' Neighborhood," and the documentary coming out this summer, fans may want to visit the big-hearted TV personality's real-life hometown to pay homage. At the Fred Rogers Archive, a public interactive exhibit located within the Fred M. Rogers Center on the campus of Saint Vincent College—where the Pittsburgh Steelers hold their training camp—visitors can relive their childhood by seeing the children show's original Neighborhood Trolley, scripts from actual episodes and approximately 16,000 other items detailing his life and career. Mr. Rogers is buried nearby at Latrobe's Unity Cemetery.
Pro-golfer Arnold Palmer was also born in this former railway town (he and Fred Rogers were actually classmates), as were two others greats: Rolling Rock beer, and the banana split, which Latrobe celebrates annually at its Great American Banana Split Celebration in August. The drug store where pharmacy apprentice David Strickler invented his now-iconic ice cream dessert no longer exists, though both a plaque and a giant banana split statue stand in its place.
Although the groomed fairways on which Palmer learned to play the game are private, golfers can channel "The King" at Latrobe's Glengarry Golf Links public course. For outdoor enthusiasts of a different kind, the 50-acre Winnie Palmer Nature Reserve (Winnie was Palmer's wife of 45 years), features walking trails through meadows and forests.
Learn about the country's first coast-to-coast highway, which runs just south of Latrobe, at the town's Lincoln Highway Experience Museum, or sample site-brewed beers while listening to live music Friday and Saturday evenings at Latrobe's Four Seasons Brewing Company & Pub. There's also Di Salvo's Station, an old train station that's been transformed into an Italian restaurant and cigar bar.
Salida, Colorado (Population: 5,610)
Tucked into the heart of Colorado's Rocky Mountains amid the state's "Banana Belt," laid-back Salida enjoys surprisingly mild temperatures as well as an incredible array of outdoor sports. In fact, this historic mountain town features some of the best whitewater rafting in the country—a quality it showcases with June's annual FibArk (First in boating on the Arkansas) Festival, America's "oldest and boldest" whitewater festival—now in its 70th year. Many of FibArk's events—things like freestyle kayaking and a raft rodeo—take place on the Arkansas River, which runs through the center of town and is home to Salida Whitewater Park, with manmade wave features and holes.
Greater Salida has an upper hand when it comes to natural assets, with everything from recreational hot springs to mountains ripe for bicycling, along with the highest concentration of 14,000-foot-or-taller peaks ("14ers" as Coloradans call them) in the state. It's home to Colorado's largest aerial course, family- and ski-bum-friendly and Monarch Mountain Ski Resort and the state's newest national monument, boasting 21,586 acres of rivers, canyons and backcountry forest.
Downtown Salida is equally as enticing. The once-thriving railway town's historic district (Colorado's largest) now houses boutique shops selling handcrafted guitars, high-end bicycles and art aplenty, including the colorful reverse glass paintings of Art & Salvage. Salida was named Colorado's first certified "Creative District," a distinction it showcases during its annual Art Walk each June.
Wine and charcuterie, small-batch spirits (at Wood's Hig Mountain Distillery, owned by Salida's own mayor, no less), and artisan coffee sold alongside locally made bespoke goods are all part of the Salida experience, as are unique lodgings ranging from a historic Poor-Farm-turned-renovated-guesthouse to downtown's historic Palace Hotel, dishing out home-baked muffins daily.
Nearby Buena Vista's inaugural Seven Peaks country music festival takes place over Labor Day weekend, complete with outdoor camping and activities like a stand-up paddle board tour.
Luray, Virginia (Population: 4,794)
Fifty years ago, U.S. Congress passed both the National Trails System Act and the Wild and Scenic Rivers Act, promoting the preservation and enjoyment of the country's outdoor areas, as well as some of its greatest rivers. The former also led to the creation of two national scenic trails: one being the 2,190-mile Appalachian Trail, which forever changed the course of Luray—a small Virginia town that's one of the trails access points, as well as the headquarters of nearby Shenandoah National Park, known for its waterfalls, secluded wooded hollows and stunning natural beauty.
For Appalachian Trail through-hikers, Luray is a godsend, beginning with its informative Luray-Page County Visitors Center. Downtown's Appalachian Outfitters stocks a wealth of hiking gear, and—along with plenty of paintings, pottery and blown glass to peruse—its Warehouse Art Gallery offers free outdoor camping space specifically for A.T. hikers. Spots such as Main Street Bakery even sell backpacked-sized meals to go.
With its perch right near the Thornton Gap entry to Shenandoah's spectacularly scenic 105-mile-long Skyline Drive, Luray is a hub for all kinds of outdoor activities, including bicycling, canoeing and kayaking, and autumn leaf peeping. Explore the largest cave system in the eastern U.S. with a visit to Luray Caverns, marking 140 years since its discovery. Their annual Discovery Day commemorates this event each August with a Grand Illuminated Tour, in which period-dressed guides lead visitors through sections of the caverns that are lit up with thousands of candles, all the while sharing stories about its unearthing. This vast subterranean system features 140-foot-tall natural columns, wondrous stalactites and an actual organ that turns the entire space into a musical instrument. The caverns have some unrelated attractions as well, such as a vintage car museum and a maze constructed from eight-feet-tall hedges.
Brick structures dating back to the 19th century line the sloping streets of downtown Luray, which is both a VA Main Street Community and designated Arts & Culture District, along with being a National Historic District. Fuel up with a frozen Kona mocha or Virginia's own Old Hill Hard Cider at Gathering Grounds, also serving breakfast, lunch and weekend dinner. For good ol' Virginia barbecue, Triple Crown BBQ is a winner.
Black bears, coyotes, and bobcats reside in the forests of Shenandoah National Park, while more than 250 exotic animals that were neglected, abandoned or unwanted have found new life at Luray Zoo, an educational zoo that's home to everything from kangaroos to monkeys, tigers and porcupines.
Eureka Springs, Arkansas (Population: 2,114)
In 1968, a controversial former politician named Gerald L. K. Smith opened his "Great Passion Play" at an outdoor amphitheater (one that he'd carved out of a mountainside) in Eureka Springs, near a seven-story Christ of the Ozarks he also erected. Fifty years later, this annual summertime reenactment of Jesus Christ's last days is considered one of the country's largest attended outdoor dramas.
However, it's far from the only draw this picturesque mountain town has going for it. Tucked into the middle of northwest Arkansas' Ozark Mountains, Eureka Springs boasts everything from luxurious spas to the jaw-dropping Thorncrown Chapel to a nearby river ripe for canoeing, as well as one-of-a-kind boutiques, art galleries and restaurants. Its entire downtown is listed on the National Register of Historic Places and the family-friendly city has received many accolades, including those from the American Planning Association and the National Trust for Historic Preservation.
Although Eureka Springs has been drawing those interested in its natural spring waters for centuries, its popularity as a resort town boomed in the late 19th century when locals claimed that they had healing properties. Today the city's undulating center is brimming with historic Victorian structures in a wash of intriguing architecture styles, including cliff-hugging Queen Annes, towering bricks with iron balconies, and cozy residential bungalows. Walk (or hop a trolley) around its historic 3.5 mile "Loop," which winds, climbs and descends its way around downtown's most scenic features. In this town, quirky street art like the 500-pound Humpty Dumpty that sits on a wall in the middle of the historic district, century-old hotels and resident ghosts at places like the Basin Park Hotel are standard fare.
Artistic souls flock to this creative hub, a place known for its performance art, with everything from live music variety shows to an interactive sound-creating sculpture park. Whether it's a Mardi Gras Extravaganza, one of the town's many LGTBQ festivities, or a UFO conference, Eureka Springs has it covered.
Sipping and swirling are the norm at the nearby Railway Winery @ Trestle 71-7, a stop along the Arkansas Wine Trail. For gourmet eats, try hidden downtown breakfast gem Oscar's Cafe or the French-inspired fine-dining at Le Stick Nouveau.
Embark on a scenic journey back in time aboard the Eureka Springs and North Arkansas Railway. Just outside of town, the Turpentine Creek Wildlife Refuge provides a safe haven for rescued exotic animals, including lions, tigers and bears, as well as guided walking and trolley tours, keeper talks and its own overnight safari lodging.
Trinidad, California (Population: 359)
Each year, hundreds of thousands of visitors make their way along Northern California's rugged coastline to marvel at the largest trees on Earth, thanks in large part to the conservation efforts of Save the Redwoods League, which is celebrating its 100th anniversary with "free second Saturdays" at more than 40 Redwood State Parks throughout 2018. This year also marks 50 years since the U.S. government established Redwood National Park, which is actually comprised of several parks that together with its state parks protect 45 percent of all remaining coast redwood old-growth forests on the planet. The tiny seaside hamlet of Trinidad sits right in their backyard.
Located in California's laid-back Humboldt County, Trinidad is a working fishing village perched on a bluff 174 feet above the waters of Trinidad Bay. It is known as the place where the "Redwoods meet the Sea," as well as for its spectacularly wild coastline and more than a dozen nearby public beaches. Trinidad is a popular spot for crabbing and fishing for rockfish and salmon, as well as lagoon and ocean kayaking. The greater Trinidad coast is also a notable California Coastal National Monument Gateway for its remarkable ocean sea stacks, home to one of the state's most diverse seabird colonies—approximately 11 species such as tufted puffin, fork-tailed storm-petral and common murre.
Pick up the catch-of-the-day or snackable tins of smoked salmon at Katy's Smokehouse, a community stalwart since the 1940s. Katy's also stocks Humboldt County's famed Larrupin Mustard Dill Sauce, created by the folks at Trinidad's Larrupin' Cafe. The cozy eatery serves up a menu of mesquite barbecued dishes and local craft brews, including those from the nearby family-owned Redwood Curtain Brewing Co.
Keep an eye out for grey whales and other marine mammals along the clifftop 1.4-mile-long Trinidad Head Loop Trail, or head to Trinidad State Beach Park during low tide for tide pools filled with sea anemone and starfish. Get a handle on these and other local sea creatures with a visit to the touch tank at Humboldt State University's Marine Lab.
Just outside Trinidad, Sumeg Village is a reconstructed village that provides insight into the lives of the region's native Yurok people. Explore its family-style homes, built with traditional materials; sweat lodge; and a dance house where local Yuroks perform occasional cultural ceremonies.
Ketchum, Idaho (Population: 2,573)
Stargazers have much to be happy about in Idaho, where Ketchum recently became the state's first city to earn the moniker of International Dark Sky Community—a designation that the International Dark-Sky Association gives to communities dedicated to curbing their own light pollution. The former frontier outpost is also part of the even newer 1,400-square-mile Central Idaho Dark Sky Reserve, a first-of-its-kind in the U.S. The end of July is the best time to catch Mars at its brightest in years, while August 12 brings the annual Perseid meteor shower, which can produce up to 60 shooting stars an hour.
Ketchum got its start in silver mining, then switched to sheep shipping before it became a year-round recreational resort town along with adjacent Sun Valley, both of which sit at the foot of south central Idaho's Bald Mountain—a 9,150-foot-tall peak covered with world-class ski runs—in the forested Wood River Valley. It's nirvana for outdoor enthusiasts, who along with the four-season Sun Valley Resort come to indulge in the hiking trails, fly fishing spots, whitewater rafting opportunities, and natural hot springs of the Sawtooth National Recreation Area, just north of town.
These days, Ketchum is also known for its fashionable boutique stores sporting designer threads and sheepskin coats, and art galleries that showcase everything from western bolo ties to modern works by Picasso and Matisse. Creativity pumps through the veins of this scenic place, perhaps a gift left behind by Ketchum's most famous former resident, Ernest Hemingway. The legendary novelist lived, worked and died here—fans can even pay their respects at Ketchum Cemetery's Hemingway Memorial, or book Suite 206 at the nearby Sun Valley Resort, where the famed imbiber completed his nearly-Pulitzer-Prize-winning novel, For Whom the Bell Tolls.
Each year (usually around early September) Ketchum's Community Library hosts a weekend filled with Hemingway-centric events, while other annual town festivities include an outdoor curated public sculpture exhibit that runs through summer and Labor Day weekends and Wagon Days, the Pacific Northwest's largest procession of non-motorized vehicles.
Delve into the local history of miners and ranchers, area artists and local athletes with a visit to Sun Valley Museum of History, or discover high-altitude flora at Sawtooth Botanical Garden. For Rocky Mountain home-style breakfasts, Ketchum's western-kitsch Kneadery is a must.
Ocracoke, North Carolina (Population: 948)
Avast, ye mateys! This October marks the 300th anniversary of Blackbeard's historic last battle on Ocracoke Island, a narrow afterthought on the southern tip of North Carolina's Outer Banks. The legendary pirate met his fateful end at the hands of Britain's Royal Navy, after boarding the ship of Lieutenant Robert Maynard, who—along with his crew—took down Blackbeard with shots and sword.
This October, at the annual Blackbeard's Pirate Jamboree, Ocracoke Village and its well-protected Silver Lake will be singing with bursting cannons and swashbuckling buccaneers, though tales of the sinister sea robber and his crew abound across the island: from stories of still-buried treasures at Springer's Point to Pamlico Sound, a windsurfing and kiteboarding haven where the epic end-of-life battle took place.
The name Ocracoke is believed to have originated as a mispronunciation of Woccocock, the island's first residents, and a few long-time locals still retain their distinct High Tider (think "hoi toider") brogue. Ocracoke Village centers around Ocracoke Harbor—known for its stunning waterfront sunsets—where boat charters offer fishing tours and sailing cruises. Along the waterfront, art galleries and specialty shops lure in onlookers with their colorful window displays, while a range of dining and drink establishments are spread both in and on the outskirts of town. For locally sourced Southern seafood dishes and wood-fired pizzas to go, swing by lively Daijo. On the edge of the village is the new 1718 Brewing, serving up hand-crafted sodas and flights of their home brews, while Pony Island Restaurant has been Ocracoke's beloved breakfast hub since 1959.
For more local history, pay a visit to the Ocracoke Preservation Society Museum, or bicycle over to Ocracoke Light Station. Keep an eye out for sea turtles and their nests (common in the summer) along local beaches, most of which are run by the National Park Service as part of the Cape Hatteras National Seashore. Ocracoke is also home to wild ponies—the descendants of horses that shipwrecked explorers cast overboard—that reside in a protected pasture up Highway 12.
Sault Ste. Marie, Michigan (Population: 13,628)
Michigan's oldest city has quite a history, from its role as a "crossroads of fishing and trading" among Native Americans to its more than 140 years spent under French rule (it wasn't until after the War of 1812 that the U.S. gained control). This year it's celebrating its "Semiseptcentennial"—that's 350 years—with a bevy of events, culminating with the week-long 350th Anniversary Festival in July.
Sault Ste. Marie sits on the northeastern tip of Michigan's Upper Peninsula, directly across the St. Marys River and the U.S.-Canada Border from its twin city, Ontario's Sault Ste. Marie. The Sault Ste. Marie International Bridge connects the two, serving as the only vehicular crossing between Michigan and Ontario for hundreds of miles. Nearby Lake Superior's rocky and forested coastline offers loads to explore, though the city has plenty of its own attractions.
Most notable is its legendary Soo Locks, two parallel locks opened in 1897 to help ships navigate the 21-foot drop between Lake Superior and Lake Huron. Today it's one of the planet's largest and busiest waterway traffic systems. See this magnificent feat of engineering—along with the massive freighters and tiny tugboats traversing its waters—in action, both from an observation platform overlooking the locks or aboard an exciting boat tour.
A few of the city's treasured eateries also offer up-close views of the locks, including the Lockview Restaurant, a long-time seafood stalwart with an old-school nautical feel, and the newer Karl's Cuisine, serving up locally sourced New American eats, wines and brews.
Sunbathers will want to head to Sherman Park along St. Marys River, home to the city's only public beach. For winter sports, the city's Sault Seal Recreation Area is a convenient practice spot for downhill skiing, and a hub for snow tubers. Sault Ste. Marie is especially popular with snowmobilers, with the area's 50th annual I-500 Snowmobile Race taking place earlier this year. Both cross country skiers and snowshoers head to the nearby Algonquin Trail for roaming among pristine, snow-covered forest.
Nearby Tahquamenon Falls State Park is a year-round favorite, with the foamy, cedar-colored waters of its 200-foot-wide Upper Falls. While here, swing by Tahquamenon Falls Brewery and Pub for fresh Lake Superior whitefish paired with a pint of its own Black Bear Stout or Porcupine Pale Ale, then pick up a bottle of Upper Peninsula-made pure maple syrup at its Camp 33 Gift Shop.
The waters around Sault Ste. Marie have long been a prominent place for shipwrecks, and therefore lighthouses, like the 72-step Point Iroquois Light Station, and a bit further afield, Whitefish Point Lighthouse. The latter is home to the only museum devoted to shipwrecks on the Great Lakes, as well as the bell from the legendary Edmund Fitzgerald, which sunk in a storm off the coast. The point itself is a premier bird migration hot-spot, most notably for rough-legged hawks, and the incredibly preserved ships lost below its frigid waters are a boon for divers.