The 20 Best Small Towns to Visit in 2017
From remote hideaways to coastal harbors, discover the towns that topped our list this year
Your favorite small town probably doesn't look quite like how Norman Rockwell drew it. Small towns may be united by their modest population sizes, but they're remarkable for their diversity of character. And so for the sixth-annual round of Smithsonian.com's America's Best Small Towns, we set out on a quest to find 20 great slice-of-life (and if you're Rockland, Maine, also award-winning slice-of-pie) small towns full of unique flavor.
To help us on our task, we once again consulted geographical information company Esri (which sorts towns with a population under 20,000) to identify tiny towns chock full of local culture, history and natural beauty. We then narrowed down our list to pinpoint the destinations that are especially worth making the trip to this year—whether they're celebrating a special birthday, commemorating a famous resident or happen to be smack on the path of the "Great American Eclipse." ​
Our top 20 picks range from the well-traveled to the offbeat, but each town shares a special something that makes it ripe for discovery in 2017. Happy travels! 
Talkeetna, Alaska, Population 876
Odds are, President Warren G. Harding probably wasn't poisoned at Talkeetna's Fairview Inn. But that hasn't stopped the inn and the town from taking a certain pride in claiming responsibility for his death. There's actually not even a definitive record of Harding stopping in Talkeetna during the first-ever presidential visit to Alaska in the summer of 1923. Nevertheless, days later, Harding died in San Francisco. "We're still using the same poison today," a former manager at the Fairview will assert whenever she's asked about the tale.
The Fairview remains a go-to local gathering place in Talkeetna, and the memorabilia on its walls tell the history of the tight-knit town, which has managed to hold onto its slice-of-life charm despite ballooning in size during the summer months as tourists flock to the community, known for art and music, situated in the shadows and splendor of Mount Denali.
This year, as the Denali National Park and Preserve celebrates its 100th anniversary, it's an especially good time to pay a visit to Talkeetna. The quirky town, 59 miles from the base of Mt. Denali, is the only place where you can take a flight to land in a glacier on Denali. You can also learn the history of Denali by making a trip to the Talkeetna Historical Society museum or get a panoramic view of the mountain by taking a Talkeetna zipline tour. For those looking for a quieter hiking trail or place to set up camp, Talkeetna is also only an hour's drive to the lesser-trafficked Denali State Park, a gem in its own right.
To experience Talkeetna as locals do grab a meal or catch a show at home-grown institutions like Latitude 62 or the Talkeetna Roadhouse. But don't believe any t-shirts that claim the town's mayor is a cat. Stubbs, a 20-something ginger, isn't actually an elected official. (Talkeetna, an unincorporated area, has no mayor.)
For railroad enthusiasts, be sure to catch a ride on the Hurricane Turn Train during your stay. It starts in Talkeetna and eventually drops passengers off at the scenic bridge above Hurricane Creek, with the option to return via train or a guided rafting trip down the Susitna River. Another great way to travel in the area? Take a pedal bus tour. Operated by locals, the trip not only shows off the Talkeetna historic district, but also lesser-frequented Talkeetna landmarks like its historic airstrip and cabins, as well as the mountain climbers' memorial poll.
Harpers Ferry, West Virginia, Population 293
When Thomas Jefferson visited Harpers Ferry in 1783, he peered out at the Potomac and declared it to be "perhaps one of the most stupendous scenes in nature."
It's easy to see what the founding father saw in Harpers Ferry. The storied West Virginia town, surrounded by the Blue Ridge Mountains and the Potomac and Shenandoah river valleys, is such a natural treasure that most of the town is now part of the National Park Service and is maintained as the Harpers Ferry National Historical Park.
Harper Ferrys' culture is as rich as its beauty. While you may be familiar with the town's best-known historical event—when abolitionist John Brown attempted to start an armed slave revolt in 1859—you may be less knowledgeable about the legacy of the Storer Normal School.
The school, which is celebrating its 150th anniversary, opened its doors on October 2, 1867. The pioneering educational institute in the United States holds the honor of being the first school in West Virginia and one of the first in the country to welcome all students regardless of race, color or creed. The historically black college later became the sight of the Niagara Movement, the precursor to the NAACP. Today, the school is run by the National Park Service, which will honor its milestone anniversary through special events throughout the year.
Come for the sesquicentennial in October which promises to be a "weekend of special tours, programs, drama, and music." Also be sure to check out other living history events going on throughout the year—reenactors do everything from tell the story of the Civil War through the point of view of medics to give a taste of what 19th-century cider-making life was like.
During your stay, take advantage of the great outdoors. You can go rafting, kayaking and tubing the Potomac and Shenandoah rivers, and there's also stellar hiking to be found on the C&O Canal as well as the Appalachian Trail (whose national headquarters can be found on Washington Street). One trail not to miss? The steep but rewarding Maryland Heights Trail; it boasts great overlook views of the town and Potomac River, not to mention a close up look at artifacts from the Civil War.
After you've worked up an appetite, establishments like the Country Cafe (not to mention sweet treats at Scoop's) will provide a needed recharge, getting you ready for an evening stroll along Harpers Ferrys welcoming cobblestone-lined streets.
Rockland, Maine, Population 7,219
Rockland was first called Catawamtek by the Abenaki people. The word means a "great landing place" and it's a sentiment that still rings true today for the many who seek out the charming fishing community. During your stay, check out the local businesses on the town's beloved Maine Street. There you can learn about Maine's "sea parrots" at the Audubon's "Project Puffin" and catch a show at the historic Strand Theatre. Afterward, tour the lighthouse and soak in the natural beauty of midcoast Maine.
Rockland's lighting has long made the picturesque seaside town a place for artists. This year, one artist in particular is getting the Rockland shine: Andrew Wyeth. In honor of the painters 100th birthday, Rockland's Farnswoth Art Museum is hosting an exhibition that will include rare and privately held works, showing off the range and scope of the artist who never stopped being influenced by Maine.
Be sure to browse the rest of Farnsworth's massive collection when you're there—contained within its walls you'll find an authoritative look at the development of art in the state. The museum pairs well with the forward-looking Center for Maine Contemporary Art and the First Friday Art Walk on Main Street, where the next Alex Katz just might be showing.
If you're in Rockland for the summer, come for the famed Maine Lobster Festival. The five-day bash, which turns 70 this summer, started out as a local festival and has evolved into a huge tradition of great eats and giving back to great local causes.
If you can't make it out for the crustacean celebration, never fear. The festival recommends getting your fix year round at The Lobster Shack or the The Landings. Lynn Archer's Brass Compass Cafe, a Rockland staple, which is home to the mighty "King of Clubs" lobster club, is also worth saving room for. If you're not squeamish, you can check out how your dinner makes it onto your plate by setting sail on a Rockland lobster boat tour.
Don't leave Rockland without trying a bite of pie. The town didn't earn the nickname "Pie Town USA" by the Food Network for nothing. The honor is thanks in large part to the "Pie Moms," the mothers of the owners at the beautiful Berry Manor Inn who serve up a mean slice of mixed berry. You can try their pie along with plenty of others, savory and sweet, at Rockland's annual pie-a-thon in January. For true believers, the Berry Manor, as well as the LimeRock and Granite historic inns offer packaged pie lodging specials to complete a pie-fect experience.
Kent, Connecticut, Population 2,962
This year, Gilmore Girls from all walks of life will be making the pilgrimage to Kent when the leaves turn. That's because in October the small New England town will be hosting the Gilmore Girls Fan Fest on the heels of the massively popular Netflix revival of the mother-daughter drama.
The dreamy northwest hamlet has all the charms of a quintessential Connecticut town with award-winning hospitality at the Inn at Kent Falls, a fine homemade meal at establishments like Fife 'n Drum or Kingsley Tavern and a place to read at the independently owned House of Books.
The town is rife with artists and writers (the late tastemaker Oscar de la Renta even kept a country home in Kent for 30-some years). Get to know town by exploring the local arts scene, and don't miss a trip to the contemporary Morrison Gallery, now located on Main Street.
You can see the local spirit of Kent come alive in events like a winter Gingerbread Festival, a summer sidewalk festival and the local Connecticut Antique Machinery Association's fall festival. (The Antique Machinery Association also runs its own museum in town, which shares an entrance with the Connecticut Museum of Mining and Mineral Science and the Eric Sloane Museum and Kent Iron Furnace.)
Kent is surrounded by the storybook beauty of three state parks to get lost in—Macedonia, Lake Waramaug and Kent Falls, famous for its 250-foot waterfall that feeds into the Housatonic River. You can also pick up a section of the Appalachian Trail in Kent by Bull's Bridge.
After a long hike, seek out a draft with the local Kent Falls Brewing label on it—Connecticut's first farm brewery, it was established in 2014. Or, do as the Gilmore Girls would, and pick up a warm cup of coffee at Kent Coffee & Chocolate Company.
Makanda, Illinois, Population 547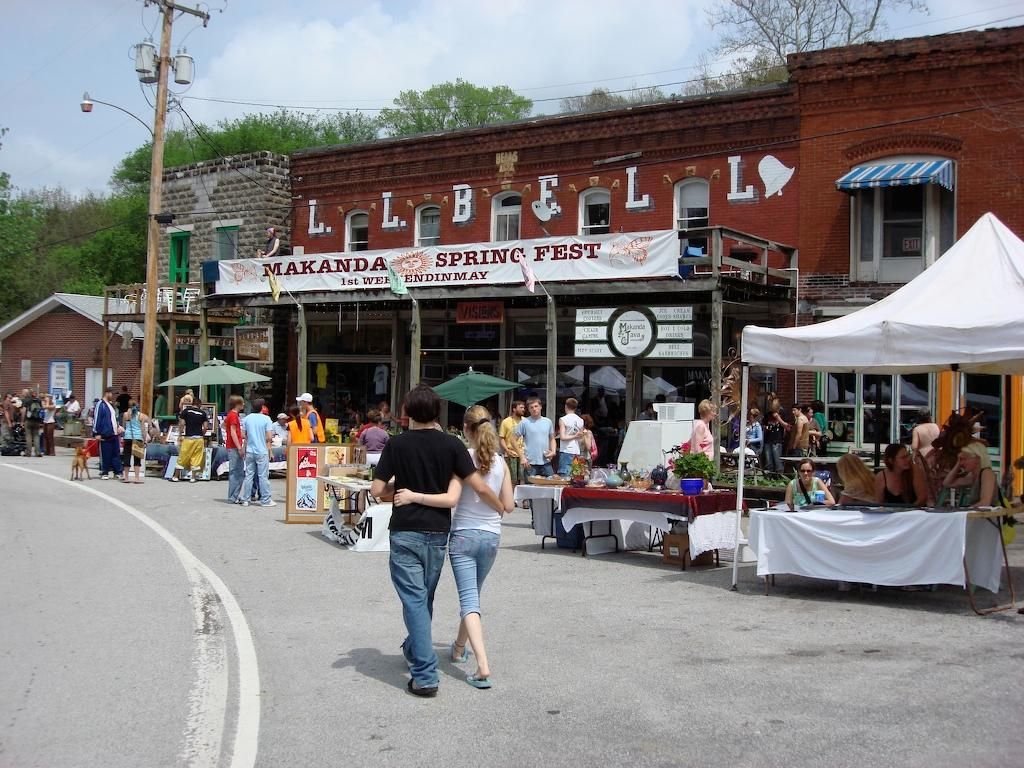 Do you have eclipse fever? Makanda does. Tens of thousands of visitors (including members of NASA) will be flocking to the small southern Illinois village in August because it boasts a, well, stellar view of the Great American eclipse, which will rock the sky at exactly 1:21 p.m. on August 21.
This is the first time in almost 100 years that a total solar eclipse (when the Sun, Moon, and Earth align during a new moon) will stretch from coast to coast in the U.S., and it's a big deal. While Hopkinsville, Kentucky, whose population skirts above 20,000, won the lottery as the "point of greatest eclipse," Makanda is one of the towns that falls on the centerline. (In a strange astronomical coincidence, Makanda will also be in the path of another total solar eclipse that will pass through the North America in 2024.)
When you can pull your eyes away from the sky, you'll find Makanda is dazzling in its own right. A village full of artists and entrepreneurs (who have been the subject of ballads), Makanda was once a thriving railroad hub, which has since which leaned into its own character and creativity to evolve into a funky artisan hamlet.
While in Makanda, you have to stroll down its historic boulevard, where you can browse local art at Visions Art Gallery and treat yourself to a hand-dipped ice cream at the Country Store. When you get tired of walking, you can opt to take in the sights in a less traditional way—on a guided horseback tour or hurtling through a zipline. Makanda is nearby the Shawnee National Forest and the Giant City State Park, and by hoof or by rope, you're sure get some lush views.
If sitting back is more your style, take in the natural beauty of Makanda while relaxing with a glass at the Blue Sky Vineyard. The winery, which opened in 2000, anchors the northeast end of the southern Illinois Shawnee Hills Wine Trail. It's also one of the many businesses in Makanda that will be doing something special to celebrate the eclipse this summer. Not only will it be hosting a four-day party, it will also be releasing a special-label, one that hopefully won't be inspiring any literal blackouts.
Grand Marais, Minnesota, Population 1,341
Long live the artists. The historic Grand Marais Art Colony was established in the outpost town in 1947 by Minneapolis School of Art instructor Birney Quick. What began as a space for artists looking to get lost in the wild beauty of the north shore (at the time, there was reportedly only one working public telephone in town), has now become the oldest art colony in Minnesota.  
The colony's creative influence on Grand Marais can be found throughout the hip harbor town. Brush shoulders with local artists by stopping into one of the local art galleries like Siverton on Wisconsin Street, attend a First Friday or take a workshop yourself. There's also the annual Grand Marais Arts Festival, which brings together more than 70 regional artists every summer.
The arts showcase is one of the many events going on throughout the year in Grand Marais. But the homegrown highlight taking the spotlight in 2017 is the "Radio Waves Music Festival." What started as a one-time only bash has now hit the decade marker, and become a new September tradition among locals. You'll hear a showcase of area talent from folk, rock, blues and jazz during the three-day festival, imagined up by WTIP North Shore Community Radio.
Don't worry about getting hungry when you're in Grand Marais. The waterfront Angry Trout Cafe serves up the best of Lake Superior's bounty and the cozy Crooked Spoon Cafe has a mission to make hungry customers "anxious for their next visit." Also leave room for one of Grand Marais' sweetest treats at World's Best Donuts while you're in town.
With Superior National Forest in its backyard and miles of Lake Superior shoreline in its front yard, Grand Marais' natural beauty can easily be considered art in its own right. During your stay, take it in through scenic hiking and mountain biking or just cruise the "All American Road," which can take you all the way to the Canadian border.
City of Ojai, California, Population 7,627
Located in beautiful Ventura County, and within spitting distance of Santa Barbara, is the city of Ojai. Long the hideaway of celebrities, creatives and yogis, the quiet enclave within the greater Valley of Ojai has maintained a low-key vibe befitting its surroundings of rolling hills and cotton candy sunsets for a century now.
While the city of Ojai is celebrating its centennial this year, the Chumash people have been calling the area home for at least 12,000 years. (Ojai gets its name from the Chumash word for moon, "A'hwai.") During the 19th century, an early iteration of Ojai was actually called Nordhoff, after the author and local resident. Then artist and industrialist Edward Drummond Libbey came to town. He "found it a village of sticks and left it a village of stucco," as the Ojai put it, transforming the area into a Spanish-style village in 1917.
On April 7 of that year, Libbey delivered a speech in which he spoke of how he viewed art and its role in the newly formed city: "Art is but visualized idealism, and is expressed in all surroundings and conditions of society," he told a crowd of 2,000. 
Libbey's point of view has since manifested itself throughout the tiny and beloved bohemia. See how by climbing aboard the Ojai Trolley, and exploring town. There are plenty of galleries and boutiques to discover. Be sure to pay Bart's Books of Ojai a visit as well; it's the largest independently owned outdoor bookstore in the country. You can get also get a real insider's feel for the city at the Ojai Valley Museum. Not only is it the place for centennial celebrations, it's also celebrating its own 50th birthday this year.
It's hard to be bored while in Ojai—there's horseback riding to be done, trails that end at the Pacific Ocean to explore and olives that need pressing. Also, California's massive downpour this winter not only filled up the nearby treasure Lake Casitas, but caused a gorgeous explosion of wildflowers in town, making any outdoor adventure impossibly more vivid.
If you're planning to stay overnight, you can do so in the lap of luxury at the Ojai Valley Inn & Spa. Or you can check into a cottage at the Thatcher House (there you can also pick up some new skills like how to make jams and soaps or even how to milk one of the wandering goats or sheep you'll find around the property).
Don't leave town without grabbing a freshly baked muffin and cup of coffee at the Ojai Cafe Emporium. Situated in the old People's Lumber Company building, it's Ojai's first coffee house and remains a community staple. If you're looking for a more upscale option, you can also experience just how fresh farm-to-table can be by making a reservation at the Ojai Ranch House.
Throughout the year Ojai hosts various events, everything from its music festival to an entire month dedicated to lavender. But what could be more fitting than to plan a trip during this year's Ojai Day in October, which pays tribute to the arts and culture of Ojai and Libbey's lasting legacy.
Snowmass Village, Colorado, Population 2,898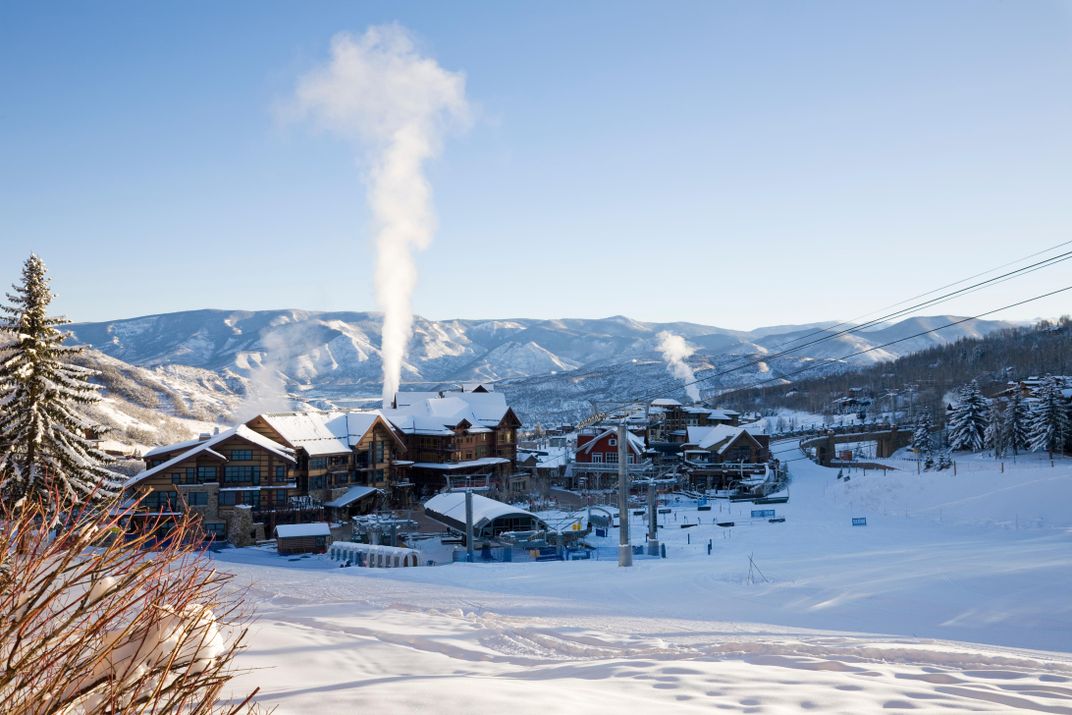 When Snowmass Ski area first opened its doors on December 15, 1967, a lift ticket cost just $6.50. Back then, there were five ski lifts and 50 miles of trails. Today, the rocky mountain destination boasts more than 20 lifts as well as three times the original trail mileage (including the longest lift-access vertical in the entire country). But there's still a way to purchase a lift ticket in Snowmass for $6.50. For one day only on December 15, 2017, tickets revert back to their original sticker price to kick off a season-long celebration marking five decades of powder.
For folks who normally don't venture outside of nearby Aspen, the Snowmass ski slope's golden anniversary offers up a great excuse to check out Aspen's more laid back sister city, which embraces its family friendly label. (It offers free skiing for children under the age of 6, activities like campfire sing-alongs with s'mores, not to mention a pretty unique childcare-meets-ski school option.)
Be sure to poke your head in Gwyn's High Alpine while you're hitting the slopes. It's beloved by locals and visitors alike for its homemade fare (and old-school Pac-man arcade game, which reportedly has survived the restaurant's recent $5.9 million facelift). Also on the mountain keep an eye out for Up 4 Pizza, known for its gooey cookies. If you're still hungry, there's a host of other dining options from barbeque to a Snowcat-towed food truck, as well as free hot cider, coffee and cliff bars provided by Aspen Skiing Co.
Off the mountain, The Krabloonik is one of Snowmass Village's most unique experiences. The establishment, now under new ownership, is the largest dog sledding operation in the continental U.S., and visitors can not only meet the pups and go for a sled ride, but also enjoy a meal afterward in a picturesque log cabin.
When the snow melts, there's 75 miles of hiking and biking trails to enjoy, as well as Class V whitewater rafting, kayaking and fly-fishing on the Roaring Fork River. One summertime highlight? The Snowmass Rodeo, a popular tribute to Colorado's Old West roots. This June, Snowmass will also host the inaugural Bluebird Art + Sound festival, taking place in the still-evolving base village. Art is an important aspect in Snowmass, which is also the home of the influential Anderson Ranch Arts Center, a creative hub for visual artists that has been around longer than Snowmass' official existence. (The village incorporated in 1977.)
While Snowmass Village is young, a 2010 construction project that unearthed Columbian mammoth fossils shows that it certainly has old bones. The massive find, now on view at Snowmass' free Ice Age Discovery Center, highlights the high-altitude location some 45,000 years ago. Unlike in the Paleolithic era, you won't see any giant bison or ground sloths hanging around the village today, but it's a sure bet that you will spot plenty of outdoor enthusiasts taking advantage of the 300 days of sunshine and more than 300 inches of powder that the area averages annually.
Abilene, Kansas, Population 6,590
The Old West doesn't feel quite so old in Abilene, Kansas. People come from all over the world to Abilene to get a sense of the cow town where a handful of rough-and-tumble characters used to drive thousands of cattle coming up from Texas. The work was dangerous but profitable: If you successfully herded the animals through the oft-tumultuous terrain, avoiding natural disasters and unsavory characters, you'd collect a rich reward.
"You hear the stories of the gladiators and great heroes, this was our version of it," says Dickinson County Heritage Center director Michael Hook. "It was these lawless guys who had no fear and they knew what they were getting into."
Abilene's rich pioneer traditions will be front and center this year in honor of the 150th anniversary of the Chisholm Trail with various events and activities that has earned the town another call out on this list. If you can, be there on September 1-3, when the town will host "Trails, Rails & Tales." The festivities will feature cowboy poet Red Steagall, along with a host of other storytellers, musicians and re-enactors. During the three-day event, cowboys will once again drive longhorns through the streets, loading them up on the Abilene & Smoky Valley Railroad.
When the cattle aren't occupying a seat on the train, consider taking a ride on it yourself. Run by volunteers, the steam engine treks to the nearby town of Enterprise through the timeless Smoky Hill River Valley. Another way to get a feel for Abilene? Visit the Heritage Center, or if you don't mind a little kitsch, step into the living history of Old Abilene Town, which still serves up sarsaparillas in the saloon, sells artisan crafts in the general store and recreates gunfights on Main Street. If you're in Abilene in August, the Central Kansas Free Fair is a summer tradition full of things to check out from the Demolition Derby to the Wild Bill Hickok PRCA Rodeo.
Abilene has history around every corner. It's the town where President Dwight D. Eisenhower was raised, and so in the "five-star" museum district, a tour of the Eisenhower Presidential Library & Museum is a must. You can also get a feel for what life was like at the turn-of-the-century in Abilene by taking a tour of the Seelye Mansion, which is still lit with original Edison light bulbs. A less expected spot to visit on your trip? The Greyhound Hall of Fame, which explores the fascinating history of the canine and evolution of the racing industry.
When you get hungry, stop into the Three One One (located where else but 311 N. Spruce Street), a local favorite that serves up fresh fish tacos. Or eat like Ike did at Mr. K's Farmhouse (formerly Lena's). Definitely don't miss the chance to sample some of the fried chicken during your stay; the historic Brookville Hotel has been serving up its iconic family-style dinner since 1915.
Spencer, Iowa, Population 11,206
To understand Spencer, Iowa, look to a piece of public art erected there to celebrate the new millennium. Called "The Gathering, Of Time, Of Land, Of Many Hands," the mosaic was made after consulting more than 1,000 residents. The result celebrates the generations of collaborative spirit that has given the Clay County community, located between the Little Sioux and Ocheyedan Rivers, its small-town Americana feel since it was first settled in 1866.
While in Spencer, check out its buzzing Main Street, full of rich history and beautiful art deco commercial buildings. Be sure to browse Arts on Grand and, if you're feeling brave, order the special at Weasy's Lounge & Grille (not for the faint of heart, it's a beef patty stacked with sausage, pepper jack cheese, bacon and peanut butter on a hearty slice of Texas toast).
When you're in town, you can also brush up on your history at the Clay County Heritage Center, or get some live-and-in-color tales if you're lucky enough to bump elbows with town icon (and sharp dresser) Bob Rose, who has poured his heart and soul into the town, so much so that he's earned the nickname "Mr. Spencer."
This September is a great time to visit Spencer. The Clay County Fair, which bills itself as the "World's Greatest County Fair," is celebrating its 100th birthday. That's a pretty tall order, but the fair, which attracts upward of 300,000 people, is pretty spectacular. The centennial party promises to be an unforgettable occasion, serving up traditional staples like blue-ribbon agriculture, livestock and baking contests, as well as more modern touches like, say, Baconade (for the uninitiated that's Bacon Lemonade).
A trip to Spencer wouldn't be complete without a bike ride through Clay County's fantastic trail system. It's a win-win: Enjoy Iowa's natural beauty while taking the opportunity to work off some of those delicacies that you sampled at the fair.
Mineral Point, Wisconsin, Population 2,487
Make a point to visit Mineral Point, a small town with a big personality anchored among southern Wisconsin's rolling hills.
A gem of a town, Mineral Point was initially known for its lead. That's what attracted skilled tin miners from Cornwall, England, to come there in the early 1800s. But it quickly emptied out when the Gold Rush hit, pulling speculators further west to California. Then, in the 1930s, a preservation movement breathed new life in Mineral Point. By the 1970s, the town's spirit to conserve its past had made it the first city in Wisconsin to be listed on the National Register of Historic Places.
Mineral Point's historic buildings are also what drew artists to set up shop in town. Today, you can see their craft close up in the roughly two dozen studios that decorate downtown Mineral Point. They're located among locally owned shops that call the town home like Phoebe's Nest, which offers eclectic vintage finds and Foundry Books, known for its haikus (proprietor Gayle Bull and her late husband were actually the editors and publishers of the first U.S.-based haiku magazine and the shop hosts a variety of workshops, retreats and readings throughout the year).
The family owned Red Rooster Cafe, where you can try a traditional figgyhobbin (pastry crust filled with raisins, brown sugar cinnamon and walnuts), is just one of the local fixtures that still speaks to the town's Cornish traditions. But if you're looking for the full experience, come for the annual Cornish Fest held in late September. The heritage celebration hits a quarter century this year, and promises to be full of history and fun. If you see anyone wearing their coat inside out during the bash, don't worry—they're probably just warding off those pesky Celtic piskies.
Hana, Hawaii, Population 1,235
The Road to Hana is famous. The winding path, all 52 miles from Kahului, traverses towering waterfalls, lush rainforests and untouched eastern coastline. Then, at the end of the road, there's a jewel waiting: "heavenly" Hana.
Those who try to make Hana a day trip are missing out on getting to know a destination rich in culture and natural beauty. First settled by Polynesian people as far back as 400 A.D., Hana is steeped in Hawaiian history. (The influential queen Ka'ahumanu for instance is said to have been born in a cave in Hana Bay in 1768.)
For years, the only way to access Hana was by the sea. Then the Hana Highway was built. Now a paved road, it was first done using volcanic cinders in 1926, which is how Georgia O'Keeffe once experienced the bumpy trip on her way to immortalize Hana's rugged coastline.
The current road makes Hana more accessible, but only just. It's thanks to Hana's continued remoteness though that the small, welcoming community has managed to avoid being overtaken by tourist kitsch. You can get a feel for the complete history and culture of Hana at the Hana Cultural Center and Museum. Or just chat up a local. You'll find them having lunch not at a hotel, but rather at one of the many off-the-road eateries. Two popular haunts that one local recommends: the food truck Braddah Hutts for barbeque (serving up a truly freshly caught ahi filet) and Thai Food By Pranee, which delivers traditional dishes made with local ingredients that has made it the subject of some rave reviews.
In Hana, the beach is where you want to be. You can dive, fish, swim, surf, kayak, canoe and paddle board through some of nature's prettiest backdrops. Some iconic places to set up shop? There's Hana Beach Park, a classic surf spot, Hamoa Beach, which James Michener, author of the historical novel Hawaii, called the "most perfect crescent beach in the Pacific," and Waiʻanapanapa State Park, famous for its black sand beaches. (If sand's your thing, there's also the deep red sand of Koki Beach, which according to legend, came to look that way following an epic battle between the volcano goddess and her older sister, the goddess of the ocean.)
Hana just celebrated 25 years of the East Maui Taro Festival in April. Taro or kalo, a native plant that's still farmed in Hana today, is central to the Hawaiian creation story, and also to chefs. The annual festival highlights the plant's versatility, as it can be served up as traditional paiai and poi (where the root is pounded into a paste) to less-expected iterations like taro cheesecake. 
Bell Buckle, Tennessee, Population 512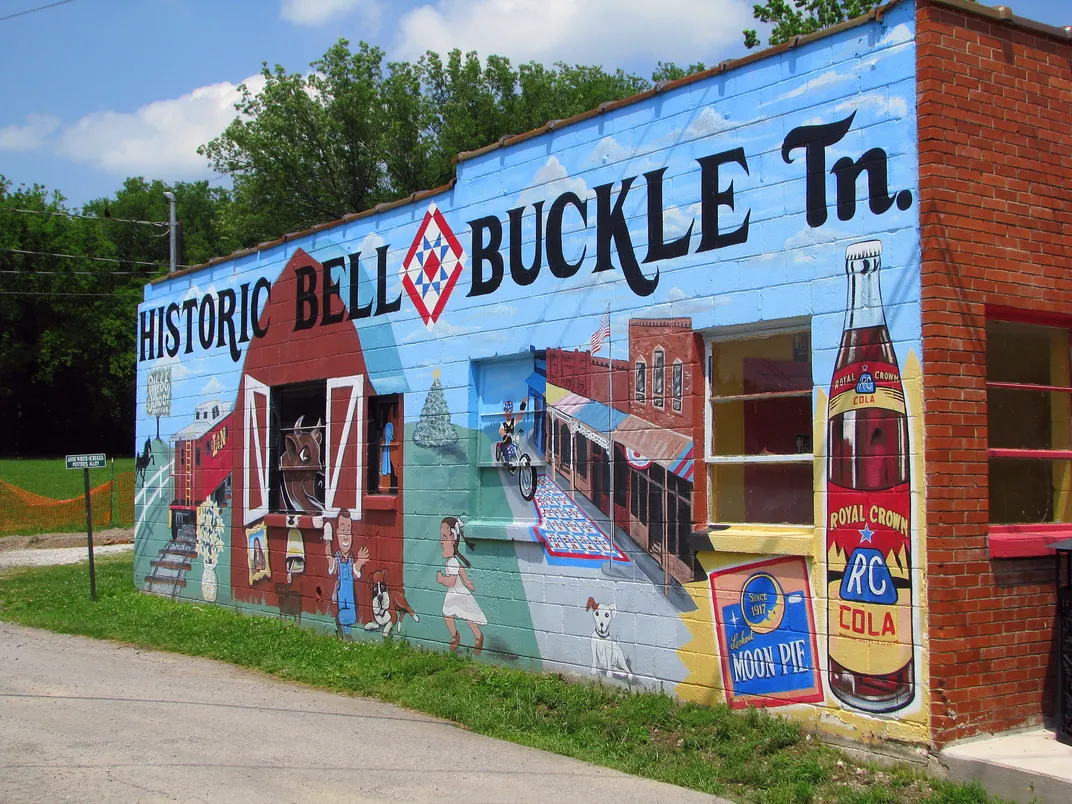 As legend has it, in 1917, a Kentucky coal miner asked for a treat "as big as the moon." Soon after the MoonPie, a marshmallow, graham and chocolate concoction was born. The iconic southern snack is celebrating its 100th birthday this year, and one great way to savor its delicious legacy is by taking a trip to the town of Bell Buckle this summer to catch the RC and MoonPie Festival, which will, among other things, will be serving up the world's largest MoonPie, weighing in at more than 50 pounds.
The RC and MoonPie Festival was imagined up in Bell Buckle as a way to mark the snack's 75th anniversary, and the now-annual tradition has become just one of the town's many excuses to throw a party. Throughout the year, Bell Buckle also hosts Daffodil Day, in honor of the flower that takes over in springtime, The Webb School Art and Craft Festival in October, not to mention its Old Fashioned Christmas tradition complete with reindeer and sleigh rides in December.
Bell Buckle got its start in 1852 as a railroad town. Today, the train doesn't run through it anymore, but in the past few decades, the Bedford county town, located between Nashville and Chattanooga, has found new life, forging a reputation as destination for road trippers.
In 1976, thanks to its notable architecture, Bell Buckle's historic district was listed in the National Register of Historic Places. The town's preserved Victorian homes give Bell Buckle its timeless feel, as do stores like Bluebird Antiques & Ice Cream Parlor, a popular spot for hand-dipped ice cream, operated out of an 1800s soda shop.
Antiquing is a popular activity in town, as is catching live music in places like the Bell Buckle Cafe on Railroad Square (which has its own record label). The town's most famous resident—poet laureate of Tennessee Maggi Vaughn—has also done much to stimulate the town's creative scene, and she sells her work (and is known to share advice with young writers) over at the "Bell Buckle Press."
Oakland, Maryland, Population 1,905
You want to be in Oakland when the leaves change. That time of year, the historic western Maryland county seat comes alive, blanketed with deep reds, smudgy purples and crisp yellow leaves.
This year it's an especially good time to visit Oakland during harvest time. The Garrett County town's Autumn Glory Festival turns 50 in October. The five-day celebration promises to pay tribute to the season with parades, concerts and exhibits on tap. There's also plenty of other ways to spend the fall in Oakland, such as taking a very haunted hayride at Broadford Park or hoping on a foliage tour. 
If you've only ever popped your head into town for supplies on your way to the great outdoors (Deep Creek Lake is a 15-minute drive away, and Herrington Manor State Park and Swallow Falls State Park are also in Oakland's backyard), the sleepy mountain town deserves a closer look.
You can get a feel for the quiet, friendly atmosphere of Oakland on a stroll along the restored brick path of its historic district. There you can pick up a good read at the Book Mark'et, get a history lesson at the Garrett County Historical Society Museum, and stop in for a strawberry soda at Englander's Antiques and Collectibles (inside the store is Dottie's Fountain & Grill, a town staple).
Since the 1800s, the town has attracted everyone from presidents to literary figures (and its local paper, the Republican, running since 1877, has charted it all). Today, you'll see traces of the past in everyday life, like on remnants of the New Deal on the post office, where there's a government-commissioned circa 1942 buckwheat harvest mural by Robert Gates. Then, there's the "Church of Presidents." Officially known as St. Matthew's Episcopal Church, it earned its nickname because Ulysses S. Grant, James Garfield, Grover Cleveland, and Benjamin Harrison have all sat in its storied pews. (St. Matthew's happens to be made of the same sandstone that was used for B&O railroad bridges. While a B&O passenger train hasn't left Oakland since 1971, the town has turned the station into a museum that shares the story of the rail in Oakland with the public.)
Don't be surprised if you see horse-drawn buggies pulling through Oakland during your trip. Maryland's oldest Amish settlement calls the greater Oakland area home, as do a community of old order Mennonites. There are a number of local businesses run by community members. If you have the time, stop in for authentic Amish Hummingbird Cake at Heidi's Bakery and Cafe or try a homemade donut at Sugar & Spice Bakery and Cheese.
Zoar Village, Ohio, Population 178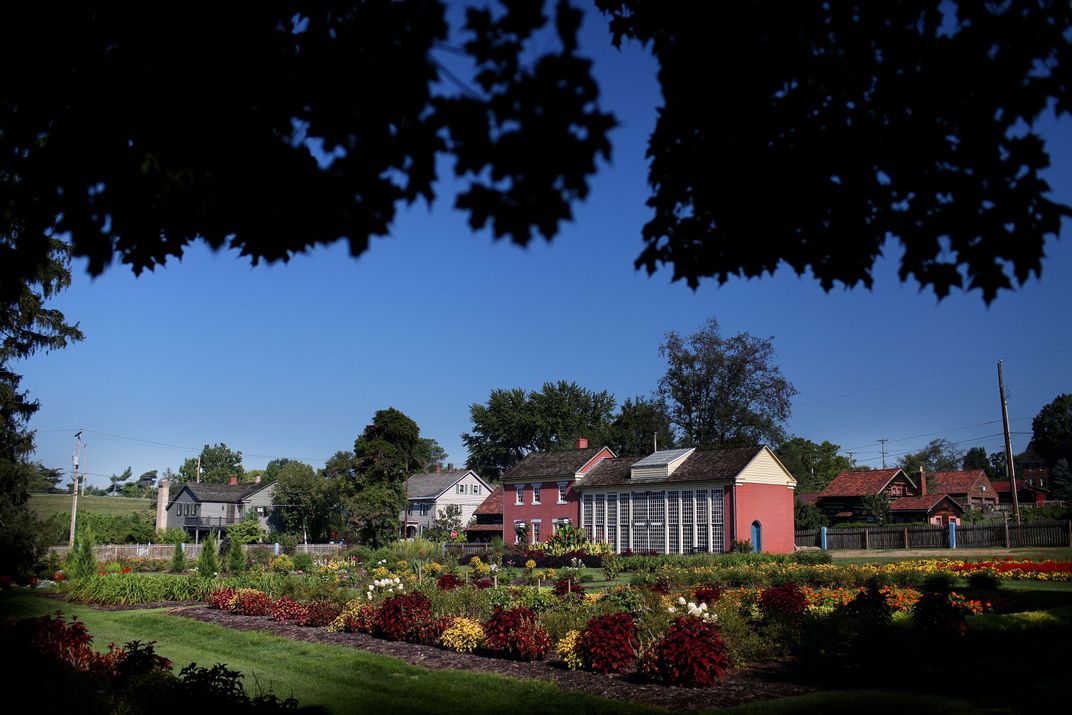 In 1817, some 200 separatists looking to escape religious persecution in Germany settled down on 5,500 acres hugging the Tuscarawas River. They called their new home Zoar Village, after the town in the Bible where Lot and his daughters sought refuge.
Within a few years, the Zoarites banded together to form what would be one of the longest-running communal settlements in American history. After its dissolution in 1898, many tenants chose to stay behind. Today around 75 families live in the historic Zoar Village.
Zoar still looks like a German Village from the 1800s. It has over 50 of its original historic structures and buildings, not to mention its iconic garden, which takes up two acres in the center of the town and whose windy paths and different flora functions as a living separatist bible. While in Zoar, take a tour of town, sample German-style meatloaf at the Canal Tavern or go antiquing at the Cobbler Shop Bed & Breakfast.
For its bicentennial, the town is celebrating all year. In addition to putting twists on all annual Zoar events, the village will be opening an art gallery that will start by highlighting artists who came to Zoar like August F. Biehle, Jr, as well as debuting two new festivals: Maifest, a German celebration of spring and Heimatfest in October, which marks the date when it is believed the separatists first came to Zoar (you can also see the play The Case of Goesele v. Bimeler, during the festival, which follows the lawsuit filed by an evicted Zoar resident in against the town's leader).
Zoar was just designated as a National Historic Landmark this year, but if you talk to people in the village, they'll say they're just happy that Zoar is still standing. Twice in its history, the village was almost dissolved. First in the 1930s, when the question was whether to create a levee to protect the town from flooding or relocate it, and then history repeated itself in 2011 when the U.S. Army Corps of Engineers questioned whether it should repair that levee or move the town. Now, with the confirmation that the levee will be fixed, the village's rallying cry of "Save Historic Zoar" has rightfully shifted once again to "Preserve Historic Zoar."
Rincón, Puerto Rico, Population 15,192
This is a significant year in Puerto Rico's history. One hundred years ago, President Woodrow Wilson signed the Jones-Shafroth Act into law, making Puerto Rico part of the United States. To mark the milestone, make this the year to get to know some of Puerto Rico's most iconic spots like Rincón. Set against lush green mountains and cow pastures, the relaxed town's natural beauty has long made it a favorite among locals and tourists, alike.
If you can't figure out why Rincón's name sounds familiar, then you might want to look to the Beach Boys. In the California rockers' 1962 hit "Surfin' Safari," they sing:
"At Huntington and Malibu
They're shooting the pier
At Rincon they're walking the nose
We're going on safari to the islands this year
So if you're coming get ready to go"
While there's actually some contention over what beach spot the band was actually namechecking (Southern California's Rincon Point also lays claim), the Puerto Rico coastal town has run with the lyrics in stride. And "Surfin' Safari" or no, you're sure to want to hang ten in this premiere surf destination, which hosted the World Surfing Championships in 1968.
When in Rincón, you'll probably be spending most of your time at the beach. The area is famous for its coastline, and there's something for everyone whether you're in search of the calmer waves of Tres Palmas or Steps Beach (great for snorkeling to see the beautiful elk horn reef) or the long, open Maria's Beach, which is one of the most popular spots among surfers.
When you surface, head to the Plaza Pública, and get to know the locals who put on an art walk every Thursday evening and a lively farmer's market full of fresh, local food on Sunday mornings. While you're browsing the stands, keep an eye out for cocina criolla dishes, traditional Puerto Rican cuisine that's a delicious blend of Spanish, Taino and African recipes.
Rincón is a town for all seasons. Every January to March, you'll likely see Humpback whales migrating past the beach town. In the spring, you can catch the International Film Festival (which celebrated ten years this March) and throughout the year, there's a host of other events to bookmark including the Coconut Festival in May and the festive Feast of the Patron Saint, Santa Rosa de Lima, in August.
At the end of your stay, consider taking home a canine. The eclectic Mango Beach Shop famously doubles as a streamlined place to rescue Rincon strays, called Sato.
De Smet, South Dakota, Population 1,090
Life wasn't easy for the original homesteaders who came to De Smet. When the South Dakota frontier town was first established in 1880, there was little there except cornfields and grassy prairieland. Yet for more than a century, De Smet has endured.
The quiet town's legacy has been shaped in no small part by its most famous residents: the Ingalls. As this year marks the 150th anniversary of the birth of the Little House on the Prairie author Laura Ingalls Wilder, it's a great time to pay this quirky town a visit.
Wilder first came to De Smet as an adolescent and set the final five books in the Little House series there. Today, the family's 157-acre homestead, "By the Shores of Silver Lake" where they put down roots in 1879 is still intact, and you can go on a guided tour of it and all things Ingalls with the Laura Ingalls Wilder Memorial Society year round. If you can, though, come to De Smet in the summertime to catch the beloved Laura Ingalls Wilder Pageant, which this year will reenact "The Little Town on the Prairie," picking up Wilder's story following the winter of 1880-81. Coinciding with the festival, the town will also throw big, birthday bash for Wilder on July 14-16, which will feature a who's who of "Little House on the Prairie" aficionados.
De Smet might be Laura-crazy, but there's more to the town than its famous family. Stay at the welcoming Prairie House Manor, and bring your fishing net. The nearby Lake Thompson is the largest glacial lake in the state and a great spot for fishing, not to mention pheasant hunting. See Main Street come alive during South Dakota's longest-running celebration, Old Settler's Day in June. Or come in August for the annual Plein Air Event, where artists of all ages gather to paint the rugged beauty of South Dakota.
While De Smet has its feet firmly in the past, the town isn't just looking backward. Just last year, De Smet won a Bush Foundation Grant for its development vision for the future. But while the pioneer town might have a new shine, never fear, in De Smet, bonnets never go out of style.
Cheraw, South Carolina, Population 5,793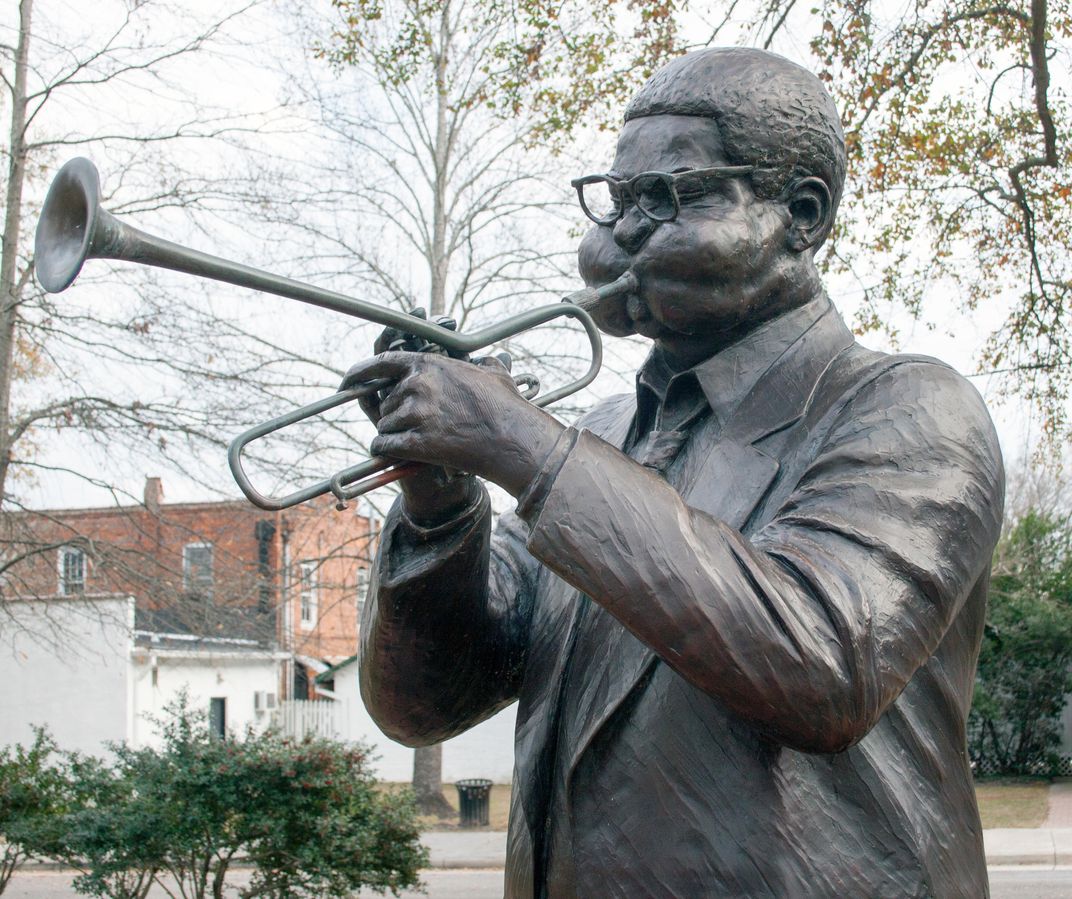 Cheraw, a welcoming hamlet located on the banks of the Pee Dee River, bills itself as "the Prettiest Town in Dixie." While the title might be self-designated, there's plenty of charm to be found in this small town full of history, surrounded by the beauty of Cheraw State Park and Sand Hills State Forest.
Get to know Cheraw through a self-guided walking tour that begins in the center of downtown at Town Green and goes all the way to the banks of the Pee Dee river. One spot not to miss on the tour is Old St. David's Church, which has witnessed the American Revolution and the Civil War. "Amid the changes of time and civil rule, only the Old Parish Church remained to tell its tale in the associations and traditions connected with its earlier days," an 1867 history text writes about the historical church. Other highlights include the Lyceum Museum, housed in an 1820s courtroom, and the Southern African-American Heritage Center, a labor of love for local historian Felicia McCall, which opened its doors in 2010.
While in Cheraw, play a round of golf at beloved Cheraw State Park Golf Course or catch a ranger-guided moonlight canoe float on Lake Juniper. You can also sample some homemade Southern-style fare in places like Mary's Restaurant or the historic College Inn Restaurant.
This is the year to discover Cheraw as its most famous son is turning 100. Dizzy Gillespie, born John Birkes, didn't have an easy childhood in Cheraw, but it was there where the jazz great started listening to big-band jazz and vocalists on the radio at his neighbor's house and began making a name for himself with his taped-up cornet. "In Cheraw, mischief, money-making, and music captured all of my attention," he wrote in his autobiography.
While the annual South Carolina Jazz Festival in the fall promises to trumpet the legendary ambassador of jazz's centennial, his presence resonates year round— from the Dizzy Gillespie Home Site Park, where Dizzy was born, to Ed Dwight's seven-foot statue of Dizzy, which towers over Town Green.
Page, Arizona, Population 7,440
The remote town of Page in Arizona's Coconino County has snuck on the radar in recent years as more and more outdoor enthusiasts come to the mesa in extreme north-central Arizona to discover the beauty of Horseshoe Bend and Antelope Valley Slot Canyons.
Surrounded by the deep reds of the vermilion cliffs and icy blues of Lake Powell, the close-knit community of Page is young—the town was only erected in the mid-20th century as a housing area for a nearby construction site. But from its modest origins, Page has quickly forged its own identity, shaped in no small part by the nearby Navajo and Hopi reservations.
You can also get a feel for Page at the Powell Museum, which is currently exhibiting visual artist Claudine Morrow's "The Faces of Page (and other exotic places…)" featuring her portraits of local area personalities. Or schedule a tour at the Navajo Village, which shares Navajo culture past and present.
When you get hungry, Big John's Texas BBQ is the locals' watering hole. Or, if you have a full evening to spare, check out the unique Sanderson's Into the Grand. Located in a warehouse that's painted with murals, the venue offers a night of dinner, music and dancing that showcases Navajo food and culture.
There are some fantastic festivals held throughout the year in Page. Come for the Horseshoe Bend Star Party in August to watch the Lyrid meteor shower, or visit in the fall to see the red desert landscape light up with a festoon of colorful balloons when the 15th-annual Page-Lake Powell Balloon Regatta takes flight in November.
Hill City, South Dakota, Population 990
Hill City considers itself the "heart of the Black Hills," and for good reason. The small mountain town in the shadows of the massive stone carvings of Mount Rushmore and Crazy Horse Memorial presents a rich slice of South Dakota life.
While Hill City got its start as a mining boomtown, today it's known for its regional art. In the 1990s, noted watercolorist Jon Crane, whose great-great-grandfather happens to be Alfred Waud (his 19th-century sketch "Railroad Building on the Great Plains" was the way many Americans first saw the Western landscape), set up shop in town, and today, there's a strong gallery scene on Hill City's main drag, including one run by renowned Oglala Lakota artist Sandy Swallow, which features her work along with pieces by other native artists.
Stop by the Museum at the Black Hills Institute in Hill City to see "Stan" one of the largest, most complete T. rexes ever discovered. Get a feel for the impact the railroad had on the state by visiting the South Dakota State Railroad Museum, then experience the rail firsthand by taking a recreational ride on the steam-powered, 1880s train that departs from town on a 20-mile narrated joyride  through pine tree-lined scenery. Or get lost in plush at Teddy Bear Town, which holds the Guinness World Record for the "Largest Teddy Bear Collection" with over 9,000 bears.
When in Hill City, try some unique South Dakota wine and craft beer at the Prairie Berry Winery and the neighboring Black Hills Miner Brewing Co. Also tuck into a meal at the historic Alpine Inn.
If you're an avid cyclist, take note that the annual Mickelson Trail Trek is celebrating its 20th year in September. Hundreds of cyclists will trace the storied 109-mile route that runs through almost the entire length of the Black Hills, passing right through town on a trail that was once an old railroad bed.