10 of the World's Best Snorkeling Destinations
Dive into the new year in these water wonderlands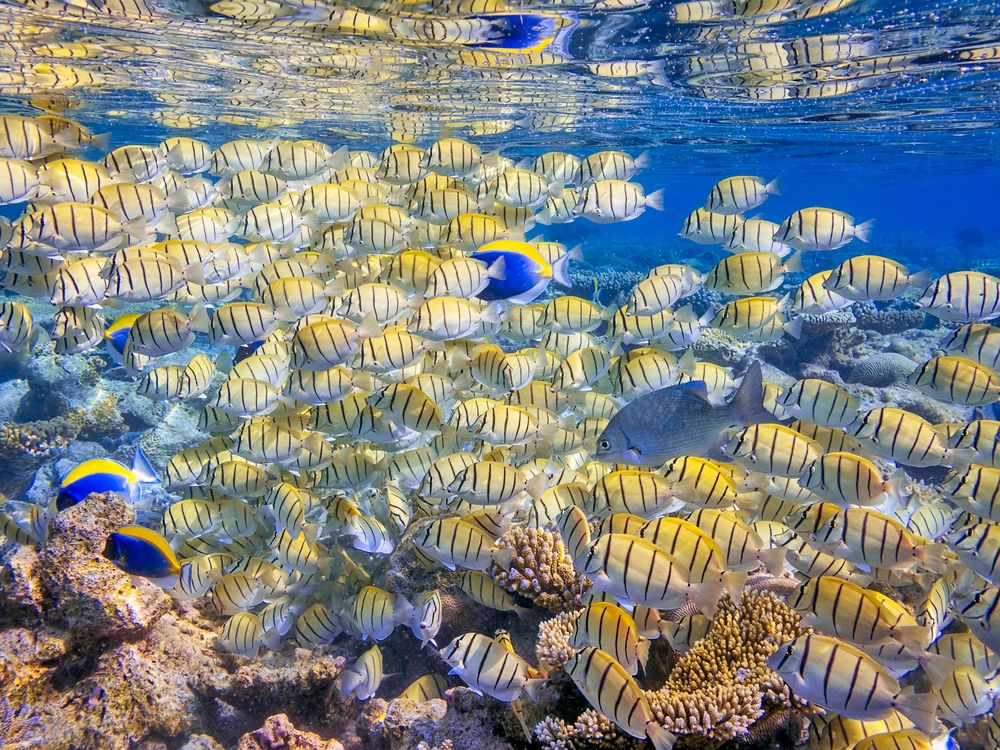 This story originally appeared on Travel + Leisure.
Intrepid travelers know that when you're exhausted from exploring historical sites, when you can't stand the thought of visiting one more museum, and you've trudged through every open-air market, there's only one thing left to do—head underwater.
While scuba divers have the most freedom to explore underwater, snorkeling is easy enough for children, and exciting enough for even the most jaded traveler. Whether you're taking your budding marine biologist to explore an underwater ecosystem or simply want to get up close and personal with a friendly shark, snorkeling is an opportunity to truly immerse yourself in nature.
To help plan your next adventure, we've pulled together 10 of the best places to snorkel around the world. The list ranges from U.S. National Parks to once-in-a-lifetime vacation destinations like the Maldives or Komodo Island. Whichever one you end up visiting, you'll see underwater sights that would make your jaw drop—if you weren't breathing through a snorkel, of course.
The underwater scenery in these islands, atolls, cayes, and reefs is unmatched, but sadly climate change is endangering the watery wonderland. Coral bleaching is already affecting many of the world's reefs, coral is disappearing across the globe, and some scientists expect it could die out entirely as soon as 2050. Even more of a reason to start planning that snorkeling trip you've been dreaming about.
Ambergris Caye, Belize
Home to the largest barrier reef outside of Australia (185 miles!), Belize has many opportunities to get up close and personal with eels, rays, and all kinds of brightly colored fish. There are hundreds of cayes and atolls that dot the Caribbean coastline, filled with colorful coral sunken beneath the turquoise waters. Some of the best options for divers and snorkelers are found off of Ambergris Caye, including the Hol Chan Marine Reserve and the self-explanatory shark-ray alley teeming with nurse sharks happy to let you live out your swimming-with-the-sharks fantasies.
Ilha Grande, Brazil
Off the coast of Brazil, halfway between São Paolo and Rio de Janeiro, sits the wilderness wonderland of Ilha Grande. There are hotels on the island, but it manages to feel largely untouched with monkey-filled jungles surrounded by brilliant blue waters teeming with brilliantly colored fish. Dive into the warm waters of the Blue Lagoon (Lagoa Azul) to swim with seahorses, ogle the underwater coves, and follow a turtle or angelfish through a sunken jungle. The waters off of Ilha Grande are also home to dozens of shipwrecks—remnants of the battles between pirates and the Portuguese.
The Big Island, Hawaii
The entire Hawaiian archipelago is surrounded by incredible snorkeling spots, but the Big Island—with more square footage than all the other islands combined—has the most to offer. The underwater state park at Kealakekua Bay not only has technicolor coral and colorful fish, but it a good dose of history, too, as it marks the spot where Captain James Cook landed on the island. Hit the water near the Captain Cook Monument to see dolphins, turtles and more. For more underwater adventures, head to the crystal waters of Honaunau Bay to explore its coral gardens alongside dolphins and tropical fish.
Palawan, The Philippines
While the Philippines may not seem like the most obvious snorkeling destination, the waters surrounding the 7,000 islands in the archipelago make up a diverse eco-system filled with breathtaking wildlife. There is no shortage of snorkeling opportunities from diving into the Bay of Donsol for the chance to swim with whale sharks or visiting the coral reefs outside Noa Noa Island. The stunning Palawan island offers something for every underwater explorer though. Visit the island's fish-filled lagoons, dive into Honda Bay, explore Tubbataha reef, and plan a daytrip to meet the underwater inhabitants of Starfish and Cowrie Island.
Buck Island, St. Croix, USVI
Visits to national parks tend to conjure up visions of majestic mountains and roaming buffalo, but on Buck Island in the U.S. Virgin Island you're more likely to run into a friendly octopus than a picnic-basket-stealing bear. Snorkel between the elkhorn coral barrier reefs under Buck Island's brilliant blue waters as you follow a colorful parrot fish along an underwater trail through this sunken national treasure. Three species of sea turtles nest at the park, brain coral abound, and both endangered brown pelicans and threatened least terns call home The shallow, gentle waters are ideal for beginning snorkelers.
Komodo Island, Indonesia
While the giant lizards that call this island home get most of the attention from visitors, Komodo has some fascinating inhabitants under the water, too. Head to Pink Beach to swim with rays, schools of groupers, and hawksbill turtles in the undersea garden that grows there. Alternatively, visit the sea surrounding the Komodo National Park, which offers unmatched underwater exploration with over 1000 species of fish 260 types of coral, and 14 types of endangered whales, dolphins, and giant turtles. If that's not enough to strap on a snorkel, there are also rays, sharks, and a flourishing coral reef to make for a memorizing journey.
The Maldives
The Maldives are one of the most beautiful destinations in the world, but some of the islands' greatest sights lie beneath the waves.  The tiny islands that make up the archipelago are surrounded by aquamarine water that is home to some 700 species of fish, including tuna wahoos, and butterfly fish. The water holds a multitude of other marine wonders, too, like sharks, turtles, anemones, coral, and perhaps a friendly octopus or two. If someone in your party doesn't like to snorkel, they can enjoy the undersea gardens and wildlife, too, thanks to the islands' crystal clear water.
Eil Malk Island, Palau
Only one of the marine lakes that dot Palau is open to snorkeling, but it's definitely worth the trip. Jellyfish Lake on the uninhabited island of Eil Malk lives up to its name, filled with millions of golden jellyfish that have thrived in the isolated lake for hundreds, if not thousands, of years. For a truly other worldly experience, visitors can snorkel among the floating, gelatinous creatures. While jellyfish are known for their stings, these have a non-poisonous sting, as they eat algae—not other animals—and reportedly, their stings can hardly be felt by humans who take the plunge into their waters.
Great Barrier Reef, Australia
It's impossible to talk about the world's best snorkeling spots without mentioning the largest coral reef ecosystem in the world—Australia's Great Barrier Reef. The reef is actually made up of 2,900 individual reefs that stretch over 1,400 miles off the Australian shoreline. Eye-popping coral, brilliant marine life, barracuda, manta rays, and the bones of ships that crashed on the reef all make the Great Barrier Reef a must-visit destination for ocean aficionados. For an easy place to start your exploration, head to the Whitsunday Islands right off the shore of Queensland. 
Galapagos Islands, Ecuador
The land that makes up the 19 volcanic islands that form the Galapagos offers a glimpse into the natural world of finches, iguanas, and tortoises that inspired Charles Darwin, but beneath the waves that surround those islands lies an equally fascinating natural treasure trove. The various islands is home to diverse marine life—sea turtles, dolphins, orcas, humpback whales, Galapagos penguins, fur seals, and sea lions. Brave souls can swim in Devil's Crown, the sunken cone of a volcano near Floreana Island, to see brilliantly-colored fish, moray eels, and more.
Other articles from Travel + Leisure: