The 10 Best Travel Books to Give This Season
Satisfy your giftee's wanderlust with these travel-themed books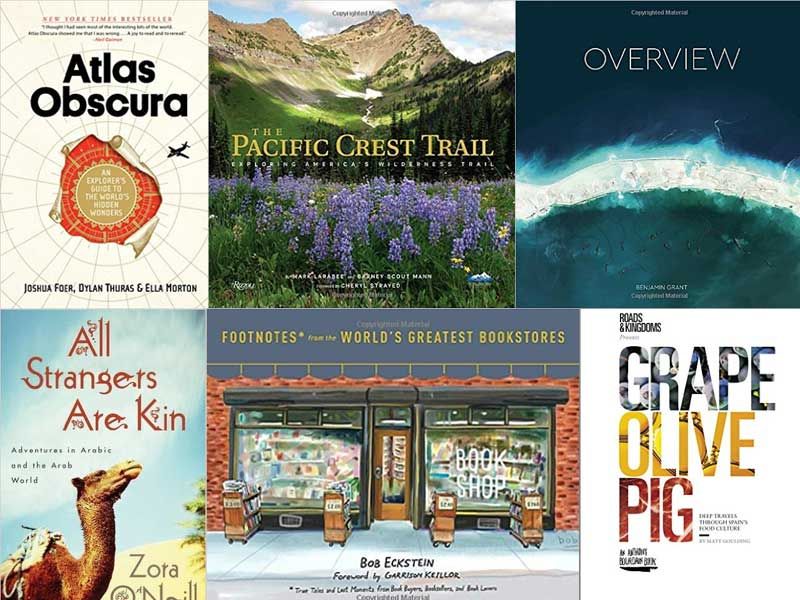 For armchair travelers, occasional vacationers, and practical nomads alike, traveling is more than just checking off a list of new places to see—it's experiencing various cultures around the world in all their diverse beauty. This holiday season, give the gift of paper-based travel with these ten books.
Atlas Obscura: An Explorer's Guide to the World's Hidden Wonders by Joshua Foer, Dylan Thuras, and Ella Morton
In this new print edition, the team behind the wildly popular travel website Atlas Obscura takes readers even deeper into this wild world we call home. Seven hundred unique places, festivals and other curious happenings across the globe—like a pub inside a tree in South Africa and a nautical graveyard in Bangladesh—are enhanced with photographs, maps, and charts in this book of exploration for a new generation of travelers.
The Pacific Crest Trail: Exploring America's Wilderness Trail by Mark Larabee and Barney Scout Mann
All you ever wanted to know about this famed 2,650-mile route from Mexico to Canada is tucked inside this official trail book, published in conjunction with the Pacific Crest Trail Association. Learn about the trail's history through archival photos and documents, and draw out your own route on the included trail map. Fans of Cheryl Strayed's 2012 memoir and #1 New York Times Bestseller, Wild, can delve deeper into that author's experience, too—Strayed herself wrote the foreword.
Overview: A New Perspective of Earth by Benjamin Grant
See the world from above in Overview: A New Perspective of Earth, a visually arresting book of photography showcasing our landscape with an aerial vantage point. The book was inspired by what many astronauts have claimed to experience when they view Earth as a whole from space—known as the Overview Effect. Benjamin Grant shares more than 200 images that lend new perspective to agriculture, industry, architecture, and the environment, coupled with lesser-known facts about our earthly home.
All Strangers Are Kin: Adventures in Arabic and the Arab World by Zora O'Neill
In Arabic, only one letter distinguishes "pigeon" from "bathroom"—so author Zora O'Neill learned while studying the language known for its complexity. But she soon discovers that taking lessons isn't the only way to learn a language. Go along for the ride as O'Neill immerses herself in Arabic culture, traveling through the Middle East and learning that the ties that bind language and culture are about much more than just communicating.
The Best American Travel Writing 2016, edited by Bill Bryson
The annual travel writing tome is back for 2016, carrying the latest and greatest of American travelers' stories, lessons and observations about the world. Both new and returning writers are featured in this edition, including Michael Chabon, Alice Gregory, Paul Theroux, Dave Eggers, Helen Macdonald, Sara Corbett, Stephanie Pearson, Thomas Chatterton Williams, and Pico Iyer.
Ghostland: An American History in Haunted Places by Colin Dickey
Travel takes a spooky turn with this book, as author Colin Dickey travels around the country to America's most haunted places, exploring the dark side of our country's history. Dickey combines the facts behind a ghost story, both true and embellished, with modern society's reactions to such tales. Step inside what are considered by many to be America's most haunted locations—whether they be a mansion, a prison, or a burial ground, among many others—and catch a glimpse of the history that many have tried to forget. 
Footnotes from the World's Greatest Bookstores: True Tales and Lost Moments from Book Buyers, Booksellers, and Book Lovers by Bob Eckstein
In a time when it seems that brick-and-mortar bookstores are closing at a rapid clip, this book celebrates those very places, giving us an inside look into the cherished community of local bookshops. Seventy-five paintings and anecdotes from local bookstores around the world illustrate the charm, quirks, and legends of what is, to so many patrons, a beloved community gathering place.
City Squares: Eighteen Writers on the Spirit and Significance of Squares Around the World, edited by Catie Marron
From Place des Vosges, the oldest planned city square in Paris, to the Zocalo in Mexico City, to Rabin Square in Tel Aviv, and many more, this book explores the importance of city squares to communities around the globe. Learn how each one is still used today to express a combination of history, culture, and urban space through 18 stories with accompanying photographs.
Wild by Nature: From Siberia to Australia, Three Years Alone in the Wilderness on Foot by Sarah Marquis
It took Sarah Marquis three years to walk across the Gobi Desert from Siberia to Thailand, racking up 10,000 miles along her journey. She tells her tale in Wild by Nature, a book chronicling her oftentimes dangerous journey—risky due to both environmental conditions and some of the other people she encountered along the road—on her path to freedom.
Grape, Olive, Pig: Deep Travels Through Spain's Food Culture by Matt Goulding
Food in Spain is so much more than tapas, and author Matt Goulding takes readers on a vibrant culinary journey to prove it. Grape, Olive, Pig investigates myriad aspects of Spanish cuisine and gastronomic tradition, from those famous small plates to seafood culture, paella, ham, and more.
Other great travel book suggestions? Please post them in the comments below.