In 2019, wildlife conservation photographer Carla Rhodes entered Smithsonian magazine's 16th Annual Photo Contest with an image captured in the Galapagos Islands. The picture, a lava lizard hitching a ride atop a marine iguana on Fernandina Island, was chosen from more than 40,000 entries for the Reader's Choice award.
A few months later, Rhodes was on a plane from her home in the Catskills to spend a whirlwind two days around The Beaches of Fort Myers & Sanibel, where her goal was to explore the area's extensive hiking and biking trails and snap pictures of the plants and animals that call the area home.
The assignment was perfect for Rhodes. "I really want to bring awareness to the natural world and educate people in the hope that people will want to learn more about these creatures, and then have more empathy and respect for them," she says. One of the things that jumped out at her immediately was how varied the area's landscapes were. "I met some people who said they came here every year to take pictures in the same spots, and none of the pictures were ever alike," she said.
And by the end of her trip, she could see why. "I already can't wait to go back!" she says enthusiastically.
Rhodes visited three sites during her adventure, and here she recounts some of the wonders she saw.
Corkscrew Swamp Sanctuary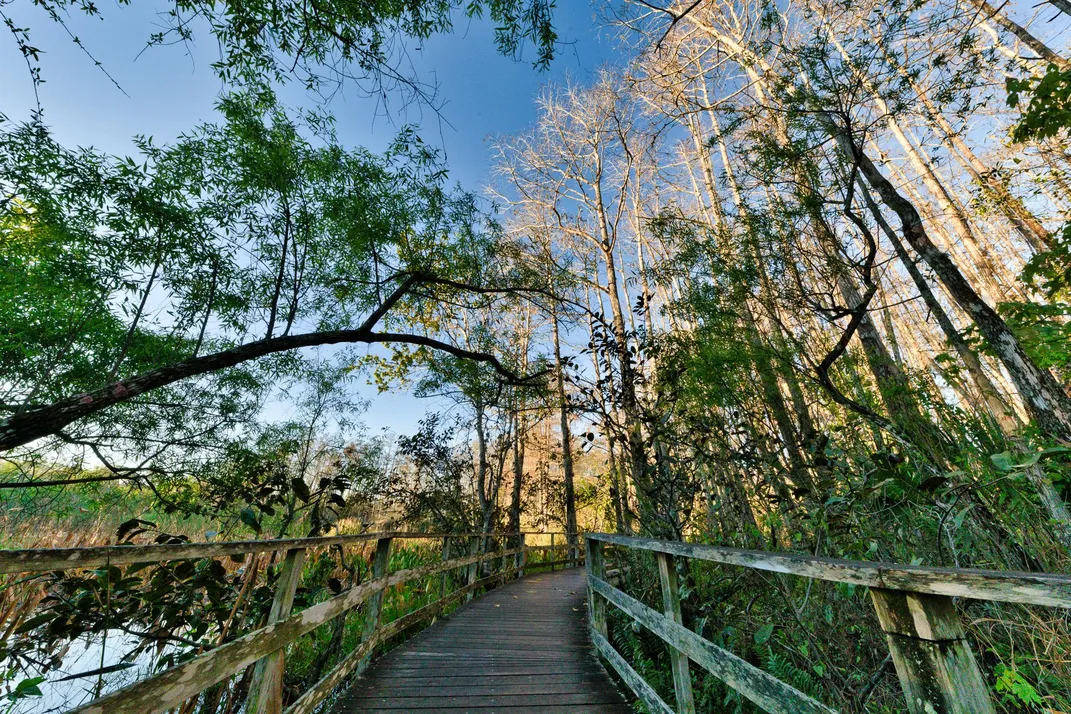 One of the first things Rhodes noticed about Corkscrew Swamp Sanctuary, locally known as one of the best places on The Beaches of Fort Myers & Sanibel for birdwatching, was how friendly it was to both people and wildlife. "What was really cool about this sanctuary," she says, "was the elevated boardwalk. You're not trudging through the swamp. You can walk around the area without disturbing the habitat, which is so important to me."
During the four hours she spent in the swamp, Rhodes got up close and personal with some local birds. "There were ibises, which I love—they're these white birds with really long beaks and beautiful soft blue eyes."
Birds weren't the only creatures Rhodes got to spend time with at Corkscrew. "Alligators started to come out as the day got warmer," she says. "I got a cool shot of a baby alligator resting on this area called Lettuce Lake."
Corkscrew is beloved by experienced hikers and beginners alike, something Rhodes says can be rare in nature. "I thought that it was really accessible no matter what your physical challenges or limitations might be," she says.
And the landscape itself was new to the photographer. "I love that chaotic nature look—just all the greenery and all the different plants. Plus, it was winter! I had a hard time getting over that this was what [Floridians] considered winter," she laughs.
J.N. "Ding" Darling National Wildlife Refuge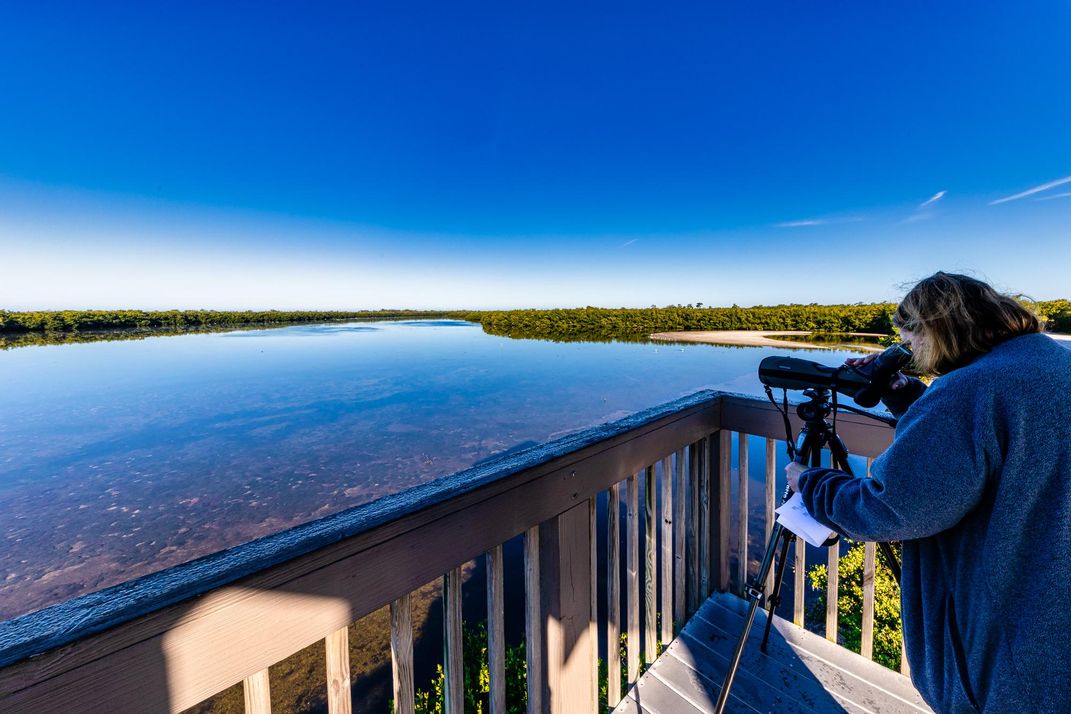 At the 7,600-acre J.N. "Ding" Darling National Wildlife Refuge, visitors enjoy a winding four-mile drive through the site, making it easy to nab shots (or simply enjoy the views).
Certain birds, Rhodes quickly learned, are treated like celebrities at "Ding".
"The one that everyone was freaking out about is called a reddish egret. It does this really special dance where it jumps up in the air and flips his wings over its head. And then it grabs fish! I saw this bird and I just, thought 'who is this guy!'"
"And there was this precious little yellow-crowned night-heron just sitting on the railing, not a care in the world," Rhodes says excitedly. Waterways afford the opportunity to see the area from a kayak, and Rhodes observed a number of hikers and kayakers taking in the sights alongside photographers.
"To me, it was just amazing, amazing, that there's an accessible resource like this in the United States," she says.
Lovers Key State Park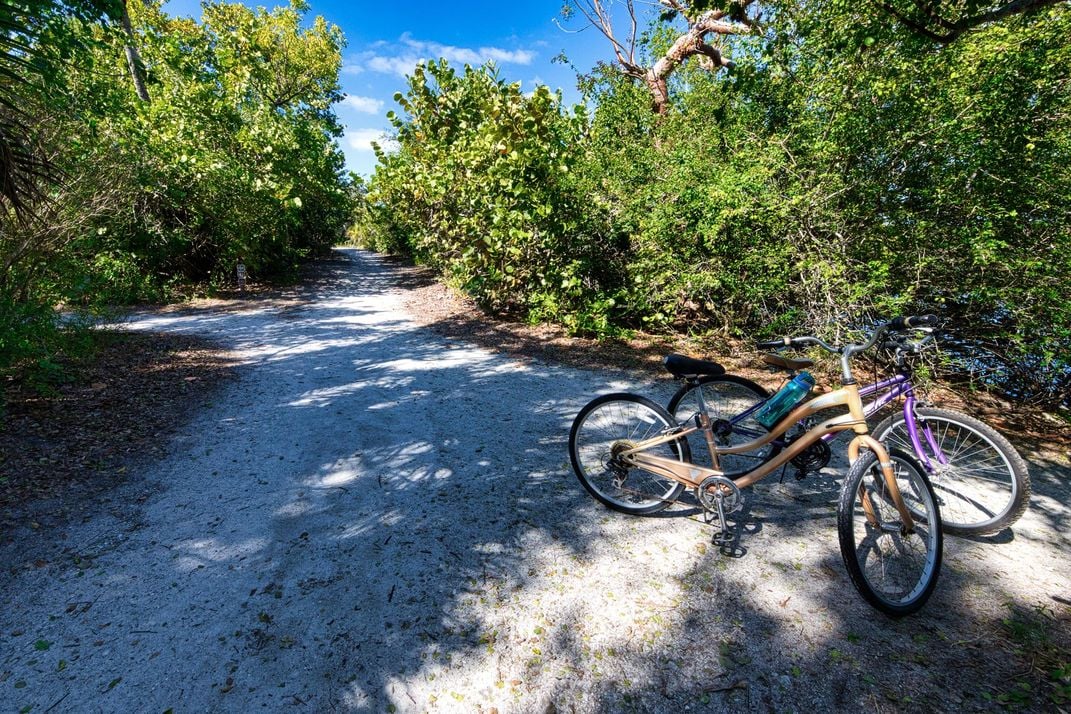 Unique to The Beaches of Fort Myers & Sanibel area, Lovers Key State Park offers the best of both worlds when it comes to being outside—visitors can bike and stroll the area, as Rhodes did, or pick a spot on the sandy beach and wait to see what passes by.
"I kept seeing these holes in the ground with a kind of mound outside of it off to the side of the trails, and I thought, what's going on there? And then I realized it was a huge gopher tortoise, and they dig burrows," she explains.
"So, keeping a respectable distance, I got to observe one. And then when he had had enough, he popped down into his burrow, which was amazing."
Heading to the beach to catch the sunset, Rhodes caught a glimpse of another local favorite. "What was amazing about Lovers Key Beach is that I saw this huge group of birds, called black skimmers, standing in this formation facing the wind," she says. "[They looked] almost like a rock and roll poster."
Also exciting was the local plant life—very different from the Catskills, where Rhodes lives in New York. "I loved the sea oats—it's a type of plant on the beach, and there were signs that told you where you could and couldn't walk near them, which I thought was so cool, because they want to protect these plants [and the habitat they provide]. And they make it easy for you to help!"