Last November, one of the United Arab Emirates' most ambitious projects to date, the Louvre Abu Dhabi, opened to the public. Part of a multibillion dollar effort to transform Saadiyat Island into a cultural destination and a first-of-its-kind partnership with France, the museum represents a new era in the UAE.
Uniquely poised between East and West, the country has emerged as a global juncture for the arts. While Cairo, Damascus and Tehran thrived as cultural capitals of the 20th-century Middle East, they have since faded from the spotlight due to conflict. Today, open immigration policies and an oil-fueled economic boom have drawn creative minds instead to the UAE, and collectors and museum professionals have followed, looking to discover art from the region.
The 2000s marked a time of intense artistic and cultural development in the UAE. Following the establishment of economic free zones, Christie's opened in Dubai and hosted the first auction of modern and contemporary art in the Middle East in 2006. Thanks to its growing expatriate population, the UAE's burgeoning art scene benefited from a range of viewpoints and experiences, and galleries opened up across country. In 2009, the UAE became the first Gulf country to have a permanent pavilion at the Venice Biennial, one of the world's most renowned art exhibitions.
"This transformation has become an enabler for the UAE's young people and a magnet for a cosmopolitan community of over 200 nationalities living harmoniously together and contributing to the country's strategic vision," says Minister of State His Excellency Zaki Nusseibeh, who has lived in what is now the UAE since 1967.
Influenced by the visions of their respective rulers and arts patrons, the UAE's three largest emirates have embraced the arts in different ways. Dubai has transformed into a center for commercial art, Abu Dhabi has invested in international, large-scale collaborations, and Sharjah has connected local creators to an international arts scene. From world-class museums, galleries and performance spaces, to leading regional festival and creative spaces for artists, the UAE has a lot to offer. Here are ten attractions spearheading the UAE's emergence as a multifaceted hub for the arts.
1) The Louvre Abu Dhabi
Drawing inspiration from the UAE's geography and history, the Louvre Abu Dhabi is an architectural masterpiece. Designed as a micro-city, it consists of 55 detached rooms that visitors can wander in and out of as they would an Arab medina. Waterways reminiscent of Abu Dhabi's historic falaj irrigation system run through the museum, inspiring calm and reflection. Above, a massive, latticed dome casts a "rain of light" in the same way that palm fronds scatter sunlight throughout an oasis.
Both architecturally and curatorially, the Louvre Abu Dhabi is designed to be a meeting point for cultures. It is the first universal museum in the Arab World, and its collection of more than 600 artifacts tells stories of human creativity that transcend place and time. Organized into 12 chronological chapters, the galleries reveal humanity's common threads from prehistory to today.
In addition to its permanent collection, the Louvre Abu Dhabi will host four temporary exhibitions per year. "Globes: Visions of the World" runs from March 23 through June 2 and will display a rare collection of objects related to global exploration. Education will also be a large focus of the museum, including partnerships with Abu Dhabi universities and a centrally located Children's Museum featuring family-friendly exhibitions and activities.
More on Smithsonian.com: "Step Inside the Louvre Abu Dhabi"
2) Warehouse 421
Zayed Port was once Abu Dhabi's main international port. Today, a different kind of exchange is taking place in its warehouses and boatyards. Leading this transformation is Warehouse 421, a community-focused cultural space developed by the Salama bint Hamdan Al Nahyan Foundation. Founded in 2010 by Sheikha Salama bint Hamdan Al Nahyan, wife of the Crown Prince of Abu Dhabi, the foundation supports arts, culture and heritage as well as education and health through a range of initiatives, including the Emerging Artist Fellowship. In partnership with the Rhode Island School of Design, the fellowship provides UAE nationals and long-term resident artists with academic training, workshops, studio and exhibition space as well as a trip to the United States. Participants have gone on to teach in the UAE and pursue graduate work abroad, forming a new generation of artists prepared to lead the UAE into the future.
3) Sharjah Biennial
When Sheikh Dr. Sultan bin Muhammad Al-Qasimi launched the Sharjah Biennial in 1993, it was largely a regional event organized in an exposition center. Today, the biennial is known around the world and hosts exhibitions throughout the city, thanks in large part to the direction of his youngest daughter Sheikha Hoor Al-Qasimi. Returning to Sharjah in 2003 after having attended Germany's Documenta art exhibition, she decided to change the format of the Sharjah Biennial, shifting its focus from national pavilions to individual artists and involving outside curators. Six years later, she founded the Sharjah Art Foundation with the intention of developing year-long programming, deepening community engagement and establishing partnerships with Sharjah's ten universities. Artists from all over the world now attend the biennial as well as the March Meeting, an annual gathering dedicated to the production and distribution of art. In 2017, the foundation launched an online research platform and will host year-long workshops ahead of the 14th edition of the Sharjah Biennial in 2019.
4) Sharjah Museum of Islamic Civilization
Combining religion, science and art, the Sharjah Museum of Islamic Heritage is the UAE's largest Islamic museum and one of 19 total museums in Sharjah. Unique in its breadth, the museum first opened to visitors in 1996. In 2008, the collection moved to a converted souq, or indoor market, allowing its 5,000 artifacts to be reinterpreted and displayed in seven themed galleries. Walking through the first floor, visitors encounter not only elements of the Islamic faith, including descriptions of the ritual of hajj, or pilgrimage, but also the accomplishments of Islamic scientists in math and astronomy. The museum's second floor presents 1,400 years of Islamic art and artifacts. Collection highlights include monumental sections from the Kiswah, the cloth that covers the shrine in the center of Mecca, as well as rare historical Quran manuscripts, a large collection of Islamic coins and astrolobe reconstructions. Perhaps the museum's most stunning element is its gilt dome featuring a mosaic of the twelve zodiac signs.
5) Alserkal Avenue
Walking through Alserkal Avenue today, it's hard to imagine how it looked a decade ago. Back in 2005, this now thriving arts hub in the industrial zone of Al Quoz consisted of a single gallery: The Third Line. Giving a voice to Middle Eastern artists, The Third Line attracted collectors from near and far. Its success convinced other galleries to move to Al Quoz, and in 2007, the space opened as Alserkal Avenue thanks to the patronage of developer Abdelmonem bin Eisa Alserkal. Now the area spans 500,000 square feet, replete with galleries, restaurants, concept spaces, a black box theater and an outdoor cinema. Concerts and installations pop up constantly, drawing an eclectic crowd of fashionistas, artists and industrial zone workers.
6) Tashkeel
An initiative of Sheikha Latifa Bint Maktoum Al Maktoum located in Dubai's Nad Al Sheba neighborhood, Taskheel provides designers with the resources they need to create and exhibit. Members can access communal studios, workspaces, labs and galleries, encouraging experimentation and collaboration. Some of Tashkeel's signature initiatives include Tanween, a nine-month program that helps local designers develop a UAE-inspired product from concept to completion; a year-long Critical Practice mentorship program for visual artists that culminates in a solo exhibition; and Make Works UAE, an online platform connecting creatives with manufacturers. In celebration of its 10th anniversary this year, Tashkeel exhibited works from a selection of the many artists who have been involved with its programming over the years.
7) Art Dubai
Every March, Art Dubai heralds Dubai's art season over the course of three days at the Madinat Jumeirah Resort. Launched in 2006, it has become one of the world's most globalized art fairs. This year, Art Dubai featured 78 galleries from 42 countries, together with public art commissions, speeches and workshops. The Global Art Forum, an interdisciplinary ideas exchange, returned for its 12th year with the theme "I Am Not a Robot" to discuss the implications of automation in our daily lives. Speakers ranged from UAE Futurist-in-Chief Dr. Noah Raford to Vienna curator Marlies Wirth.
Aside from functioning as a meeting point for cultures, Art Dubai has played a significant role in introducing art patrons to art from the Middle East. Art Dubai's Modern Symposium talks help to broaden understanding of 20th-century masters from the Middle East, North Africa and South Asia, and the invite-only Art Salon provides a platform for collectors. Another highlight is the Abraaj Group Art Prize, which each year recognizes a guest curator and awards an artist $100,000 to create his or her dream project for Art Dubai. These projects live on as part of the globally exhibited Abraaj Group Art Prize Collection.
8) Dubai Design District
The Dubai Design District, known as d3, is a community where creatives can "live, work and play." The emirate's first purpose-built creative cluster, it houses everything from design studios to hotels, luxury apartments and restaurants. Since opening in 2015, d3 has fostered talent from all over the region and attracted high-profile global businesses.
D3 is a place for dreamers, says CEO Mohammad Saeed Al-Shehhi: "Anyone from anywhere who has a good idea that we believe in, they can be part of Dubai Design District." What's especially unique about d3, he adds, is that residents of the UAE are used to seeing the "final product" of a design for sale or exhibited in malls and souks. At d3, the full process of design is on display, fostering respect for craftsmanship. "You don't really appreciate the design until you know the process," he says.
Dubai Design Week will celebrate its fourth year at d3 in November. Managed by Art Dubai, Design Week is the region's leading design fair, with more than 200 events scheduled and 60,000 people from around the world estimated to attend. Public installations will open throughout the district. Headlining events include the Global Grad Show, which exhibits design projects from over 100 universities, and Abwab, a showcase of product designs from the MENA and South Asia regions. A traveling exhibition featuring 10 Emirati designers titled "UAE Design Stories: The Next Generation from the Emirates" will conclude its tour at d3 during Dubai Design Week following appearances at Milan Fashion Week and the London Design Festival.
9) Dubai International Film Festival
Taking place over eight days in December at the Madinat Jumeirah Resort, the Dubai International Film Festival (DIFF) celebrates the best of global and Arab cinema and has become the Middle East's largest film festival. When it launched in 2004, DIFF featured 76 films and recorded an attendance of 13,000. By way of comparison, last year's festival featured 140 films from 51 countries, and attendance exceeded 50,000. Fifty of the films were world premieres, and 81 premiered in the MENA region.
Today, DIFF ranks among the world's most well-known film festivals and is lauded as a platform for discovering Arab film talent. Events range from glamorous red-carpet screenings attended by A-list celebrities such as Sir Patrick Stewart and Cate Blanchett, to outdoor and beachside showings. The festival is also dedicated to providing Arab filmmakers with exposure and resources. The Muhr competition for short and feature films awards generous cash prizes to filmmakers in the UAE and Arab region, and the Dubai Film Market works in tandem to help Arab films find new audiences across the globe.
While DIFF only lasts eight days, DIFF365 provides film programming for the community throughout the year. Partnering with VOX Cinemas in the Mall of the Emirates, it features smaller, independent films that otherwise would not be shown in UAE theaters.
10) Dubai Opera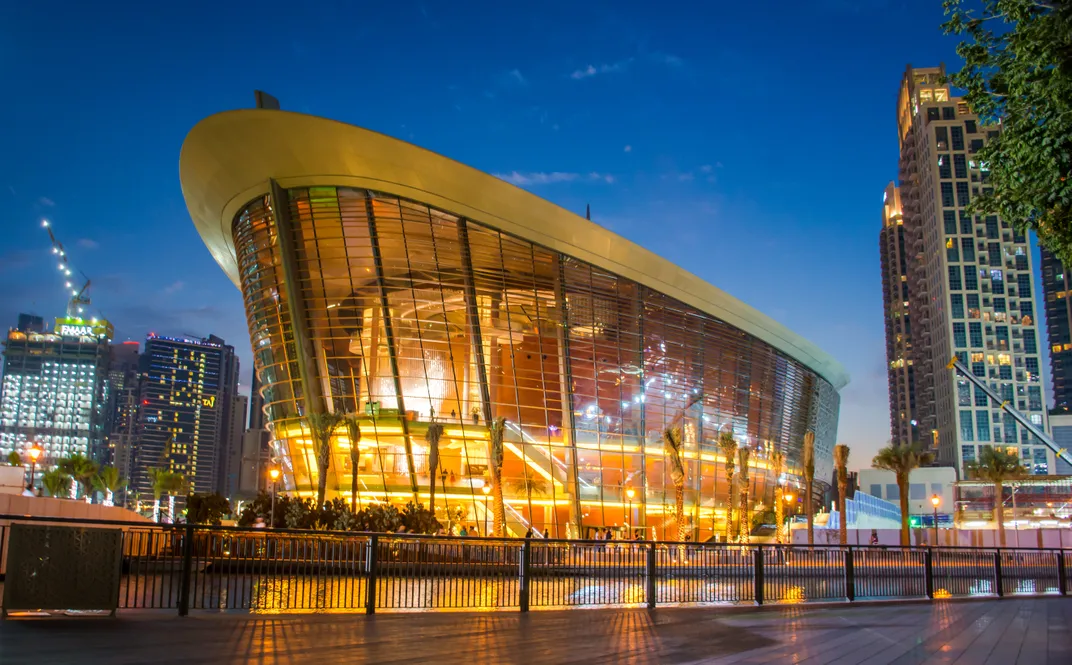 Situated on the waterfront in the heart of the city, the Dubai Opera is an impressive, multi-use performing arts space. In a nod to the city's maritime heritage, the building resembles a traditional dhow boat from the outside; inside, a three-story chandelier made up of thousands of glass orbs resembles a vortex of bubbles left in the wake of a fishing net.
Since opening in August 2016, the Opera has attracted locals and tourists alike with its diverse, world-class entertainment. Thanks to state-of-the-art facilities, the Opera can transition seamlessly between theater, concert hall and event space. In theater mode, it seats up to 2,000; in concert hall mode, towers and reflectors envelop the audience in sound; and in "flat floor" mode the Opera can host events ranging from weddings to fashion shows. The Opera's 2018 calendar includes performances by the cast of Spamalot the musical in May and operas Carmen and The Magic Flute in September.