Home to the world's tallest tower, the world's largest mall and the world's longest driverless metro, the United Arab Emirates is no stranger to superlatives. Now, it is adding another to its roster: the world's largest single-site solar park.
Just south of Dubai in a swath of desert spanning nearly 4,000 acres, the Mohammed bin Rashid Al Maktoum Solar Park consists of thousands of rows of glistening solar photovoltaic panels. Currently in phase III, the park will offset 1.4 million tons of carbon dioxide emissions and power 160,000 homes by 2020. By 2030, it will have a capacity of 5,000 MW, offseting 6.5 million tons of CO2 emissions and generating enough energy to power 800,000 homes.
The park follows in the footsteps of several other massive solar endeavors in the UAE. Abu Dhabi's Shams Solar Park is the first utility-scale solar plant in the Middle East. And Solar Impulse 2, which took off and landed in the UAE in 2016, was the first solar plane ever to fly around the world.
The Al Maktoum Solar Park underscores the UAE's forward-looking energy strategy, which is remarkable for one of the world's most oil-rich countries. Though the UAE sits on eight percent of the world's oil reserves and meets most of its current energy demand with fossils fuels, the country announced last January at the World Future Energy Summit in Abu Dhabi that renewable energy will make up 44 percent of its energy mix by 2050.
"Our aim is to balance our economic needs with our environmental goals," Sheikh Mohammed bin Rashid al-Maktoum, UAE prime minister and ruler of Dubai, said on Twitter to accompany the announcement. "The plan aims to increase usage efficiency by 40 percent and increase clean-energy contributions to 50 percent."
To reach these goals, the UAE will invest USD $163 billion into renewable, clean fossil and nuclear energy technologies over the coming years, with expected savings of $190 billion.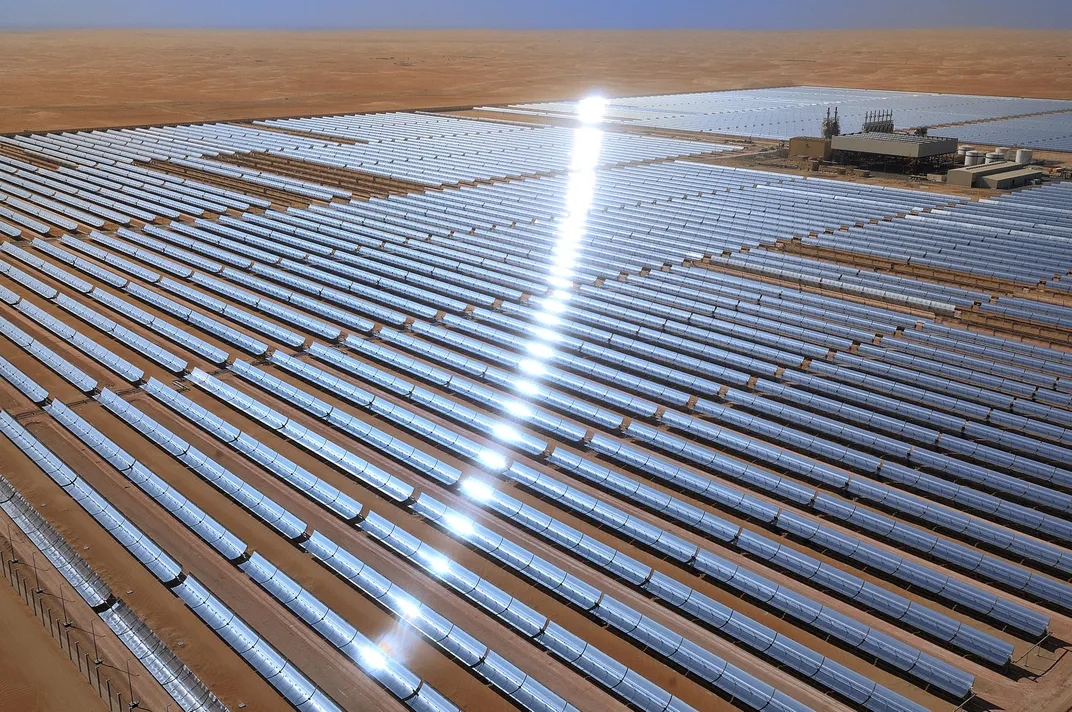 Several factors have converged to make renewable energy an attractive option to meet the UAE's energy needs. For one, the UAE is well poised geographically to take advantage of solar technology, receiving on average 10 hours of sunlight per day, and approximately 350 days of sun per year.
UAE policy also seeks to address climate change. In addition to its goal of 44 percent renewable energy by 2050, the UAE intends to reduce carbon dioxide emissions by 70 percent, which supports the aim of the 2015 Paris Climate Agreement to prevent global temperatures from rising more than two degrees Celsius in the next century.
Dropping costs have made the business case for renewables increasingly bright. At the biennial Solar World Congress, held in Abu Dhabi in October 2017, Director-General of the International Renewable Energy Agency (IRENA) Adnan Z. Amin noted, "The chief driver of solar deployment is its business case, which has never been stronger. Costs have continued to drop dramatically, with [solar photovoltaic] projects now offered for less than 3 US cents per kWh as evidenced by record low costs here in the UAE."
Zoheir Hamedi, IRENA's Regional Program Officer for the Middle East and North Africa, adds that overall, "If we look at the broader picture, which is the benefits that renewable energies can bring to the economy and to the environment, I think that here we can see that the cost-to-benefit issue is much more in the advantage of renewables energies than fossil fuels."
In line with that assessment, the UAE has geared its economic free zones towards encouraging the transfer of clean technologies and the overall growth of the sector. Masdar City is a key example. Since 2009, it has attracted more than 400 international companies including General Electric and Siemens, offering them 100 percent foreign ownership and tax exemption.
Home to Masdar Institute, the Gulf's first research institution dedicated to advanced energy and sustainable technologies, Masdar City has simultaneously attracted world-class talent. To date, graduates of the Institute have secured 14 U.S. patents. Between investment and research, Masdar has built local capacity and contributed to the development of technologies such as water desalination and solar heat storage.
Beyond solar, key renewable energy projects in the UAE include waste reduction, sustainable urban development, emissions-free transportation and wind power.
In the emirate of Sharjah, a joint facility managed by Bee'ah and Masdar is spearheading waste-to-energy production, generating enough power to supply 28,000 homes. The project's goal is not only to generate power, but eventually to reduce the emirate's landfill contribution to zero. Through innovations in recycling techniques and energy conversion, the facility has increased the rate of diversion of waste from landfills from 20 percent in 2009 to more than 70 percent in 2016.
In Abu Dhabi, Masdar has developed an on-site residential eco-villa, which aims to consume 35 percent less water and 72 per cent less power than a typical villa of the same size and serve as a model for future developments. Dubai, working towards its goal of having 25 percent of cars be driverless by 2030, purchased 200 zero-emission Tesla Model X and Model S cars for its taxi fleet last February.
The development of renewable technologies is also helping the UAE strengthen economic ties abroad. Abu Dhabi's Masdar has won a number of pivotal projects, including London Array, the world's largest offshore wind farm, and Gemasolar, a groundbreaking utility-scale solar power plant to combine a central tower receiver system with molten salt heat storage technology, in Andalusia, Spain. As of May 2016, Masdar completed eleven solar and wind projects in the Pacific island nations as part of the UAE-Pacific Partnership Fund, which aims to help the countries in that region save more than USD $1 million in diesel fuel imports.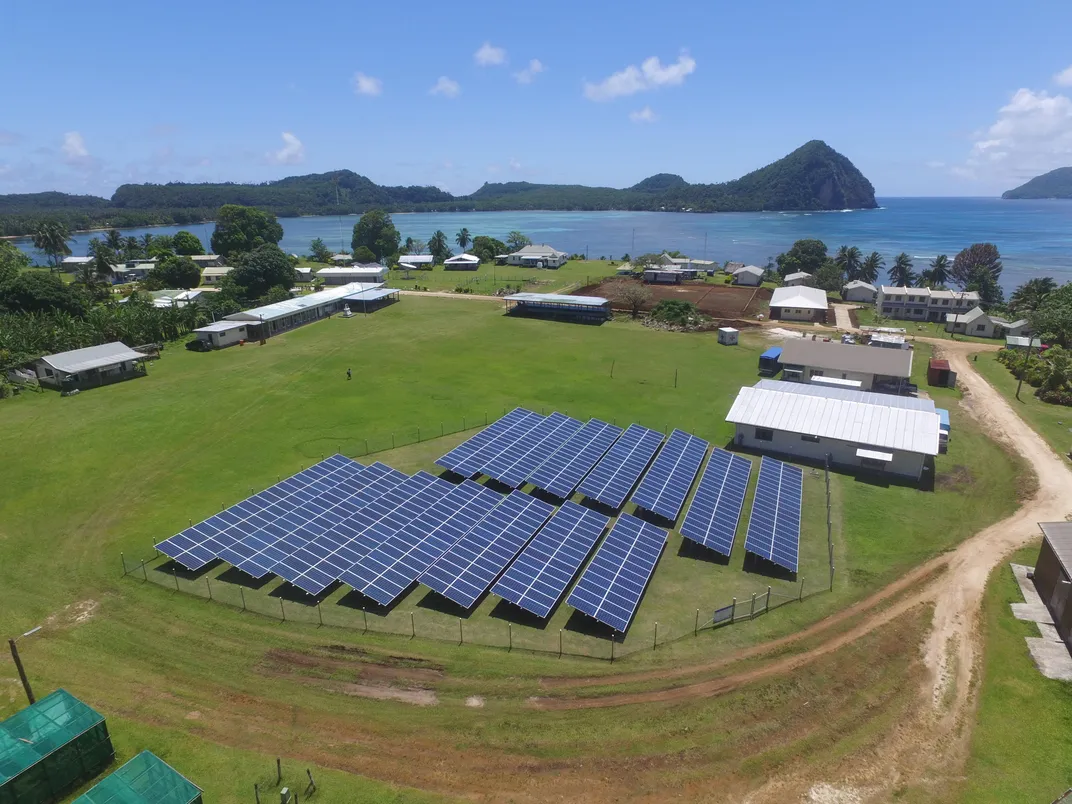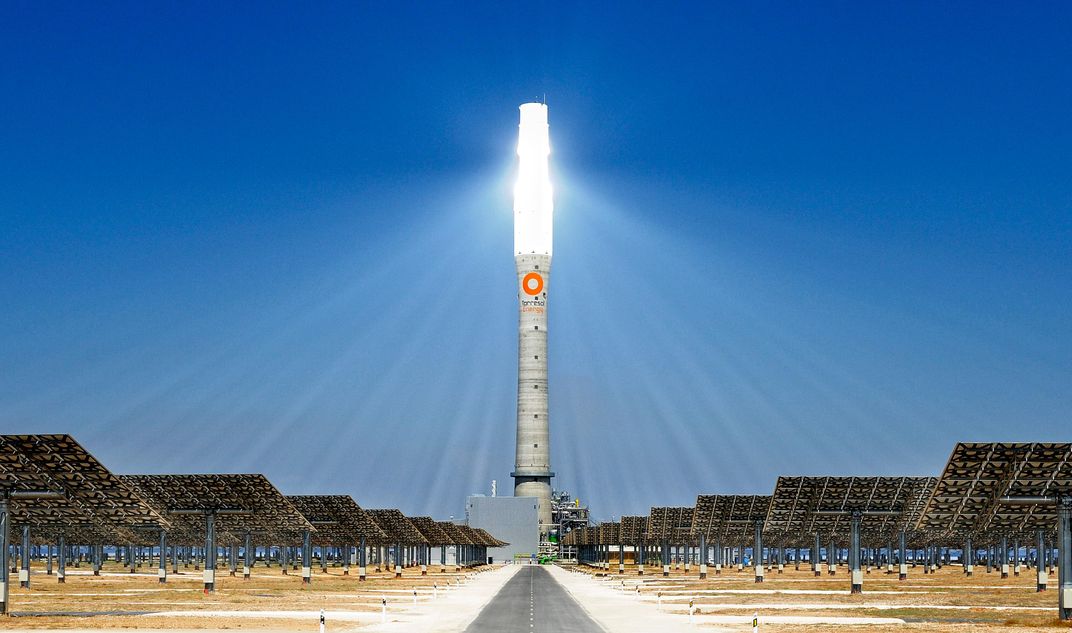 The announcement that the UAE will be hosting the World Expo in 2020, a main pillar of which will be sustainability, has added momentum to projects both locally and abroad. Given national interest, the declining costs of solar and and the rapid progress of existing projects, IRENA's Hamedi is optimistic that the UAE will not only meet, but exceed its renewable energy target for 2050: "I would not be surprised to see that in the coming years maybe this 44 percent will be increased even higher."
The Editorial Staff of Smithsonian magazine had no role in this content's preparation.