For many, the mighty Bluegrass State conjures bucolic scenes of the American southeast: ribbons of pastureland speckled with herds of grazing thoroughbred; spirited festivals and live music performances that capture the spirit of Appalachia; finger-lickin' homestyle flavors come suppertime; and airy front porches that beckon visitors to slow down and savor a proper mint julep. Derby hats are optional.
But beneath the verdant landscape that forms the backbone of such wildly popular attractions as the Kentucky Bourbon Trail ® and Churchill Downs, lies a jaw-dropping landscape waiting for nature-lovers and adventure-seekers who want to go deeper. Miles deeper, in fact, with more than 130 known caves and caverns that punctuate the state's rich soil.
Kentucky is home to such an incredible collection of caves thanks to its particular karst topography—rich in porous limestone—that facilitates the extended process of subterranean erosion. Throughout recorded history, humans have flocked to such caverns for reasons ranging from the practical (shelter), to the spiritual (medicinal healing practices and burials) to the purely recreational—and today visitors can walk in the footsteps of these early explorers and marvel at ten million years of nature's handiwork. Here are seven extraordinary naturally-occurring caves in Kentucky, plus two more of the man-made variety that we think are worth planning a trip for.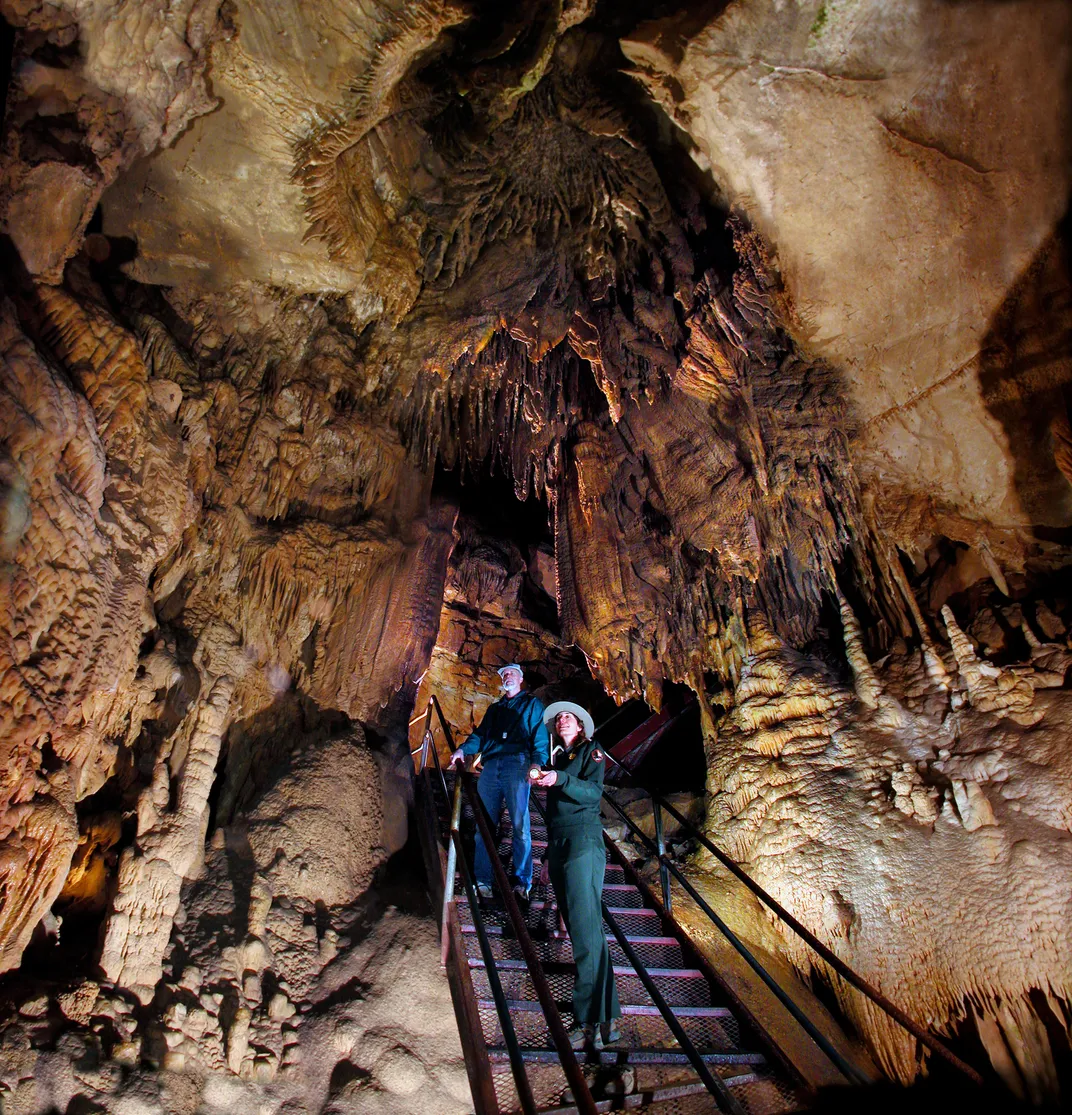 Any Kentucky caving list worth its salt and lime(stone) must feature this monstrous cave system in the state's south central region. Located about a 90-minute drive south from Louisville, Mammoth Cave boasts over 412 miles of mapped caverns to date, making it the world's longest known cave system, and the park estimates another 600 miles may still be waiting to be discovered. Named an UNESCO World Heritage site in 1981 and an International Biosphere Reserve site in 1990, Mammoth Cave is among Kentucky's most popular attractions. In addition to cave tours and spelunking, the facility offers ziplining and tons of fossil-spotting. In fact, researchers at the park recently discovered what they called a "trove of fossil treasures" that included more than 40 shark species, along with a variety of other fossils from ice age dwellers.
"Mammoth Cave is the world's longest cave, but it also offers a look into a rich human history that dates back over 4,000 years," explains Molly Schroer, Management Analyst for Mammoth Cave National Park. "This offers an insight into past cultures and modern societies alike, and shows how people's ongoing curiosity has led them to venture into the vast darkness to find out exactly what lies beneath their feet. I see and learn something new every time I am down there."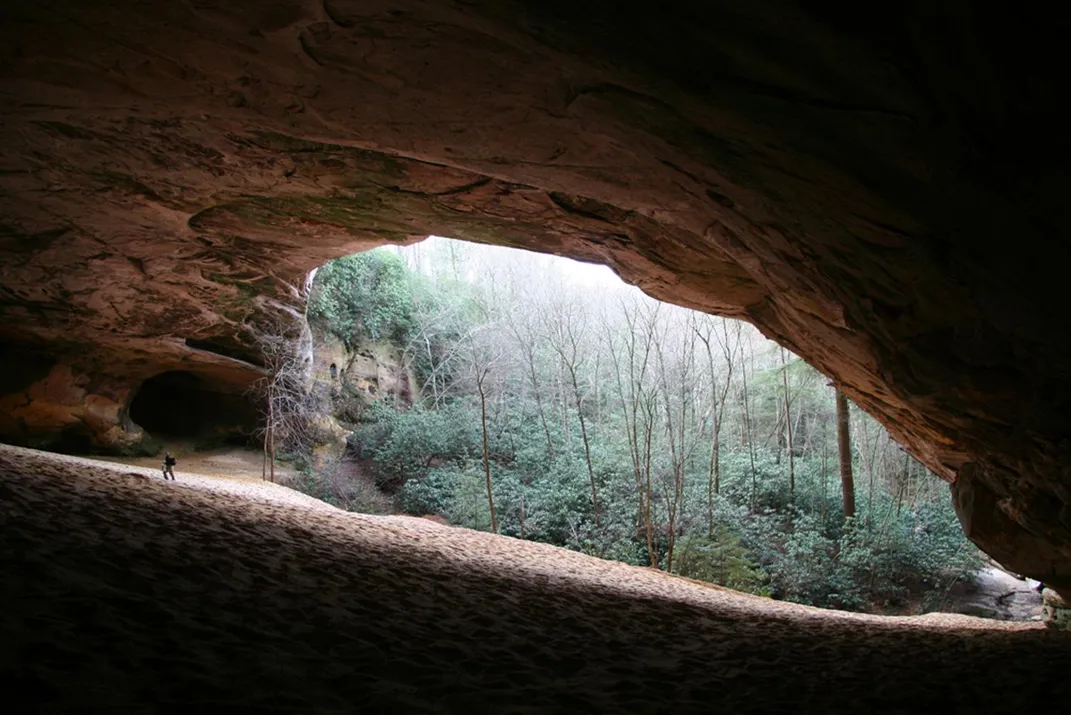 Estimated as somewhere between three and five million years old, the Gap Cave, as it's known among locals, is still forming to this day, thanks to natural water erosion that is continuing to shape its karst makeup. But in more modern history, this ever-evolving system was actually a well-known feature of the historic Cumberland Mountain Pass, which was an integral Civil War landmark. Both the North and the South occupied the site through a series of skirmishes, culminating in the Union forces defeating the Confederacy in 1863. In fact, the Gap is home to "Soldiers Cave," which is believed to have been a battlefield hospital during these times.
"Gap Cave is steeped in rich history," explains Carol Borneman, Supervisory Park Ranger for Cumberland Gap National Historical Park. "During the Civil War, soldiers from both the Union and the Confederacy explored the cave with many of them writing their names upon the cave ceiling or wall using the flames from candles. Nearly 300 soldiers' names have been recorded." To date, roughly 14 miles of this cavern have been explored. Visitors can join a two hour, small-group tour that covers three levels of the subterranean expanse, packed with stunning formations and underground waterfalls.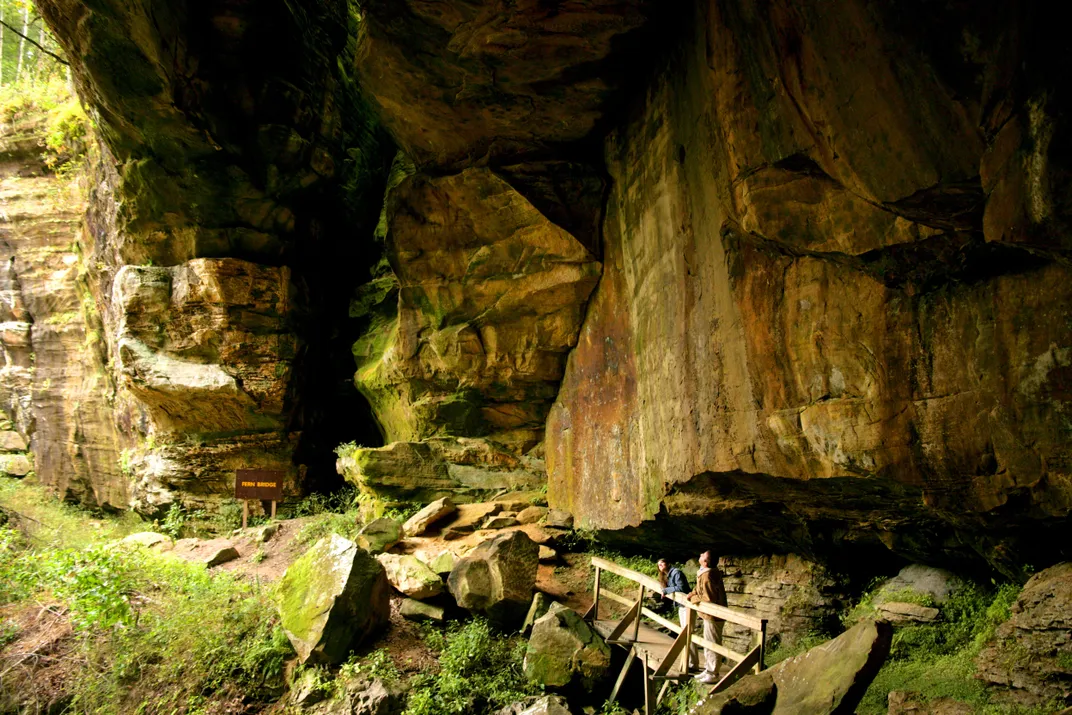 With Kentucky's highest concentration of caves located in this county, visitors will find over 20 of them in one spot at this beloved state park. For those who love a challenge and tight spaces, the real adventure attraction here is the cave crawl, which takes visitors who pass the "squeeze test" through narrow, unlit passages and deep into the cave's interior.
For those who are less inclined to seek such a physical thrill, visitors do have the option to take a more leisurely self-guided (and upright) tour. Those in the know rave about Cascade Cave, which features a variety of exquisite geological formations and culminates with a 30-foot underground waterfall. Other caverns—such as the easily walkable but still breathtaking X-Cave, or the historical Saltpetre Cave—combine to offer a variety of diversions within the system for all abilities and interests. Outside, there are also more than 26 miles of marked hiking trails, a nine-hole golf course and ample opportunities for canoeing, biking and horseback riding.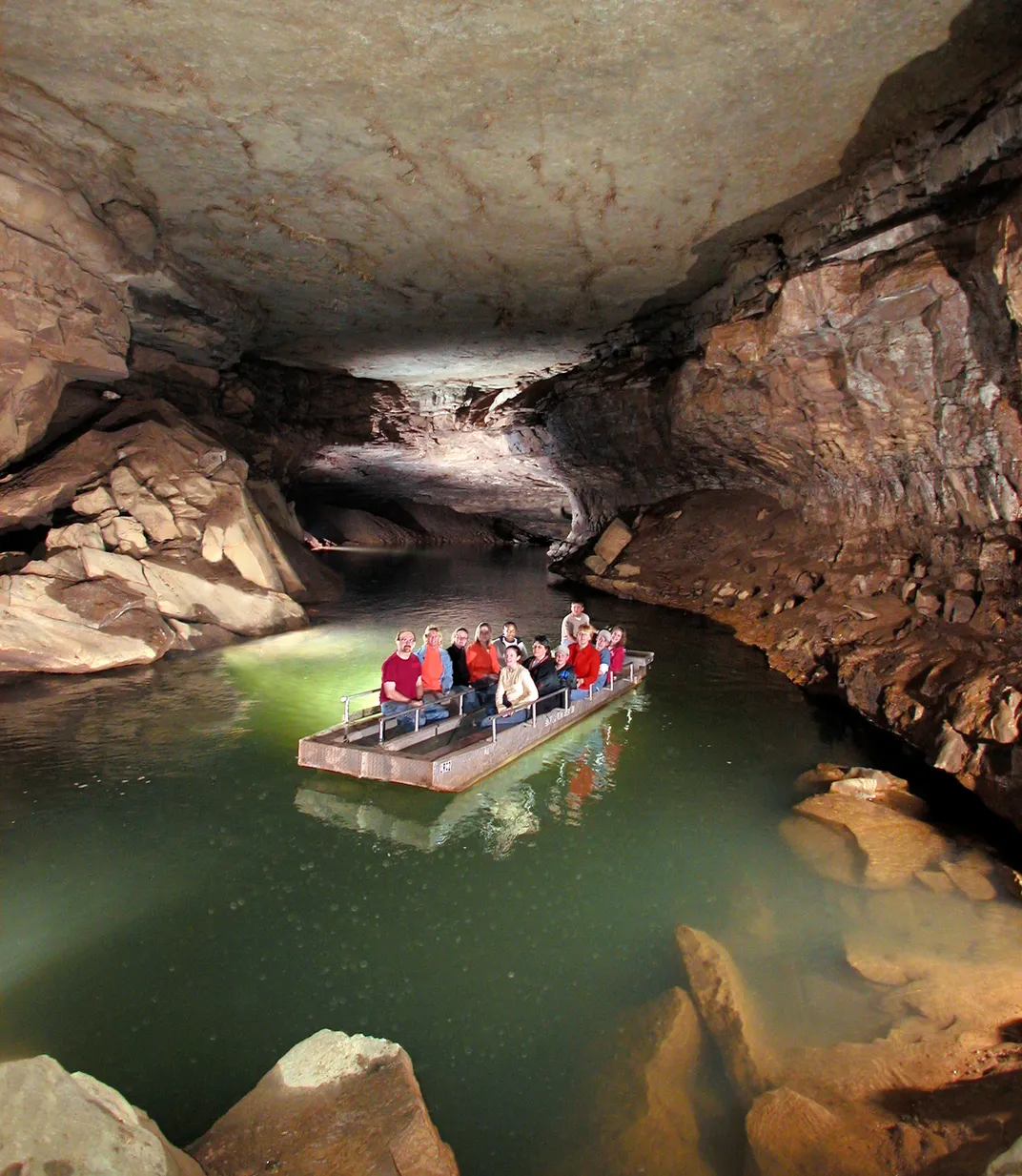 Visitors to the state's south central city of Bowling Green will find a truly unique experience at Lost River Cave, a dramatic seven-mile cave system that features Kentucky's only natural cave boat tour and culminates in a monstrous, cathedral-like cavern. Those who feel a bit more comfortable with their feet planted on terra firma can choose a guided walking tour along the river's edge instead, and still enjoy all the cave's many sights, thrills and chills (it's a cool 57 degrees inside the cave system year-round). Tours offer historical commentary about this cave's storied past, including the cave's use by area Native American communities, early European settlers, Civil War troops, and even the notorious Jesse James.
"It's easy to see why our community is so proud of this beautiful natural treasure," said Rho Lansden, CEO and Supporting Donor for Lost River Caves. "Through the ages, water has chiseled through limestone, deep in the earth, to slowly create the magnificent passageways that we see today. Even after working here for 20 years, Lost River Cave still amazes me with its beauty." In addition to the cave's many allures, guests of this 72-acre park will find a web of above-ground trails through seven natural ecosystems, along with the Flying Squirrel Zipline (and the smaller Lightning Bug Zipline for the kids ages 3-10), plus a seasonal butterfly habitat and a robust education center packed with information.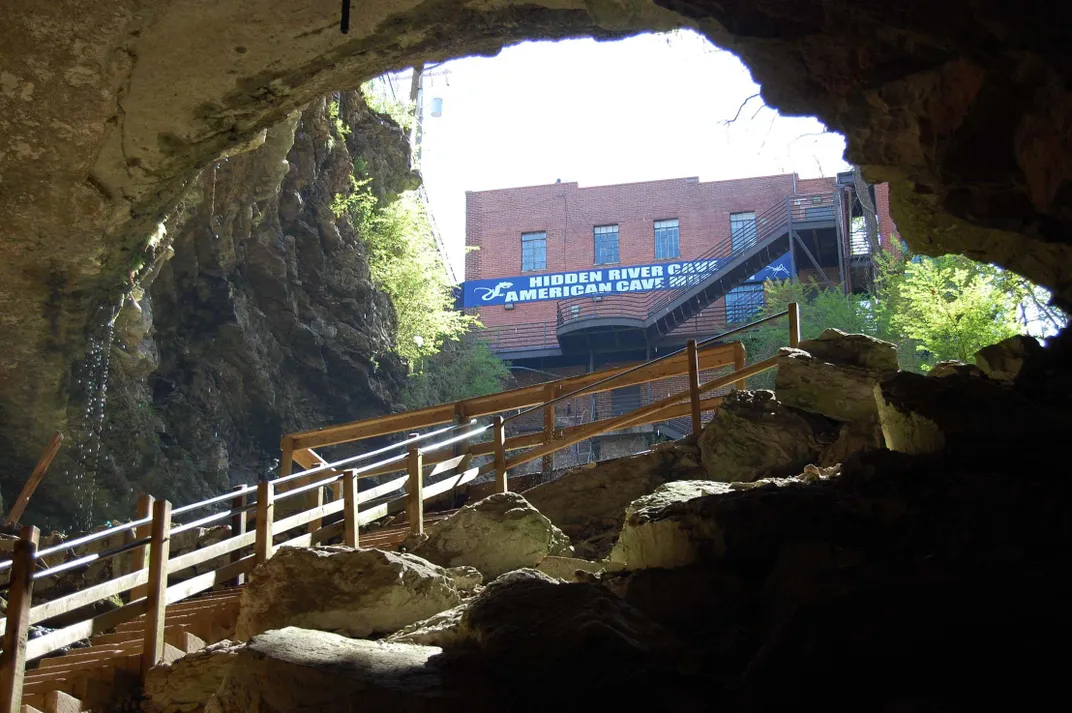 Tucked beneath the city of Horse Cave, Hidden River is one of the largest caves in Kentucky—at roughly 10 miles—and borders nearby Mammoth Cave. So close are these two systems, in fact, that the guides in these parts are used to a familiar refrain from guests: Does Hidden River actually connect to Mammoth? "The best answer is 'not yet,'" says David Foster, President and CEO of the American Cave Conservation Association, American Cave Museum and Hidden River Cave. "But over the years, many similar systems have eventually connected to the big cave, so there's reason to believe that one day, the two systems could intersect."
The Mammoth system and future interconnectivity aside, Hidden River Cave has its own rich history: once a source of drinking water for Horse Cave, it was commercialized over the first half of the 20th century resulting in pollution that ultimately led to its closure for several decades. This all changed in the late 1980s with renewed conservation efforts, particularly when the American Cave Conservation Association relocated its national headquarters to the town. This afforded the environmental protections that the cave so needed, along with the creation of a museum, educational system and a variety of volunteer conservation projects. As an attraction today, the cave features the largest single cave room in the entire Mammoth Cave region, as well as a variety of tour attractions including a hundred-foot-long swinging bridge—the world's longest such suspension bridge inside a cave system.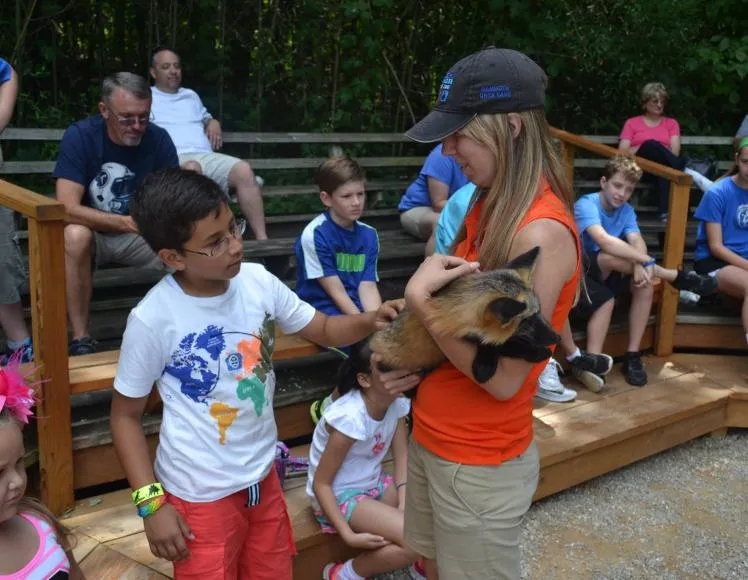 Considered to be among the most beautiful and accessible caves in the country, this little gem in Horse Cave, Kentucky, offers plenty of bang for your buck. Writer Pamela Selbert of The Chicago Tribune once wrote that Mother Nature had "decided to shoot the works" here. "Imagine three 'rooms' made of caramel-rich onyx," she continued, "with 20-foot-high ceilings vaulted like a Gothic cathedral, colored in a spectrum of iron oxide-pigmented hues as vibrant as a lingering sunset: rose, gold, yellow and burgundy." A stunner indeed.
Discovered in 1799, the cave first opened for public tours in 1922, and today is part of a larger Australian-themed park (hence the Down Under designation) created by Bill and Judy Austin, who have infused the attraction with a bird garden, gem mining station and a bevy of marsupials, a nod to the owners' native Outback. "It's one of the few places in the United States where guests can pet, feed and interact with over 30 kangaroos," explains Brian Dale of the Kentucky Down Under Adventure Zoo & Mammoth Onyx Cave. And in contrast to many of Kentucky's other labyrinth cave systems, Mammoth Onyx Cave is relatively petite at just one-eighth-mile in length and about 30 minutes in duration on foot. "It is a fairly gentle tour, as cave tours go, ideal for both adults and children," Dale continues, noting that the cave is particularly suited to those who want to see a great number of formations within a short distance or short amount of time. Cave tours are included with admission to the Kentucky Down Under Adventure Zoo.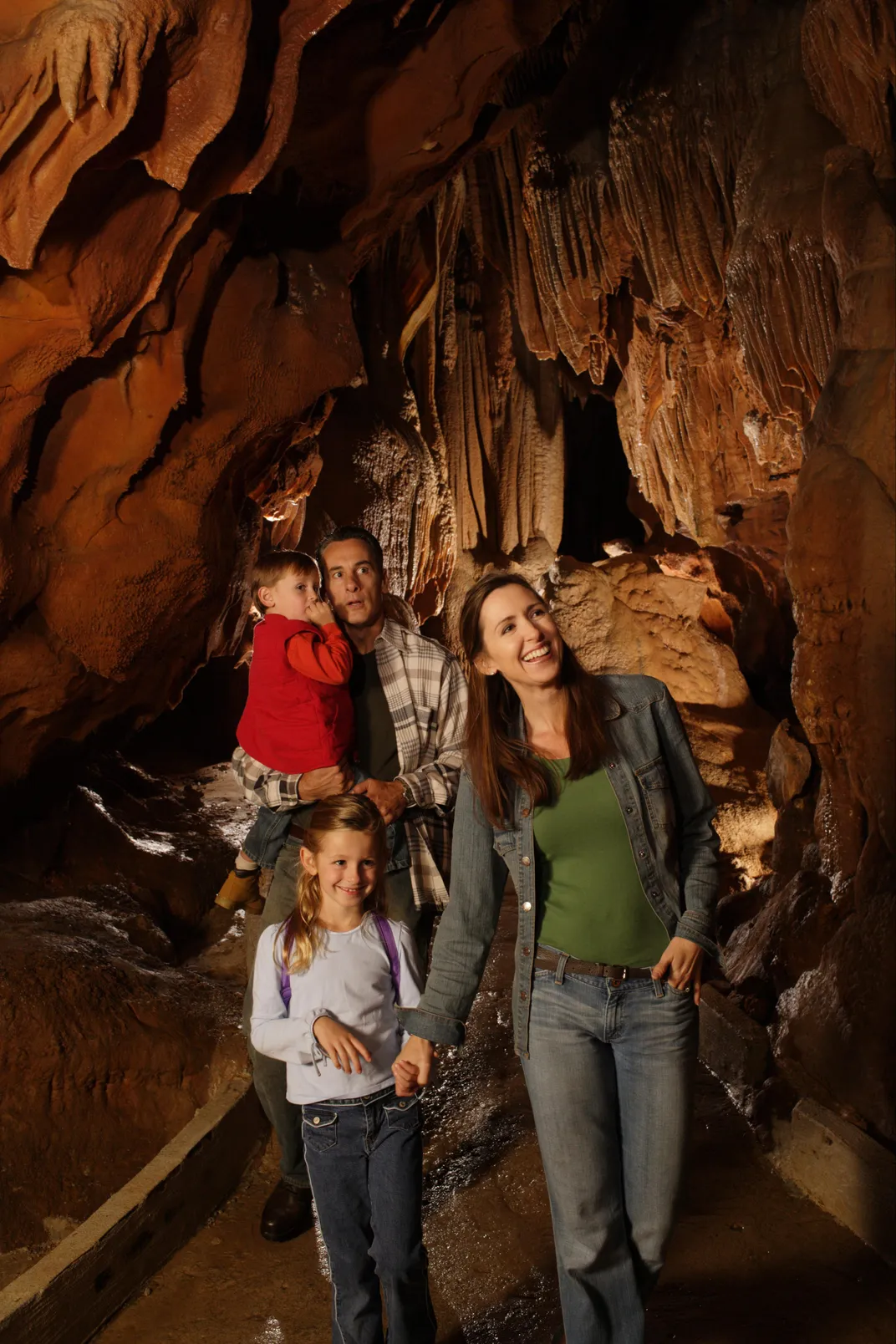 When it was discovered in 1859, those who were first to behold the glittering calcite formations inside this cave noted that it resembled an array of diamonds. Thus, the Diamond Caverns were born in name. As Kentucky's second-oldest cave attraction in operation today—and the fourth-oldest such touring cave in the country—Diamond boasts an array of stunning formations within each of its cathedral-like chambers. And thanks to its state-of-the-art interior lighting system, visitors can behold over a half-mile of illuminated pathway, revealing spectacular column formations, curtain or "drapery" deposits, and a rainbow of colorful calcite. With over 160 years of touring history, Diamond Caverns still has secrets in store for us all; just in 1999 as the cave system was transferred to new ownership, a massive new cavern was discovered that is still rather untouched to this day. With its adjacency to the World Heritage Site of Mammoth Cave National Park, Diamond Caverns promises many more such discoveries in the coming decades as parks staff and explorers continue to probe the honeycomb of underground tunnels. With around 350 steps, this two-level tour can be physically challenging, but the sights are more than worth the effort.
Man-Made Caverns
What once began as a limestone quarry, with over four decades of mining production in the mid-1900s, Mega Caverns is today one of the most extensive cave systems in the country, and features the largest building in the entire state. Visitors can explore roughly 100 acres of parkland featuring a variety of walking tours, an underground bike park, a subterranean aerial ropes course, and even a zipline adventure—Mega Zips—that clocks in at an adrenaline-pumping two hours in duration. If ziplining isn't quite your speed, the complex offers a historic Tram Tour that traverses 17 miles of the cavern over the course of an hour; or set out on foot for the 1.8-mile Mega Walking Tour for a glimpse of the cavern at your own pace.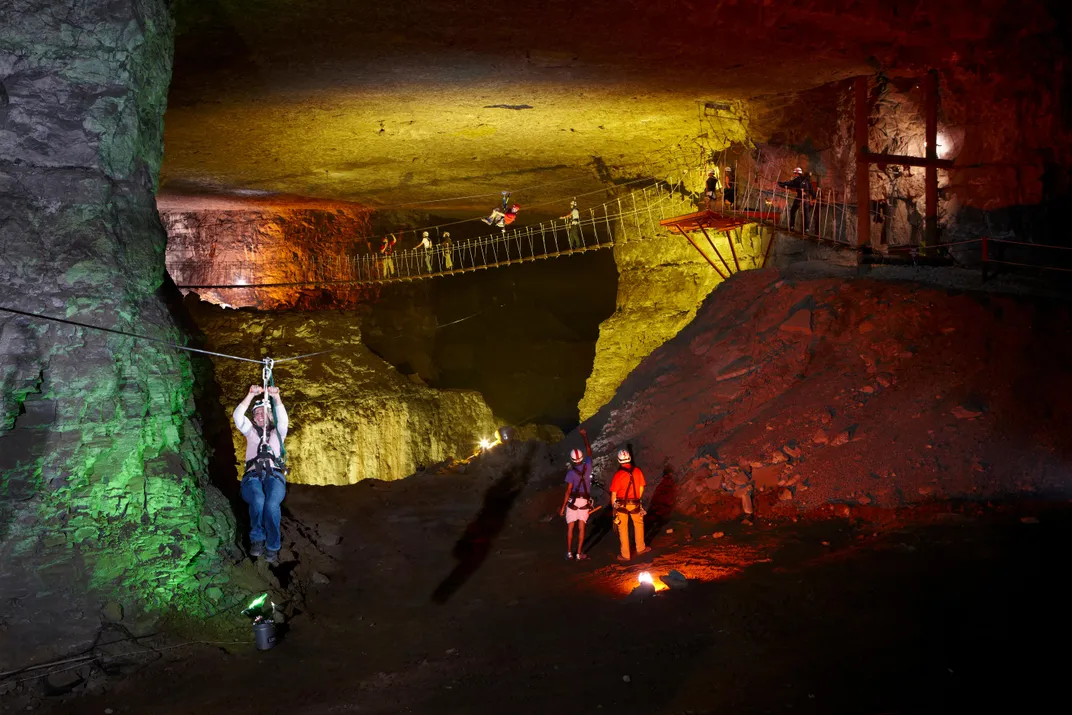 The Gorge Underground
Nestled in the Red River Gorge, the town of Slade appeals to thrill-seekers with its myriad attractions that include rock climbing, ziplining—and even an underground kayak adventure—in addition to the usual hiking, biking and camping opportunities you'll find throughout the state. The small-group kayaking excursion offers active travelers the chance to explore the old mine up close. Those more suited to leisurely adventures can opt for the one-hour cave boat tour, which reveals hidden sights and secrets within the 100-year-old flooded mine.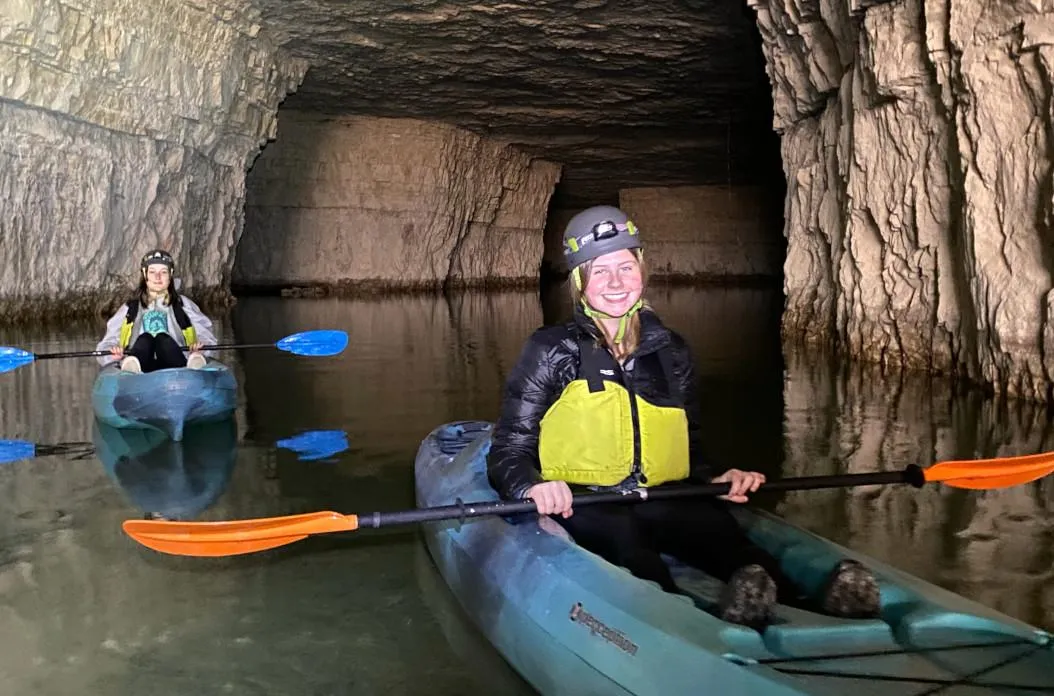 If you want to hike, spelunk or simply take in the awe-inspiring sights, Kentucky's caves and national parks have something for all outdoor adventurers. From monstrous systems with jaw-dropping formations, to leisurely family-friendly strolls, adventure is waiting just around the corner at Kentucky's remarkable caves.