Some of the most traditional Christmas candy is made from molten sugar, pulled and cooled enough to have sufficient melt strength to both form and hold its shape. Working with molten sugar is much like working with molten plastic or glass. Sugar can be formed into a rod and bound together in the same way artists in Murano make millefiori patterns in glass. Sugar can be blown like glass to form hollow structures, and it can be molded and stretched to form a myriad of shapes.
According to folklore, candy canes originated in Germany, where a cathedral's choirmaster used them to quiet children at Christmas Eve service. Once shaped entirely by hand, patented machines have made these sugar treats, and others like ribbon candy, more uniform, affordable and accessible.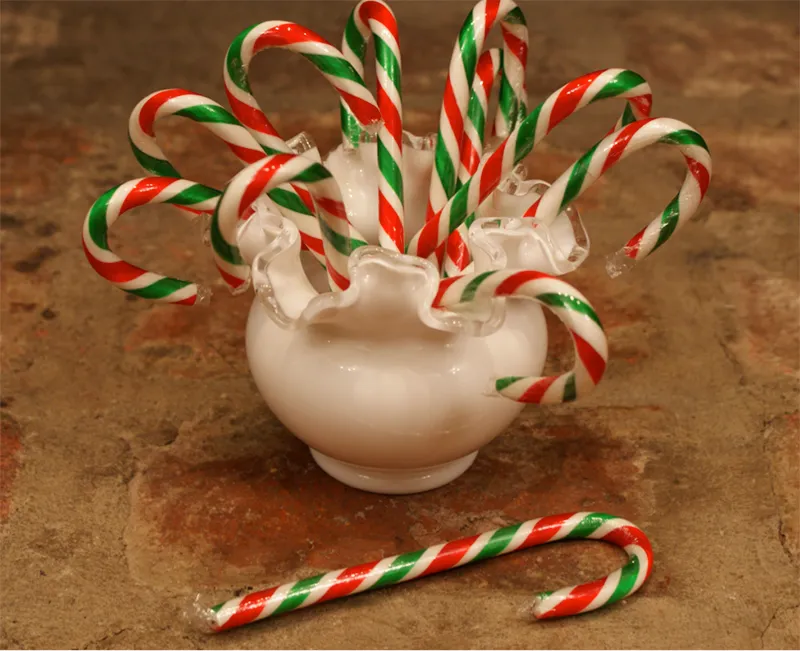 In the 20th century, several people received patents on ways to form candy canes by fusing different colors of molten materials together. Brasher O. Westerfield, of Detroit, Michigan, received Pat. No. 1,680,440 (shown below) for a "Candy Forming Machine" on August 14, 1928. The invention provides  "mechanical means for forming a crook on a stick or strip of candy" (figure 6) and means for "cutting a strip of candy in to separate parts so that the same may be formed into canes" (figure 4). In the machine, the candy strip (35) is cut by a blade (29) and shaped by the pressing members (24).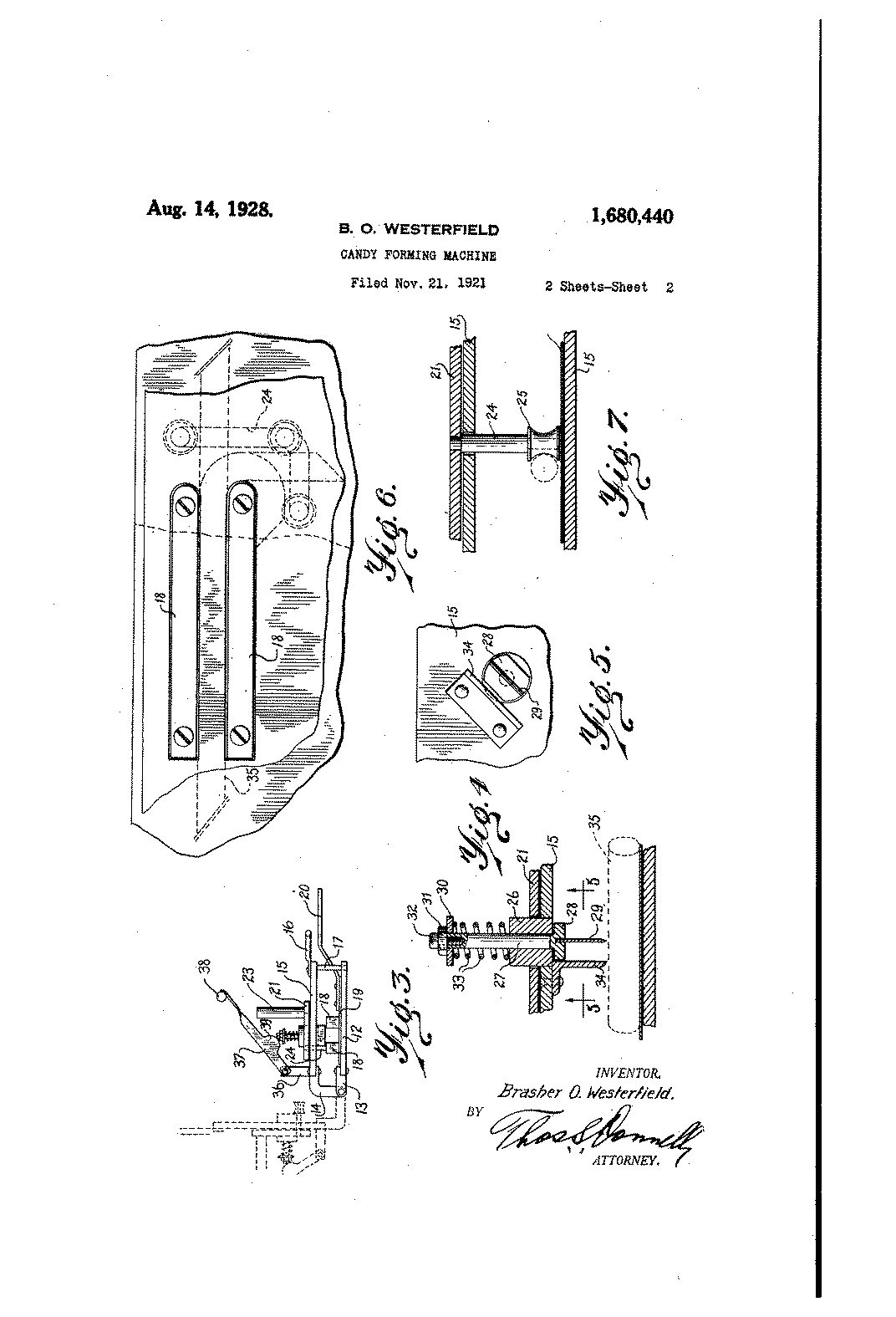 Thirteen years later, the U.S. Patent and Trademark Office granted inventor Robert I. Strongin of Chicago, Illinois, Pat. No. 2,246,420 for a "Machine for Making Candy Canes" (below). This machine claimed to be more economical. The patent describes the device as a "machine which will receive the heated and elongated sticks of candy material from which the canes are produced and which will first cut the same into uniform lengths and then produce the desired bend and finally eject the completed canes onto a belt or other conveyor whereby they are delivered for packing and shipping." It could easily produce canes of various sizes, and once set on a size, it speedily spit out uniform canes, limiting any wastes for the candy maker in costs and material.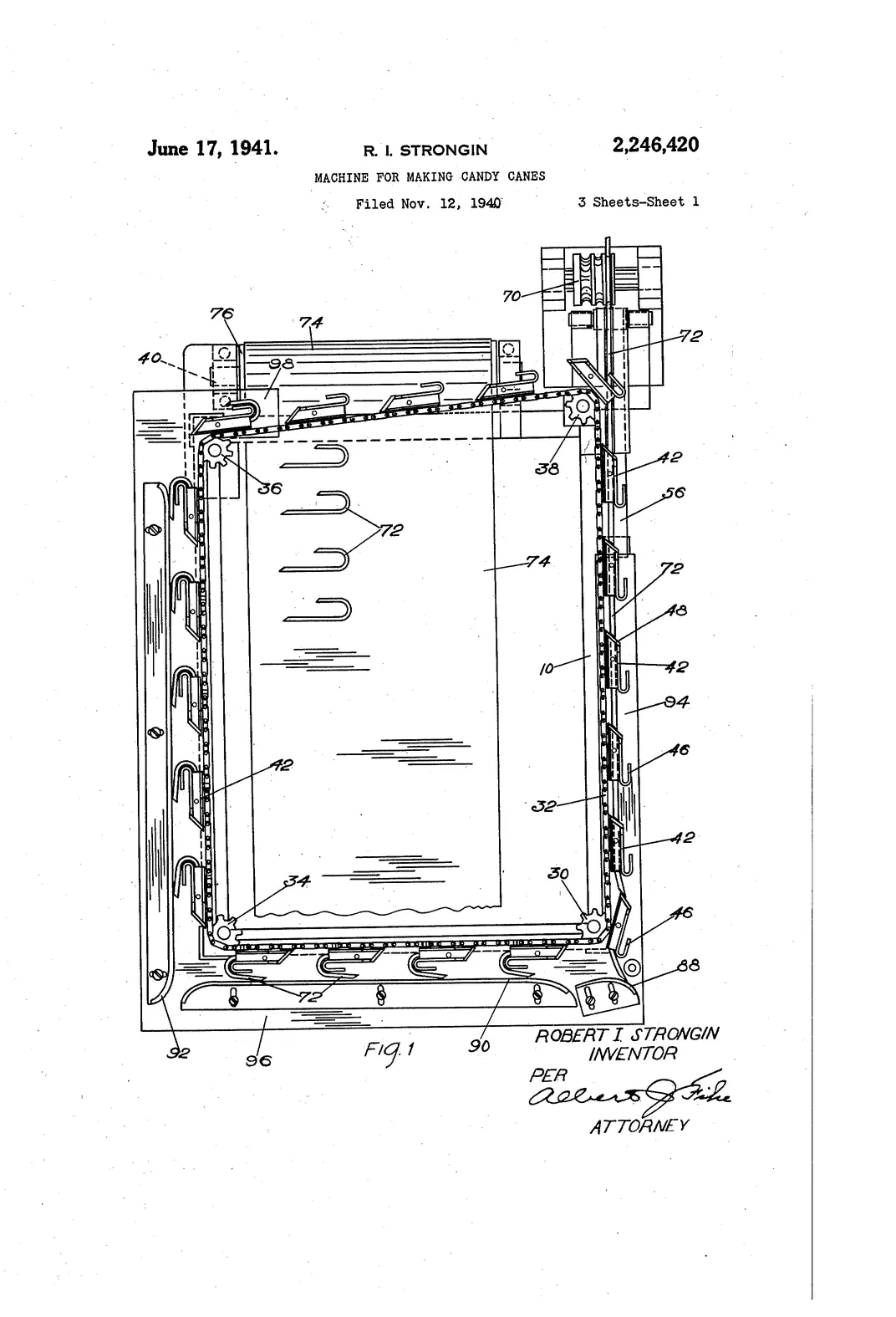 Like candy canes, boxes of ribbon candy appear on the shelves of stores at Christmas time, with each box containing ribbons of different colors and flavors. While the sugar candy is hard, it thin enough to easily break in to small pieces. 
Crimping machines have been used for many different applications and materials, from metal to glass to paper, but one in particular, invented by Ernest S Kiester, of Lawrenceville, Illinois, was designed specifically for making ribbon candy. The patent (No. 1,162,616, below) for Kiester's "Candy Ribbon Crimping Machine," issued on November 30, 1915, describes the invention as "a simple and efficient machine…in which the ribbon will be properly crimped, stripped from the crimping rollers, and discharged from the machine without breaking the ribbon." It also touted a special chute for the candy sliding out of the machine.