They say that cats have nine lives, but how many lives would one live in say 1,500 years? Meet the Key Marco Cat, the world-famous cat statuette estimated to have been made between 500 and 1,500 years ago, as it finally returns home to Marco Island, Florida, this January.
The Marco Island Historical Society (MIHS) will be exhibiting the Key Marco Cat and other rare Pre-Columbian Native American artifacts starting in January 2019 at the Marco Island Historical Museum. This will be the first time in more than 100 years that these artifacts will be together on Marco Island since their discovery.
So, why do history lovers and anthropologists say that this exhibit will be the cat's meow? The Key Marco Cat has been described as one of the finest pieces of Pre-Columbian Native American art ever discovered in North America. At only six inches tall and carved by the Calusa Indians from native hardwood, the Key Marco Cat is a charismatic anthropomorphic feline statuette that was created hundreds of years ago. But the incredible thing is how it survived against all odds.
Discovered by anthropologist Frank Hamilton Cushing in an 1896 Key Marco excavation, the wooden figure stayed preserved because it was buried in an oxygen-free layer of muck. While many other artifacts immediately began to disintegrate upon exposure to air, the Key Marco Cat survived with surprising detail.
"Perishable artifacts, like the Key Marco Cat, are rare in the archaeological record," remarked Torben Rick, Chairman of the Department of Anthropology at the Smithsonian Institution's National Museum of Natural History. "Its significance lies in the information it holds about the human past, cultural diversity, and the ways that these issues can inspire researchers and the general public."
Now, for the first time since its discovery, the Key Marco Cat is coming home to Marco Island with other artifacts found in the same excavation, including a ceremonial mask, alligator figurehead, painted human figure and sea turtle figurehead. The artifacts are on loan from the Smithsonian Institution's National Museum of Natural History and University of Pennsylvania's Museum of Archaeology and Anthropology.
"This exhibition is the culmination of a long-term vision to bring these incredibly important artifacts to Marco Island on loan in order to educate and inspire people of all ages about the fascinating history of our region," says MIHS Curator of Collections Austin Bell.
To kick off the exhibit, a free public grand opening event will be held Saturday, January 26, 2019, during Museum hours. It will include a morning ribbon cutting, live music, family-friendly activities and even a performance on the music of the Calusa by composer and musician Kat Epple and Anthropology Band.
And while you're in town, come explore all the incredible history and natural beauty of Marco Island. As a part of the area known as "Florida's Paradise Coast," Marco Island has an abundance of interesting historical sites and museums, as well as opportunities to explore untouched nature. Whether you adventure through the nearby Everglades, learn more about the Calusa Indians and their incredible mounds within the Rookery Bay National Estuarine Research Reserve, or just want to relax on Marco's famous white sand beaches, you'll discover a side of Florida few ever experience.
Discover Florida's Paradise Coast
Learn more about the Key Marco Cat and exhibit, Marco Island and all of Florida's Paradise Coast by visiting
DiscoverYourParadise.com
.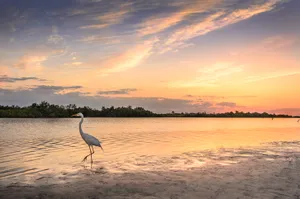 Discover Florida's Paradise Coast
The Editorial Staff of Smithsonian magazine had no role in this content's preparation.