The story of American space travel is ever-expanding, and Kennedy Space Center Visitor Complex℠  in Cape Canaveral, Florida, is at the center of it all. On May 5, 1961, Alan Shepard launched into sub-orbital flight from Cape Canaveral and paved the way for a dramatic space race with the Soviet Union. In the coming years, astronauts will venture into deep space from the very same location. With roots dating back to the beginning of the American space program, Kennedy Space Center Visitor Complex is the closest you can get to experiencing space here on Earth. From visiting historic launch pads to meeting astronauts and interacting with space artifacts, here are eight can't-miss space experiences at the heart of Florida's Space Coast:
Visit the Restricted Areas of America's Spaceport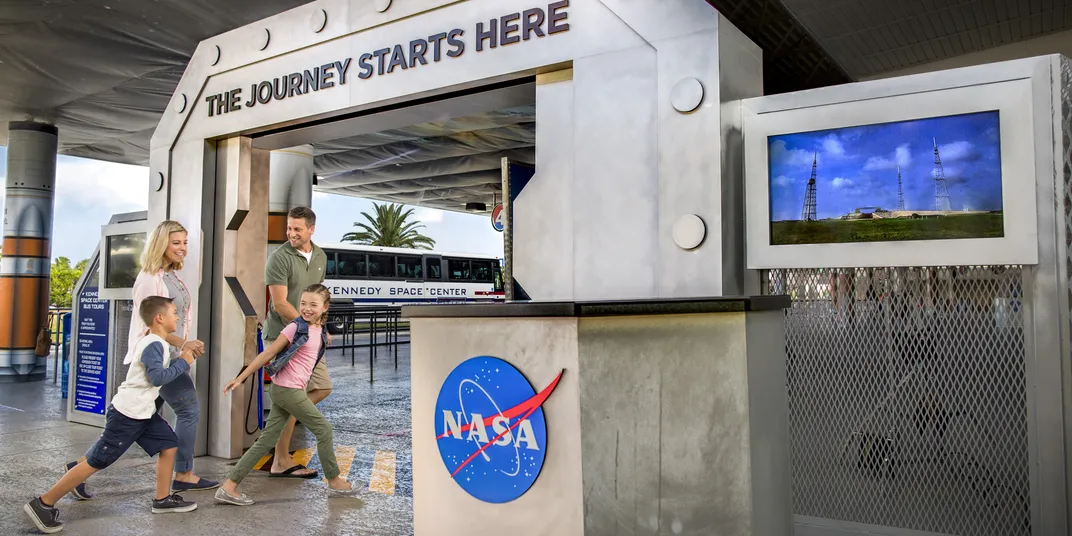 From the comfort of an air-conditioned motor coach, visitors to Kennedy Space Center Visitor Complex can access restricted areas of the working spaceflight facility. On the tour, you'll look both back and forward in time. See where the Apollo program launched its missions to the moon and marvel at the multi-story Vehicle Assembly Building where rockets take their shape. You'll also see where NASA plans to launch astronauts into deep space and learn where its Commercial Crew and Cargo partners, including SpaceX, Boeing and United Launch Alliance, operate.
Experience Space in Virtual Reality Through the Lens of a Custom-Designed Space Visor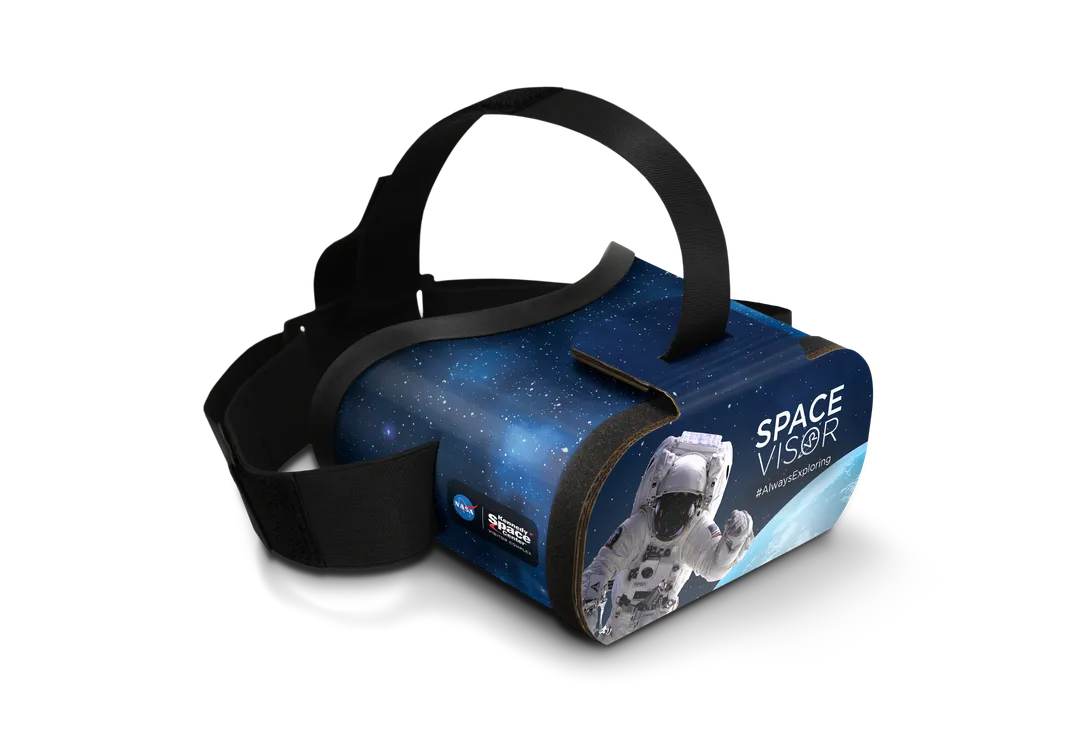 Kennedy Space Center Visitor Complex's brand new Space Visor mobile virtual reality headsets immerse guests in a one-of-a-kind space experience that brings artifacts to life. With purchase of a Visor, visitors can download three unique programs—KSC 360 Expedition, Space Dreams and Edge of Home—on their mobile phones free of charge to use with the headset. The KSC 360 Expedition incorporates all parts of Kennedy Space Center Visitor Complex, featuring facts about each rocket in the Rocket Garden, video of the space shuttle Atlantis as she floats in orbit and the opportunity to look through the eyes of Wally Schirra, Gene Cernan and Alan Shepard from the commander seats of the Mercury-Atlas 8, Gemini 9 and Apollo 14 spacecrafts. In Space Dreams, enter the room of a space-inspired child and soak up facts and figures about their galactic-themed décor, including each planet, a Mars rover and a Mercury spacesuit. In Edge of Home, travel to the International Space Station and experience the thrill of an extravehicular activity walk while learning about each module. The best part? You can take the experiences home with you.
Launch Into Orbit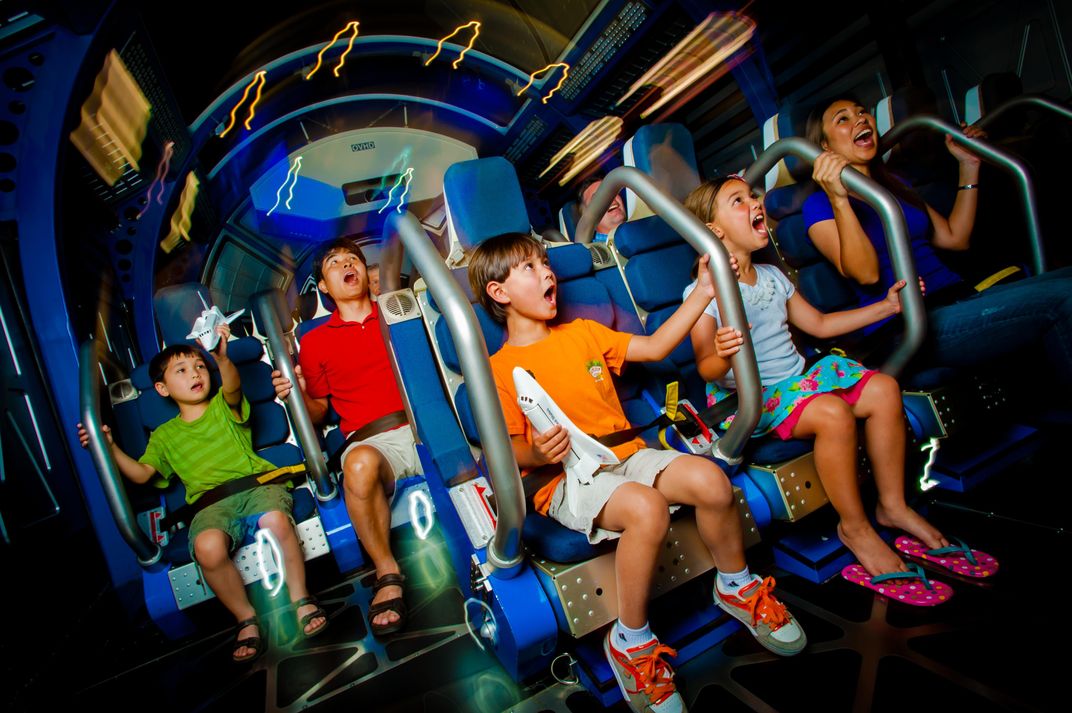 Veteran astronauts say the Shuttle Launch Experience® is the next best thing to space travel. In this simulation, travel from four hours before launch to the final seconds in a matter of minutes. Following a prelaunch briefing by veteran Space Shuttle Commander Charlie Bolden, your seat shifts back into a vertical position to prepare for takeoff. The final countdown commences, engines rev up and suddenly you're flying at simulated speeds of 17,500 miles per hour. You'll forget that you're not barreling toward the outer edges of the earth. Eight-and-a-half minutes later, a feeling of weightlessness settles over you. The payload bay doors open to reveal Earth—a shifting mass of vivid greens and blues, set against a starry sky only astronauts can recount. "Shuttle Launch Experience is an amazingly realistic simulation of the space shuttle's eight and a half-minute ascent into orbit," says Jon McBride, former NASA astronaut. "From the custom-designed crew cabins with unprecedented vertical range, high-definition audiovisual effects and advanced seating effects—the sense of realism is maximized. You can literally feel the power that the space shuttle used to propel astronauts into space."
Hold the History of Space in the Palm of Your Hand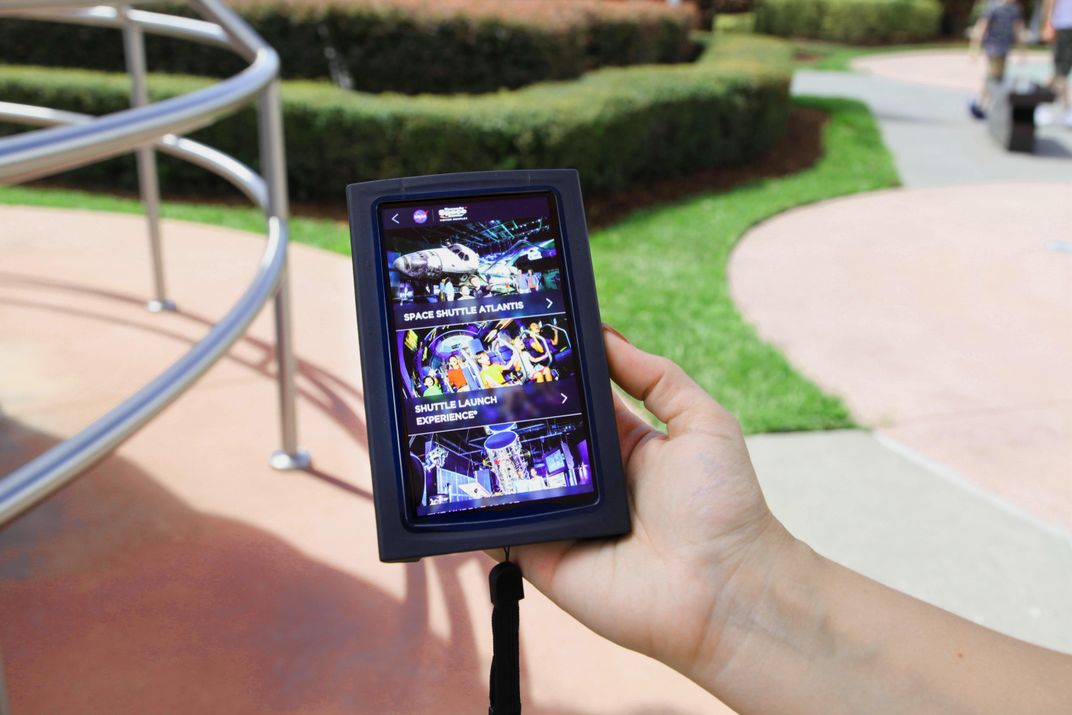 Kennedy Space Center Visitor Complex's handheld digital SmartGuide brings the past, present and future of space to your fingertips. Historic and current space photographs, video and detailed maps customized to each attraction enrich and personalize guest experiences. Watch historic footage of rocket launches, like Mercury-Redstone, and examine photographs of space artifacts, or locate the closest restrooms and dining facilities. It's like having your own personal tour guide.
See Footage Shot by Astronauts in 3D IMAX®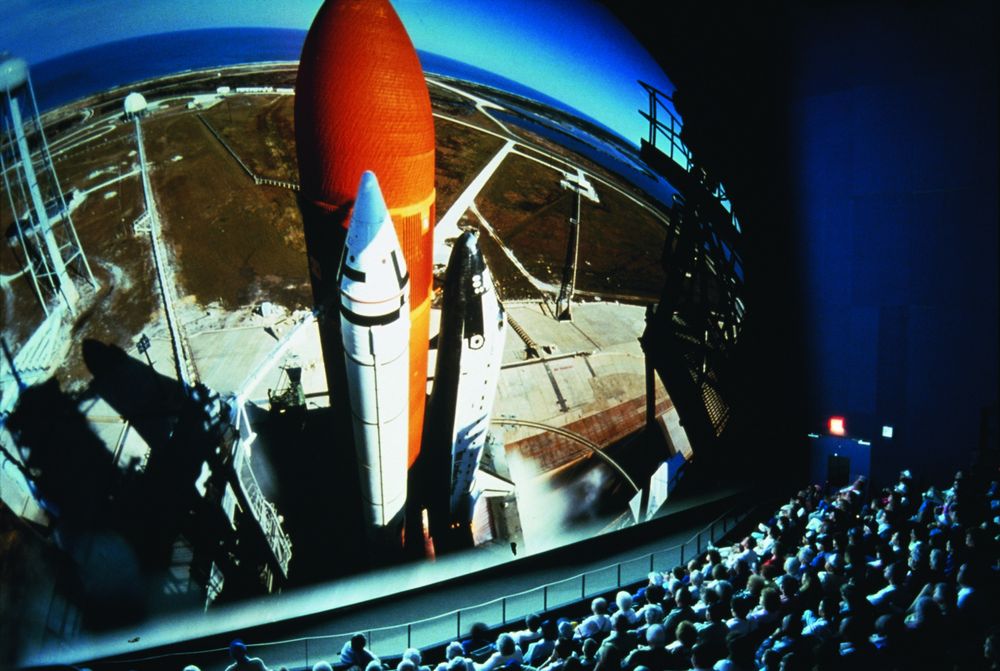 The world's only twin IMAX® screens, each a jaw-dropping five stories tall, bring footage shot by astronauts to life in two motion pictures. Journey to Space, narrated by Sir Patrick Stewart, explores groundbreaking plans to land astronauts on Mars and introduces the team selected for the task. Interviews with commander of the final shuttle mission Chris Ferguson and Serena Aunon, an astronaut selected for future flight, emphasize how these future plans would not be possible without the contributions made by the Space Shuttle Program. A Beautiful Planet, narrated by Jennifer Lawrence, casts Earth in a new light from the perspective of the International Space Station. Using Canon 4K cameras, International Space Station astronauts captured all manner of breathtaking natural phenomena, from lightning storms to volcanoes, coral reefs and even the Northern Lights. At night, they documented city lights, a gripping visualization of how humans have shaped the planet.  
Relive the Daring Feats of Early Space Pioneers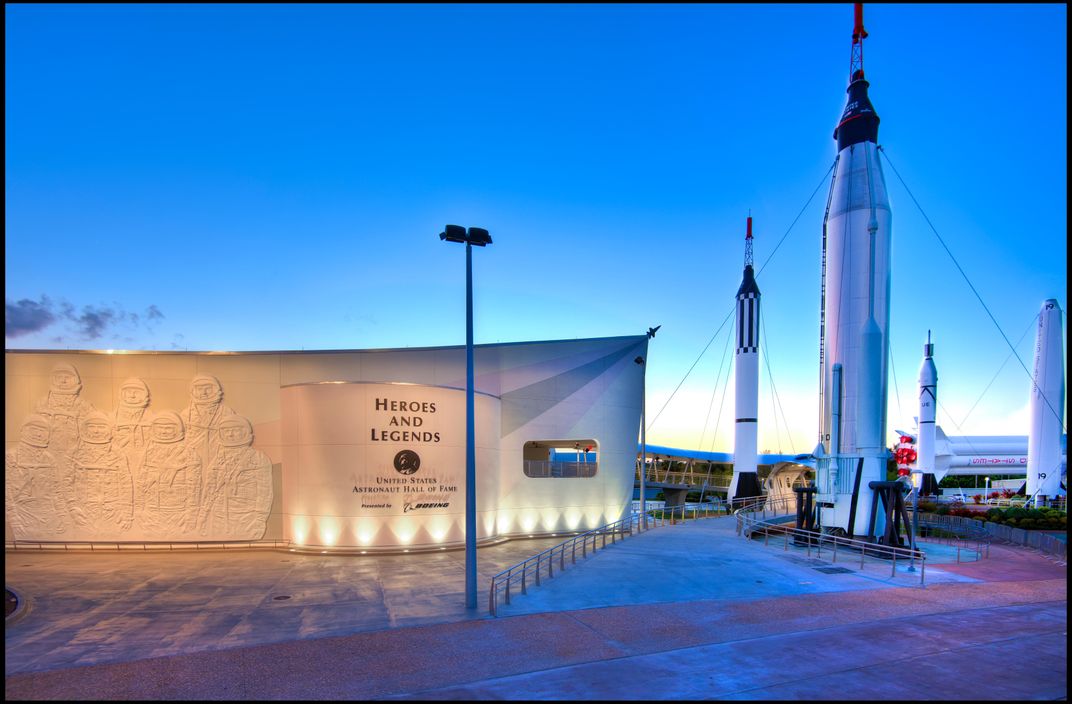 Just three years after NASA began work on Project Mercury in Cape Canaveral, Alan Shepard became the first American in space. Now, thanks to state-of-the-art technology, Shepard's heroism and the daring feats of other early space pioneers come to life as never before in the Kennedy Space Center Visitor Complex's new Heroes & Legends featuring the U.S. Astronaut Hall of Fame®. A 360-degree discovery bay, 4D multisensory theater and interactive exhibits present the stories of pioneering astronauts while exploring how Americans define heroism. Interact with the nearly 100 astronaut heroes inducted to date in the new U.S. Astronaut Hall of Fame® and watch a hologram reenact Gene Cernan's hair-raising spacewalk, during which his goggles fogged up and he struggled to reenter the Gemini 9 capsule.
Witness the Launch of Historic Apollo 8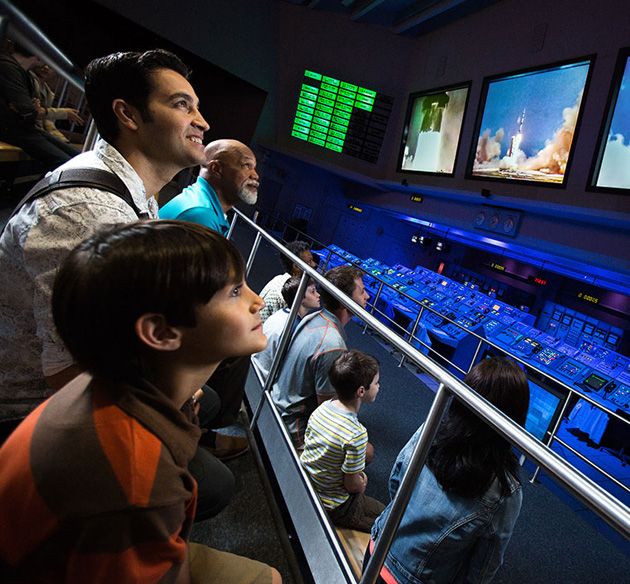 Symbolizing the height of the space race with the Soviet Union, the Apollo moon-landing era was a defining period in American history. Inside the Apollo/Saturn V Center's Firing Room Theater, relive the launch of the first crewed NASA mission to orbit the moon in 1968 aboard the massive Saturn V rocket. Seated behind the consoles used during the Apollo launches, experience the thrill of the Apollo 8 countdown, then see and feel the Saturn V blast into space.
Meet an Astronaut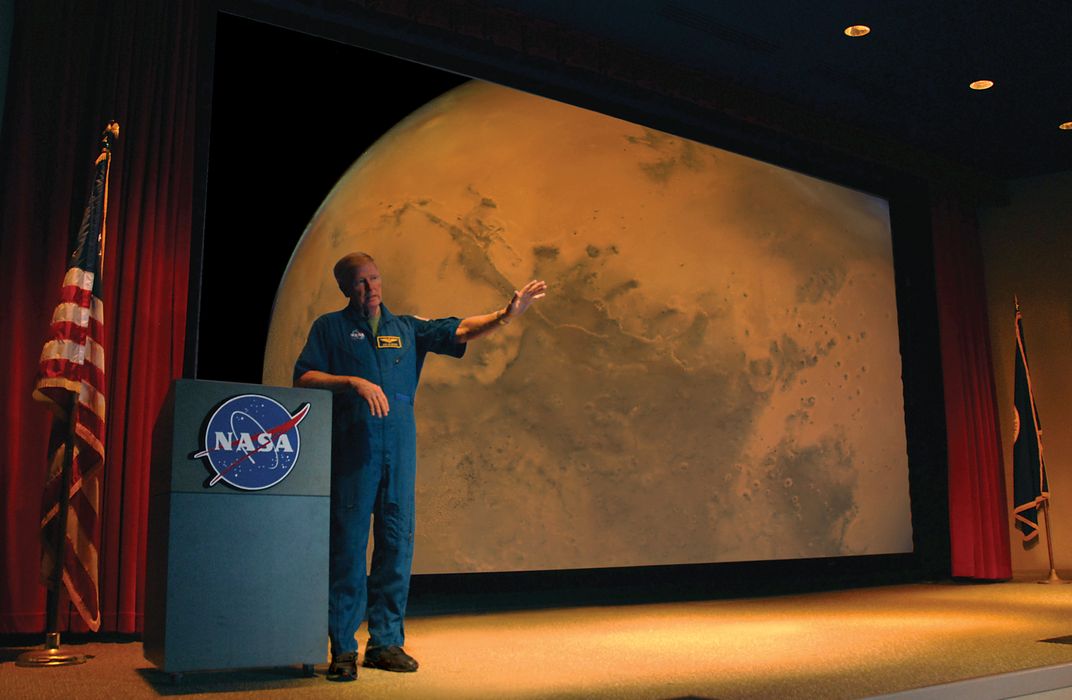 No one tells the story of space travel quite like the people who have been there themselves. Each day in the Astronaut Encounter Theater, a featured astronaut shares his or her experiences training for and living in space, followed by a tell-all Q&A session. "If you're bold enough to ask, I'm bold enough to answer," says astronaut Bob Springer, who served as a mission specialist on the STS-29 Discovery and STS-38 Atlantis shuttle flights. He enjoys the Q&A sessions for the chance to inspire a new generation and share what NASA releases leave out – "the emotional part" and "stories behind stories." After the Q&A, visitors can meet and take photos with featured astronauts, who range from commanders to pilots, mission specialists and payload specialists.