Over the last two decades, Taiwan has transformed into a cyclist's paradise, opening thousands of kilometers of interwoven bikeways through some of the island's most beautiful landscapes. The extensive network of routes has earned the country many accolades, including CNN Travel's top "Cycling Routes That'll Take Your Breath Away." Today, veteran cyclists and dabblers alike can enjoy a two-wheel experience unlike any other—Taiwan Cycling Route No. 1. The route is a 968-kilometer (602-mile) journey that encircles the entire island and passes through twelve unique trails of varying intensities, and innumerable towns and cities.
Visitors can cruise past hillsides painted with colorful flower farms, marvel at the geology of Taroko Gorge's marble walls, follow old rail lines through retired mining tunnels, cross thrill-inducing suspension bridges and sample sweet pineapple cakes from local farm stands. The countless routes provide plenty of opportunities for individual exploration, but here are six of the most spectacular bikeways along Route No. 1 to fuel the imagination.
Sun Moon Lake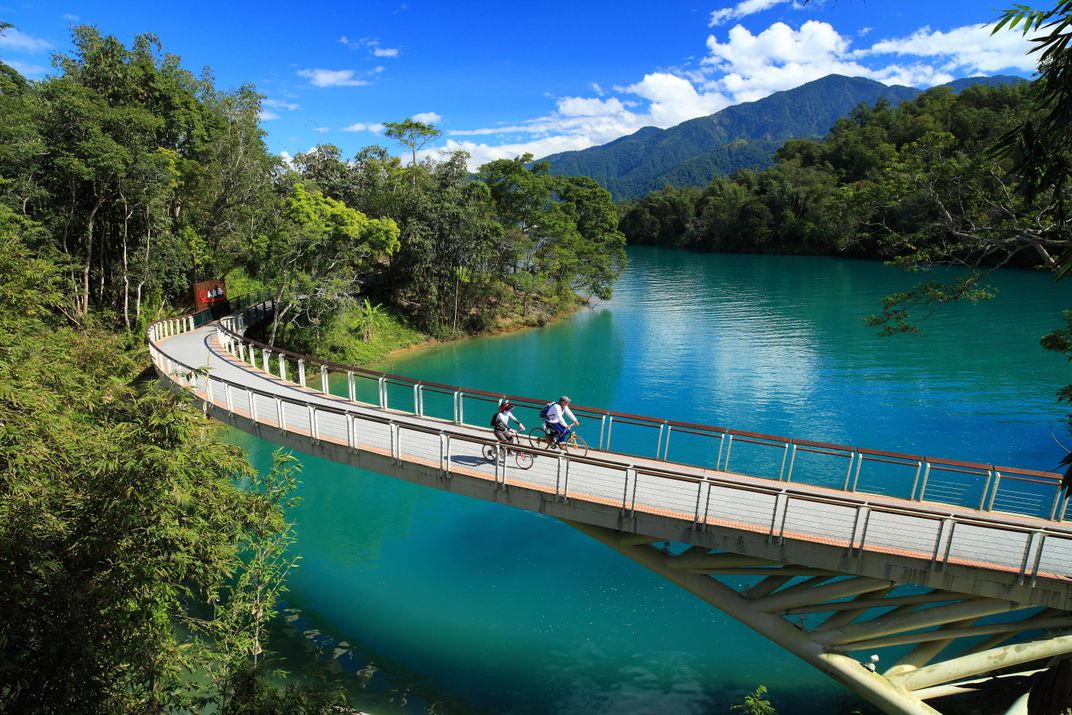 Sun Moon Lake is a scenic jewel embraced by mountains in the heart of Taiwan. The 30-kilometer (18.6-mile) cycling route winds up and down the hills around the largest lake in Taiwan. The three-hour loop provides stunning views, particularly at sunrise and sunset, and opportunities to stop and learn about local Thao aboriginal culture and the area's ecology.
Tainan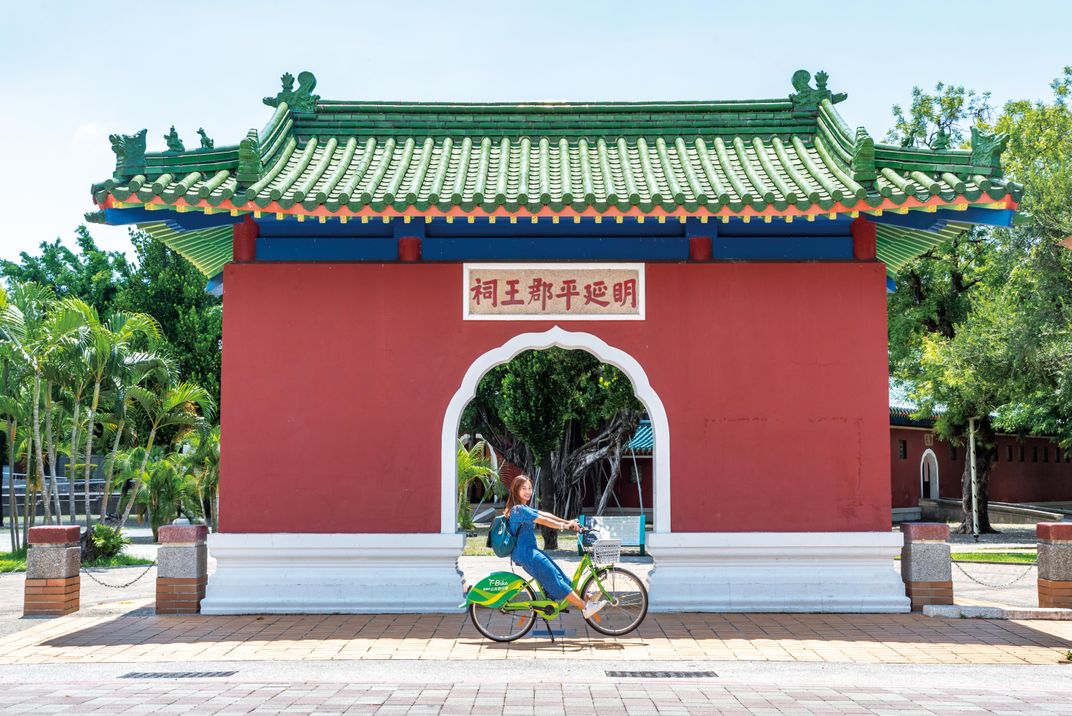 Not only is Tainan, Taiwan's original "cultural capital" and the oldest city on the island, it is also the "capital of food". Well known for its high density of historic sites with national importance, Tainan, in recent years, has refitted many old sites for a modern twist, creating a dazzling intersection of old and new best explored by bike.
Take a scenic trip through Shennong Street and stop at one of the many two-story shophouses to fuel up on Taiwanese delicacies, such as Peng Cakes, before biking to any of Tainan's first-class national historic sites such as the Chikan Tower, Tainan Confucius Temple, or Koxinga Shrine. Each site highlights architecture from different eras and gives visitors a first-hand look into Taiwan's vibrant past. Visitors can spend plenty of time at each destination with all sites located within a 10-minute ride from each other.
An experience in Tainan, of course, isn't complete without sampling another of the many, famed and essential dishes, such as Danzai noodles, savory rice pudding (wa gui), or Taiwanese meatballs (ba wan). Travelers will find no shortage of delectable flavors with everything ranging from sweet or salty street-food snacks to slurping a satisfying bowl of noodles for the perfect meal after a day full of biking.
Taroko National Park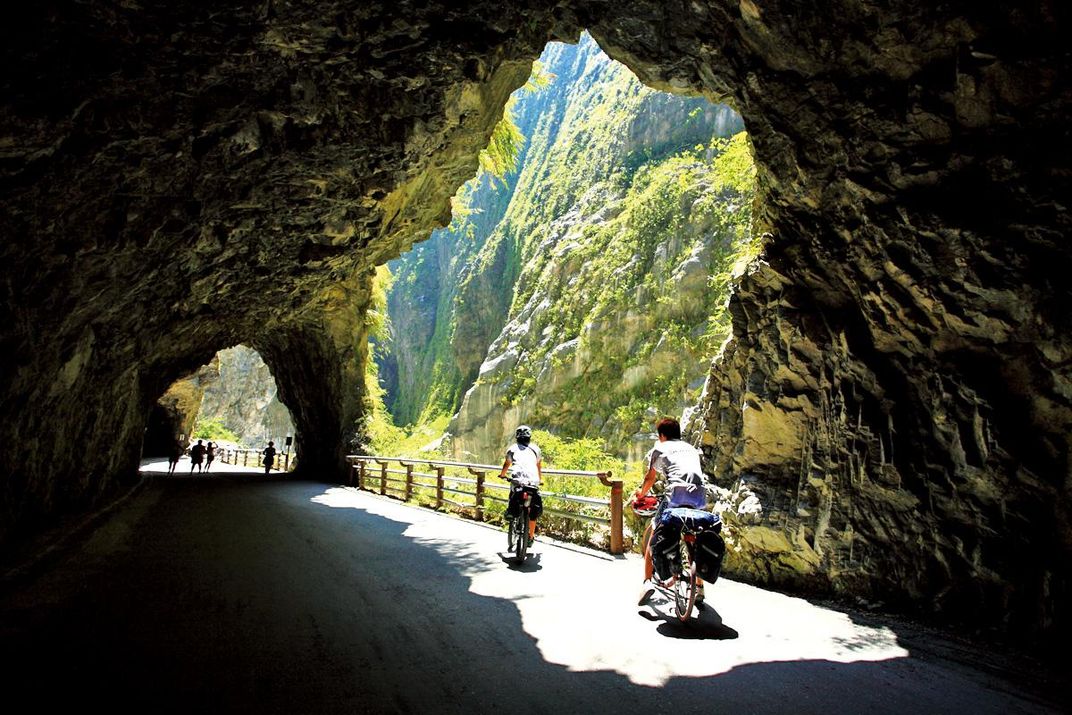 Taroko Gorge, located within Taroko National Park, is one of Taiwan's most impressive natural wonders. Over millions of years, wind and water carved a spectacularly steep and rugged channel through the mountains, revealing towering white walls of marble. Casual cyclists can wind their way past waterfalls and through excavated stone tunnels while listening to the rushing current of the bright blue waters of the Liwu River.
Looking for a challenge? Try the "Taiwan King of the Mountain Challenge," a 105-kilometer (65-mile) cycling path through the Park that climbs from 0 to 3,275 meters (10,744 feet). The route was rated one of the world's most challenging cycling paths by the France-based publication Le Cycle.
East Rift Valley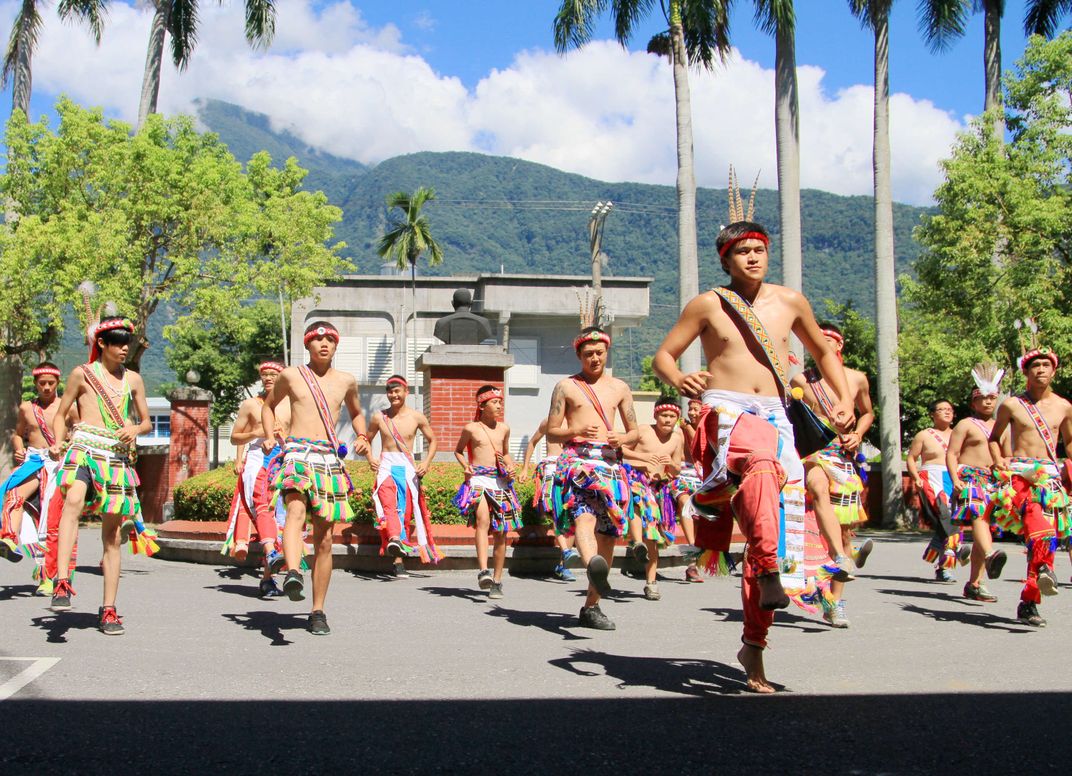 The East Rift Valley is located along Taiwan's scenic eastern edge and is perfect for taking in stunning mountain views and rural landscapes by bike. With little traffic and mostly flat paths, cyclists can begin their trips in Taitung County at Chishang or Guanshan Stations and see sprawling valleys, and dazzling scenery in no time.
Pedal over into Hualien County to explore the Tafalong Community in the Guangfu Township where the Amis Tribe continues to preserve and promote its vibrant, indigenous culture. Park the bike and observe traditional songs, or sample a tasty Amis dessert, "toron", before continuing the journey; plan your trip around a Harvest Festival for an immersive cultural experience.
Biking northbound along the Yuli Bikeway, take in the hillsides besides the Chike Mountain as they explode into a sea of orange daylily blossoms between August and September. The area is famous for its flower farms, which cultivate the bloom for use in Taiwanese cuisine; stop in at a local eatery and sample the specialties.
Fo Guang Shan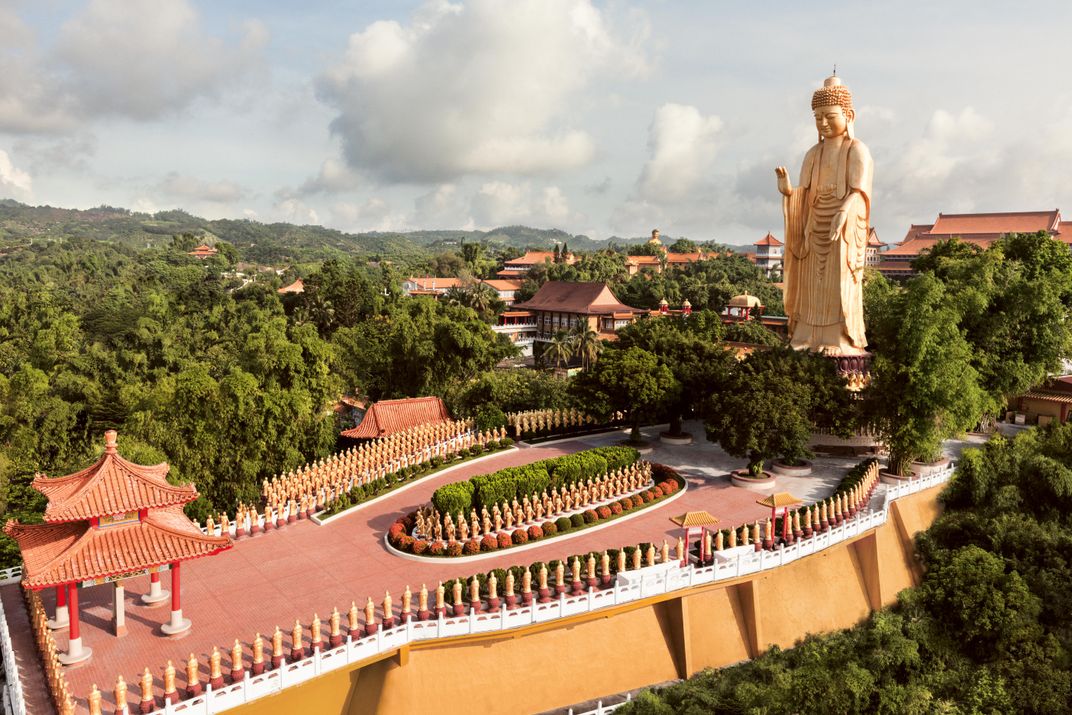 Cycling paths in this area lead to Fo Guang Shan, the headquarters of one of Taiwan's highest-profile religious institutions, and the largest Buddhist monastery in Taiwan. Several hundred outdoor Buddha statues adorn the outside of the temple structure, including one that towers over 118 feet tall. Inside, the Hall of the Great Hero is breathtaking. Here monks, nuns and visitors venerate the three imposing Buddhas of Amitabha, Sakyamuni and Bhasisajyaguru, while surrounded by almost 15,000 other wall-mounted Buddha figurines.
Taipei 101 & Xinyi District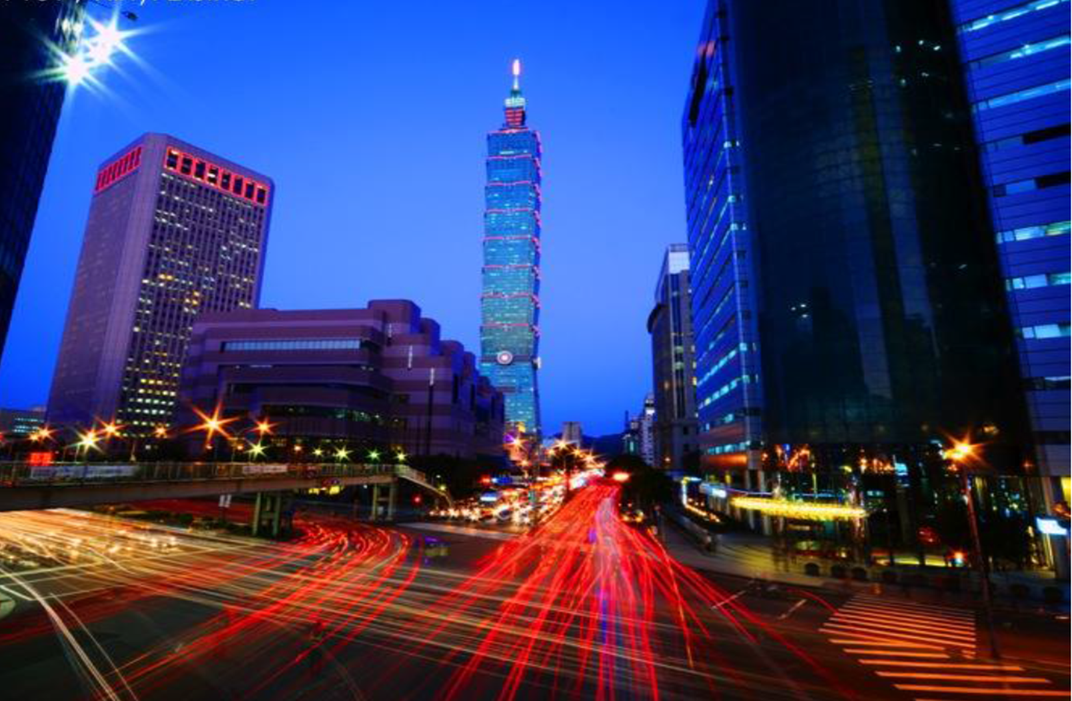 Looking for an urban adventure? Xinyi, one of Taipei's most vibrant districts, buzzes with markets, cafes and dazzling displays of modern architecture. No building is more notable than the Taipei Financial Center, better known as Taipei 101. The building, a highlight of any meandering bike tour through the city, dominates the skyline, making it an easy destination from any starting point.
The 1,671-foot tower was at one point the tallest in the world and the first skyscraper to break the half-kilometer mark. The first four floors are filled with designer stores and high-end restaurants, but park your bike and head to the observatory on the 89th floor for sweeping, panoramic views of the city and surrounding mountains – the perfect place to look out and pick which bikeway to explore next.