Towering spires poke out of dense green forests, bison (or, as the locals like to call them, "buffalo") roam freely through the prairie, shadows dance across the Badlands, and underground wildernesses filled with crystal lie waiting to be explored. This is the beauty and the breadth of South Dakota. Driving through the state, jaw-dropping views await you at every turn. It's nearly impossible to not pull over. Home to 56 parks, monuments and recreation areas, South Dakota makes sure that life happens between the mile markers. From iconic Mount Rushmore in the Black Hills to one of the world's longest cave systems, here are seven destinations you can't miss.
Custer State Park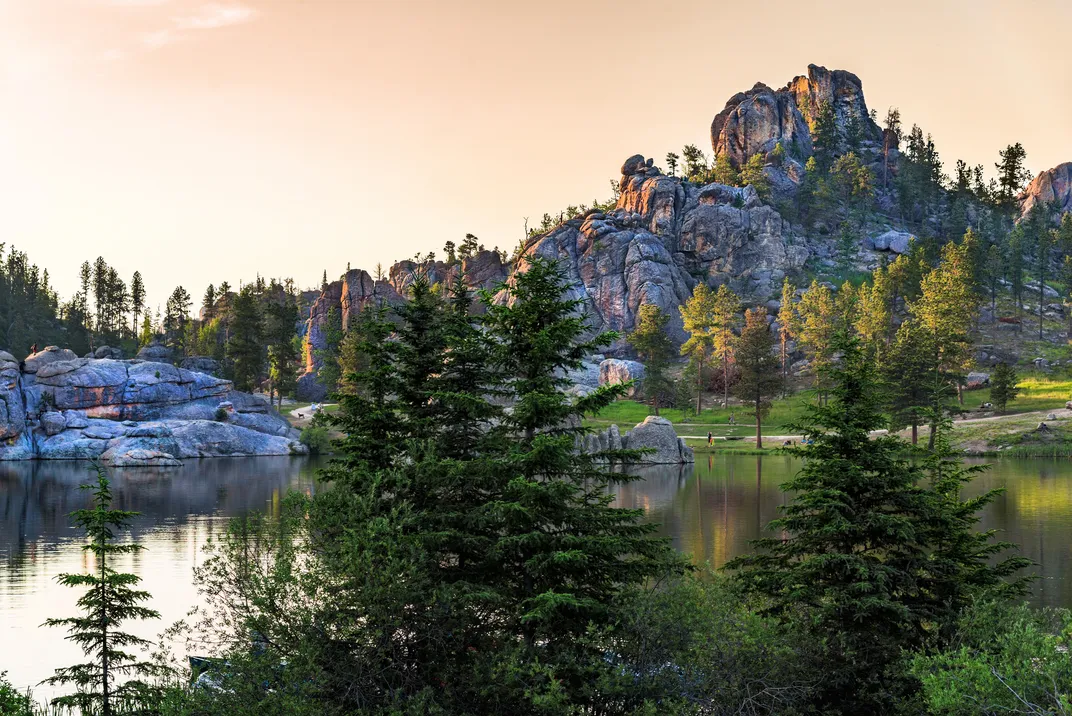 Stretching 71,000 acres across the Black Hills, Custer State Park is South Dakota's first and largest state park. Between its mountain lakes, granite spires, emerald forests and sweeping prairie grasses, it feels like true wilderness. Engineers once said that roads couldn't be built in the park; however, today scenic byways are one of the most popular ways to encounter its varied scenery. Drive past towering spear-like rock formations through mountain tunnels on the Needles Highway, and don't be surprised if the park's herd of 1,300 buffalo cause a "South Dakota traffic jam" on Wildlife Loop Road.
Those looking to stop and explore should pay a visit to Sylvan Lake, known for its glassy waters framed by picturesque rock formations and pine trees. Visitors can rent paddleboats, canoes and kayaks from a nearby lodge or hike 3.5 miles from the lake to Black Elk Peak. Rising 7,242 feet above sea level and featuring a stone lookout tower, Black Elk Peak is the highest point east of the Rockies and an incredible place to see the sun rise.
Every first Friday of September, the park comes alive in preparation for the annual Buffalo Roundup, when wranglers gather the herd for inspection. A heart-pounding spectacle, the event draws spectators from all over the world. Celebrations include an arts festival, live music and pancake flipping.
Badlands National Park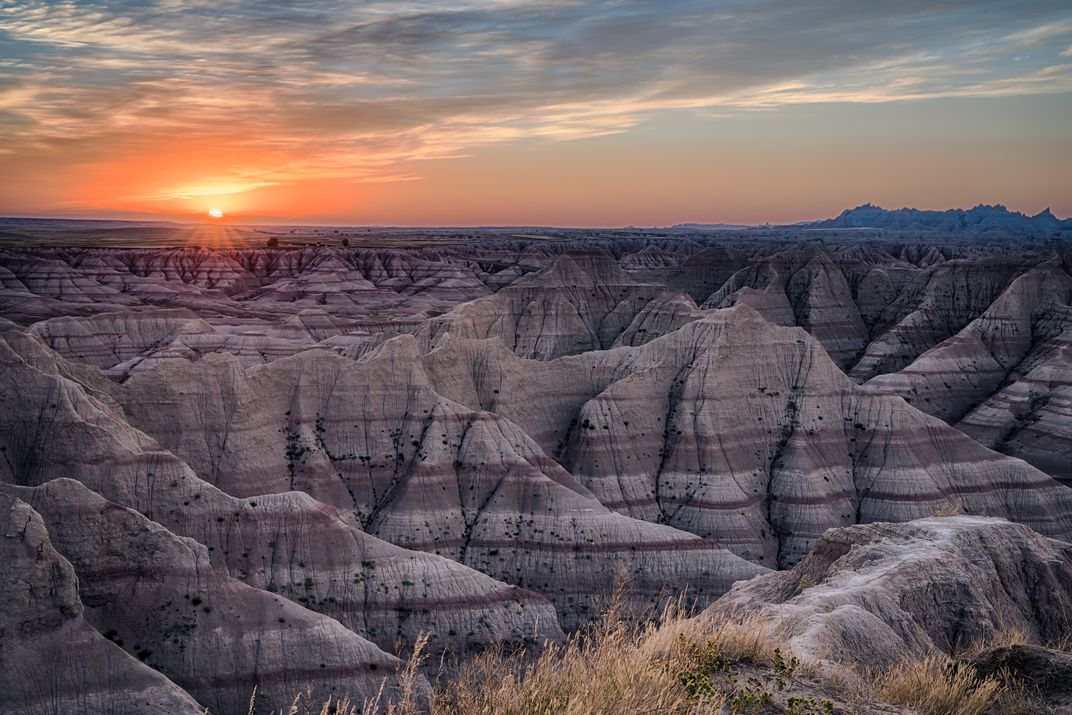 "Martian," "otherworldly" and "breathtaking" are just a few words that come to mind when describing Badlands National Park. The result of thousands of years of erosion, its dramatic pigmented hills stretch as far as the eye can see, shifting in color from blue to beige to red as the sun moves through the sky.
Consistently rated one of the nation's top scenic drives, the Badlands Loop State Scenic Byway twists and turns past some of the park's most beautiful features, including 16 overlooks and eight hiking trails. Don't miss the Big Badlands Overlook at sunrise and Pinnacles Overlook at sunset for breathtaking panoramic views. Along Sage Creek Rim Road, keep your eyes peeled for the endangered black-footed ferret as well as pronghorn antelope, bighorn sheep and buffalo.
Another highlight of the park is the Fossil Trail boardwalk, featuring replicas of fossils that have been unearthed in the area including three-toed horses and saber-toothed cats that roamed the Earth millions of years ago. Just outside the Badlands, be sure to stop by the famous Wall Drug Store to buy five-cent coffee and take pictures on the giant jackalope statue.
Palisades State Park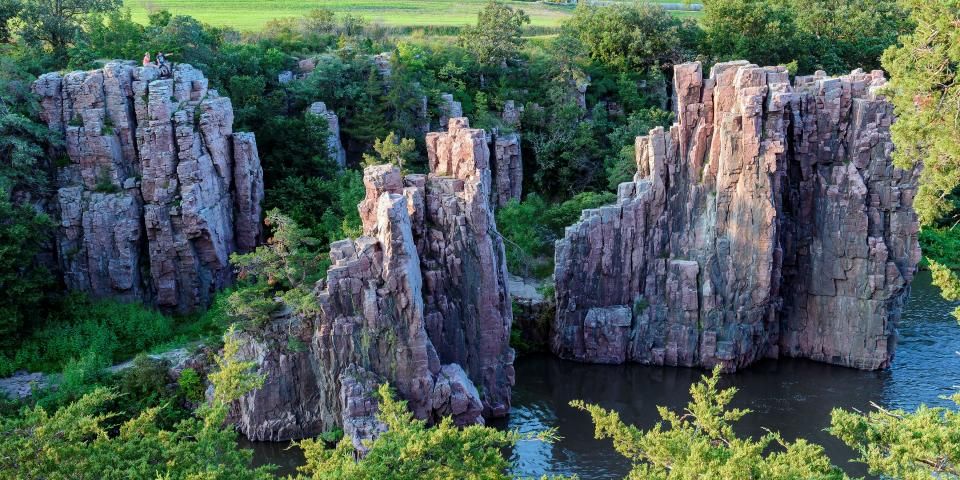 Though only 157 acres, Palisades State Park is one of South Dakota's top outdoors destinations. Its main attraction is a series of ancient pink quartzite towers that run along the banks of Split Rock Creek. Especially popular with rock climbers, the towers also attract campers, photographers and kayakers. Be sure to follow the trail to the place where Jesse James made his notorious "Outlaw Leap" in 1876. According to lore, James leapt 20 feet across a ravine on horseback from Devil's Gulch Peak to Palisades State Park to avoid being pursued for a bank robbery. Today, a bridge marks the spot of the legendary jump.
Wind Cave National Park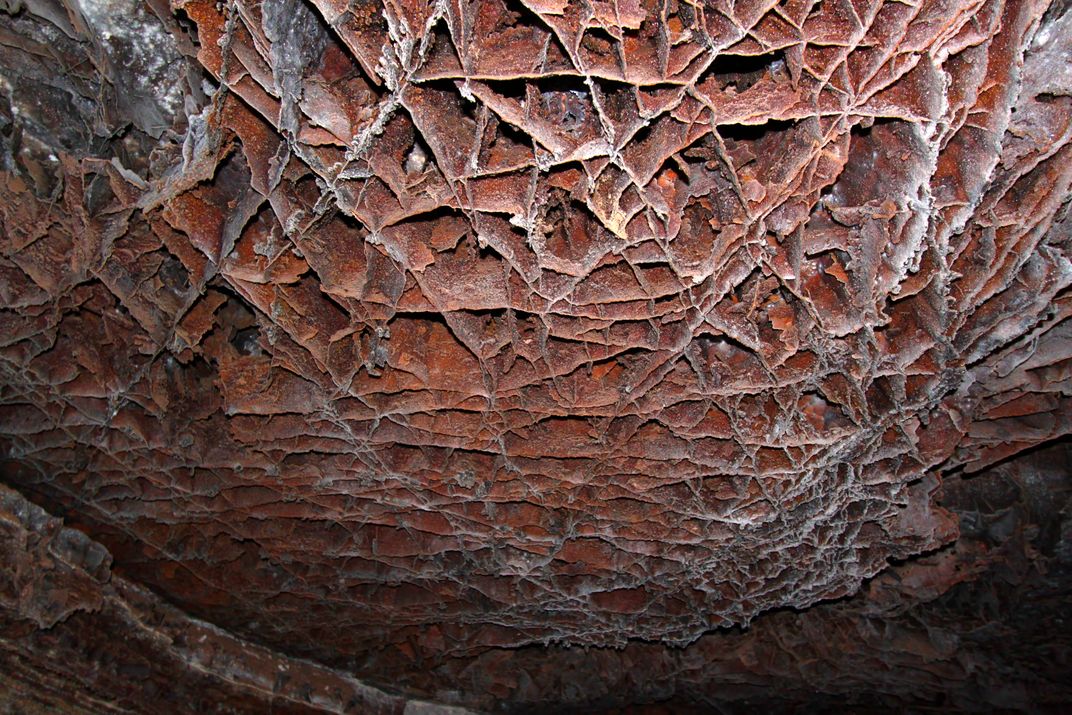 Though hidden beneath fields of grass, the sound of rushing wind betrays the entrance to Wind Cave National Park. Descend the 150 steps into the cave, and explore a tiny sliver of the giant network of passageways that run 143 miles beneath the ground. Aboveground, bison, antelope, deer, prairie dogs and black-footed ferrets roam freely while, in the cave, little moves save for the gentle drips of cave water and gusts of wind. The first cave to be designated a national park, it is also believed by the Lakota to be the place from which humans emerged to live on the Earth's surface. On your candlelit, ranger-led tour, admire the world's largest concentration of honeycomb-patterned boxwood, among other formations.
National Monuments & Memorials
Combine a visit to the parks with a stop at one of South Dakota's iconic national monuments and memorials.
Jewel Cave National Monument
Neighboring Wind Cave National Park and Custer State Park, Jewel Cave is the world's third-longest cave system and boasts more than 190 miles of mapped passages. On a ranger-guided tour, spot glistening calcite crystals, intricate boxwork formations, cave "bacon" and silver-colored hydromagnesite balloons. If you're visiting in the winter, you might catch a glimpse of the more than 1,000 bats hibernating in the cave's nooks and crannies. In the summer, don't miss the 1940s-themed lantern tour that departs from a historic entrance. |
Read more
|
Jewel Cave National Monument
Crazy Horse Memorial
When completed, Korczak Ziolkowski's tribute to Lakota leader Crazy Horse will be largest mountain carving in the world, rising 563 feet above ground. Though the memorial has been under construction since 1948, this hasn't stopped 1 million people from visiting each year. Nightly laser shows illuminate the memorial in brilliant colors, and the on-site Indian Museum of North America and the Native American Education and Cultural Center shed light on the legacy of South Dakota's native people. In June and September, thousands of visitors congregate for the Volksmarch, a 6.2-mile trek to the carving's arm. |
Read more
|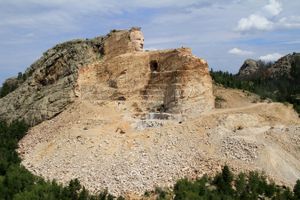 Crazy Horse Memorial
Mount Rushmore National Monument
Take Iron Mountain Road through Custer State Park to the entrance of Mount Rushmore
Perhaps South Dakota's most iconic sight, Mount Rushmore features the visages of four U.S. presidents: Washington, Jefferson, Lincoln and Roosevelt. Each 60-foot-tall face gazes out over the Black Hills, representing the birth, growth, development and preservation of the nation, respectively. Approaching the monument from the front, visitors walk beneath the flags of 56 states and territories, and continue on to the Grand View Terrace and Presidential Trail for up-close views. Be sure to catch the nightly lighting ceremony in the amphitheater, which shows how the monument was made and features a salute to veterans. |
Read more
|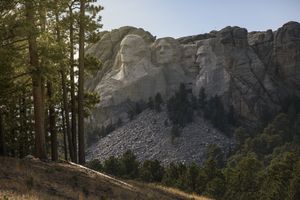 Mount Rushmore National Monument
* * *