Sun filters through curtains of Spanish moss as gentle marsh winds rustle through low-lying palm fronds, casting shadows that alternatingly hide and reveal this land's secrets: a rosy-red summer tanager chasing bees and berries, a slow sidestepping fiddler crab. This is a place that starts with the land—land bejeweled with brilliant biodiversity and steeped in history; land that marries deep roots with an unmistakable sense of living in the present. Perhaps nowhere is this perfect paradox more evident than at Palmetto Bluff. The residential resort community sits on 20,000 pristine acres in the South Carolina Lowcountry at the intersection of the Cooper, May, and New Rivers. Carefully planned with conservation in mind by fully embracing the natural marshlands and tidal creeks, it's apparent to any visitor that Palmetto Bluff was destined to be a place rather than a project. And led by the Palmetto Bluff Conservancy, founded in 2003, it is a legacy that will continue for generations still to come.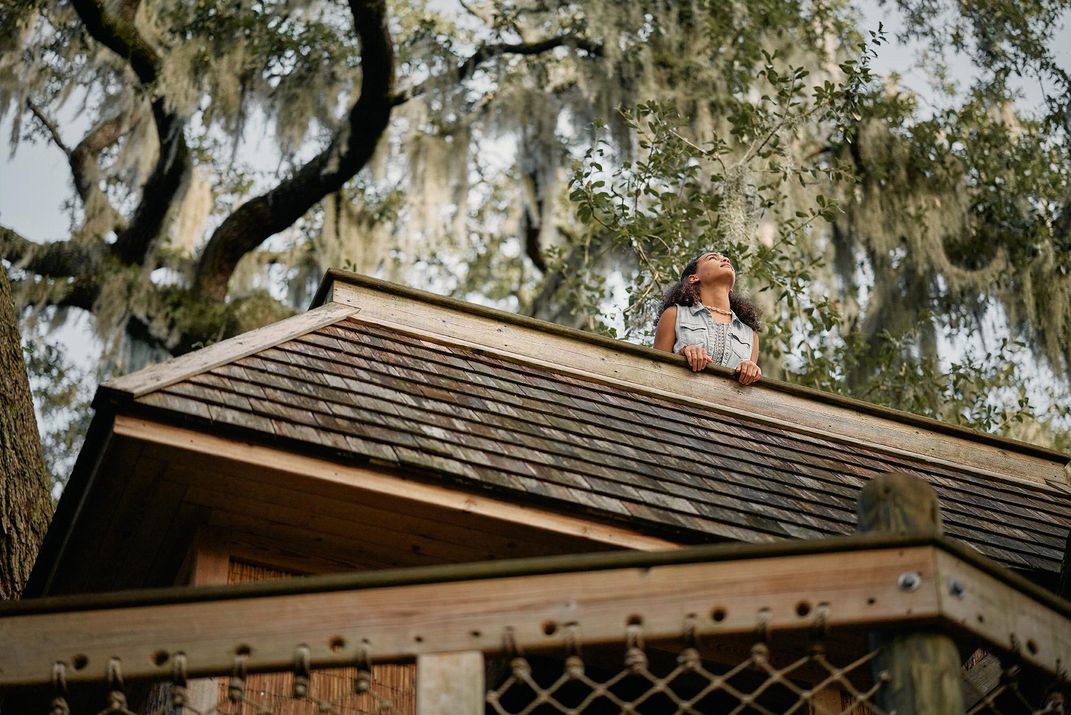 Palmetto Bluff owes its wild and seemingly untouched natural beauty in large part to its secluded location. It's precisely this solitude that continues to make Palmetto Bluff a safe and sought-after travel destination. While it's just a 30-minute drive from the Savannah/Hilton Head International Airport, the community maintains a sense that it exists far away in space and time from the distractions of modern life with plenty of space to roam. Here, every existing homesite and new home sale helps fund the Conservancy, a non-profit committed to protecting the community's natural resources. For any new developments, the Conservancy director, Jay Walea, evaluates the proposed site for its ecological impact. In this way, the community always has an eye on the protection of its irreplaceable ecosystem, including oversight of the habitats and feeding needs of area wildlife. With these efforts toward sustainability, the community can remain self-sustaining, and residents and visitors alike can continue to safely enjoy the same spectacular scenery that has existed here for centuries.
Key to the area's ongoing conservation is the education of those who frequent it. With such a vast outdoor classroom at hand, the Conservancy acts as the ambassador to all owners and visitors to Palmetto Bluff, exposing them to the rich environmental and cultural history of the Lowcountry region in a variety of ways, both structured and informal. There are a range of biological and archaeological studies and research initiatives taking place at any given time under the direction of esteemed scientists, with a current focus on the populations of turtles, white-tailed deer, and a variety of avian species. Scientists are also actively monitoring bald eagle nests. This commitment to education helps the community understand the intrinsic value of its surrounding wetlands and natural resources and ensures people will work together to maintain them.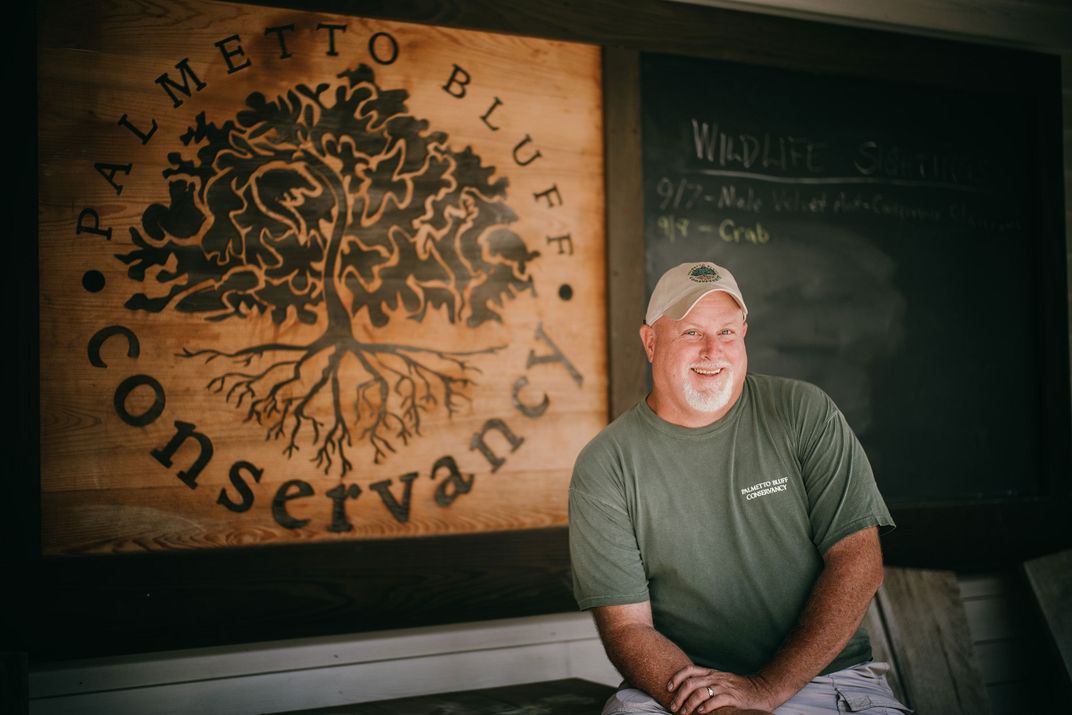 The best way to experience Palmetto Bluff's conservation efforts is to explore at your leisure. Whether strolling through the expansive oak-lined trail system or enjoying a quiet dip, outdoor experiences are unbeatable at Palmetto Bluff, and the spacious development offers ample room for solitude seekers and social distancing alike. For anglers, the confluence of three stunning rivers creates sweet spots for casting a line bankside or in deeper waters. Guests can canoe or kayak along the 32 miles of waterfront and secret channels to spot marsh creatures. For those less inclined to paddle, Palmetto Bluff's Wilson Landing has plenty of guided open-air boating excursions that pack a half-to-full day of crabbing, tubing, dolphin-sighting, and remote island ventures. Stay ashore for plenty of ecological wonders as well. Bring a picnic basket to a unique beach that receding tides reveal twice a day along the May River Sandbar. Twenty thousand acres of trails, crisscrossing through residential villages and maritime forests, are ripe for exploring. By bike, horse, or foot, Palmetto Bluff boasts wild turkey, herons, and other inaugural resident sightings. To really see it, there's no better immersion than through the eyes of its stewards. These conservationists guide guests through this thriving ecosystem, illuminating all the wild a modern eye may miss.
With its continued focus on allowing the land itself to guide development, Palmetto Bluff has created a truly remarkable place—one that connects the region's diverse ecology and centuries-old legacy of living well.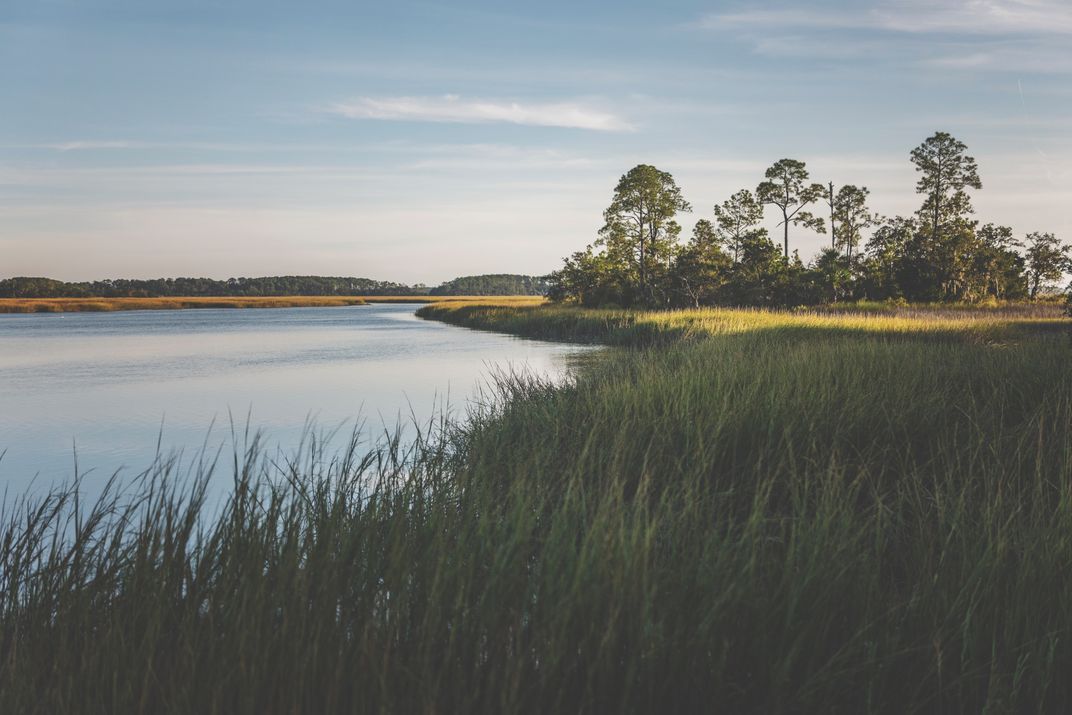 With future plans focusing on sustaining the diverse qualities of the land, designing signature residential offerings, and continuing education programs that remain true to the region's rich history and flavor, Palmetto Bluff is poised to continue its conservation-minded approach for the next generations. Come experience the harmony of authentic Lowcountry living and see for yourself why Palmetto Bluff is a perfect paradox.