Norway's coast is the landscape of legends. Fjords tower over bright blue waterways, colorful fishing villages hug rocky shores, Sami tribesmen herd reindeer to pasture and polar bears roam past Viking burial grounds. From Bergen in the south to the Arctic town of Kirkenes, a trip up the coast embodies the best of Norway: majestic and ever-changing scenery, with history present at every turn. Each season offers a new set of spectacular experiences: Hike past rushing waterfalls and over wildflower-dotted mountain passes in spring, cruise into famously beautiful Geirangerfjord in summer, watch migrating whales in the fall and in winter sit back for the nature's best sky show – the Northern Lights.
For more than a century, Hurtigruten Cruises has introduced passengers to the magic of Norway's coast and is proud to be offering this experience to Smithsonian Journeys travelers beginning in 2018. Explore some of Norway's most unique coastal destinations in the map above, and click through the slideshows below to discover why a trip up Norway's coast is a must any time of year.
Spring
As April melts into May and June, waterfalls begin to flow more heavily, snow disappears from hiking paths, and flowers begin to carpet the mountains. The days get warmer and lighter, and Norwegians emerge from their winter quarters to explore the new scenery. Hunting for blossoms is a favorite pastime, especially in Kristiansund—home to more than 20,000 flowers—and the fruit orchards of Hardangerfjord. Spring is also prime birdwatching season. Take a boat safari to Gjesværstappan, the nesting grounds of more than one million puffins, or hike to Hjelmsøystauren, which boasts the highest number of bird species gathered on a mountain in all of Europe. Here, you'll find kittiwakes, common guilllemots and razorbills among other birds. In March, head to Bodø to witness the world's strongest tidal current, Saltstraumen.
Summer
The phrase "eternal summer" takes on new meaning when it comes to Norway's coast. Days stretch long into the night, and above the Arctic Circle, the sun never sets. In northern towns like Tromsø, watch the sun linger on the horizon in a frozen sunset radiating brilliant shades of red and gold over the Barents Sea. Even as far south as Bergen, nights are often so bright that you can take pictures without a flash. The extended daylight makes virtually endless activities possible. Sail through the legendary Geirangerfjord past gushing waterfalls and abandoned farmsteads, hike to Svartisen glacier, climb the twin-peaked Svolværgeita mountain, or play golf in the middle of the night at Bodø Golf Park. To end the day, do as the locals do and head to an outdoor beer garden. 
Fall
Beginning in October, the lush greens of summer transform into rich hues of red, yellow and orange. This spectrum of color, combined with cooler temperatures, make autumn the perfect time for hiking. Head to Hjørundfjord, one of Norway's most pristine fjords, for spellbinding views. Thanks to its steep cliffs, the area has been hard to cultivate and nature left to its ways. Fall is also a great time to learn about the close relationship of the Norwegian people to the land. Visit a Sami camp to learn how the reindeer herders use Arctic flora to prevent pain and discomfort, or go on an Arctic bushcraft harvesting excursion to learn how coastal inhabitants have harvested, stored, hunted and fished for centuries. Out on the water, see whales make their annual migration to warmer waters, and at Honningsvåg, witness nearly 4,000 reindeer swim across the mile-plus wide Magerøy Strait. 
Winter
In the winter, nights get longer, and towns in the extreme north can see days without a sunrise, known as "polar nights." But these days of darkness aren't without a light show. Electromagnetic radiation causes shades of green, blue, yellow, red and orange to dance across the sky, beckoning photographers and thrill-seekers from around the world. For a true Norwegian experience, set out to hunt the lights in the wilderness of Kvaløya on a Sami reindeer sledge, dog sled or snowmobile. Far from artificial light, you will feel transported in time. At Tromsø's Arctic Cathedral, witness nature's show through its ceiling-high glass wall during a candle-lit midnight concert. In Kirkenes, embrace the frigid weather to the fullest by spending a night in a hotel made almost entirely out of ice and snow. Fishing enthusiasts will enjoy the world cod fishing championship at Svolvaer, where the world's largest catches of cod are made from January through April, and in February music lovers flock to Kristiansund's annual Opera Festival, based out of Norway's oldest opera house.
*   *   *
Join Smithsonian Journeys on A Cruise of Coastal Norway
Follow in the wake of Vikings aboard our new cruise along the coast of Norway from Bergen to Kirkenes, featuring breathtaking scenery, Norwegian history and culture, and optional hikes. 9 days.
Learn more
.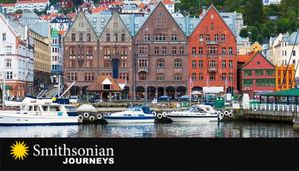 Join Smithsonian Journeys on A Cruise of Coastal Norway
The Editorial Staff of Smithsonian magazine had no role in this content's preparation.