Following U.S. Route 1 to its southern terminus, visitors will find the city of Key West, Florida. Playfully nicknamed the Conch Republic, the area, located 165 miles south of Miami and 95 miles north of Cuba, gained its moniker in 1982 after locals staged a tongue-in-cheek "secession" prompted by a U.S. Border Patrol checkpoint set up between the city and the Keys without warning. Today, locals continue to celebrate this fictional independence each year with novelty flags, parades and a raucous pirates' ball—setting the tone for a whimsical experience in the continental United States' southernmost city and islands just beyond. The Florida Keys' appeal is as vivid as their subtropical vistas; with five distinct regions, including Key West, the Lower Keys, Marathon, Islamorada, and Key Largo, each community boasts a culture and character all their own.   
With dazzling historic architecture, vibrant night life, and "Floribbean" character, Key West is a cultural gem that's closer to the Cuban capital of Havana than it is to Miami. Known as the "Natural Keys," the Lower Keys have a well-earned reputation for conserving the abundant land-based and marine wildlife that call them home. The city of Marathon at the Keys' midpoint, in turn, has earned accolades as the islands' ultimate family-friendly destination, and all-ages activities abound. Homey, laid-back Islamorada is a "playground for adults" that boasts eco-tours, world-renowned boating and sport fishing, and date-night culinary destinations to suit every taste. Key Largo's most spectacular draw is its proximity to John Pennekamp Coral Reef State Park, a subaquatic wonderland that became the United States' very first underwater preserve in 1960. Comprised of hundreds of islands and countless unforgettable characters, Florida's one-of-a-kind tropical archipelago offers visitors incomparable accessibility; thanks to its 42 bridges, the Keys' countless points of interest are accessible without setting foot in an airport. Whether your idea of a perfect trip includes snorkeling along protected waterways, soaking in a dynamic arts and culture scene, or reveling in centuries of history, here are five reasons to make the Florida Keys & Key West your next can't-miss destination.  
Rich History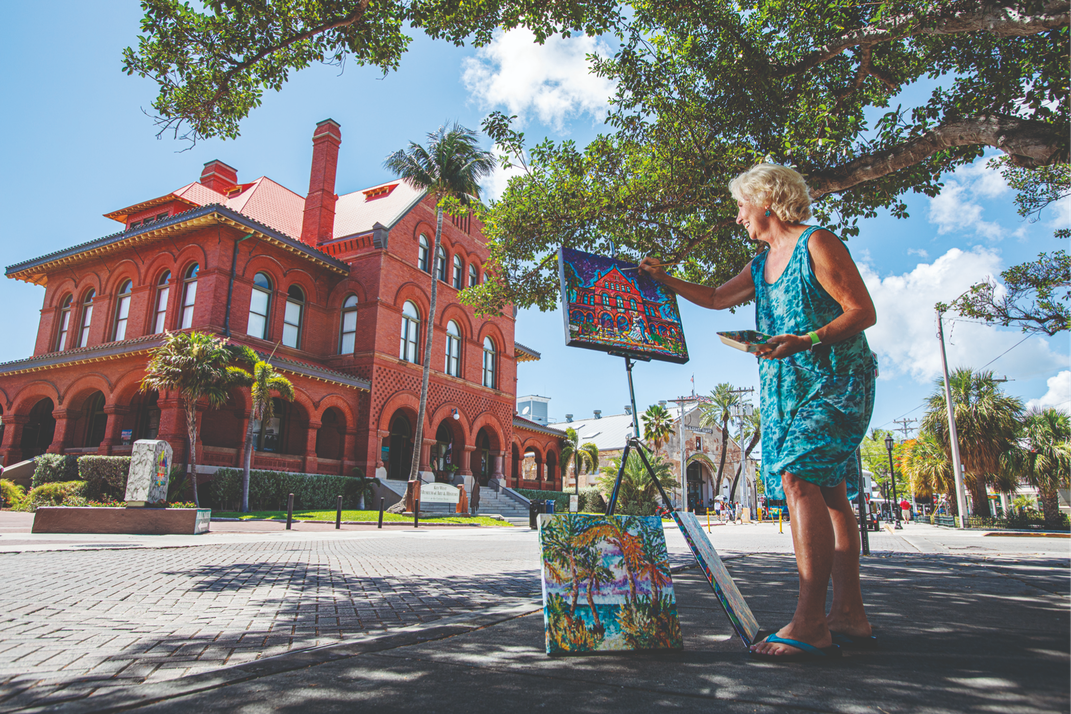 The history of the Florida Keys spans back centuries; long before the Spanish settled in the Keys, Native Americans, like the Calusa and Tequesta peoples, inhabited the area as early as 800 ACE. In the late 1700s, migratory tribes, like the Creek and the Seminoles, continued to utilize the islands as temporary fishing and trading outposts, despite a growing mistrust of the Spanish colonizers.  
In 1822, Key West began a history of permanent settlement when American merchant John Simonton purchased the island from Juan Pablo Salas, a Spanish military officer who had received the territory as a land grant. Its price tag two centuries ago? Two thousand dollars. In fact, in 2023, Monroe County will celebrate its bicentennial, marking 200 years of history.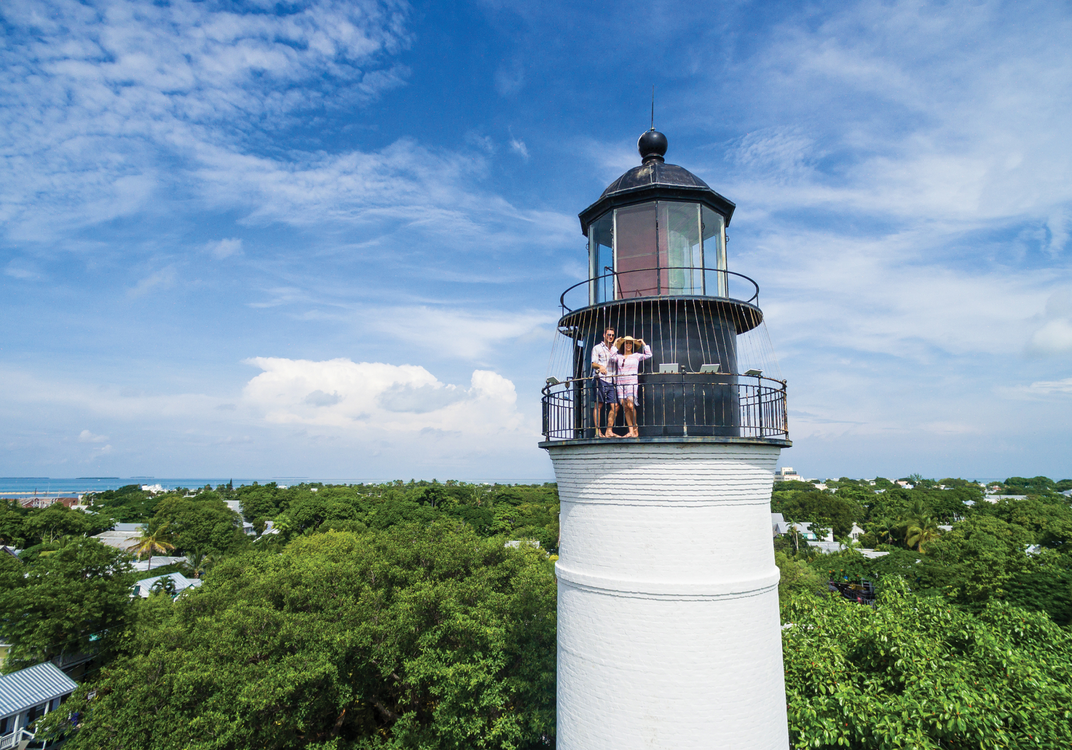 History buffs can delve deeper into the area's fascinating past at four Key West Art & Historical Society museums devoted to the preservation of the Keys' culture and history. The Key West Museum of Art & History at the Custom House first opened its doors in 1891, originally housing the island's customs office, postal service, and district courts. In 1932, it became the headquarters for the U.S. Navy's Caribbean and Gulf of Mexico operations, and today it houses two magnificent floors' worth of history and art. Opened in 1848 under the watchful eye of Barbara Mabrity, one of the 19th century's only female Keepers, the Lighthouse & Keeper's Quarters offers both a glimpse of how Keepers and their families helped military and commercial vessels navigate the Keys' treacherous waters and—as a reward for climbing its 88 steps—spectacular panoramic views. 
Military-history aficionados can explore the keys' strategic significance at Fort East Martello, which was built to protect Key West from Confederate sea assaults during the Civil War. It now displays military relics, illustrates the Keys' industrial history, and tells the stories of only-in-the-Keys characters like Robert the Doll, a handmade creation that just might be cursed. The Tennessee Williams Museum, in turn, treats cultural history lovers to a rich exploration of the playwright's 30-plus years as a Key West resident. Key West also boasts the state of Florida's only Presidential site: the Little White House, which played host to President Harry S. Truman for 175 days and has welcomed five other U.S. Presidents to date.  
Thriving Arts and Culture 
As celebrated Key West resident Ernest Hemingway knew well, his colorful environment and its locals were (and are) fantastic inspiration for artistic pursuits. Admirers of his writing can visit the Ernest Hemingway Home and Museum for a bit of that magic—and for glimpses of the descendants of his six-toed cats. To explore even more of the region's unique, historic Victorian mansions, cigar-makers' cottages, and painstaking restorations, architecture fans can time their visits to join one of the Old Island Restoration Foundation's popular annual Old Town home tours.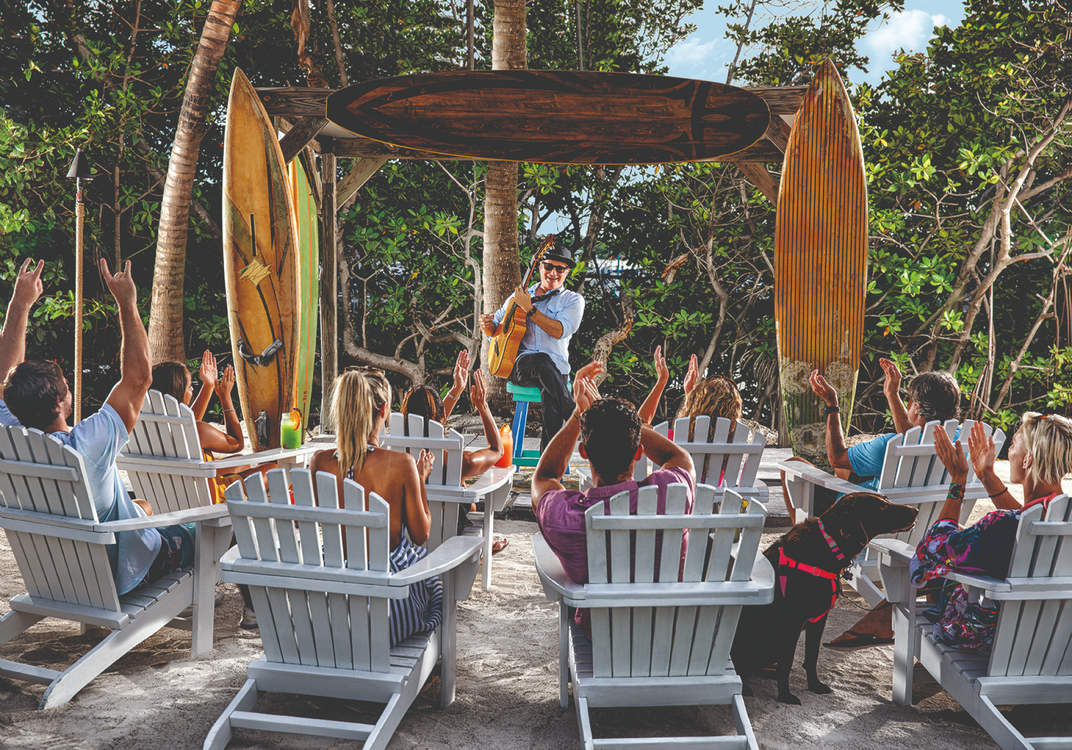 Key West celebrates contemporary visual artists throughout the year at dozens of boutiques and galleries. On Islamorada, the "Village of Islands" consisting of six small keys halfway between Key West and Miami, the Morada Way Arts & Cultural District invites visitors to go on a "walkabout" and explore its intimate downtown area's indoor galleries and outdoor artisans on the third Thursday of each month. Cinematic art enjoys its yearly moment in the sun at the Key West Film Festival, which showcases the best of Florida filmmakers' work and will celebrate its 13th year this fall. Key Largo, the first and northernmost of the Keys, is a destination for movie buffs throughout the year; it costarred in Key Largo with Humphrey Bogart and Lauren Bacall in 1947, and the century-old steamboat from The African Queen (1951) is available for daily cruises and private events in the Port Largo Canal. 
Astonishing Natural Beauty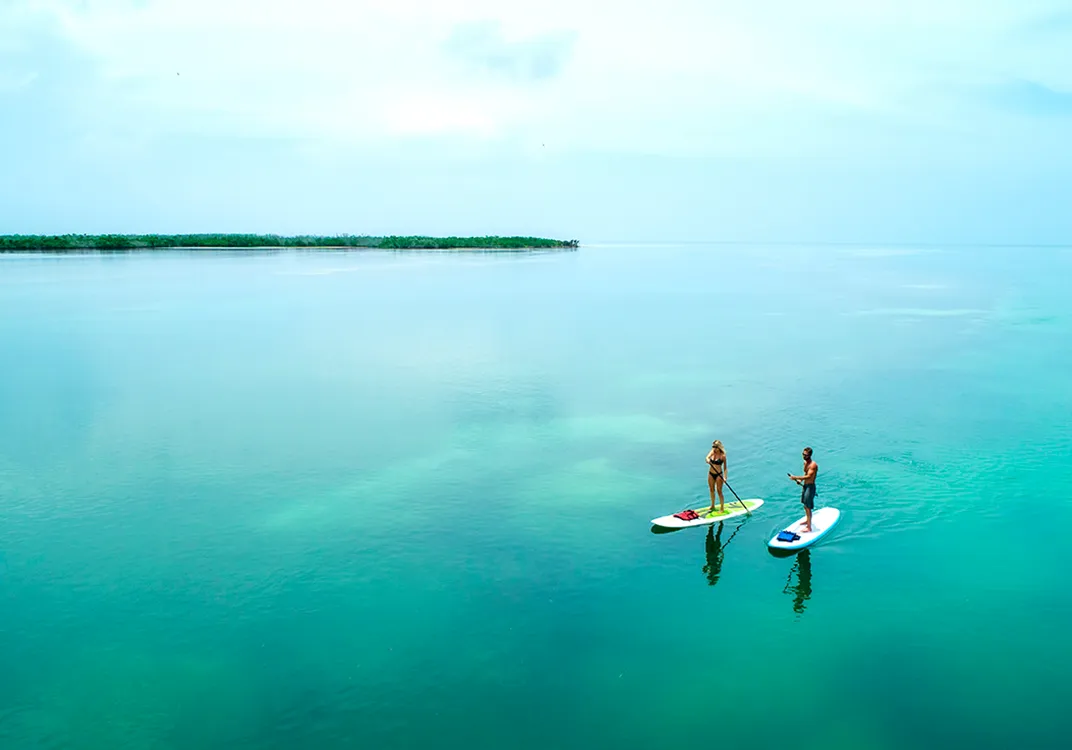 The 125-mile Florida Keys island chain is home to the continental United States' only living-coral barrier reef, which runs the length of the Keys about five miles offshore. When you dip your toe in Keys' waters, you're entering the Florida Keys National Marine Sanctuary, a protected area that encompasses 3,800 square miles of waters and hosts massive seagrass beds, mangrove-encircled islands, and more than 6,000 marine species. Named in the 16th century for its large population of sea turtles, Dry Tortugas National Park—accessible by ferry from Key West—is also a highlight of the Florida Birding Trail, thanks to its role as a key stopover for birds migrating between the United States and South America.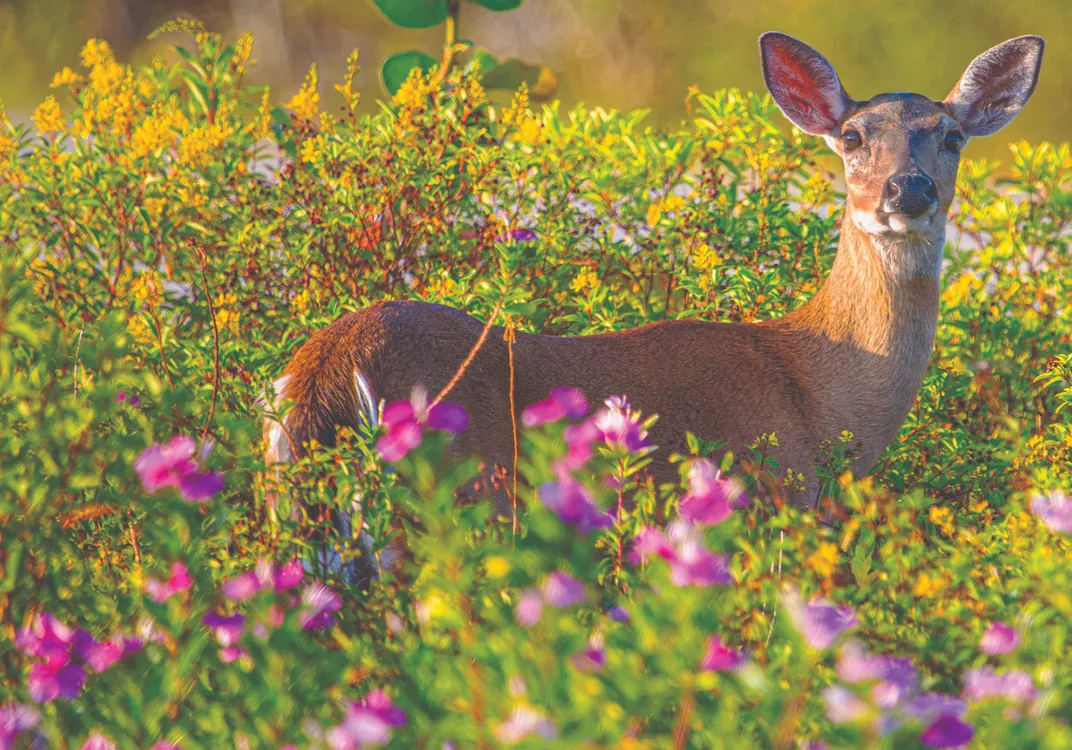 Visitors to the Lower Florida Keys can bike through the National Key Deer Refuge; in addition to the diminutive deer themselves, which are a subspecies found nowhere else in the world, the area sustains more than 20 threatened and endangered plant and animal species. Hikers in the refuge can enjoy intimate views from the observation deck at Blue Hole, a cenote-like freshwater pond that draws wildlife from all over Big Pine Key. If appreciating the environment from a glass-bottomed boat is more your speed, head to Key Largo for a cruise through John Pennekamp Coral Reef State Park, where you'll glide above shallow reefs teeming with wildlife. At the Keys' mile marker (MM) 37, Bahia Honda State Park beckons beachcombers with pristine white shoreline that often earns it accolades as one of the most beautiful beaches in the country.  
Abundant Outdoor Activities  
The Keys offer peak life experiences for active visitors of all kinds. Islamorada is known as the sport fishing capital of the world, and backcountry sport fishing and saltwater fly fishing were pioneered in its crystalline waters; its location between Florida Bay and the Atlantic Ocean with access to the Gulf Stream offers anglers a dizzying array of fishing opportunities. Divers can enjoy a bucket-list adventure exploring the waters off Key West, where the USNS Gen. Hoyt S. Vandenberg was sunk in 2009 to create the world's second largest ship-based artificial reef. Now encrusted with coral and algae, the ship is home to more than 100 species of fish, including parrotfish, yellow and blue tangs, barracuda, snapper, mackerel, and hogfish. Advanced divers can also visit the Spiegel Grove Wreck six miles from Key Largo, a ship that was scuttled in 2002—and repositioned when Hurricane Dennis swept past the keys three years later.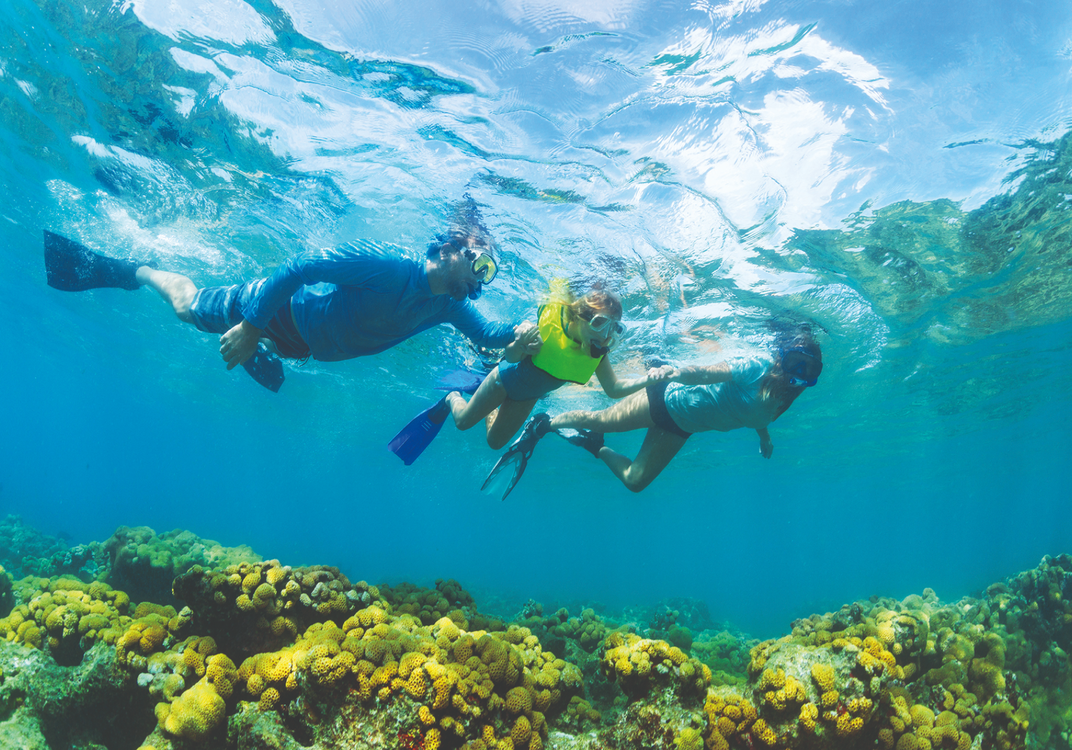 Divers and snorkelers who want the water all to themselves can visit six Sanctuary Preservation Areas (SPAs) around Key Largo, where regulations meant to protect critical marine habitats prohibit almost all fishing. Kayakers, in turn, can enjoy restorative paddles through the serene backcountry island scenery of Big Pine and the Lower Keys. As for land-based pursuits, runners head to Marathon and the Middle Keys each February for the Sombrero Beach Run weekend at Mile Marker 50—though, truth be told, it's always the perfect time to go for a stroll or a jog on the beach.   
Sustainable Travel Opportunities 
Keenly conscious of their roles as protectors of the Keys' ecological diversity and magnificent natural resources, local conservationists encourage holidaymakers to both fall in love with and leave the islands even better than they found them through conscious consumption and voluntourism. The Florida Keys Wildlife Society invites tourists to support the National Wildlife Refuges by pitching in on activities like leading kayak excursions and maintaining nature trails. The Marathon Wild Bird Center's volunteers assist with the capture and transport of wildlife, as well as the release of successfully rehabilitated birds. The center's neighbors at the Turtle Hospital—which is the world's first and only licensed veterinary hospital dedicated to the treatment of injured sea turtles—welcomes guests for daily educational programs and public turtle releases, and it encourages those guests to spread the word on how to safely share their magnificent surroundings with marine life.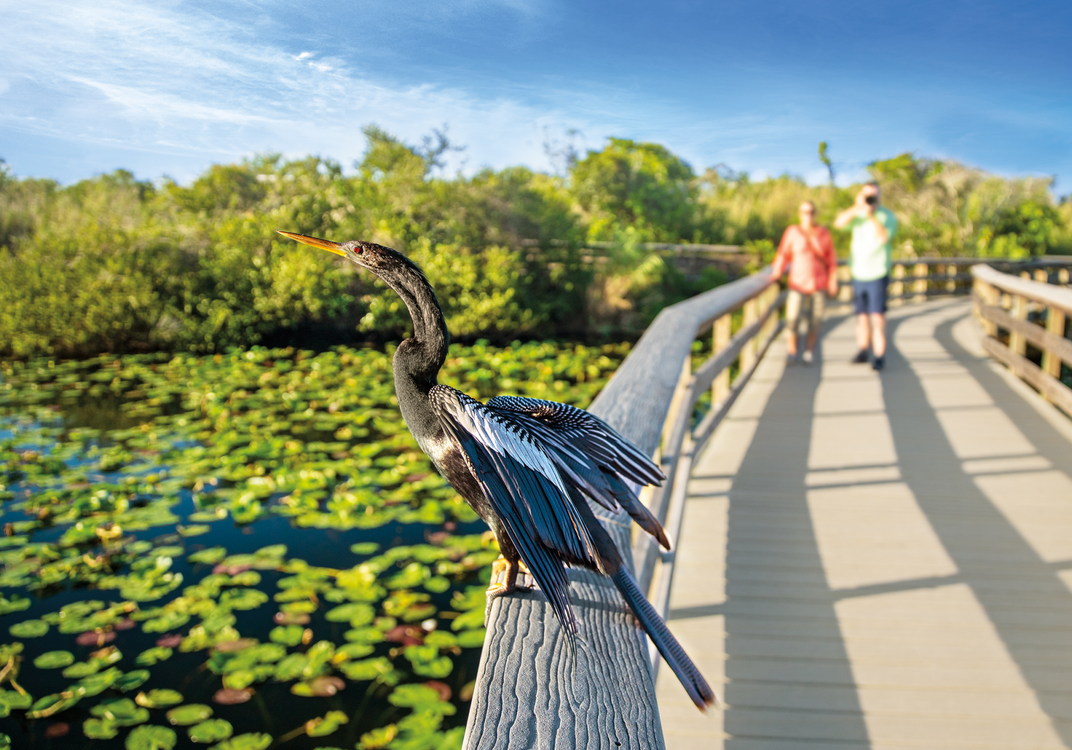 Community-minded divers can team up with I.CARE, the Islamorada preservationists dedicated to restoring habitats like their local (and world-famous) Alligator Reef. Community members can participate in reef monitoring, marine debris cleanups, and even coral transplanting to help maintain Islamorada's coral for future generations. Islamorada-based Florida Bay Forever invites visitors to monthly environmental talks and home-cooked breakfasts and naturalist-led bird walks around the Green Turtle Hammock Nature Preserve; they'll soon add sunset and full-moon stand-up paddleboarding excursions to their docket as well. Even shoreside strolls can contribute to the Keys' beauty: tourists who team up with the Ocean Blue Project can contribute to volunteer-led Key Largo beach cleanups. Innumerable life-changing experiences await travelers in the Florida Keys and Key West—and those travelers change the Keys for the better, too.  
Given the kaleidoscopic array of experiences that await visitors in the Florida Keys & Key West, one could be forgiven for not knowing where to turn first. The good news? Thanks to the region's abundance of options, you'll end up in paradise no matter which destination you choose. Your top five reasons to visit are waiting to be discovered.