In the time period between World War I and World War II, the Bauhaus School of Design emerged with a radical mission: to effect a new way of living in the modern world by uniting art with craft. Founded in 1919 by architect Walter Gropius, the Bauhaus opened its doors in Weimar, a longtime hotspot for creative minds and the political center of the new, democratic Weimar Republic. Together with the avant-garde artists he recruited from Germany and throughout Europe, Gropius espoused the principle that "form follows function," embracing ideals of simplicity and practicality and encouraging the use of bold, geometric shapes and primary colors across architecture, art and design.
Known as the official "cradle of Bauhaus," Weimar is considered the center of the 20th-century movement. In the state of Thuringia alone, you can still view more than 30 Bauhaus buildings and sites, from the first classroom building in Weimar to the KUNSTPavillon exhibition space in Eisenach to the original ceramics workshop in Dornburg.
After six years, Gropius moved the school to Dessau, during which time he emphasized the importance of designing for mass production. Beginning in 1928, under the direction of Hannes Meyer, that focus shifted toward designing for social good. The school's third and final director, Ludwig Mies van der Rohe, took over in 1930 and moved the school to Berlin in 1932. One year later, the Nazi Party forced the school to shutter its doors in 1933. Though the school was operational for just 14 short years, Bauhaus students and masters spread its teachings, which influenced and inspired other avant-garde movements throughout Germany and the world. The school, in short, changed design as we know it.
In honor of the 100th anniversary of the founding of the Bauhaus this year, cities, museums and foundations across Germany are celebrating the profound impact of the school. From an exhibition dedicated to lamps to 1920s-inspired canoe tours, here are 18 events and destinations not to miss.
The Grand Tour of Modernism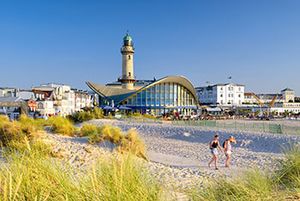 The Grand Tour of Modernism
When: Ongoing
Where: All of Germany
Organized by the Bauhaus Association of Germany, the Grand Tour of Modernism highlights 100 significant modernist and Bauhaus buildings throughout the country. From the world's most beautiful coal mine to a convent with a swimming pool beneath its church to a seaside restaurant shaped like a teapot, the sites highlight the many shapes and sizes of modernism. Most of the sites are open to the public and can be visited by rail, car or bicycle. Choose from seven themed subroutes, or create your own tour.
Three Museums Open in Weimar and Dessau
What: Bauhaus Museum Weimar, Haus am Horn and Bauhaus Museum Dessau 
When: Spring through fall
Where: Weimar, Dessau
On April 6, a brand-new, five-story Bauhaus Museum opened in Weimar. Designed by Heike Hanada, a German architect and Bauhaus University professor, the cubic building is the new home of the world's oldest Bauhaus collection, totaling 13,000 objects. Collection highlights include Marianne Brandt's glass teapot and Marcel Breur's slatted chair. The inaugural exhibition, "The Bauhaus Comes From Weimar," highlights the relevance of the Bauhaus then and now by reexamining the questions and ideas that Bauhaus members focused on in their time, above all the question "How do we want to live together?" Together with the Neues Museum, which reopened in April with a permanent collection of early modernist art, the Bauhaus Museum forms the heart of Weimar's new Modernism Quarter, a network of modernist sites spanning the 19th century to today.
Nearby Am Horn House, a UNESCO World Heritage site, will reopen following renovations on May 18. Designed by painter Gerhard Muche as a model house for the 1923 Bauhaus exhibition, Am Horn House is the first and Weimar's only example of Bauhaus architecture. The renovated museum will resemble the house as it was in 1923, including reconstructions of former furnishings.
Come September 8, a brand-new Bauhaus Museum will also open in Dessau. The glass-and-steel building, built by Barcelona-based architecture firm González Hinz Zabala, who competed against 831 other applicants for the job, will be the first space to house and display Bauhaus Dessau Foundation's full collection of 49,000 objects. The collection includes invaluable graphics and drawings by the Bauhaus masters.
Bauhaus Imaginista: Still Undead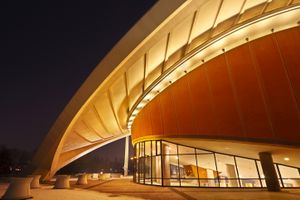 Bauhaus Imaginista: Still Undead
When: Through June 10, 2019
Where: The House of World Cultures, Berlin
The culmination of year-long research project and exhibition that has traveled around the world thanks to the Goethe-Institut, "Bauhaus Imaginista: Still Undead" explores how Bauhaus concepts have been adopted, adapted and challenged in Asia, Africa and the Americas. "Still Undead," the project's fourth chapter, uses Kurt Schwerdtfeger's Reflected Light Play as a launch point for understanding developments in cinema and new media. Occupying more than 21,000 square feet in Berlin's House of the Cultures of the World, the exhibition features historic artifacts related to the Bauhaus and modernism as well as rare loans and commissioned works, which together show that the Bauhaus imagination is very much alive and well.
Oskar Schlemmer – The Bauhaus and the Path to Modernity
Oskar Schlemmer – The Bauhaus and the Path to Modernity
When: April 28 – July 28, 2019 
Where: Ducal Museum, Gotha, Thuringia
Oskar Schlemmer is one of the most famous and multifaceted artists to emerge from the Bauhaus era. A painter, sculptor, choreographer and set designer, he oversaw the Bauhaus School's mural-painting and sculpture departments beginning in 1920 and later directed theater production and design.
"Oskar Schlemmer - The Bauhaus and the Path to Modernity" is the first monographic exhibition of Schlemmer's work in eastern Germany, featuring more than 75 exhibits with a focus on his art from the 1920s and 30s. Paintings and stage and dance works highlight Schlemmer's fascination with the human body as well as technological and social innovation. See everything from mural sketches to artifacts inspired by his iconic 1920s Triadic Ballet performance, which a September 2018 Google Doodle described as "bulbous mechanical creatures wearing metallic masks." Works by his contemporaries, including László Moholy-Nagy, Andor Weininger and Wassily Kandinsk, will also be featured.
Wilhelm Wagenfeld: Lights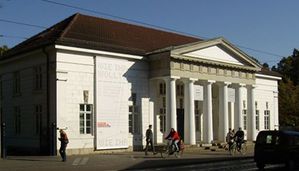 Wilhelm Wagenfeld: Lights
When: May 24 – October 27, 2019
Where: Wilhelm Wagenfeld House, Bremen
Among the most widely recognized objects to emerge from the Bauhaus era is the 1924 Wagenfeld lamp. Designed by Wilhelm Wagenfeld, a student of the Bauhaus from 1923 to 1925, it features a shade made from opaline glass and a post made from nickel-plated steel. When the Bauhaus Weimar dissolved in 1925, Wagenfeld went on to join the German Werkbund, or the German Association of Craftsmen, and would design countless household items over the course of his career. He favored glass and stainless steel as materials for creating designs that were timeless and practical.
The neoclassical Wilhelm Wagenfeld house, an exhibition space named after Bremen's famous resident, will present an exhibition on Wagenfeld lamps examining the influence of the Bauhaus on the artist's works from the 1950s through the 70s as well as the influence of Wagenfeld's works on contemporary lamp designs.
Map 2019: Bauhaus Network Krefeld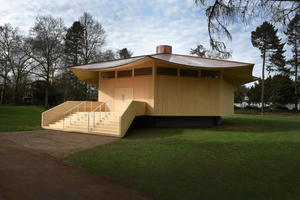 Map 2019: Bauhaus Network Krefeld
When: Through October 26, 2019
Where: Krefeld, North Rhine-Westphalia 
Following the closure of the Bauhaus School, 25 former members migrated to Krefeld, then the heart of Germany's silk and velvet industries, in search of work. They found jobs designing for the city's textile factories, teaching at the local textile desing school and developing new buildings in the city. Two of the city's most famous Bauhaus residents include architect Ludwig Mies van der Rohe, the last Bauhaus director, and designer Lilly Reich. In honor of the centenary, contemporary artist Thomas Schütte has designed a pavilion adjacent to Mies' Esters and Lange residential houses to showcase historic documents and films from the Bauhaus era in Krefeld. Tours departing from the pavilion and throughout the city lead visitors past significant Bauhaus locations, from the buildings designed by Mies and his students to former textile industry sites.
Weissenhof City: History, Present and Future of a City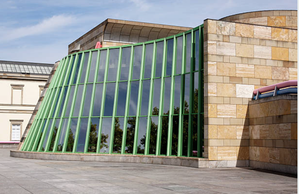 Weissenhof City: History, Present and Future of a City
When: June 7 – October 20, 2019 
Where: Stuttgart, Baden-Württemberg 
Fancy walking in the footsteps of Ludwig Mies van der Rohe or Oskar Schlemmer? You'll want to head to Stuttgart this summer. Home to the Weissenhof Estate, a housing estate designed by 17 German Werkbund architects in 1927 under the direction of Mies, Stuttgart served as an early model of modern urban development. From June through October, in collaboration with the Stuttgart State Gallery, international artists will engage with Bauhuas buildings and places that its students and masters frequented, both in and around the city, to reexamine the influence of the famous design school.
Invisible Spaces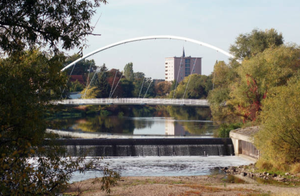 Invisible Spaces
When: April 26 – November 3, 2019
Where: Dessau, Saxony-Anhalt
Dessau, the second home of Bauhaus School, is pulling out all the stops this year. Chief among its centenary celebrations is an open-air exhibition that will reveal Dessau as it was during its Bauhaus era from 1925-1932. During those seven years, Bauhaus furniture would have equipped cafes and park pavilions, Bauhaus graphic design would have graced brochures and storefronts, and Bauhaus students and masters would have spent their down time canoeing on the Elbe River. "Invisible Spaces" will not only map locations connected to the Bauhaus era, but also feature recreational activities such as canoe tours and piano music by composers Satie and Stuckenschmidt to truly recreate the spirit of 1920s Dessau.
Design for Life – Bauhaus Design in the GDR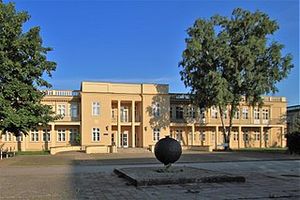 Design for Life – Bauhaus Design in the GDR
When: Through January 5, 2020
Where: Documentation Center of Everyday Life, Eisenhüttenstadt, Brandenburg
Through everyday objects, the Brandenburg Documentation Center's "Design for Life" exhibit explores how the concept of "form meets function" was put into practice. It also dives into the shifting perceptions of the Bauhaus over the course of the 20th century: from well received, to shunned, to reclaimed and recognized as cultural heritage beginning in 1976. Objects include household items and furniture as well as graphic design and product photography. The exhibit also profiles well-known Bauhaus designers and explores developments in architecture and urban planning throughout Germany.
Between Utopia and Adaptation: The Bauhaus in Oldenburg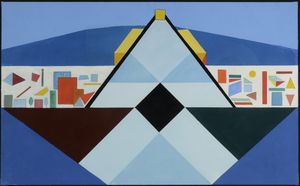 Between Utopia and Adaptation: The Bauhaus in Oldenburg
When: April 27 – August 4, 2019  
Where: Oldenburg State Museum, Oldenburg, Lower Saxony
This summer, the Oldenburg State Museum, whose founding director was one of the first to support Bauhaus ideas by purchasing objects for the collection, will explore the legacies of four Bauhaus students from Oldenburg and East Frisia who attended the school between 1923 and 1927: architect Hans Martin Fricke, designer Hermann Gautel, painter Karl Schwoon and designer Hin Bredendieck. The 2019 exhibition will use their works and biographies to explore the impact of the Bauhaus locally and regionally as it relates to utopia, adaptation and emigration.
Bauhaus in Saxony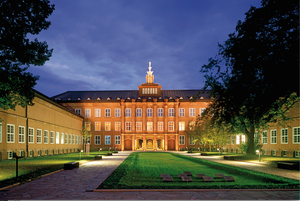 Bauhaus in Saxony
When: Through August 4
Where: Grassi Museum of Applied Arts, Leipzig, Saxony
The Grassi Museum of the Applied Arts, home to Josef Albers' iconic 18 stairwell window panels, will examine the work of Bauhaus residents born in Saxony as well as masters such as Albers who spent time there. While the Bauhaus School never existed in Leipzig, many artists found a platform for their ideas at Leipzig trade fairs such as Grassimesse. Galleries and museums across Saxony purchased and showed artists' work, and publications at the time utilized Bauhaus typography and images. The exhibition will also feature work by contemporary artists produced in dialogue with Bauhaus objects and subjects – for instance, photographer Joachim Brohm will document the architectural implementation of a sketch by Mies van der Rohe.
ABC. Avant-garde – Bauhaus – Corporate Design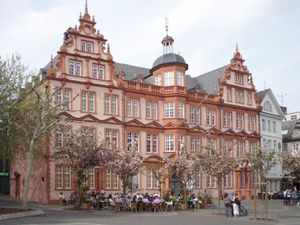 ABC. Avant-garde – Bauhaus – Corporate Design
When: September 6, 2019 – February 2, 2020
Where: Gutenberg Museum, Mainz, Rhineland-Palatinate 
Ever used a sans-serif font (think Arial or Helvetica)? You have the Bauhaus to thank for popularizing this no-frills font type in lieu of more ornamental blackletter typefaces used in the early-20th-century Germany. Among the many changes that the Bauhaus School brought about were a new, minimalist approach to typography as well as a radical rethinking of how to lay out text on a page using slanted headlines and geometric shapes. Beginning in September, the Gutenberg Museum, the world's preeminent museum of printing art, will feature a special exhibition on the evolution of Bauhaus typography and typesetting between 1925 and 1932 in Dessau.
Reflex Bauhaus: 40 Objects, 5 Conversations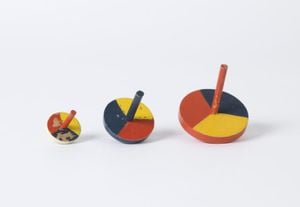 Reflex Bauhaus: 40 Objects, 5 Conversations
When: February 8, 2019 – February 2, 2020
Where: Die Neue Sammlung, Munich, Bavaria
Munich's Die Neue Sammlung, founded in 1907 and inaugurated in 1925, is the world's oldest design museum featuring more than 100,000 items related to product and industrial design. In celebration of the Bauhaus centenary, the year-long exhibit "Reflex Bauhaus" will showcase the museum's extensive Bauhaus collection, from Anni Albers' geometric textiles to Marcel Breur's tubular steel chairs and Ludwig Hirschfeld-Mack's colorful spinning top toys. Uniting past with present, five contemporary artists from different disciplines—design, poetry, architecture, music composition and art—created bodies of work for the exhibit inspired by a Bauhaus object of their choice.
Better Living in Altona: City Development in the 20th and 21st Century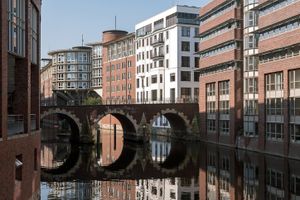 Better Living in Altona: City Development in the 20th and 21st Century
When: Through June 24, 2019
Where: Altonaer Museum, Altona, Hamburg
Through the end of June, "Better Living in Altona" offers an unprecedented look at the Hamburg borough's drastic transformation over the last 130 years and the influence of Bauhaus architects on its urban development ideals. The exhibit begins by examining how Altona responded to the need for urban planning with its first apartment buildings at the turn of the 20th century, then shifts focus to the New Objectivity concepts of Gustav Oelsner, Karl Schneider and Friedrich Ostermeir in the 1920s. The architecture of these Bauhaus veterans, which relied heavily on steel, concrete and glass, still dominates the cityscape. Other highlights include a look at Ernst May's 1954 postwar reconstruction plans as well as the 1970s when citizens took to renovating old buildings themselves.
Loheland: Lived Visions for a New World
Loheland: Lived Visions for a New World
When: September 26, 2019 – January 5, 2020 
Where: Vonderau Museum, Fulda, Hessen
Also celebrating its 100th anniversary this year is the Loheland School for Physical Education, Agriculture and Crafts, whose revolutionary spirit mirrored the Bauhaus. Founded in 1919 on an undeveloped 54 acres by women for women, the Loheland School promoted a gymnastic-aesthetic education involving physical education, theater, music, arts, crafts and farming. In partnership with the Loheland Foundation, the nearby Vonderau Museum will present objects and documents from the Loheland School from 1919-34, some of which have never been shown to the public, beginning in September.
Saarland Museum's Modern Gallery
Saarland Museum's Modern Gallery
When: Ongoing
Where: Saarland Museum Modern Gallery, Saarbrücken, Saarland
The Saarland Modern Gallery is one of Germany's preeminent museums dedicated to contemporary art. Designed between 1962 and 1976 by architect Hanns Schönecker, who was influenced by Bauhaus ideals of simplicity, it houses a collection that spans Impressionism to present day with a focus on French and German works. Highlights include the estate of American-Ukranian avant-garde sculptor Alexandar Achipenko, an extensive graphics collection from the Berlin Secession, German Expressionism and Art Informel movements, as well as photographic works dating back to Otto Steinert, the father of subjective photography.
Wenzel Hablik: From the Coffee Spoon to the Spatial Work of Art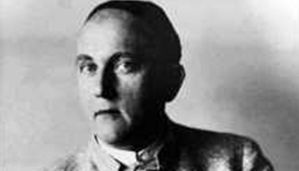 Wenzel Hablik: From the Coffee Spoon to the Spatial Work of Art
When: May 19 - August 11, 2019
Where: Wenzel Hablik Museum, Itzehoe, Schleswig-Holstein
Itzehoe-born Wenzel Hablik, a painter, designer and architect, is regarded as one of the most important representatives of German Expressionism. Using a wide range of mediums, he explored the possibilities of a new industrial age with fantastical colorful visions and extravagant spatial concepts. This summer, a special exhibit at the Wenzel Hablik Museum, which houses the largest collection of Hablik's works, will bring his interior designs and sketches into dialogue. Chief among the highlighted works will be a painting of Hablik's former dining room, on whose walls and ceiling he painted in colorful geometric shapes. Located in the artist's former home and studio close to the museum, the dining room was restored in 2013 and will open to the public for two weekends in September.
Bunt Stube Book and Craft Store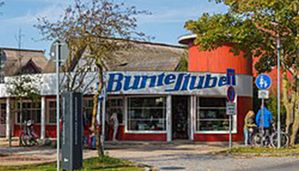 Bunt Stube Book and Craft Store
When: Ongoing
Where: Ahrenshoop, Mecklenburg-Vorpommern
Since the 1920s, this small store owned by the Wegscheider family has been the cultural heart of Ahrenshoop, a picturesque village on the Baltic Sea. After painter and graphic artist Hans Grass, a family friend, came to visit the Wegscheiders in 1921, he decided to move in with them. The following year, to cover living costs, the Wegscheiders opened up a shop on the property for which Grass painted wooden cans and fabrics. Business boomed, and in 1929, Bauhaus architect Walter Butzek designed the now iconic red-and-white extension. At one point in the 30s, the shop even hosted a hair salon and fashion shows. Today, visitors can stop into Bunte Stube to browse a robust collection of regional literature and purchase everything from art to natural goods, clothing and jewelry.