Although Taiwan occupies less than one percent of the Earth's land, it is home to a diverse landscape, ranging from winding gorges and misty mountains to hot springs and tropical beaches. Portuguese sailors en route to Japan in the late 16th century deemed Taiwan "Ilha Formosa," or beautiful island, and for good reason. Its cultural legacy is equally rich, combining Dutch, Chinese, Japanese, aboriginal and modern influences. Whether hiking through Taroko Gorge's walls of swirling marble, exploring the world's largest collection of Chinese artifacts at the National Palace Museum in Taipei, or cycling around turquoise Sun Moon Lake, Taiwan offers something for every traveler. Here are ten destinations not to miss. 
To plan your custom trip to Taiwan, contact one of our Country Specialists, or explore this 13-day itinerary, custom created by Smithsonian Tailor-Made Journeys by Audley Travel to visit these 10 locations.
Taipei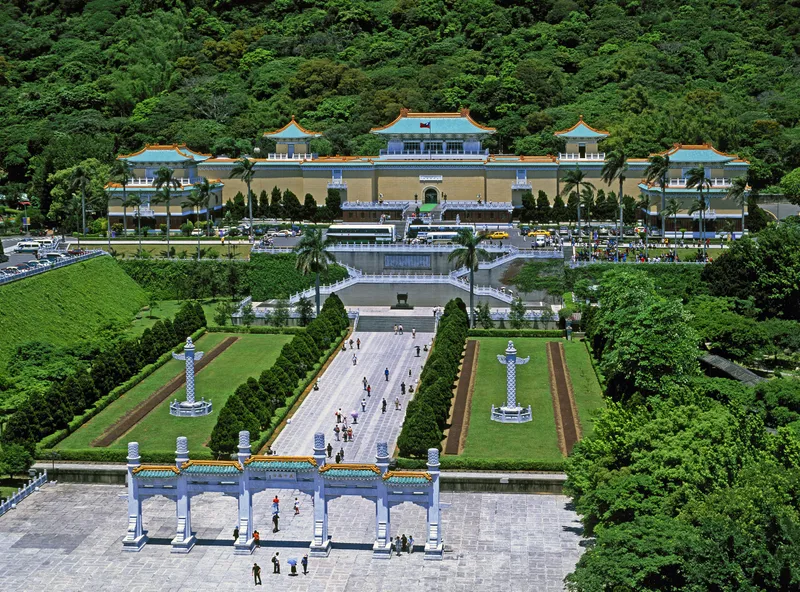 Taiwan's capital city is home to some of the country's most impressive cultural treasures, both modern and historical. Chief among them is the National Palace Museum, which houses the most extraordinary collection of Chinese art anywhere in the world. Ranging from ancient bronzes to Ming vases, the museum's holding of nearly 700,000 artifacts, transported to Taiwan in 1949 during China's civil war by the fleeing Guomindang, is so vast that only a small selection can ever fit on display at any one time. Current exhibitions include terracotta sculptures from the Qin Culture and an unparalleled display of Tibetan Buddhist art.
Another highlight is the Chiang Kai-shek Memorial Hall. Commemorating the former president of the Republic of China, the hall features an exhibit of his cars as well as a mock-up of his former office, and a ceremonial guard change takes place on the hour. Outside, palatial buildings flank a large square in the style of Beijing's Forbidden City.
To experience the pulse of the city as well as its world-class foodie culture, head to the Shilin night market, Taiwan's largest.
Taipei Suburbs – Maokong and Beitou
Taipei offers a plethora of fantastic day trips. A must-visit is Maokong to the south, best reached by a scenic cable car that runs from the Taipei Zoo metro station. Known for its magnificent views of Taipei, Maokong is particularly enchanting at night. Visit one of its teahouses, positioned strategically to face the verdant Zhinan River valley.
For a day of relaxation, head north to Beitou. In the 1800s, a Japanese businessman opened a spa here, and the industry has flourished ever since. You don't have to be a resident at one of Beitou's hotels to take a dip in their hot spring baths. Nearby, the green sulfur waters of the Beitou Thermal Valley, while too hot for bathing, offer beautiful views.
Taroko Gorge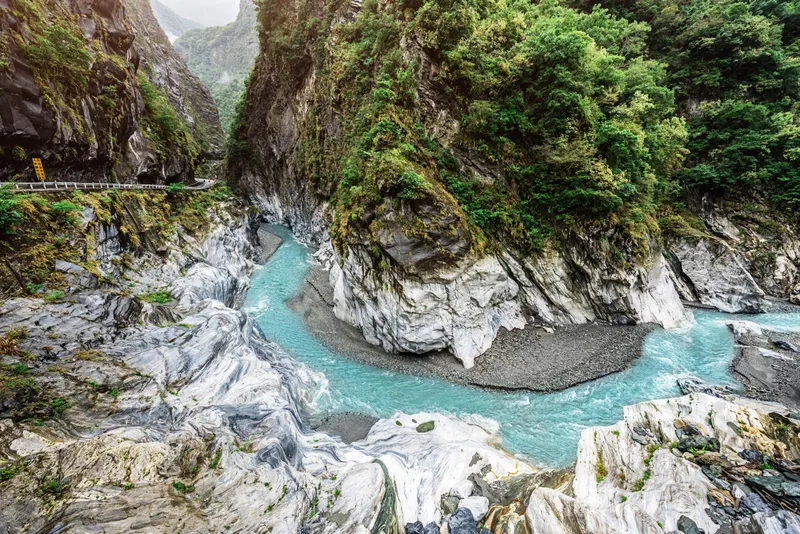 A scenic, coastal train ride away from Taipei, Taroko National Park is a jewel among Taiwan's natural wonders. At times, the gorge's vertical cliffs and winding tunnels come so close together that, from a distance, they appear to meet. From the park entrance, take the Taroko Gorge Trail to the Eternal Spring Shrine. Built in memory of those who died constructing the Central Cross-Island Highway in the late 1950s, the shrine features a tranquil pavilion and waterfall. Swallow Grotto, a 0.3-mile stretch of marble and limestone west of the shrine, is one of the park's most popular trails for its stunning views of the turquoise Liwu River and the swallows that flit in and out of the rock face. Farther west, the Tunnel of Nine Turns offers incredible views of the gorge's white marble cliffs, winding through some of its narrowest sections.
Taitung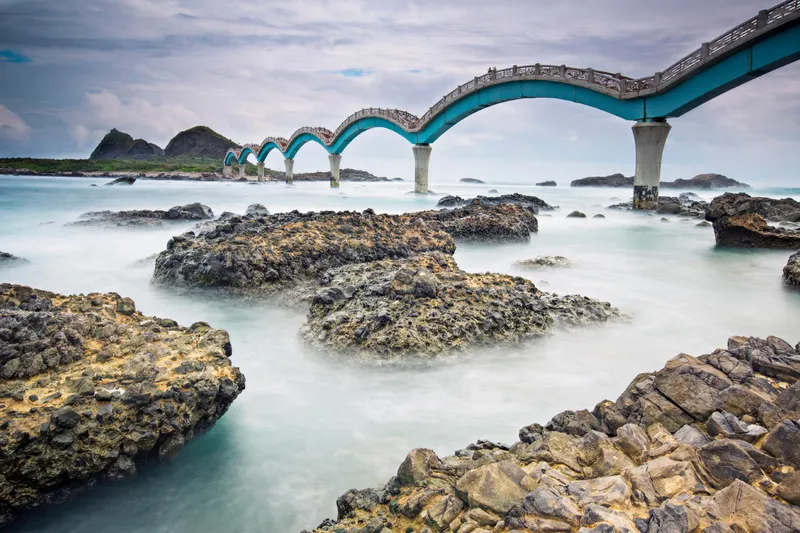 Less developed than Taipei, the atmosphere of Taitung is pleasant and laid back. Situated on Taiwan's east coast where the Eurasian and Philippine Sea tectonic plates meet, it is home to an impressive geological landscape. Head to Siaoyeliou, a veritable sculpture park of rock formations molded by sea erosion, or cross Taitung's famous eight-arched bridge, built to resemble a dragon, to reach Sansiantai Island, a nature reserve offering exceptional views of sunrise and sunset.
And step back in time with a visit to the Caves of the Eight Immortals, the discovery site of Taiwan's oldest prehistoric civilization.
Kaohsiung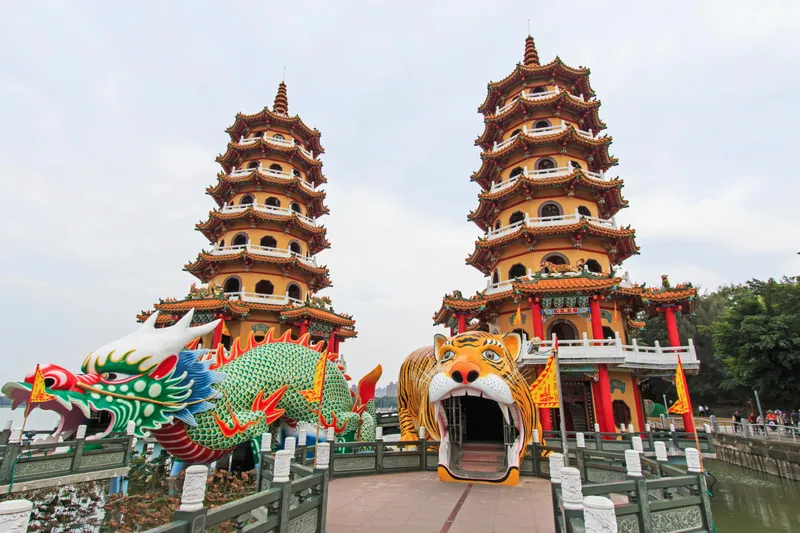 Kaohsiung is Taiwan's largest port. While a busy city with industrial roots, it is also home to tranquil walks and an impressive array of temples and pagodas. Visit the Dragon and Tiger Pagodas on Lotus Pond, in which larger-than-life dragon and tiger sculptures function as entrance and exit.
The nearby Spring and Autumn Pavilions are equally extravagant. Dedicated to the God of War and God of Mercy, they feature a giant, colorful sculpture of the latter riding a dragon. To complete your tour, find Taiwan's largest Confucius Temple at the northern end of the Lotus Pond.
Maolin National Scenic Area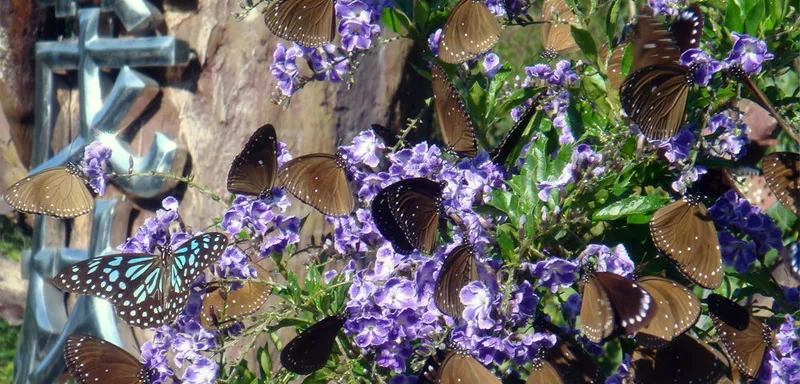 Southeast of Kaohsiung is Maolin National Scenic Area, a stunning region covered in virgin forest and dotted with hot springs, waterfalls and gorges. Here, enjoy some of the island's best hiking trails, including a former tribal warpath. Be sure to visit Purple Butterfly Valley, the overwintering site of an estimated one million Euploeini butterflies, whose wings shine a deep blue-purple in certain lights. In nearby Meinong Folk Village, marvel at traditional Hakka crafts, such as handmade paper umbrellas.
Tainan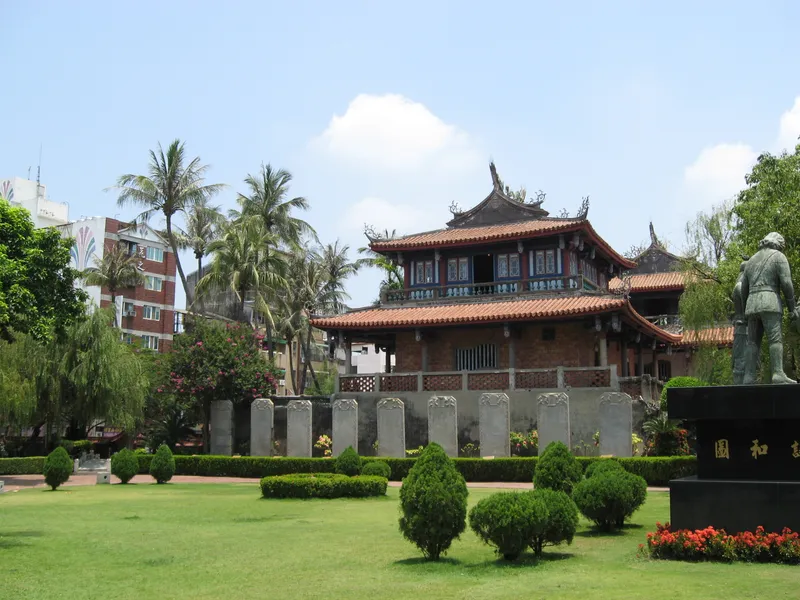 Tainan has a long and colorful history. In the 17th century, it was the operational base for the Dutch East India Company and was Taiwan's capital during the Qing Dynasty. Highlights include the Chihkan Towers and Fort Anping, built by the Dutch in 1653. After wandering through the manicured lawns of the Chihkan Towers, be sure to pay a visit to the row of nine Qing-Dynasty stone turtles carrying tablets on their backs. At Fort Anping, stop into the museum to learn about the Dutch occupation, and for a taste of traditional Chinese culture, head to Taiwan's oldest Confucius Temple.
Sun Moon Lake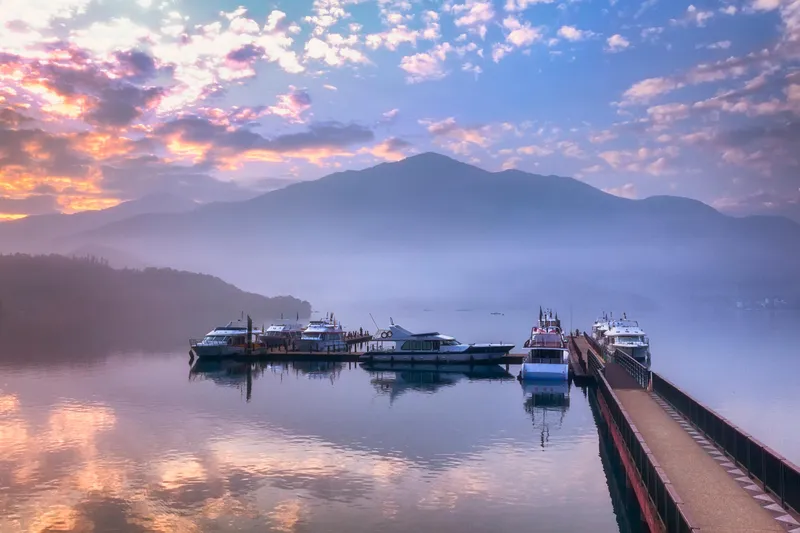 Taiwan's largest alpine lake, Sun Moon Lake is renowned for its both natural beauty and cultural heritage. The weather is pleasant year-round, and temples and pagodas dot the surrounding countryside. Head to Chi-En Pagoda, or "Pagoda of Filial Virtue," for outstanding views. Chiang Kai-shek, for whom Sun Moon Lake was a cherished vacation sport, erected the monument in honor of his mother. In the spring season, the trail leading up to the pagoda ignites with fireflies. A pedestrian-bike path hugs the lake's perimeter, and cruises depart daily from it shores. Rent a rowboat or canoe for more leisurely exploration.
Lukang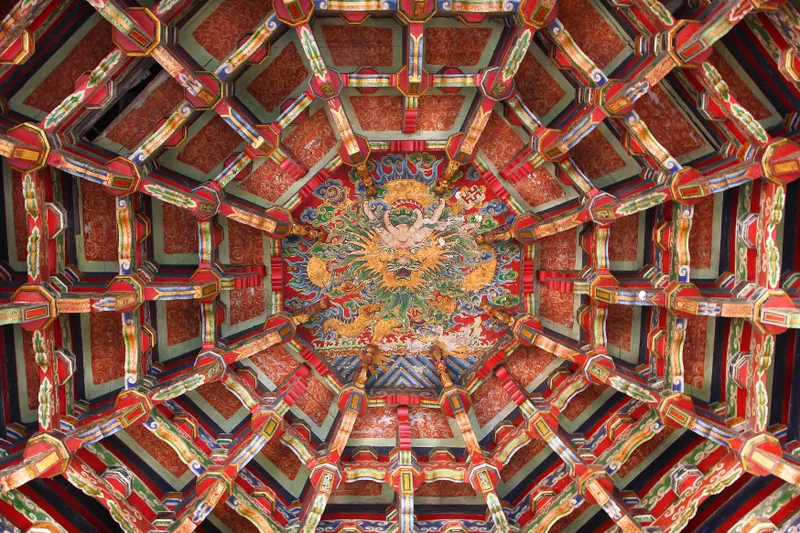 Lukang, on Taiwan's west coast, is rich with history and culture. Of particular note is its traditional architecture. Dating back to the Qing Dynasty, the Lungshan Temple is Lukang's largest and features an elaborate, nail-less wooden ceiling above its outdoor stage. Lukang Tienhou Temple is similarly ornate. Meaning "Queen of Heaven" temple, Lukang Tienhou honors the deity Matsu, goddess of the sea, whose statue has darkened from years of collecting incense residue. Other sights include Nine Turns Lane, one of old Lukang's best-known winding streets designed to withstand high winds, and the Lukang Folk Arts Museum, a Japanese-era mansion housing more than 6,000 historical items.
Taichung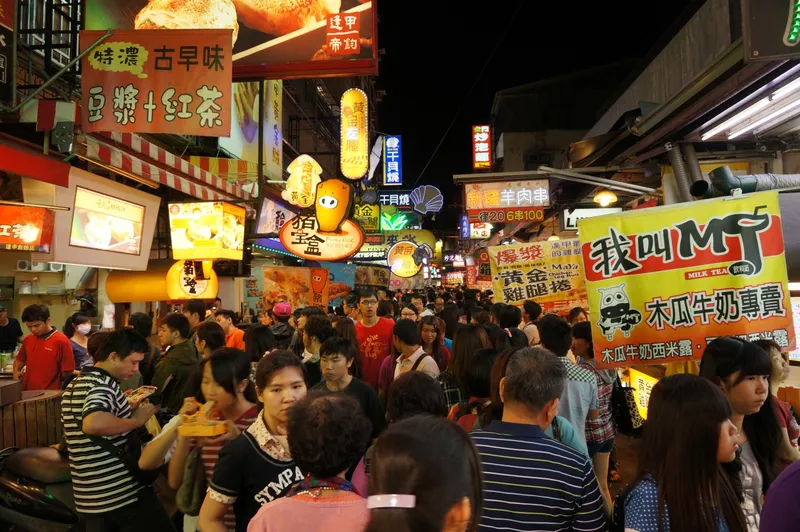 During the Japanese colonial era, Taichung was an industrial center and the source of many "Made in Taiwan" products. Today, it is known today for its pleasant, dry weather and regarded today as an attractive university city. Numerous shopping malls and nightclubs appeal to the younger generation and inspire an active nightlife. Taichung is also home to notable firsts: Taiwan's first national fine arts museum and Chun Shui Tang Teahouse, allegedly the original bubble tea shop.