French Authorities Are Clearing Out the 'Jungle' Refugee Camp
Refugees hoping to cross to the U.K. are being bussed from a makeshift camp near Calais to reception centers around France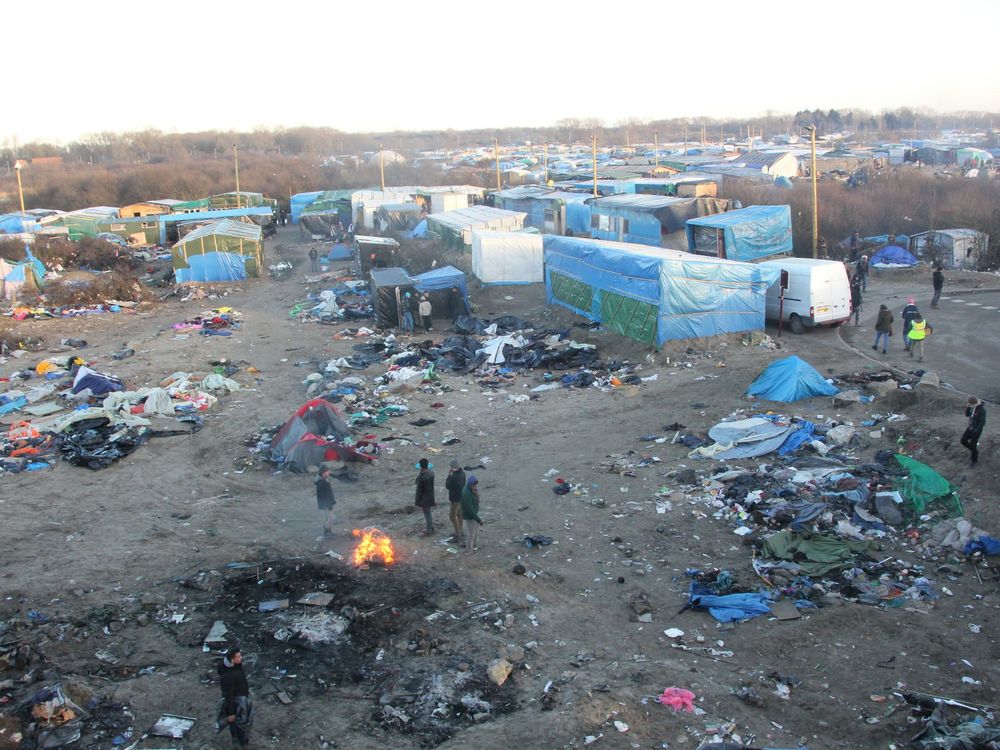 This week, hundreds of people, most of them young men, gathered up their belongings in wheeled suitcases and duffel bags and trudged through the muddy streets of a refugee camp known as the "Jungle" for the last time as French authorities began dismantling the settlement. Mauricio Lima and Adam Nossiter at The New York Times report that the camp outside Calais grew over two years to a population of between 6,000 to 8,000 migrants, most from Afghanistan, Syria, Eritrea, Sudan and other nations experiencing conflict.
The camp was strategically placed near the entrance to the Channel Tunnel which spans the English Channel. Many migrants hoped to sneak onto cargo trucks entering the tunnel in order to make it to Great Britain, where many believed they had the best chance of finding work. Britain's economy is stronger than the rest of Europe, and many immigrants know some English. Hostility toward immigrants in the rest of Europe and the language barrier makes the continent less attractive.
According to Bryony Jones at CNN,  authorities began bussing the migrants to reception centers around France. Then teams of workers in orange jumpsuits moved into the makeshift village, which covers less than 2 square miles, tossing tents and old mattresses in dumpsters and making sure no one remains in the area before razing more solid structures with an excavator. So far, about 3,100 people have been evacuated from the camp, but removing everyone will take until early December.
There are concerns about the demolition. Jones reports there are 1,200 children living in the camp. The UK has accepted 200 children from the Jungle who claim to have relatives in the country, but there are some 800 children claiming family ties in the UK who have been interviewed by Home Office officials in the camp in the past week, The Guardian reports.
Carolyn Miles, president of Save the Children, called for a halt to the demolition until the situation can be sorted out. "[W]e are deeply concerned for the fate of hundreds of children who remain and who do not know where they will sleep tonight and have no information on what tomorrow will bring," she says in a press release. "There is no way the demolition can start until all children have been properly identified and provided for—to do otherwise would be unconscionable."
Many refugees are fine with leaving. The New York Times points out that fences and barbed wire have made hopping trucks nearly impossible, and many of the refugees have given up hope of making it to the UK. Others, especially women, say they are happy to leave the camp, which is cold and sometimes violent.
Still, a handful of residents will not let go of their dream of reaching the UK and vow not to leave the camp. Others will comply with authorities, but are frustrated by the process. Habib Ahmadzai, a 23-year-old business management graduate from Afghanistan came to the Jungle six months ago in the hopes he could join his brother and sisters living in the UK, who have been residing there for 20 years. But because he is an adult, he tells The Guardian that he's being told he should go home. "I am not happy. I am not happy with what happened with me. My family are like a few hundred kilometers from me and now I have to go a thousand kilometers back."