Zoo Announces the Death of Its 30-Year-Old Bald Eagle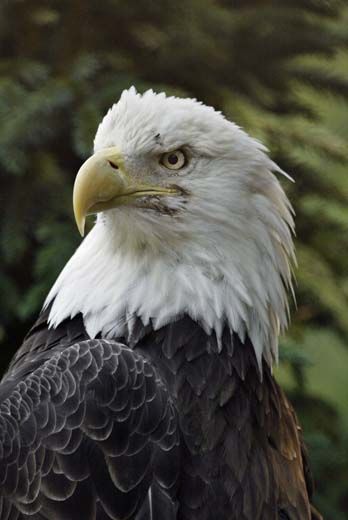 A bald eagle, thought to be more than 30 years old, was euthanized on New Years Eve, the Zoo reported late yesterday afternoon. On December 28, Sam, a wild-born female, was found ill in the Zoo's bald eagle habitat exhibit and taken for treatment to the facility's veterinary hospital. At first the animal responded to the zoo keepers ministrations, but after her condition worsened, she was "humanely euthanized," according to the report.
Sam arrived at the Zoo in 2003. She had suffered a gunshot wound in Alaska in 1986, and the injury had left her unable to fly or to be released back into the wild. Prior to coming to the Zoo, Sam had lived in Pigeon Forge, Tennessee, at the American Eagle Foundation, located at the popular amusement park known as Dollywood.
Her companion, Tioga, a male that is also unable to fly or to care for itself in the wild, is the Zoo's one remaining bald eagle. The Zoo says it is currently considering the possibility of adding more bald eagles to its collections, but no immediate plans are underway. Tioga is 12 years old. In the wild, bald eagles live into their late teens or early 20s.
The American bald eagle, once threatened with extinction, has made a dramatic comeback. Once ranging across the entire North American continent from Canada to Mexico, the population dwindled from a high of 100,000 nesting individuals in the late 1700s to just 417 pairs in 1963.  The pesticide DDT, widely dispersed in the United States throughout the 1940s and 50s, had become concentrated in the food chain and caused bird egg shells to weaken. The subsequent ban of the pesticide in 1972 along with vigorous recovery efforts headed up by the U.S. Fish and Wildlife service, as well as other state and federal agencies and public and private conservation groups, reversed the animals' precipitous decline. And in 1995, after 22 years on the Endangered Species List, the bald eagle's status was downgraded from endangered to threatened. Today, some 9,800 pairs, one of the biggest conservation success stories in the history of the world, are now nesting in the United States.
The Zoo's exhibit, "The Bald Eagle Refuge" is currently closed due to the nearby construction of a new exhibit for seals and sea lions.