Yes, Women Once Played Pro Baseball, Says Ex-Pitcher Mamie Johnson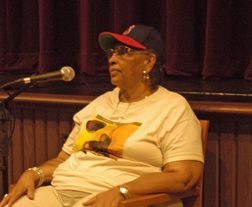 "A lot of people don't know that women used to play professional baseball," said Mamie "Peanut" Johnson, looking appalled.
If you didn't know this either, prepared to be schooled.
Mamie is one of three women who played in the Negro Leagues, all-black baseball teams where giants like Hank Aaron, Jackie Robinson and Satchel Paige got their start in the years when baseball, like almost everything else in America, was segregated. The Leagues drew thousands of fans, had their own World Series and All-Star Game, and for many years were one of the nation's biggest black-owned and –operated businesses.
Mamie, who was invited by the Anacostia Community Museum yesterday to speak as part of an exhibit about the Negro Leagues, said her path to the pitcher's mound was far from smooth.
She started playing ball as a kid. When times were hard, she made her own baseballs out of twine, masking tape and rocks. In 1953 she signed with the Indianapolis Clowns (who, through some strange trick of geography, were actually based in New York). For the next two years, she was the only female pitcher amid a sea of male sluggers.
"Some guy told me I couldn't strike him out because I was no bigger than a peanut," said Mamie. The way she tells it, she nodded at the guy. And then she struck him out. That's when she got the nickname "Peanut."
Robert Hall, Assistant Director for Education at the Anacostia Community Museum, said it was important for museum-goers to hear from one of the few women who played the game."If you looked around, you saw there were a lot of girls," he said, referring to the audience at the lecture. "She's told the girls a part of their history they didn't know about."
Did you know women once played pro baseball? Could that ever happen again? Tell us what you think in the comments area below.