Would Baseball have Become America's National Pastime Without Baseball Cards?
Tobacco companies spurred the mania, but artistry won the hearts of collectors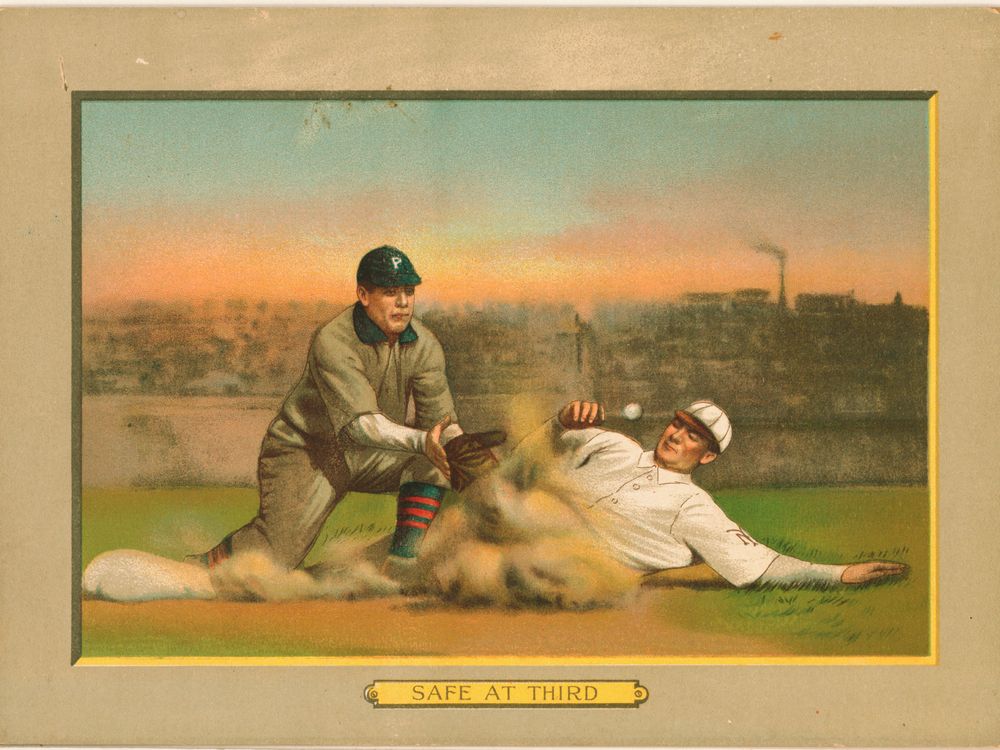 Today, collectors are most likely to think of baseball cards in the context of the 1950s, when collecting was at its peak. The cards complemented a thriving game, a signature American sport that was gaining a lasting foothold on television. To envision Mickey Mantle or Willie Mays on cards of that era is to think of broad grins and carefree afternoons.
That was the heyday of cards, and the gum that came with them, wrapped together in the crinkly package. The universal rite of every boyhood passage has to be the moment when Mom cleaned out the closets and trashed the much-revered baseball card collection.
But cards of the late-1800s and early 1900s played a different role. In a time when few could make it to the ballpark in person, these cards provided what might be the only tangible connection between a fan (usually a young boy) and a ballplayer. It may seem odd that the first cards were such a draw, since the first prominent cards, called Old Judge and first issued in 1887, were austere and hardly emblematic of rambunctious boyhood. Posed in a studio, the players are stiff and distant, the background sketches frequently identical. Perusing Peter Devereaux's rich new history, Game Faces: Early Baseball Cards From the Library of Congress, out in October from Smithsonian Books, it becomes clear to this reader that if cards had continued in such a drab fashion, the collecting hobby may never have taken off.
Ballplayers sliding into bases, notes Devereaux, who is a writer and editor at the Library of Congress, often had surprised looks, perhaps he says, because they were startled from flashbulbs going off. While players posed in studios hitting baseballs hanging from a string, not a hint of fun or whimsy was portrayed. The well-regarded collector and dealer Lew Lipset, whose nickname is 'The Old Judge,' said that the Old Judge cards have stood the test of time because "they're historic. And they really were the first serious set."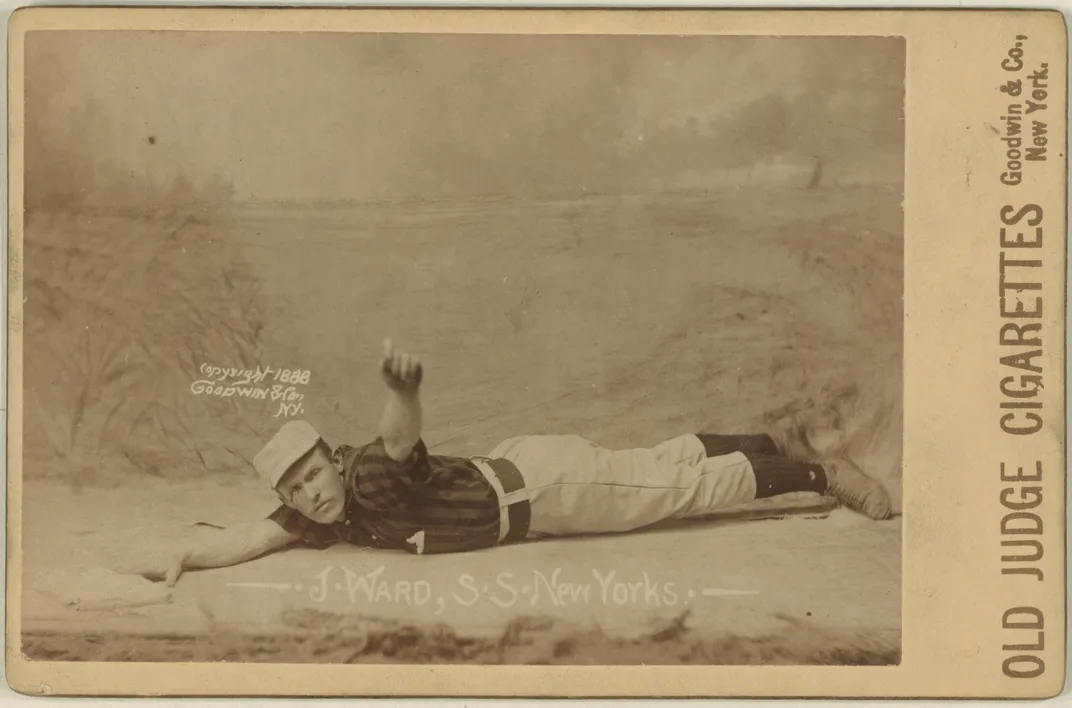 The burgeoning popularity of baseball card collecting was due, in part, to early 20th-century photographer Paul Thompson. Working as a freelancer in New York around 1910, Thompson's photographs were the basis for the artwork on many of the cards that were sold with cigarettes. These tobacco issues brought baseball cards to the forefront as American collectibles.
It was the images themselves, more than anything, which did the trick. Devereaux characterizes Thompson's portraits as "simple, straight-on, head-and-shoulders shots with the players gazing directly into the camera, their expressions often revealing the hard-bitten lives they were leading." Thompson had worked at the New York Evening Sun as a sports editor and later moved to Illustrated Sporting News, but it was the work that he did photographing the American author Mark Twain, for which he was paid $1,000, that afforded him the fortunes he needed to set up his own photography studio in Lower Manhattan. Tobacco companies hired him to create the baseball cards that Devereaux says "preserved his photographic legacy."
Thompson's portraits of the players had what Harry Katz, former photography coordinator of the Library of Congress, calls a "rough dignity." The images were also tinged with the ethos of mythmaking—players were often portrayed heroically—and especially appealed to child collectors.
Card quality also improved. Buoyed by the introduction of a new technique called halftone, which allowed for what Devereaux calls "faithful reproduction of players' photographs," cards in this period, noted by collectors as the famous T205 set, are stunningly vivid. The cards are so colorful, thoughtfully-presented and nuanced that they rightly can be considered works of art. It's no wonder that young collectors were drawn to them. While noting that the idyllic backdrops on many contemporary cards was mostly an illusion, Devereaux points out that the high demand for baseball cards of this period derives largely from "their vivid hues and depictions of handsome players set against luminous skies," which "may conjure images of an elegant Victorian game that was played in bucolic pastures."
The oversized T3 Turkey Red cards, issued in 1911, are a case in point. "The deep, lush colors of these gorgeous cabinet cards, surrounded by a decorative frame, led many people to tack them on their walls as works of art," writes Devereaux. "The vivid, detailed imagery would often cast players against a soft-focused skyline replete with billowing smokestacks or bleachers packed with fans, evoking the aura of nineteenth-century cities."
Longtime vintage card collector Mark Macrae notes that the cards were often used to stiffen packs of tobacco. Certainly, that utilitarian purpose justified their creation. But the cards became genuinely popular through the aggressive marketing by tobacco companies of their products, often directly to children.
Tobacco companies had no inhibitions about catering to young collectors, and, with it, the popularity of the cards surged. The industry "directly advertised and sold cigarettes to minors," writes Devereaux, and he cites an 1888 New York Times article claiming that companies provided "premiums that enticed boys to excessive cigarette smoking." Several stars, including Ty Cobb and Christy Mathewson in the 20th century, appeared in cigarette ads, thus heightening the product's appeal to boys.
In time, collecting options proliferated. By the second decade of the 20th century, baseball collectibles with tobacco products took different forms, from discs to stamps. Soon, there would be a proliferation of cards included with other products, most notably with pieces of caramel and, in 1914 and 1915, in boxes of Cracker Jack. By the time tobacco cards were phased out, with World War I necessitating the conservation of paper and ink, baseball cards were entrenched, at least in the public consciousness, as the indispensable collectible.
It is in their role as a pictorial companion to the game and its history that these cards are most recalled today. Devereaux suggests that baseball cards' endurance as pieces of Americana comes from being available almost since the first professional baseball game was played: "These cards were one of the first visual depictions of the game as it was being absorbed into the popular culture. By the turn of the twentieth century, baseball cards reflected the expansion and energy of America's great pastime during an era when the game's rawness and irreverence captivated a nation that itself was undergoing a profound transformation."
What is remarkable is that that the key collectible of a century ago remains a backbone of the sports collecting hobby today. Many veteran collectors would likely say that the cards of 1887 up through World War I are still the ones to collect, and it often has little to do with their value. The cards of this bygone era have a simplicity, earnestness, vigor, rawness, innocence, boldness and fragility, all at the same time. If newer cards have better production values, these vintage cards have spirit and soul.
Baseball cards in the early 20th century provided the greatest advertising to the sport imaginable: they made the game accessible. The cards provided a vital connection to a sport competing with sports from horse racing to boxing for a place in the country's psyche. Tobacco cards also served to make a game of frequently rowdy, coarse, and often uneducated men palatable to a broader audience and to promote the game at a time of its relative infancy. This diminutive promotional tool proved to be more effective in each of these respects than anyone could have hoped.
John N. McMurray will visit the Smithsonian October 1, 2018 for an evening program with Smithsonian Associates to examine how the World Series came to be, along with a fascinating replay of highlights from Series history. Purchase tickets here.
A Note to our Readers
Smithsonian magazine participates in affiliate link advertising programs. If you purchase an item through these links, we receive a commission.