World's Largest Stamp Gallery to Open in Washington, D.C.
America's most famous stamp, the Inverted Jenny, goes on permanent view for the first time in history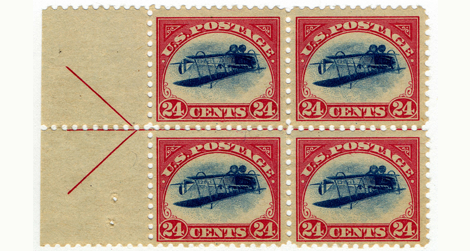 Stamp collectors like nothing better than a mistake. Take for example the notorious blunder of 1918 that flipped a Curtiss Jenny aircraft upside-down on a United States 24-cent postage stamp. The so-called "Inverted Jenny" has since become America's most famous stamp and one of the world's most famous errors. "This is a stamp that just makes every collector's heart beat," says Postal Museum curator Cheryl Ganz.
On Sunday, September 22, the original Inverted Jenny goes on permanent view for the first time in Smithsonian history. Presented in a four-stamp block with three singles, the Jennies are the crown jewels of the new William H. Gross Stamp Gallery, a 12,000-square-foot addition to the Postal Museum. The gallery will feature some 20,000 philatelic objects, a handful of which are reproduced below. Curator Daniel Piazza hopes that the Jennies will become a "stop on the tour of Washington," canonized with other great artifacts in American history.
The Jenny was the first U.S. airmail stamp as well as the first airmail stamp to be printed in two colors. Its complex production process allowed ample room for error. One collector, William T. Robey, anticipating a potentially lucrative printing error, was waiting for the new stamps at a Washington, D.C. post office on May 14, 1918. He asked the clerk if any of the new stamps had come in. "He brought forth a full sheet," Robey recalled in 1938, "and my heart stood still." The image was upside down! "It was a thrill that comes once in a lifetime."
Robey sold the sheet of 100 stamps for $15,000. That sheet, which was later broken up, has a storied history that includes resale, theft, recovery, deterioration and even some fleeting disappearances. The National Postal Museum says that the Inverted Jenny is the stamp that visitors most often ask for, but because of conservation issues, the stamps were rarely put on view; the last time was in 2009.
The Jennies will be displayed in a custom-designed case fitted with lights that automatically switch on and off as visitors move through the exhibit. Also debuting on the Stamp Gallery's opening day is a new $2 USPS reprint of the Inverted Jenny, so visitors can take home the best loved error in philatelic history—at a fraction of the price tag.
UPDATE 9/23/2013: This post has been updated to indicate that the Jenny stamp was the first bicolored airmail stamp and not the first bicolored stamp.
Scroll down to preview other treasures from the William H. Gross Stamp Gallery: