Women's History Month-Meet Artist Margarete Bagshaw
For third-generation Pueblo artist Margarete Bagshaw, the phrase may as well be "like mother, like daughter, like grand daughter."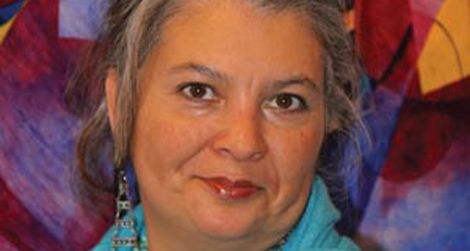 We all know the saying "like mother, like daughter" but for third-generation Pueblo artist Margarete Bagshaw the phrase may as well be "like mother, like daughter, like grand daughter." Following in the footsteps of her mother, Helen Hardin (1943-1984), and grandmother, Pablita Velarde (1918-2006), Bagshaw is part of a multi-generational female painting dynasty. Born in New Mexico, Bagshaw grew up surrounded by her mother and grandmother's artwork, though she didn't start producing her own works until the 1990s.  Her family's legacy of artwork can be viewed exclusively at Golden Dawn Gallery in Santa Fe, New Mexico.
This Saturday, March 12, Bagshaw will be speaking about her work and participation in the National Museum of the American Indian's exhibition, Vantage Point: The Contemporary Art Collection. This past week in an email exchange, I weighed in with the artist about family, legacy and and growing up under the influence of strong, independent women.
What is it about working across generations that brings new beauty and life to your artwork?
I have a very deep and sincere respect for my mother and grandmother's lives and the work they did. When I paint my own compositions, I can connect with their independence, strength and creativity. If I choose to reference something from their paintings in something of mine, as in my "Mother Line" series, it is like hearing their message, but interpreting it my own way.
Tell us a story about you and your mother and your grandmother?
When I was very little, until I was about 8 years old, the three of us were inseparable. If I wasn't with one, I was with the other one. We lived close to Grandma so I could walk home to her house from school, so that's what I did every day. One day my Mom showed up to get me and a friend asked me who that lady was... I told her it was my sister! Looking back, I really felt that grandma was our mother; we all answered to her and as long as she was around we were safe and secure. My mom was young and much better looking than anyone else's mom... So they believed me!
When women come together to celebrate their history and legacy this month, what is your take home message?
Remember the women before you who broke boundaries, lost there lives, fought for justice, went against the grain, challenged authority! Remember it was women who gave birth and raised men who became noble leaders. Look in the mirror and know that women are thinkers, intellectuals, healers and progressive people. As my grandmother, Pablita Velarde, used to say, "I'm not going to let some man tell me what I can and can't do. Half the time they don't know what they're talking about! Besides... I make more money and work harder then most of them do!"
Margarete Bagshaw's lecture and discussion is on Saturday, March 12 at 2 PM at the National Museum of the American Indian on the fourth floor in room 4018. Vantage Point: The Contemporary Art Collection is on view on the third floor in the Richard West Jr. Contemporary Arts Gallery.