"Women and Spirit: Catholic Sisters in America" at the Ripley Center
Traveling exhibition makes some noise for the "quiet contributions" of Catholic sisters
I think most people are confused by nuns. I am Catholic and still my knowledge of the sisterhood comes in embarrassingly-little bits and pieces—that they take vows of chastity and obedience, devote their lives to prayer, wear habits (and, from the stories my mother's told me about her Catholic school education--they can be strict!).
So when I heard that the Smithsonian's S. Dillon Ripley Center is hosting a traveling exhibition called "Women and Spirit: Catholic Sisters in America," I was intrigued and decided to check it out. The exhibition, which opened January 15 in the International Gallery, brings to light another dimension to Catholic sisterhood.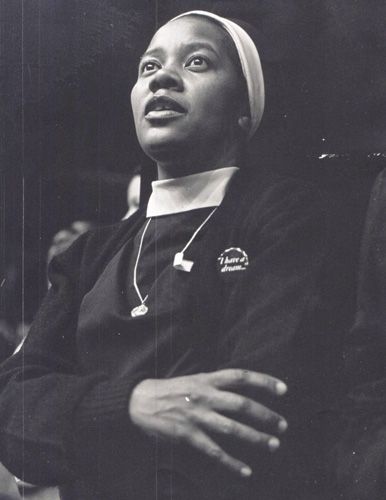 Against all stereotypical typecasting, these woman are cast as pioneering, and surprisingly progressive, leaders in their communities who helped to build America's healthcare, education and social services, at a time even when women didn't have the right to vote. They raised funds to build schools, hospitals, orphanages and colleges before most women in the United States could legally own property, negotiate contracts and acquire loans. And they entered the workforce decades earlier than most women. "They didn't wait for 'somebody else' to do the job that needed to be done," says Ellen Dorn, director of exhibitions for the International Gallery. "They just went right into action when a need arose." Like during the Civil War, when more than 600 sisters served as nurses, or the Civil Rights Movement of the 1960s, when nuns marched at Selma and with Martin Luther King, Jr. "Women and Spirit" takes what it calls the "quiet contributions" of Catholic sisters and, finally, makes some noise about them.
With the help of 70 artifacts, the exhibition highlights the achievements of many sisters. Just to name a few, there is Mother Alfred Moses, who helped develop the Mayo Clinic in response to a horrific tornado in Rochester, Michigan, in 1883; Katherine Drexel, who founded Xavier University in 1915, then the only Catholic school for African Americans; and Carolyn Farrell, a sister who, in 1980, became the mayor of Dubuque, Iowa. Dorn hopes that visitors take away "a new or renewed respect and appreciation for what these women have done and continue to do." I, for one, did. "Women and Spirit: Catholic Sisters in America" is open through April 25, 2010. From there, it travels to three other locations.