William Wiley Opens His Show at the American Art Museum with Pinball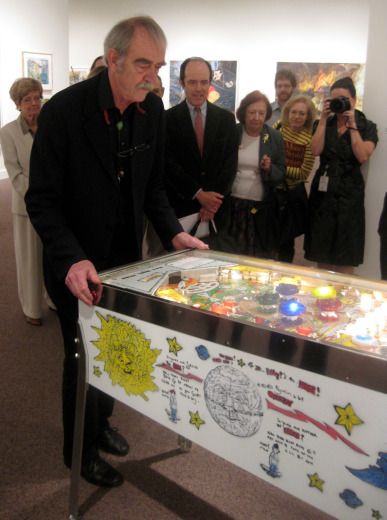 William T. Wiley is a soft-spoken California artist whose sense of humor and affinity for the absurd permeate the work of his 50-year career. Tomorrow, the first major retrospective of his art opens at the Smithsonian American Art Museum. The objects on display range from paintings to prints, sculptures to mixed media and video to pinball. Yes, there's a pinball machine. In the gallery. And you can play it. (At specified times, of course.)
In fact, that's how Wiley chose to christen the exhibit—with a rowdy game of pinball. He's a low-key kind of guy, preferring a Western bolo tie to a more formal necktie, but when it comes to the pinball, he's pretty intense. His lips curl, and his brow furrows. He jokes about how more serious afficionados play by getting their whole body into it. He demonstrates by wrapping one leg around the shin of the other.
"I myself was not a heavy pinball player as a kid," Wiley said. "I've played a few times, but I was not hoping that somehow a pinball machine would come into my life and I'd design it. When this occurred, it was just a great opportunity. Why not?"
The machine itself, a redesigned vintage North Star game created for a collector, is titled Punball: Only One Earth. It's a "global warning" about global warming. Text running across the machine reads "the eye scabs are melting" and refers to the ice caps that are melting. This playful take on language is present in all of Wiley's work.
His paintings are jammed with layers of puns and pop culture references. He transforms "Jesus Saves" to "Jesus Slaves" and "Lewis and Clark" to "Clue Us and Lark." Museum director Elizabeth Broun says his work is impossible to reproduce. "You have to see it in person," she said. Photographs cannot do justice to the intricate double meanings and wordplay. But his work isn't just fun and games, the pieces address serious and often somber topics: the shooting of a man in New York City and the nuclear reactor accident at Chernobyl.
When the pinball machine jammed during Wiley's game, Virginia Shore from the State Department's Art in Embassies Program offered up a quarter. Wiley inserted it into the slot, and a deep thud resonated through the gallery. That part of the machine had apparently been removed. "Now my quarter is part of the piece," Shore joked.
This Saturday at 11:30 AM, Wiley will once again showcase his pinball skills as four other machines join him in the Kogod Courtyard for Family Day. In addition, he will perform some original music.