In August, as dozens of California farmworkers marched hundreds of miles to the state capitol in Sacramento, in support of a bill that would bolster their union rights, they chanted: "Sí, se puede," ("Yes, we can"). Passing cars honked in support.
A month later, a few weeks after Labor Day, California Governor Gavin Newsom approved the historic measure to allow farmworkers in the state to vote in union elections by mail. The Biden White House had urged the governor to support the bill, stating that "farmworkers worked tirelessly and at great personal risk to keep food on America's tables during the pandemic."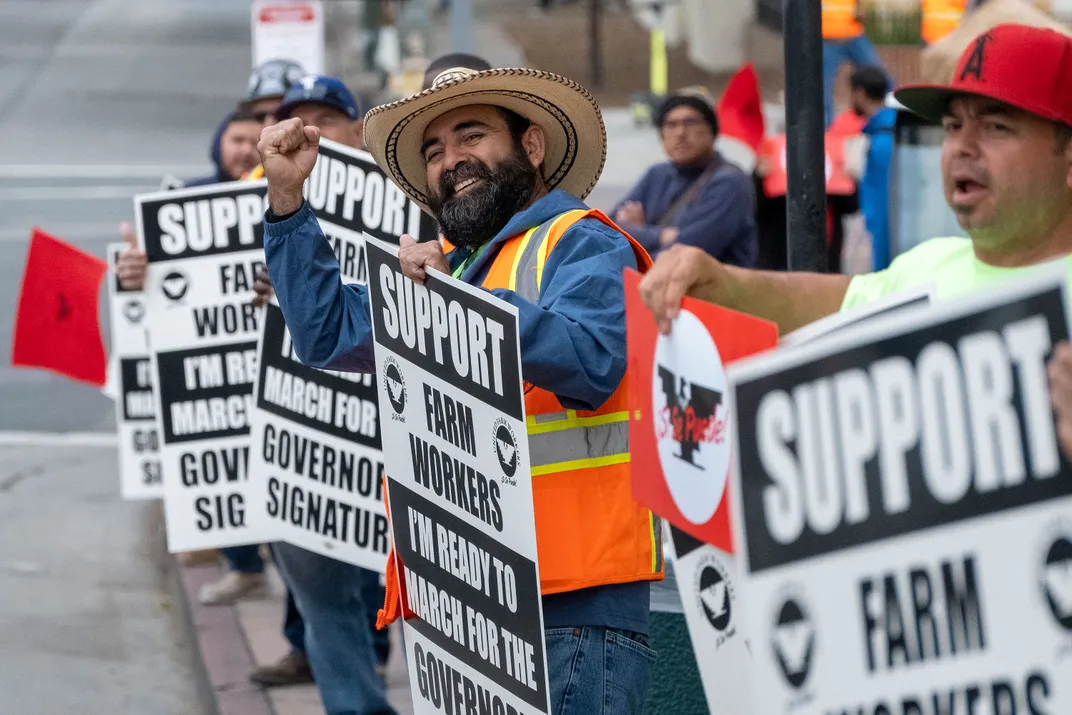 It was a moment that mirrored another long march a little over half a century ago, when two formidable labor organizers, César Chávez and Dolores Huerta, co-led nearly a hundred striking agricultural workers hundreds of miles north from the farming hub of Delano to the state capitol. Inspired by the nonviolent ethos of the civil rights movement, the pair brought revelatory attention to the struggle of the nation's farmworkers.
For five years, the farmworkers led by Chávez and Huerta, co-founders of the United Farm Workers (UFW) movement, had successfully faced off against the corporate abuse of California's immigrant workers by sponsoring strikes and mobilizing some 17 million Americans to participate in nationwide grape and lettuce boycotts. The effort would lead to key state legislation guaranteeing farmworkers the right to collective bargaining.
A brightly colored poster, above, crafted during that era and held in the collections of the Smithsonian's National Museum of American History went on view last year in the exhibition "¡Presente! A Latino History of the United States," the first show curated by the new National Museum of the American Latino. Against a hot orange sky, the placard depicts the bent figures of workers picking from rows of lettuce. In the foreground, field workers and their families make their appeal beneath the slogan "SÍ SE PUEDE."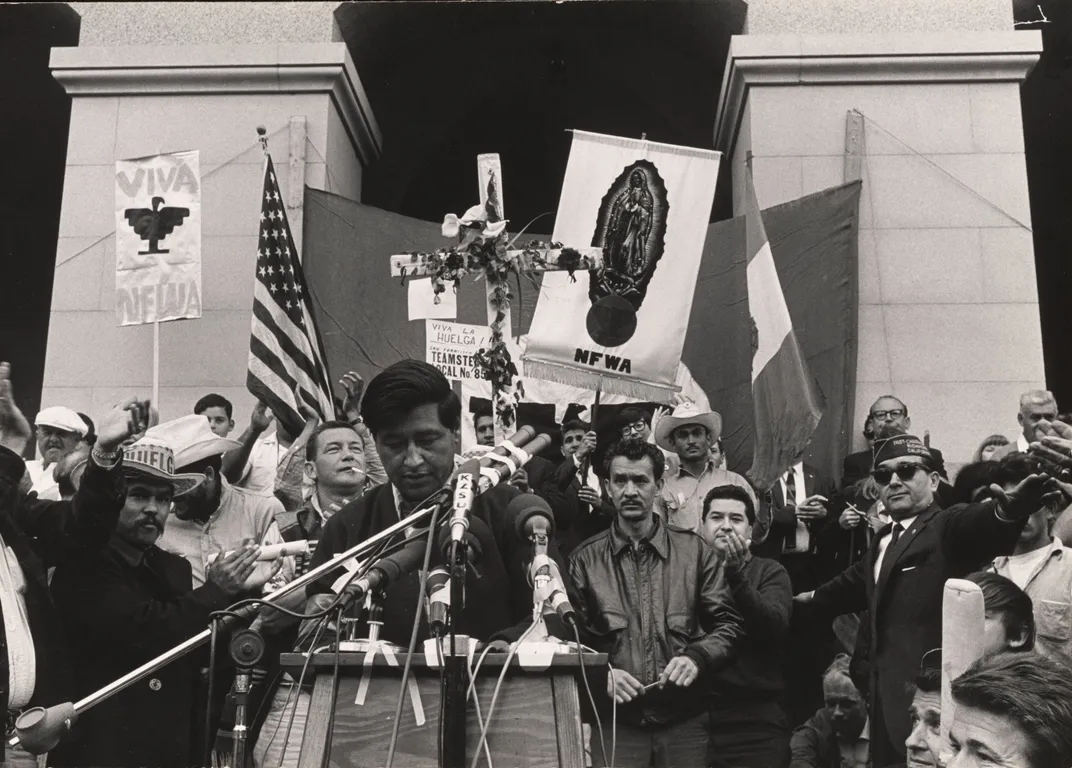 The early 1970s artwork is the product of the Chicago Women's Graphics Collective, crafted by one of the organization's original members, Leslie Nevraumont. The group's co-founder Estelle Carol once said that Nevraumont, who was passionate about the boycott, "determined to create a masterpiece and she succeeded."
"The vividly rendered details in this poster capitalize on the possibilities of a new day," says Ranald Woodaman, the Latino Museum's director of exhibitions and public programs. "Its depiction of fieldwork is clean, dignified and free from the pressures of production."
"The slogan 'Sí, Se Puede' is grounded in the optimism of collective struggles. Yes, we can change unfair, unsafe and discriminatory labor practices if we organize," says Woodaman, echoing the sentiments of Chávez, who once said:
"Our cause, our strike and our international boycott are all founded upon the deep conviction that the form of collective self-help which is unionization holds far more hope for the farmworker than any other single approach, whether public or private. This conviction is what brings spirit, high hope and optimism to everything we do."
Striking workers sought change
Agricultural laborers in California's vast fruit fields faced low pay and deplorable working conditions—unbearable heat, 12-hour shifts, no access to water or bathrooms, exposure to toxins and pesticides, substandard housing, and illnesses that spread through the camps like wildfire. So in 1965, they kicked off a series of strikes and boycotts that would last five years.
Many of the farmworkers were undocumented immigrants who had little to no legal protections and faced constant threats of deportation from the corporate managers of the powerful fruit companies. Excluded from the National Labor Relations Act of 1935, agricultural workers were not legally permitted to join, support or form unions.
But on September 8, 1965, more than 2,000 Filipino farmworkers of the Agricultural Workers Organizing Committee (AWOC) staged a massive work stoppage, refusing to harvest the fields of the Delano-area grape growers, and launching a strike that would last five years. The Filipino workers, led by Larry Itliong, asked Huerta and Chávez's organization of Mexican American laborers to join. The two groups merged into the United Farm Workers Organizing Committee, the first group dedicated to organizing farmworkers.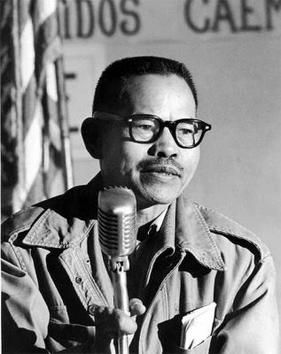 "Farmworkers were innovative in bringing solidarity unionism, where you build support and networks of support through mutual assistance, into labor organizing," says Justin Akers Chacón, a historian specializing in Chicana/o studies at San Diego City College, noting that coalition building became a key strategy in the UFW toolkit. Beyond merging with the largely Filipino AWOC, the UFW aligned politically with other organizations, including Neighbor to Neighbor's international boycott of Salvadoran coffee and Harvey Milk's fight for gay rights in San Francisco.
Chávez's activist background
Chávez had grown up in a family of farm laborers in Arizona and, later, California. After serving in the United States Navy during the World War II, he moved his family to Delano, in order to organize agricultural workers. In California, he met Huerta, the political director of the Community Service Organization, a Mexican American grassroots empowerment organization a few hours north in Stockton.
A longtime admirer of Martin Luther King Jr., Chávez sought the support of the civil rights movement. He borrowed the idea of the nonviolent boycott—which, until then, had never been used in a large-scale labor-management dispute—from King's own Montgomery bus boycott that took place 10 years earlier.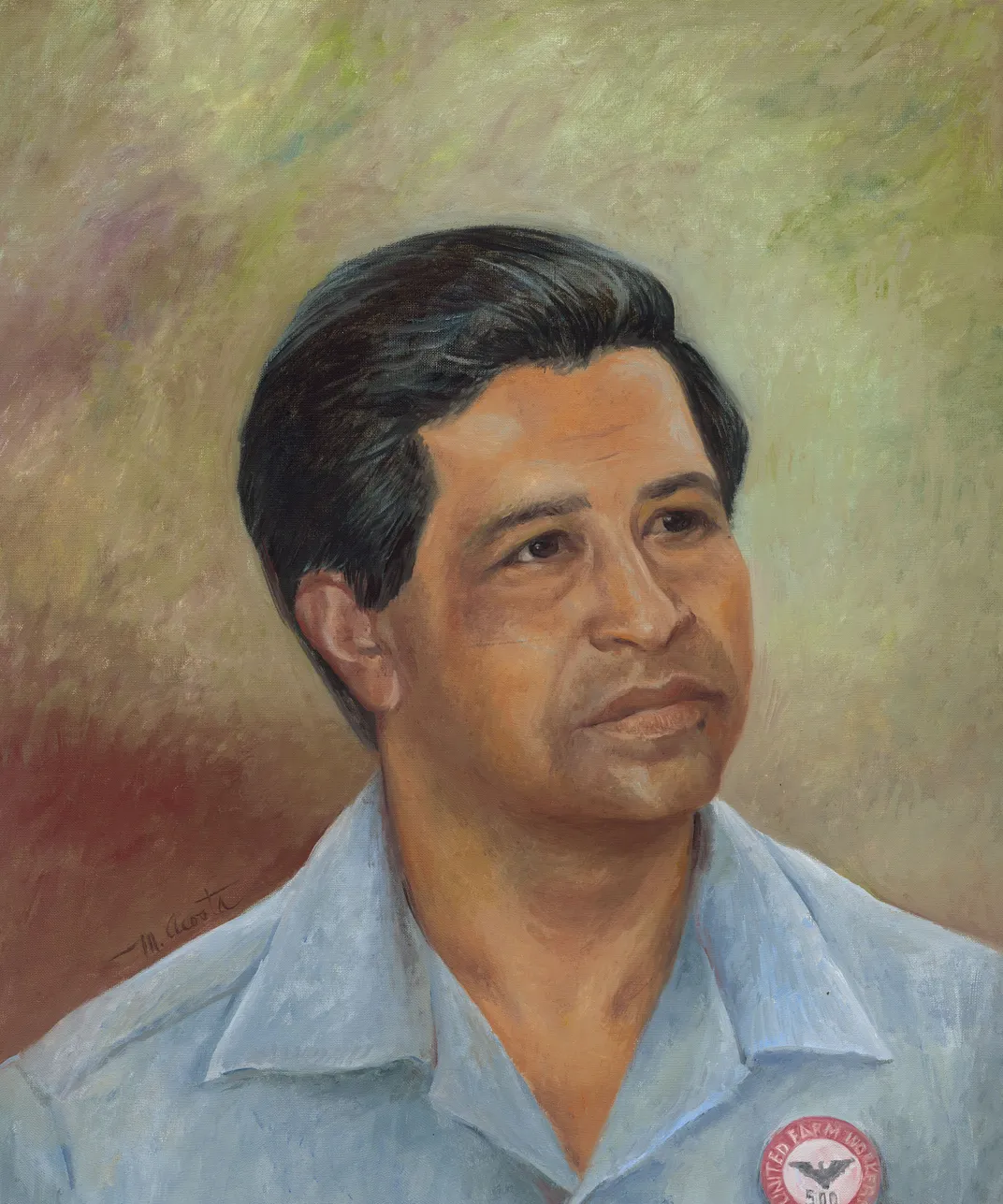 Chávez sent UFW members to distribute fliers at community centers and in supermarkets, and he went into the homes of workers himself to learn about their experiences. They picketed stores that sold nonunion grapes and lettuce. UFW members even showed up to corporate shareholder meetings to expose what was happening in the fields to investors.
"Chávez understood the structure of agricultural economy, its strong points and weak points" explains Chacón.
Huerta played no second fiddle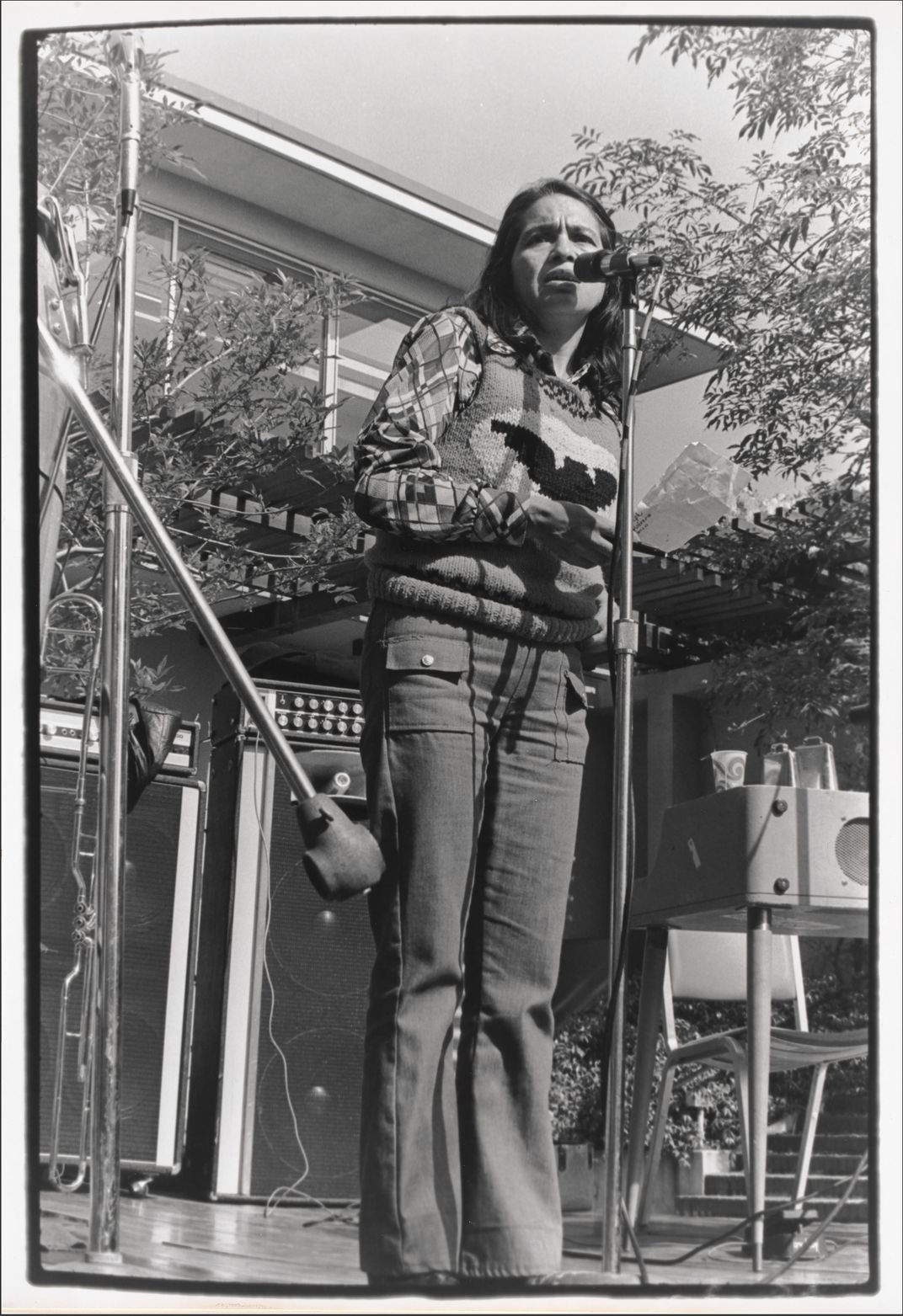 Huerta, born in New Mexico and raised in California's Central Valley, says it was her mother's kindness and entrepreneurial spirit that inspired her to take on political work while also raising her 11 children. Her father, a coal miner, had become a union leader and then a New Mexico state legislator. After receiving a provisional teaching credential at the University of Pacific's Delta College, she witnessed firsthand the hunger and poverty her Mexican, Filipino, African American, Japanese and Chinese students endured. She soon joined a community action group seeking to improve quality of life for Mexican Americans and began her ascent as a powerful advocate, lobbyist and persuasive orator, refusing to take no for an answer.
Many of the farmworkers she worked for refused to see a woman as their primary organizer, clinging instead to the patriarchal idea that Chávez was their real leader. But her tireless approach brought about the passage of key California legislation, including the 1963 extension of the Aid to Families for Dependent Children policy to California farmworkers and the Agricultural Labor Relations Act of 1975, guaranteeing farmworkers in the state the right to collective bargaining.
"The poorest of the poor of the farmworkers—the most denigrated and humiliated people—came together and were able to have enough power to overcome the president of the United States, Richard Nixon, the governor of California, Ronald Reagan, the big farm organizations … and win." Huerta said in a 2017 documentary. Even now, at age 92, she remains a vigorous critic of racial and economic injustices.
It was Huerta's assertiveness that brought about the UFW's powerful rallying call. As she told NPR in 2017:
"They had passed a law in Arizona that if you said, 'boycott,' you could go to prison for six months. And if you said 'strike,' you could go to prison. So we were trying to organize against that law. And I was speaking to a group of professionals in Arizona, to see if they could support us. And they said, 'Oh, here in Arizona you can't do any of that. In Arizona no se puede—no, you can't.' And I said, 'No, in Arizona sí se puede!' And when I went back to our meeting that we had every night there … I gave that report to everybody, and when I said, "Sí se puede," everybody started shouting, "Sí se puede! Sí se puede!"
Soon the phrase became the farmworkers' slogan, one that would resonate years later. In 2008, the English translation "Yes we can" propelled a young Illinois legislator into office as the nation's first Black president.
Four years later, President Barack Obama awarded Huerta the Presidential Medal of Freedom, the highest civilian honor in the land. At the ceremony, he good-naturedly begged her forgiveness for having borrowed the phrase as his campaign slogan.
Optimism is key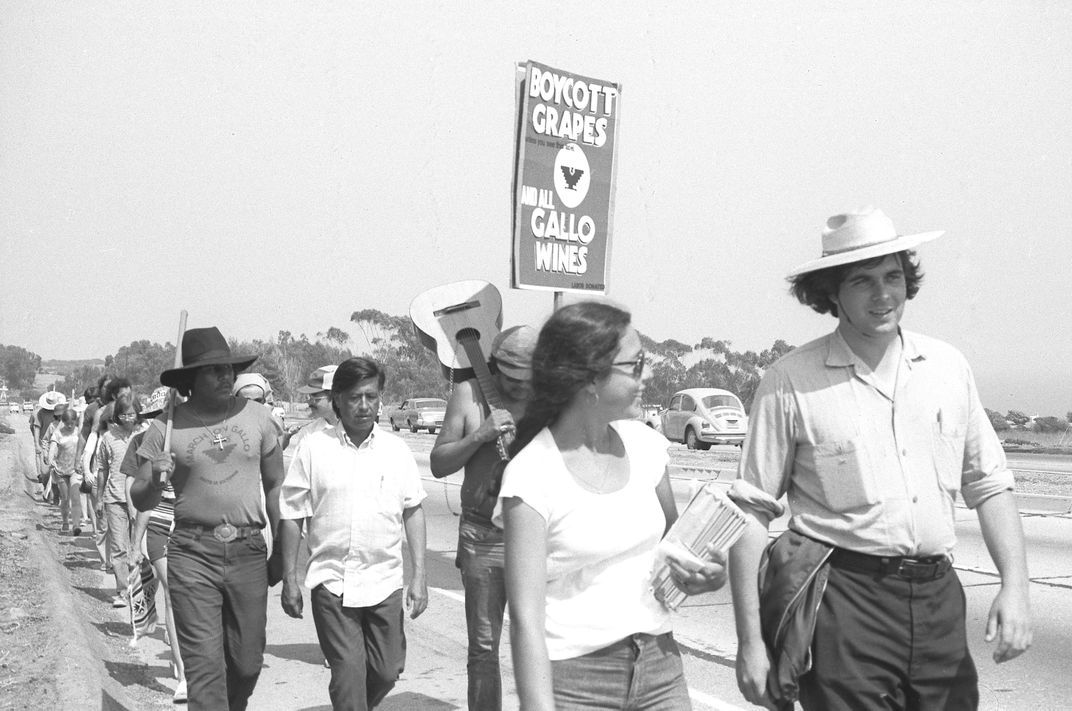 In organizing the exhibition, Woodaman says the "SÍ SE PUEDE" poster first attracted his attention for its legible storytelling. "The action is lettuce picking, the people involved are Mexican American farmworkers and the idea of change for a new tomorrow resonates," he explains.
"Within the Mexican community today, there's still very strong resonance of this history that gives pride to people and a sense of identity," says Chacón. "When I talk to my students, a lot of them still have a sense of this history within their own families."
The exhibition, "¡Presente! A Latino History of the United States," curated by the National Museum of the American Latino, is on view in the Molina Family Latino Gallery at the National Museum of American History.