Why This Body-Surfing, Sound-Blasting, Cake-Throwing DJ Belongs in a Museum
Just as his new release tops the charts, Electronic Dance Music DJ Steve Aoki says he is "blown away" to have his turntable technology in the collections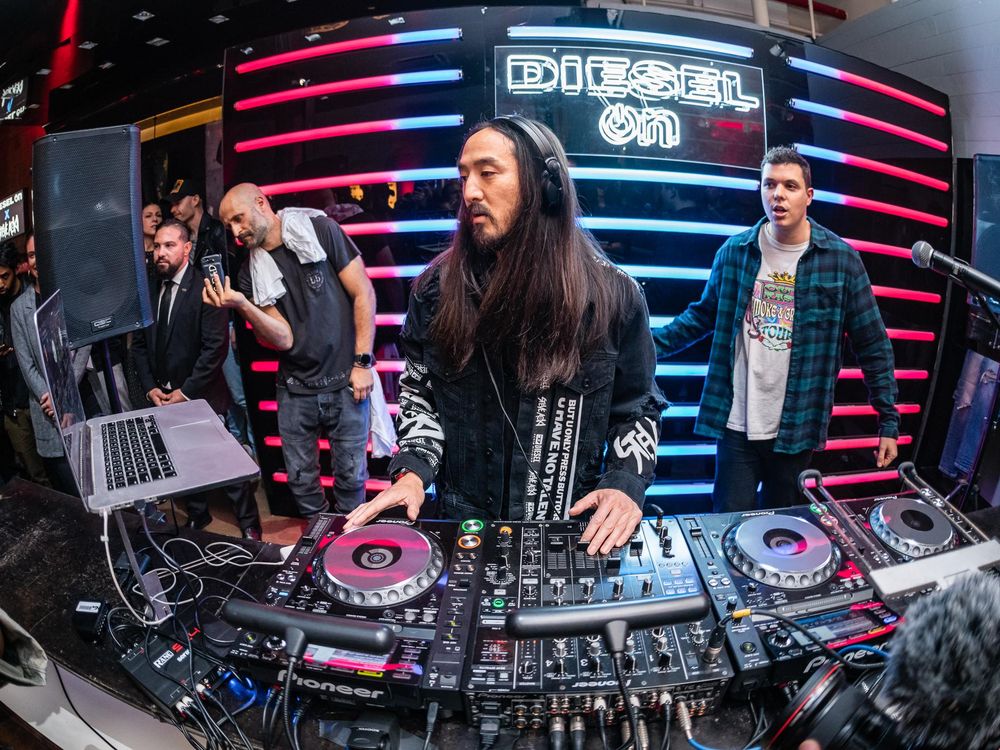 Electronic dance music star Steve Aoki says he'll never forget the first time he came to the Smithsonian Institution, "running around like a little child. Like, looking up at everything." But the thing he most remembers about that fourth-grade class trip to Washington, D.C.? "My eardrum exploded," he says, "and I was in so much pain."
Ironic, then, that Aoki's return to the Smithsonian comes after his own explosion as a top EDM producer, DJ and concert artist, drawing millions of fans with his innovative style and turntable performances. Or as he puts it, "blasting my sound into my ears and into the ears of many people all around the world since that moment."
Now, some of the equipment he's worked on to build that career, on which he's performed before packed audiences all over the world, has been donated and recently went on display at the Smithsonian's National Museum of American History in its newly renovated "Ray Dolby Gateway to American Culture." It makes Aoki, at 40, not only one of the youngest people to be celebrated at the museum, but the first representative of EDM there.
"It's incredible," he says with typical enthusiasm, over the phone from New York. "I'm very, very excited about it." Aoki is known for bringing a new level of showmanship to a field where predecessors may have merely stood and turned dials.

Aoki, by contrast, takes huge leaps behind his deck, travels through the throngs via body surfing or by rubber raft, and famously tosses a full sheet cake into the faces of willing fans, who appear to crave the confectionary crowning ("Cake Me," some signs in the audience say).
But it is the work he does on some of the very equipment he donated to the Smithsonian that made him a recording star. That includes a pair of Pioneer multiplayer model CDJ-2000s and a RANE SL3 interface that connects to his laptop, along with a Pioneer DJM-800 mixer, personalized with paint and the logo of the label he founded in 1996, Dim Mak.
That Aoki's equipment, manufactured from 2009 to 2014, is digital, sets it apart from the previous analog turntable technology and DJ examples in the museum—the dual turntable system Bob Casey devised in 1958, and Grandmaster Flash's turntable from 1979 that helped kickstart hip-hop.
Aoki's contribution "supports the museum's commitment to chronicling the continuous unfolding of America's vibrant musical traditions," says John W. Troutman, the museum's curator of American music, as "it illuminates the recent state of DJ technology—a technology experienced by millions of Americans in venues ranging from Aoki's massive arena dates, to local clubs found throughout the country."
Troutman says the museum reached out to Aoki after recognizing his place in EDM culture.
"Aoki has led a fascinating career," he says. "He started out in the business from the ground up, with a punk rock, DIY perspective, and worked relentlessly until he became one of the busiest and most in-demand artists in the world. Beyond his technical skills and musical creativity, he is also known as a magnificent and quite physical entertainer who is always looking for new ways to bring his audience members together, in order to form an unforgettable, communal experience for them all."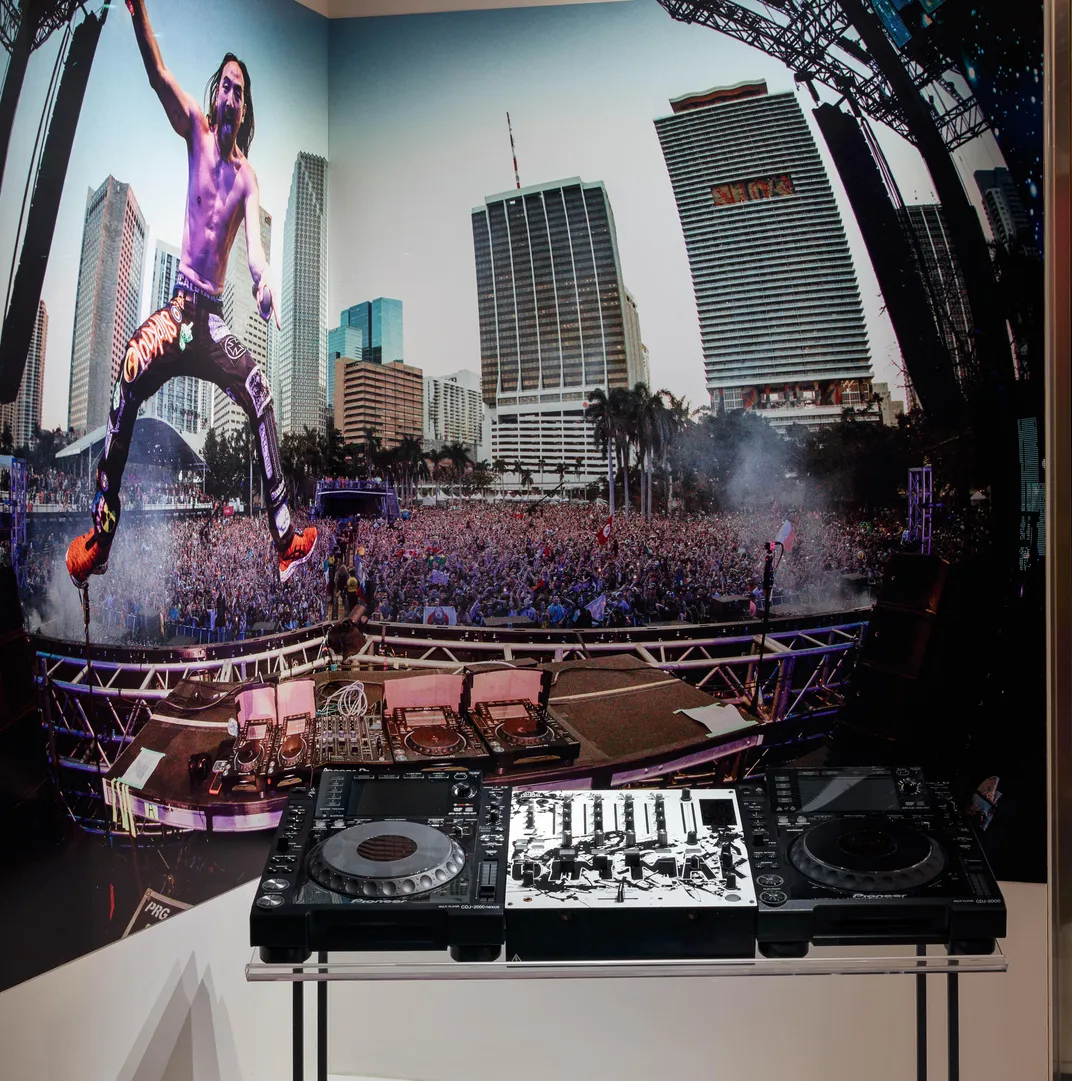 When Aoki heard he was being asked for something to put in the Smithsonian, "I think I just fell over," he says. "I was like, blown away." But the Aoki equipment fits not only into the museum's growing collection of DJ culture, but of American music in general, Troutman said.
"The collection features objects that range from Rolmonica player harmonicas, to 18th century American cellos, to John Coltrane's saxophone and Herbie Hancock's early synth gear," he says. And like the museum's collection of guitars, drums and saxophones, the instruments are in many ways no different than what's available commercially, Troutman said. "The difference, of course, lies in how it is used."
With the setup, Aoki became one of the world's foremost DJs, who has topped the annual lists of highest grossing EDM concert performers and worked with a wide variety of artists on remixes of their work and on his own albums that have charted on Billboard and earned Grammy nominations.
His latest album, Neon Future III, was just released November 9, and collects a number of singles that have already stormed the U.S. dance Top 10 — "Just Hold On" with Louis Tomlinson, "All Night" with Lauren Jauregui and the most recent, "Waste It On Me" with the South Korean boy band BTS.
"Neon Future III is a mega-collaborative project," Aoki says. "I like collaborating with musicians and artists in different genres but also I like to collaborate with people that inspire me— mainly scientists and people that represent what I'm excited about."
That meant that among the collaborators on the first Neon Future album in 2014, the person that may have stood out among recording artists from will.i.am to Fall Out Boy, was Ray Kurzweil, "an iconic figure in science," Aoki says. Kurzweil, an American author, computer scientist, inventor and futurist, has been involved in developing text-to-speech and speech recognition technology.
On Neon Future II in 2015, it was J.J. Abrams who joined him. "It was crazy to have been able to work with him," Aoki says. "He was actually in the middle of directing Star Wars when he was able to do a song with me."
And on the new Neon Future III, he taps Bill Nye, "The Science Guy," famous from his long-running TV science shows and the current CEO of the nonprofit Planetary Society. "It was great to be able to work with him," Aoki says. Musical collaborators on the new album were just as varied. In addition to BTS, it ranged from country group Lady Antebellum to reggaeton's Daddy Yankee. "And then you have artists from all across the board, like Era Istrefi all the way from Kosovo, to TWIIG from Croatia, to Blink 182 back in L.A.," Aoki says.
The key to making it all work is innovation. "You're not just challenging your peers and challenging the culture, but you're challenging yourself," he says of his work. "And whenever you work with artists from different walks from life, whenever you bring this incredible diversity into your studio, or you enter their studio, you're really challenging yourself and you're broadening your vision. And also, you're just learning more and more to be a more agile producer and that's the great thing about music."
"You don't necessarily think about the idea of innovation so much in the creative process," he says. "You're already doing it." He also could have been born into it; his father, Rocky Aoki, was behind the wildly successful Benihana chain of Japanese cuisine restaurants.
And while the younger Aoki may be iconic in the EDM world, where his hair and beard create his familiar logo, Aoki says "I love all kinds of music and I really just want to continue to stretch my hands wide open, hold hands with other artists, and build these bridges, and just to be able to create new lanes of music."
That means bringing the music to new venues around the world as well.
Once a Guinness Book of World Records holder for touring more than 300 shows a year, Aoki is still on the road. "Yeah, I'm clocking over 250 shows a year," he says. "My life, my love, is playing shows."
That means cracking markets where big EDM concerts haven't been staged before.
"I mean the scene is so robust in Asia, and it's incredible to see a country like China that hasn't really embraced electronic music, it's one of their favorite genres of music now," Aoki says. "So I've been going there quite a lot. But I remember going there 10 years ago.
"And I'm still hoping to play cities and counties I've never been to before. I think there's more ways to bring people together in a lot of these places," he says. "The Middle East is definitely a big unchecked area on the map. And Africa at large—I really want to get into the continent and play out there. I've played South Africa and Morocco, but haven't ventured around into Africa. But there are still a lot of places I would love to go."
And though he played the big Clubhouse Festival in nearby Laurel Park Racetrack in Maryland as recently as October 20, Aoki says he hopes to get back to the D.C. area to peek in to see the museum display.
"I really want to go to the Smithsonian, because I really want to see it in person," he says.
Aoki's equipment will be the cornerstone of an expanding area of collecting there, Troutman says. "DJ culture is one of the most vital and expansive of our contemporary music and dance traditions, so the museum will continue to find compelling ways to represent this phenomenon in our collections."
Steve Aoki's DJ equipment is on display as part of the "Ray Dolby Gateway to Culture" at the Smithsonian's National Museum of American History in Washington, D.C.
A Note to our Readers
Smithsonian magazine participates in affiliate link advertising programs. If you purchase an item through these links, we receive a commission.