Why Albert Einstein, the Genius Behind the Theory of Relativity, Loved His Pipe
Einstein reportedly believed that pipe smoking contributed to a calm and objective judgment, but his doctor said give it up
It's not exactly the thing that made Albert Einstein famous. But the modest smoking device just may have helped create his world-changing theories and formulas.
Since it first arrived at the Smithsonian more than 30 years ago, Einstein's pipe isn't just a notable personal item from one of history's great thinkers, it is also the most popular single item in the museum's entire modern physics collection, officials there say.
It beats the Nier mass spectrograph, the first atom–beam block and even the Bose-Einstein Condensation Apparatus.
"It's in a class by itself," says Roger Sherman, the Smithsonian's associate curator for the modern physics collection, of the modest wooden pipe from before 1948.
The pipe itself is not currently on display among the science holdings of the Smithsonian's National Museum of American History in Washington. Instead, as proof of its popularity, it's at the National Museum of American Jewish History, a Smithsonian affiliate in Philadelphia, for several years.
"We get requests from other museums to borrow it," Sherman says. Requests from other museums is the main way to measure popularity of an artifact, he says, and "It's been on loan many, many times."
It may be only 6 ¼ inches long with a bowl standing less than 1 ½ inches high, but the pipe takes on added importance since it is one of the few personal objects remaining from the Nobel Prize winning creator of the theory of relativity.
"People associate him with the life of the mind and writing theoretical papers," Sherman says. "So anything that is a material presence related to him has a particular appeal that perhaps doesn't apply to other people."
The fact that there aren't many surviving artifacts of Einstein's—or pipes, though he was pictured as having a variety of them—"is an aspect of how Einstein lived," Sherman says. "He did not value material possessions."
"For example, the house he lived in [in Princeton, New Jersey], is not a museum; it's just a private house. And there aren't museum sites with collections of things that belonged to him anywhere. His most valuable legacy is his papers."
And most of them are preserved today in Jerusalem, Sherman says.
The pipe, however, may have been a crucial tool in the formulation of his theories.
"I believe that pipe smoking contributes to a somewhat calm and objective judgment in all human affairs," Einstein was once quoted as saying in 1950.
It didn't take an Einstein to know that smoking wasn't good for his health, though. "He enjoyed smoking," Sherman says. "But at one point his doctor told him to give it up, so he did. But he didn't give up on the pipes themselves and he would fairly often stick an empty one in his mouth and just chew on it.
"And in fact we have evidence of that," he says, "because the pipe that we have is partly chewed through. He definitely used it in one way or another."
The pipe came from the collection of Gina Plunguian, a sculptor from Newark, Delaware.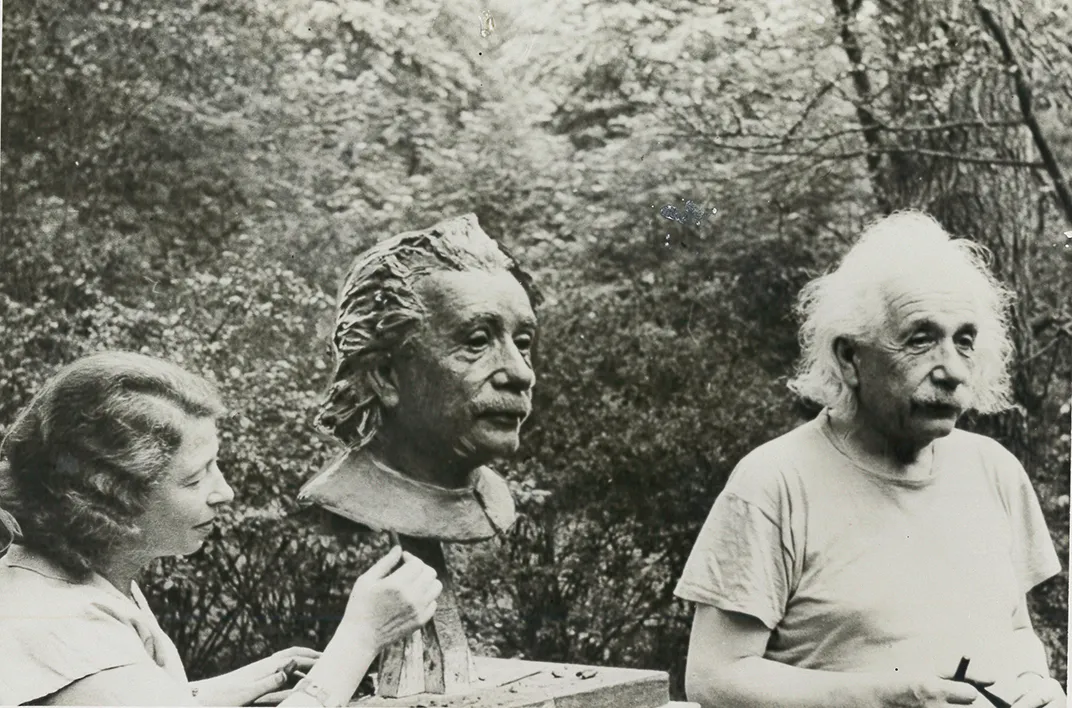 "She had been a friend of Einstein's and also worked for him and helped him with his paper work in his office," Sherman says. "She was a sculptor, so she made a bust of Einstein. At one point he gave her one of the pipes that he had."
The Smithsonian acquired the artifact in 1979, from her widower. The Smithsonian Archives of American Art also has a photograph from 1947 of Plunguian working on her bust of Einstein as the artists holds what may well be the pipe in question.
Part of the popularity of the pipe is due to the fact that it humanizes him, Sherman says. Smart as he was, it was hard for him to give up on smoking.
Einstein died in Princeton on April 18, 1955, at age 76 after a ruptured abdominal aortic aneurysm.