Contrary to popular belief, Sylvia Plath approached life with a sense of wonder. She found joy in everyday moments, noting in her journal "the illicit sensuous delight I get from picking my nose," and had a unique sense of humor, famously biting future husband Ted Hughes on the cheek (even drawing blood) the night they met. She was also an educated, cosmopolitan woman who reveled in both creative pursuits and domesticity.
More often than not, accounts of Plath's life begin with her death. Details of the poet's 1963 suicide—she crammed towels under the kitchen door to protect her sleeping children, then placed her head in a gas oven—are documented with morbid fascination, and periods of happiness are conspicuously absent.
"One Life: Sylvia Plath," now on view at the National Portrait Gallery, is a visual biography of a figure typically depicted as one-dimensionally tragic. The exhibition, which features more than 40 items linked to Plath, explores the numerous roles she occupied, from writer to artist, mother and wife. Her interest in identity is considered through the lens of multiplicity, and and a visitor's final impression will likely be that of an individual unseen in contemporary myth.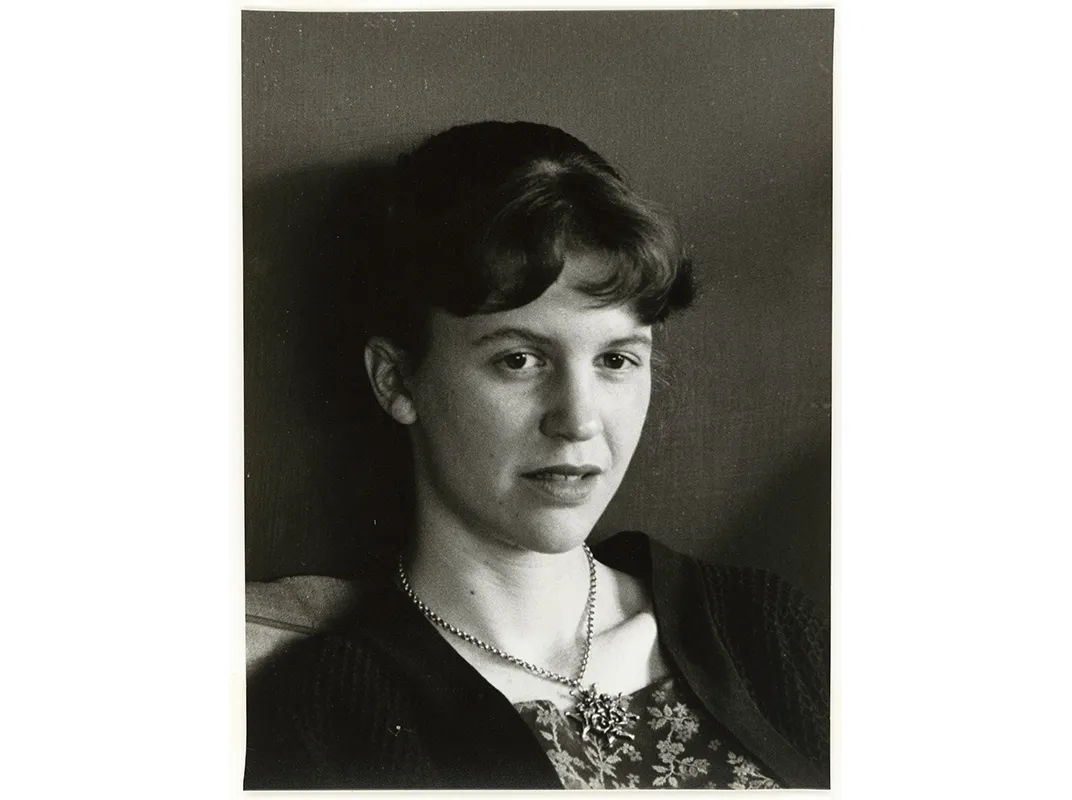 Plath was born in Boston in 1932. Eight years later, her father Otto died. This loss is memorialized in later works, including the poem "Daddy," which ends with a line layered in guilt: "Daddy, daddy, you bastard, I'm through."
At Smith College in Massachusetts, Plath achieved moderate literary success with several published works and a summer stint at Mademoiselle—her subsequent breakdown is chronicled in The Bell Jar, a semi-autobiographical novel about a young woman battling depression.
Post-graduation, Plath studied at Cambridge on a Fulbright scholarship. There, she met poet Ted Hughes, and the two wed in June 1956. Karen Kukil, associate curator of special collections at Smith College and guest co-curator of the Portrait Gallery's exhibition, says, "It was actually a relief to Plath when she met someone like Ted Hughes, who was not only creative but really respected her poetry and was also incredibly sensual."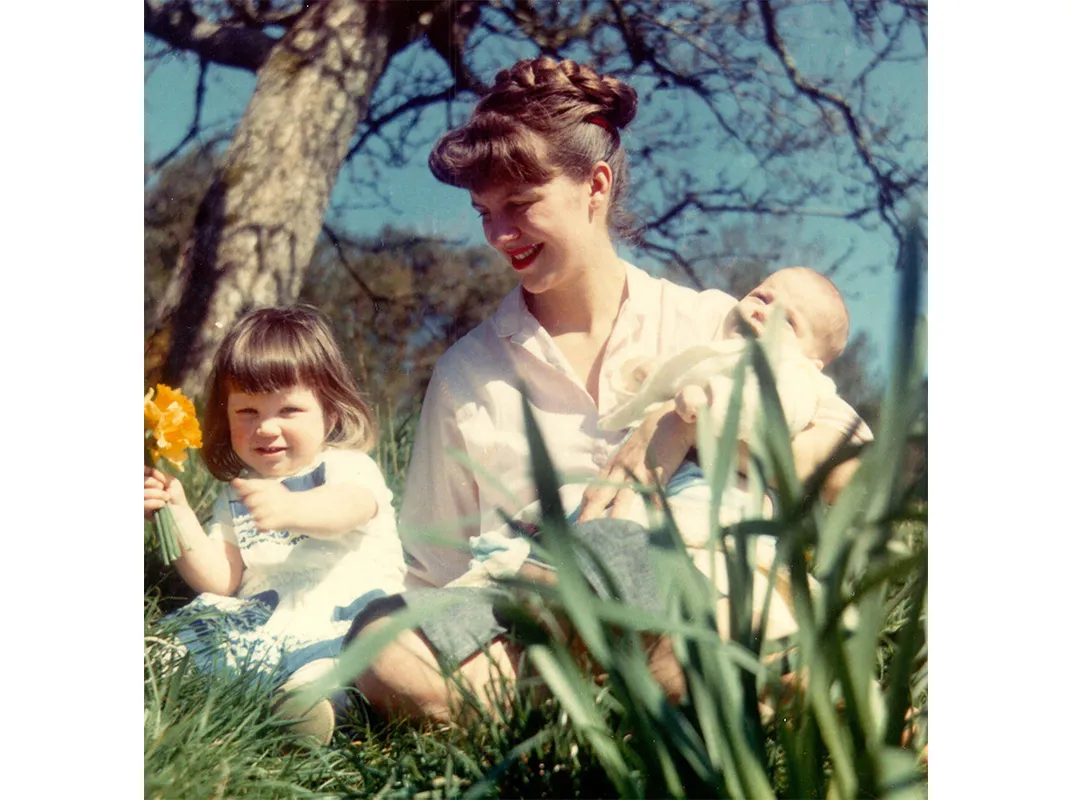 The couple had two children—Frieda and Nicholas—and worked to support their family through creative pursuits. Plath published The Colossus and Other Poems in 1960 and began writing The Bell Jar soon after. In 1962, she separated from Hughes after discovering his affair with Assia Wevill. Further disheartened by tepid reviews of her novel, she committed suicide less than a year later.
Today, Plath has achieved cult worship status among generations of scholars and readers alike. She was awarded a posthumous Pulitzer Prize in 1982 and is remembered for both her candid writing and haunting death. Despite, or perhaps because of, this popularity, she is mired in misconception.
Dorothy Moss, curator of painting and sculpture at the Portrait Gallery and lead curator of "One Life," hopes the show gives visitors a sense of Plath as a real person. "I wanted to present a balanced view of her whole life that represented all aspects of her personality, from her light side to her dark side and everything in between," she says.
The exhibition brings together objects from Indiana University's Lilly Library, the Plath archives at Smith College and private collections. Artifacts represent key periods in the author's life: a shorn lock of 12-year-old Plath's hair exemplifies the intense love of her mother Aurelia; a Triple-Face Portrait painted by the teenage Plath foreshadows her college thesis, an exploration of duality in Fyodor Dostoevsky's work; and a 1960 anti-military collage highlights her lesser-known political activism.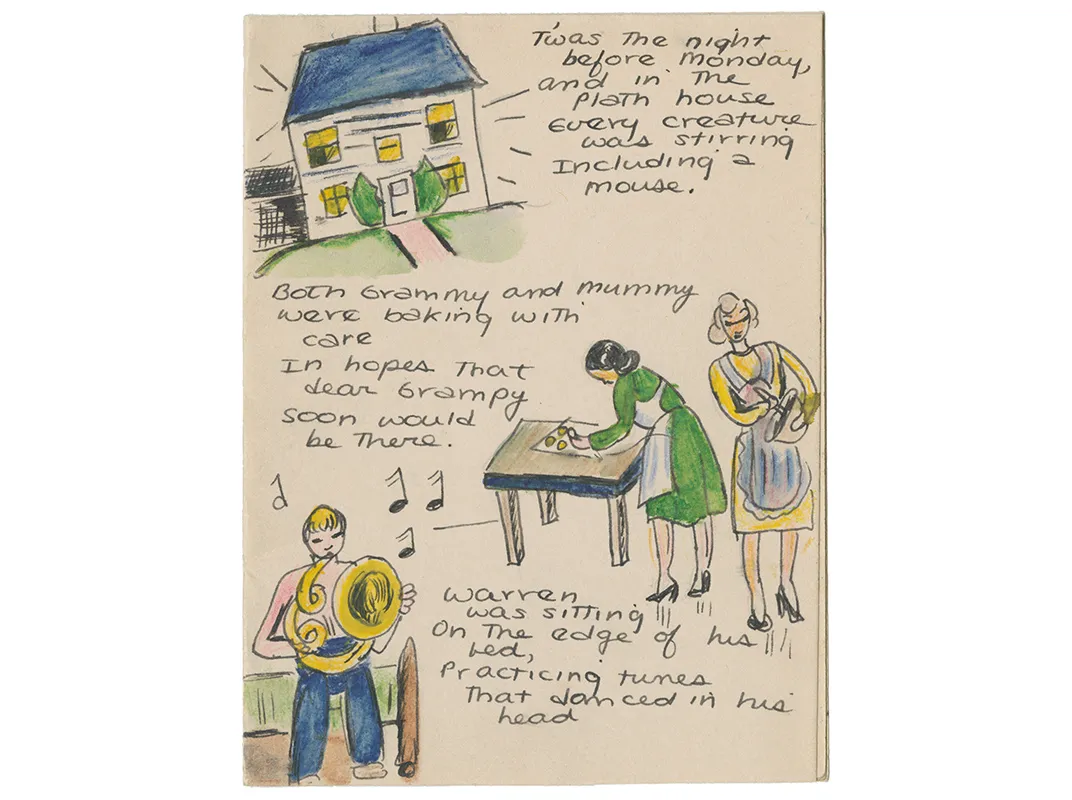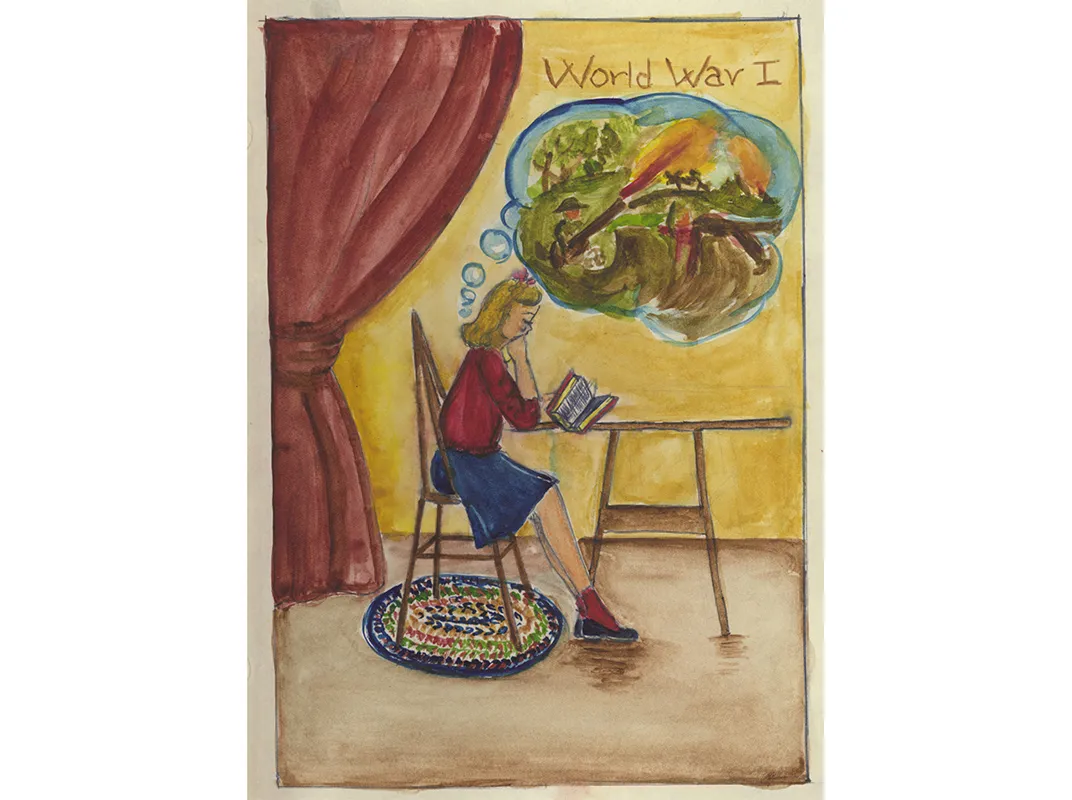 One of Moss' favorite items is a childhood poem called "'Twas the Night Before Monday." The work, a play on "'Twas the Night Before Christmas," captures everyday life in the Plath household: "Both Grammy and Mummy were baking with care," and "Warren was sitting on the edge of his bed, practicing tunes that danced in his head." Sketches accompany the poem, offering viewers a glimpse of impractically high-heeled women toiling in the kitchen and a boy eclipsed by his brass instrument.
Moss says, "It's just a wonderful snapshot of her childhood world. I think it speaks to the way she approached life with a sense of wonder and enthusiasm. While we know that she was quite intense and able to express her deepest, darkest emotions beautifully in writing, she also could express and visualize joy."
Another example of Plath's unexplored depths is her interest in self-fashioning. Moss explains, "She was very savvy about controlling her image and in performing her identity visually. . . . You see it also playing out in images of her."
A set of 1954 photographs features a scholarly, dark-haired individual and another of a platinum blonde Plath. In a letter to her mother, Plath wrote: "My brown-haired personality is most studious, charming, and earnest. . . . I feel that this year, with my applying for scholarships, I would much rather look demure and discreet." Comparatively, the blonde Plath lounging on the beach in a white bikini drips with Marilyn Monroe-inspired sensuality.
"She was almost like a chameleon," Moss adds, "and she could craft an image for various purposes."
The show hints at the existence of multiple Plaths: An intellectual persona is matched by a vivacious one, while a domesticated version mirrors the creativity of a writer-artist. Multiple visions of Plath emerge, but none seems complete.
In her senior thesis on Dostoevsky, a writer known for his explorations of the troubled human psyche, a young Plath explains: "The appearance of the Double is an aspect of man's eternal desire to solve the enigma of his own identity. By seeking to read the riddle of his soul in its myriad manifestations, man is brought face to face with his own mysterious mirror image, an image which he confronts with mingled curiosity and fear."
Plath's constant role shifting reflects the need for self-definition seen in Dostoevsky's fiction. She tries on and discards personas that do not feel right, continuously attempting to balance them against self-imposed and societal pressures.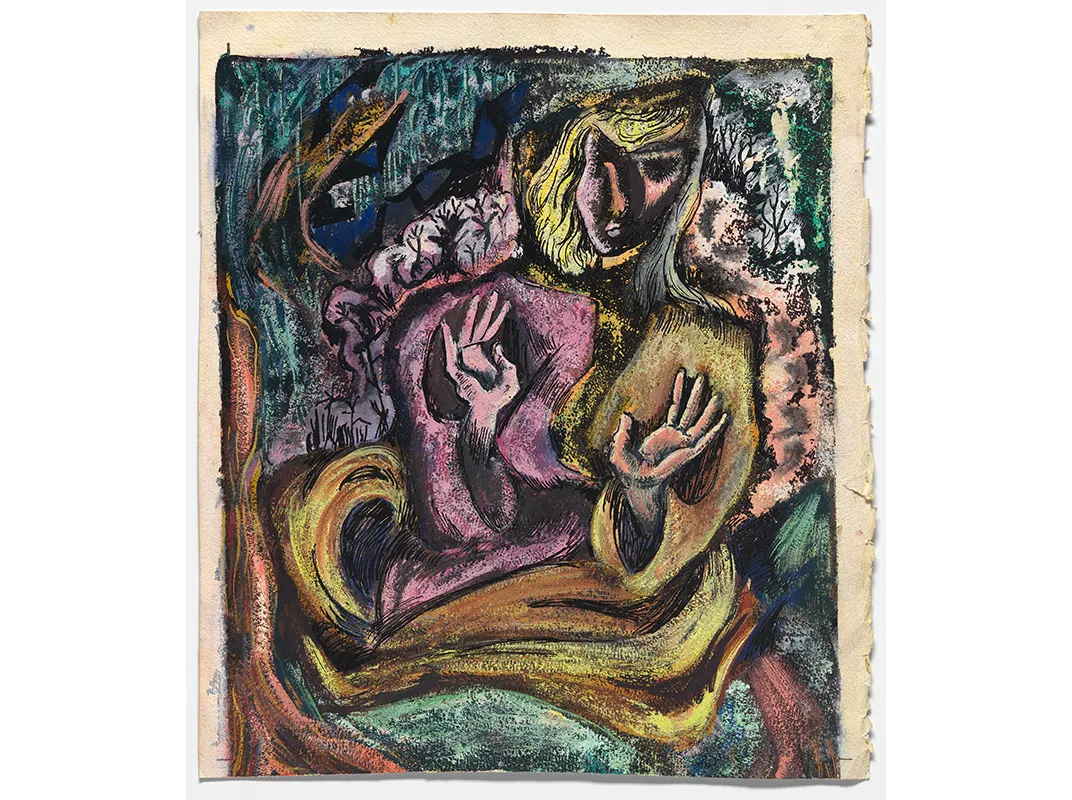 Within one realm of personality, further subsets are also present. Creativity, for example, can be analyzed through the materiality of Plath's surviving documents. "There's this certain energy in the manuscripts, a lot of information on both sides of each piece of paper," Kukil says.
Plath wrote The Bell Jar on memorandum paper stolen from her alma mater, and after the draft was accepted, flipped the paper over and began composing her Ariel poems. In the back of a Gertrude Stein book, she drew Parisians strolling by cafes and sketched her own hand holding a Scheaffar fountain pen—coincidentally, the same pen she used for writing.
The duality represented by these artistic interests is mirrored in Plath's eventual embrace of both the professional and personal worlds. As an individual who valued creativity and intelligence, aesthetic beauty and artistry, cooking and caretaking, and other seemingly contradictory subjects, she developed personas that matched multiple roles rather than restricting herself to just one.
"After she went to Cambridge and studied there and had a more international education, . . . I think it made her realize she could be everything that she was," Kukil says. "It gave her license to be everything."
The exhibition paints a portrait of Plath that is simultaneously multi-faceted and fragmentary. It defies attempts to define her in terms of tragedy, instead exploring overlooked aspects such as her whimsical, sensual and intellectual sides. But as visitors meet a series of carefully cultivated personas, works such as Triple-Face Portrait hint that underneath one version of Plath, another waits to be unmasked. Ultimately, Plath proves she is equally adept at shaping her image in death and life.
"One Life: Sylvia Plath" is on view at the National Portrait Gallery through May 20, 2018.