When Marian Anderson Sang at the Lincoln Memorial, Her Voice Stunned the Crowd, and Her Gold-Trimmed Jacket Dazzled
With no color photos of her famous performance in existence, the brilliance of Marian Anderson's bright orange outfit has been lost, until now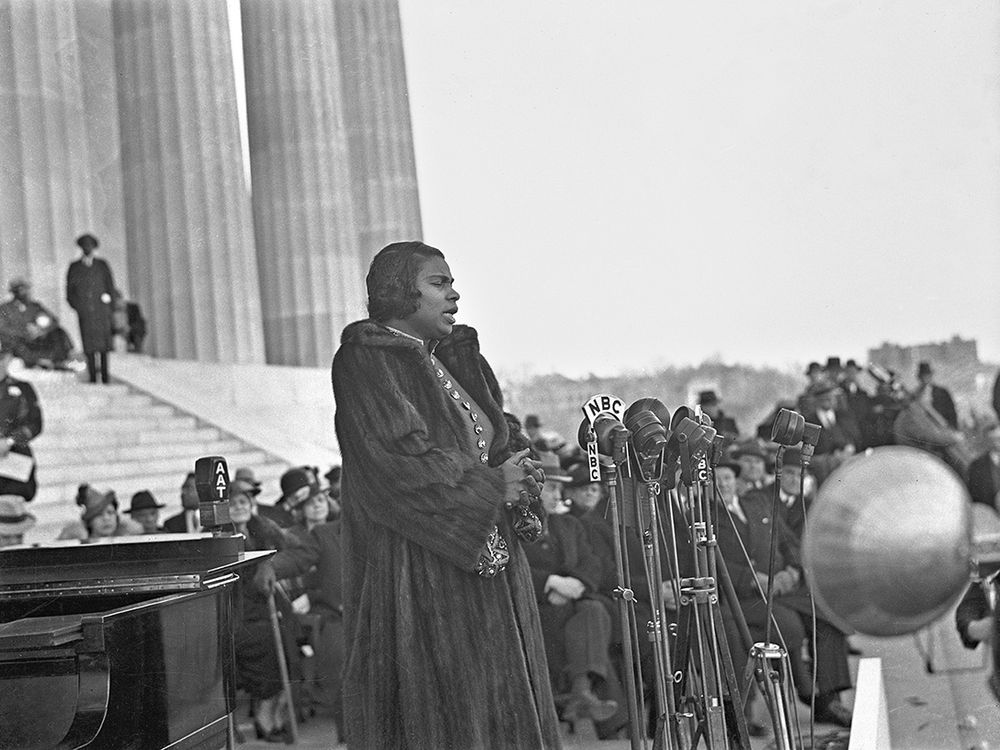 In the final months of her life, famed classical singer Marian Anderson moved from her ranch in Danbury, Connecticut, to live with her only nephew, conductor James DePreist, and his wife Ginette DePreist in Oregon. In an effort to minimize the jarring effects of the cross-country move for the singer who was now in her mid-nineties, Mrs. DePreist attempted to replicate the singer's former bedroom in their residence. "Among the things she really liked to see were her dresses," says DePreist.
Anderson was, by all accounts, a meticulous dresser, with an elegant array of gowns and suits to rival that of any performer of the time. "She carried herself in the way she wanted to be seen," said Dwandalyn R. Reece, curator of music and performing arts at the National Museum of African American History and Culture.
A seamstress herself, Anderson carted around a miniature sewing machine and passed her free time on tour ducking into fabric shops and collecting fine textiles. Toward the beginning of her career, she would sew her own stage attire while traveling on ships to and from Europe, but as her reputation grew, fans and admirers made many of her garments for her.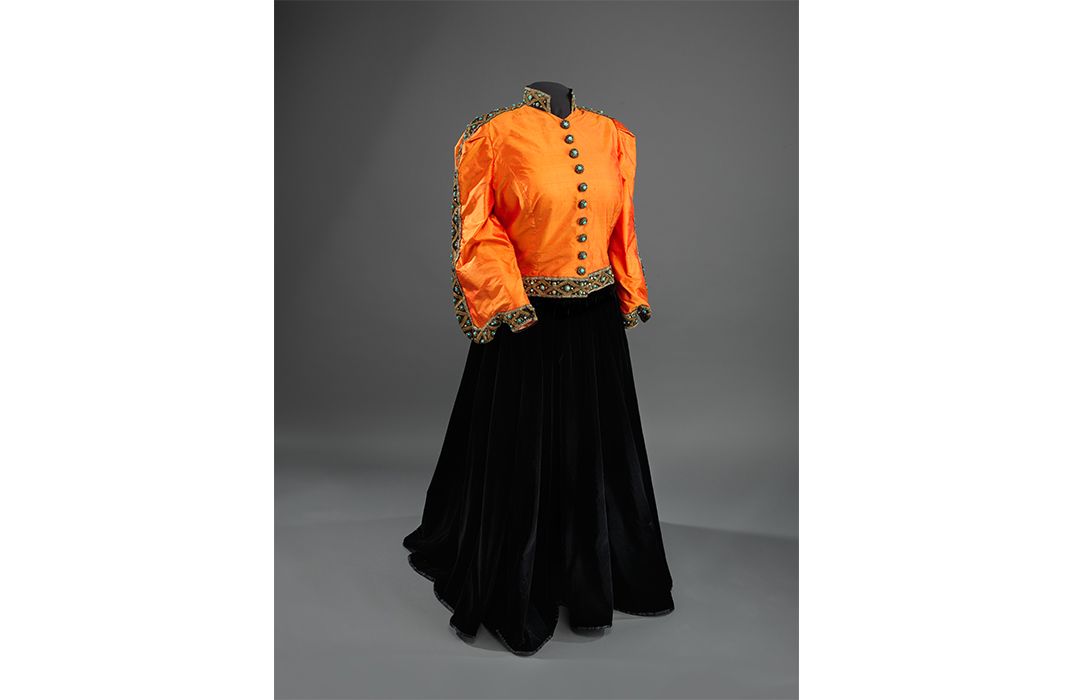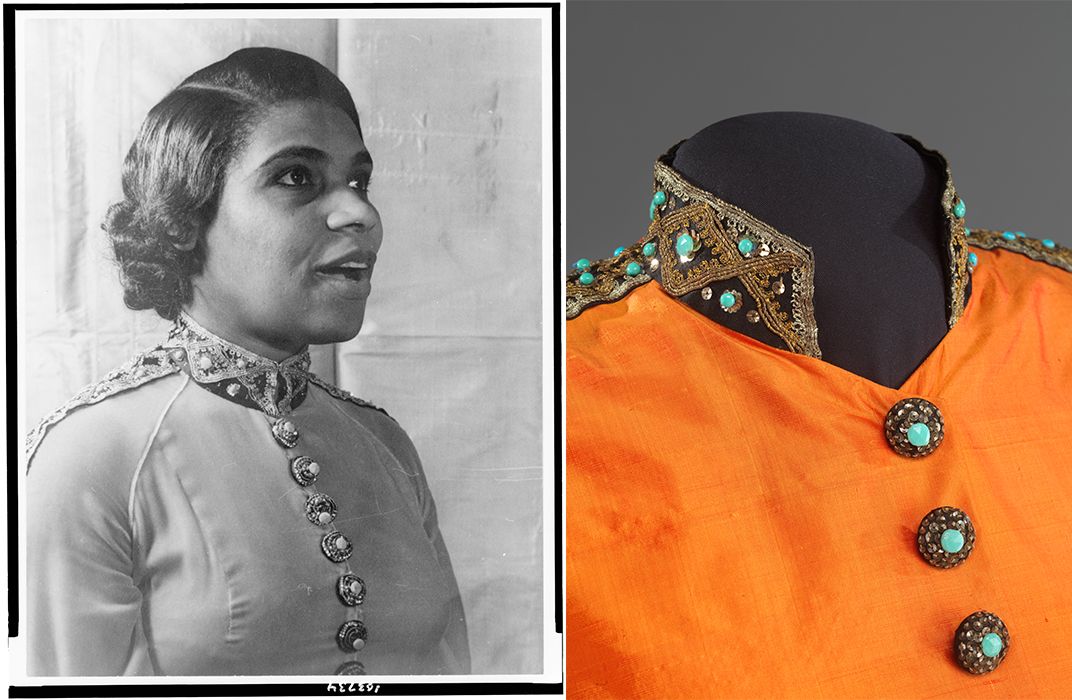 Shortly before Anderson's death in 1993, DePreist asked to borrow something from the singer's closet to wear at a gala honoring her late husband. She settled on a long, black skirt and a distinguished bright orange velour jacket, a form-fitting number trimmed in gold with turquoise buttons. The orange fabric had all but disintegrated, and so DePreist had it reconstructed by a French tailor, using a shantung silk of exactly the same orange hue (the tailor confirmed that the jacket was likely custom made for Anderson from a velour of French origins).
It was only later, while looking over photos from Anderson's career, that DePreist realized the outfit she had picked out was what the singer wore the day she became an iconic figure in the fight for civil rights.
Now, DePreist has donated the outfit from that day to the African American History Museum, which is scheduled to open on the National Mall in 2015, just steps from where the singer made history.
It was on Easter Sunday April 9, 1939, before a crowd of 75,000 people that Anderson sang from the steps of the Lincoln Memorial, after being denied access by the Daughters of the American Revolution, the DAR, to Constitution Hall.
No known color photographs were taken when the virtuosic contralto performed that chilly day. The historic black-and-white images depict the stony backdrop of the Lincoln Memorial, the dark curves of the grand piano, the daunting sea of onlookers. The shots capture a moment in the history of a country rife with injustice and on the brink of yet another world war. But something in the picture gets muted. Beneath Anderson's heavy fur coat is the bright orange velour jacket, a form-fitting number trimmed in gold with turquoise buttons. The garment, which appears nondescript in black-and-white, would have radiated like a starburst from the center of it all.
Most anyone familiar with Anderson's life and career will tell you that she had little appetite for activism. She was an artist above all else, and that is how she wished to be seen. "Aunt Marian was a very humble, very sweet lady," said DePreist. "She always said, 'All I want to be remembered for is the voice the Lord gave me, [which] hopefully made people happy.'"
But, being an African American artist at a time when Jim Crow laws were still very much alive in the United States meant having to confront certain obstacles. From the time she first discovered her voice as a young girl, she had no option but to teach herself, or pay for private lessons, in order to hone her craft. When her family couldn't afford to pay for high school, Anderson's church pitched in and raised enough money for her education and a private voice teacher. After graduating high school, she was then refused admission to the all-white Philadelphia Music Academy (now University of the Arts) on the basis of her race.
By the early 1930s, Anderson had already sung with the New York Philharmonic and at Carnegie Hall. But she would often be denied hotel rooms, service in restaurants, and musical opportunities due to the rampant discrimination stacked against her. Her career was not picking up at quite the pace she had hoped. So, Anderson decamped for Europe, where she studied under a new teacher and embarked on her first European tour, to wild success.
"I'm not going to go as far as saying that there was no racial prejudice in Europe," said Reece. "But if you look at different styles of music, you look at jazz artists and writers and whatnot, it was more hospitable."
By 1939, Anderson had returned from Europe a world-renowned classical singer, and her management began to explore venue options for a concert in D.C. In the past, Howard University had more or less sponsored her by securing smaller auditoriums around town for her performances. Now, these venues seemed unfit for an artist of Anderson's stature. Her management requested a concert date at Constitution Hall, the historic venue presided over by the DAR. Their request was turned down.
It wasn't the first time this had occurred. In fact, the DAR had refused Anderson at least a few times before. The DAR had a strict "whites only" policy, and there would be no exception for Anderson, no matter how accomplished an artist she became.
The refusal gained a national platform when First Lady Eleanor Roosevelt resigned from the DAR in protest, famously writing to the group, "You had an opportunity to lead in an enlightened way, and it seems to me that your organization has failed." It was around that time that Secretary of the Interior Harold Ickes and Walter White, Executive Secretary of the NAACP, conceived of the idea to have Anderson sing a concert on the National Mall. They received permission from President Roosevelt, and set a date.
"I think this time the feeling was we weren't going to take no as an answer," said Reece. "This was part of a larger strategy. . . the NAACP was also actively involved in this, and there were people behind the scenes seeing an opportunity to break down some of these barriers. . . Like maybe they felt that the timing was right to raise the profile of this kind of activity."
Such was the climate leading up to the day of the concert, with Anderson a reluctant participant the whole way. And when she finally stepped before the microphone in her orange jacket and long black skirt and readied herself to sing "My Country 'Tis of Thee" to a crowd that had come from all over to take part in that moment, it was plainly visible that, like it or not, she had come to represent something larger than herself.
Anderson went on to pave the way for generations of African American opera singers and musicians to come. She was the first African American to be invited to sing at the White House, and the first to perform at the Metropolitan Opera. She took the stage again at the historic March On Washington for Jobs and Freedom in 1963 and she received the Presidential Medal of Honor that same year. But it was that first concert on the National Mall, in open defiance of those who would have deprived the world of her talents, that laid the groundwork, not only for future generations of African American artists, but for the Civil Rights Movement going forward.
"I think it's also important to remember that the fight for civil rights is not defined by just a 50-year-old history. It pre-dates that in many ways. And there are small moments and big moments that really help lead to change. This is a big moment," said Reece.
Visitors can see the jacket and skirt on display at the entrance to the African American History and Culture Gallery, located at the National Museum of American History.
Said Mrs. DePreist, "I think that it goes without saying that [the museum] is the perfect guardian for what African American history is all about in this country... It's like going home again."