Why the Artist Ragnar Kjartansson Asked his Mother to Spit On Him
The Icelandic performance piece Me and My Mother is latest Hirshhorn acquisition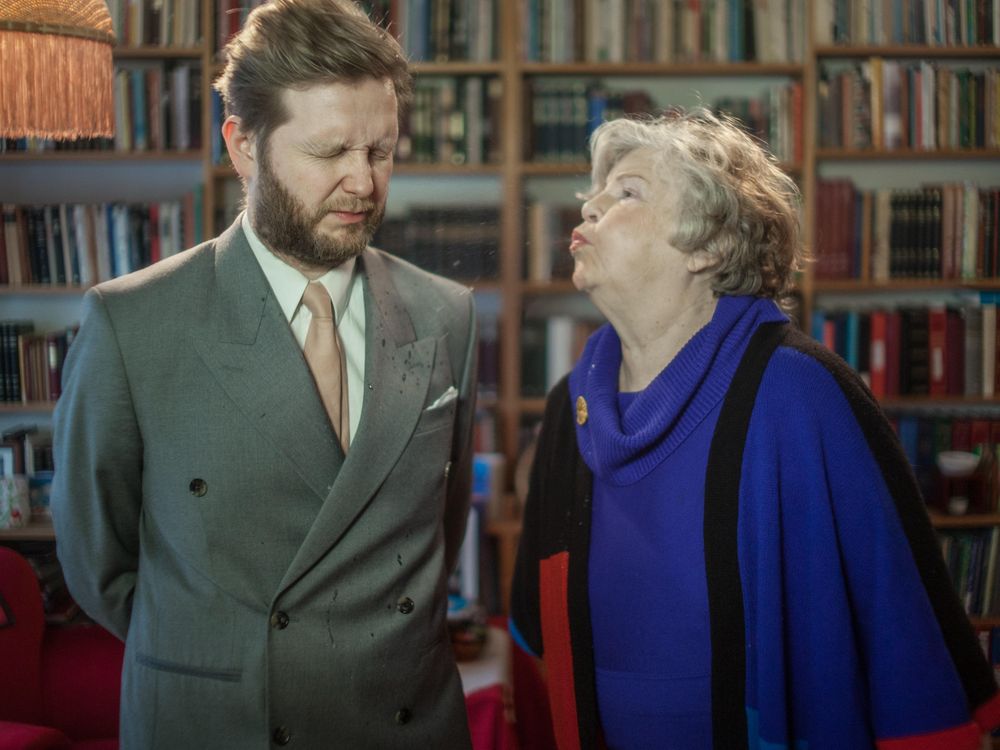 Mother-son relationships can be complicated. But the one depicted in Ragnar Kjartansson's Me and My Mother is also a little shocking.
In the filmed performance piece, the latest acquisition announced Monday by the Hirshhorn Museum and Sculpture Garden, a 24-year-old Kjartansson, still in art school, stands in a blue dress shirt as his mother, recognized in their native Iceland as the accomplished actress Guðrún Ásmundsdóttir, hauls off and spits on him.
There is silence, and a dramatic pause in which they exchange gazes, and she does so again and again.
Every five years since the first video in 2000, Kjartansson has repeated the action in the same location—before a bookshelf—and added on to the film. When the fifth iteration is shot in 2020, it will come to the Hirshhorn as well, as will all future versions.
When it was first shown at the Hirshhorn last year as part of the artist's first major mid-career survey, organized with the Barbican in London, it stopped traffic.
"Some people were amused, some people were shocked," said Stéphane Aquin, the museum's chief curator. "Seeing someone being spit on and not reacting is not something we're used to. It's violent. Seeing a mother spit on her son is incredibly violent. It's an act of rejection and dismissal and disapproval that is extreme. . . And then, how can you still not laugh? Because he's not moving in any kind of way."
The 20-minute video, shot in 2000, 2005, 2010 and 2015, provided the popular overview's conclusion.
"We thought we had to end with a bit of punk rock," Kjartansson said of the piece when the show opened.
"Everything is so serious you have to be lighthearted about it," he told Smithsonian.com, as his mother spat away on the screen behind him. "Art is so serious, it's too serious to be serious about."
The Hirshhorn will be the only institution to own the piece in its entirety, Aquin says. 
For the 2015 update, Ásmundsdóttir, now 81, wrote about the process for the i8 Gallery in Reykjavík. At first, "The mother blushed with gratitude at having the opportunity to participate," Ásmundsdóttir said. But she became puzzled when "I was told to spit on my own beloved son over and over."
The cameras were set up, and "everything went according to plan—I spat and spat," Ásmundsdóttir said. "The mother who had drenched her son in spit found this a bit funny, but what did it matter?"
Performances were tightened five years later, she said. By then, "people had started taking their roles seriously."
And repeating and updating the action every five years, she said, the exercise "has become a family tradition."
Not that it's been easy.
"It is trying for a mother and an actress with a 50-year acting career to spit on her own son—the son who has never been anything but a true blessing and has always made her laugh," Ásmundsdóttir concluded.
But the spitting image, she said, "would never have existed had it not been for the enduring love and true respect they have for one another."
"The work is at once humorous, absurd and violent, but what is clear is that the mother and son are resolute in their intimacy and mutual trust," agreed Leila Hasham, Barbican Art Gallery curator, in the catalog accompanying the 2016 exhibit. 
Being raised in the theater ingrained in Kjartansson the notions of rehearsals, repression and presence that are seen in his other works as well, Hasham said. "The series also engages us with the artist's interest in the conflation of reality and fantasy as mother and son slip into their professional roles."
Therefore, the video piece reflects the core elements of Kjartansson's work, Aquin says.
"It's both reality and make-believe, collapsed one on top of the other," he says. "It's reality and it's make-believe. Because his mother is his mother, it's reality. But because his mother is an actress, it's a play. It's art. It's acted."
That theme carries through much of the rest of Kjartansson's work, including the epic nine-screen music performance The Visitors—the music and feeling it elicited from viewers were real, but seeing each camera snap on and off at the end of the hour showed how much of it was also artifice.
"There are so many other great works by Ragnar, but because of the foundational nature of this one and its radicality—I mean, this is about as radical as it gets—we thought it would make sense" to purchase, Aquin says. "Everyone remembers that piece. . . It's unforgettable."
There are no immediate plans to put Me and My Mother on display.