What's In Your CD Player This Holiday?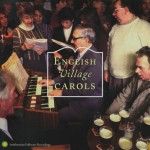 The holidays just wouldn't be the same without the requisite holiday tunes. But admittedly,  the same old songs and arrangements can get tiresome. So we searched Folkways and came up with a few atypical holiday CDs to freshen up your seasonal playlist.
Feel like tossing down a few pints of Guinness with some of your closest friends in front of a roaring fire? Throw on English Village Carols and celebrate the season while listening to live English pub recordings of secular Christmas carol singing.
Finish out your celebration of Hanukkah right with Songs of the Holidays and Other Songs Sung by Gene Bluestein and Children of the Mount Zion Hebrew Congregation. The rather long album title says it all. Banjo player Gene Bluestein sings and discusses Judaism with the kids.
Maybe you're looking for something a bit more familiar, but just . . . different?  Perhaps Traditional Christmas Carols by iconic folk singer Pete Seeger would do the trick. Stripped down instrumentations of classics such as "What Child Is This" and "The First Noel" are still captivating in any format.
If you're looking for a CD of a Russian Orthodox choir doing a capella versions of Ukranian Christmas carols, then, my friends, you've hit the jackpot. A Russian Christmas, powered by the St. John's Russian Orthodox Choir, meets all of those requirements.
For a balanced approach, singer/songwriter Ella Jenkins has got all of the winter holidays covered on her Holiday Times album. Backed by children and friends, there's sing-a-longs for Christmas, Hanukkah, Kwanza and even Chinese New Year.