What is the Smithsonian Sprint?
Seven D.C. interns tackled a challenging task: visiting 17 Smithsonian museums located in Washington, D.C. and northern Virginia in one day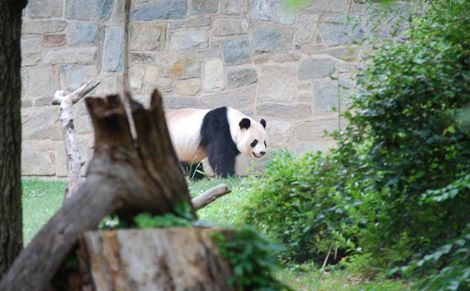 This Monday seven D.C. interns from the Scripps Howard Foundation Wire tackled a challenging task: visiting 17 Smithsonian museums located in Washington, D.C. and northern Virginia in one day. With their Twitter and foursquare accounts at the ready, they set out to document the experience online and find a must-see item at each museum to guide future tourists in their well-traveled footsteps. They saw it all: the space suits at Air and Space, the pandas at the National Zoo, the elephant at the Natural History Museum – they even rode the carousel outside the Smithsonian Castle. Along the way there were triumphs ("The Peacock room at the @Freersackler is amazing! 11 museums left! #sisprint") and tragedies ("Oh no!!! Foursquare is down! How can we prove we went to each museum?! #SIsprint") but in the end, the interns met their goal ("We did it! Sitting inside the @AmericanArt / @Npg, we've now visited all 17 dc @Smithsonian museums in one day. #sisprint"). Check out their tweets, pictures, a map and more on their intern blog. We asked Scripps' multimedia fellow and Smithsonian sprinter Danielle Alberti a few questions about the experience.
1) Why did you guys decide to do this?
Basically we saw that a lot of people were saying that they're going to the Smithsonian and don't understand that it's just really huge. We wanted to get that idea of how big it really is, and we figured why don't we try to do it all ourselves in one day. We thought about trying to get to the New York museums, but it just seemed too hard.
2) What was your favorite museum?
My personal favorite was Natural History. I don't think you can beat walking in and seeing the elephant, it's just amazing. The group's favorite was Udvar-Hazy. When I was setting this up, their PR guy said it's the best Smithsonian that nobody ever visits, and we certainly agree.
3) What were your favorite artifacts?
Let me take a quick poll. Probably the Blackbird at Udvar-Hazy, the Peacock Room at Freer and Julia Child's kitchen at American History.
4) What was the biggest challenge?
Our biggest challenge was probably transportation. Getting to Anacostia and over to Dulles and back over to the zoo took hours. We got to Anacostia at ten and didn't get to our third stop, the zoo, until one. It took us three hours to see two museums.
5) What was the most fun part of the day?
One of the interns says that the carousel was the most fun part, and the security guard at the Portrait Gallery told us we were crazy so that was kind of satisfying.
6) Would you recommend the Smithsonian sprint to others?
Absolutely not. It's 17 museums, and we walked into each one and said, 15 minutes then we meet back here. And 15 minutes just isn't enough. Several of these museums are really huge, they have a lot to see, and what we did is not an adequate way to experience them. But I would say that if you have the time, you should definitely see as much as you can.
7) What one thing would your recommend most highly to visitors?
Udvar-Hazy. It's really overwhelming to walk in and see this massive hangar completely full of planes and the space shuttle there. Even if you're not an aviation geek, that building alone will make you breathless. If you can only do one thing, I'd say you should do that.