What Disney Theme Parks Tell Us About Ourselves
An American History Museum exhibition looks at how the resorts have changed over time to reflect a broader image of what it means to be American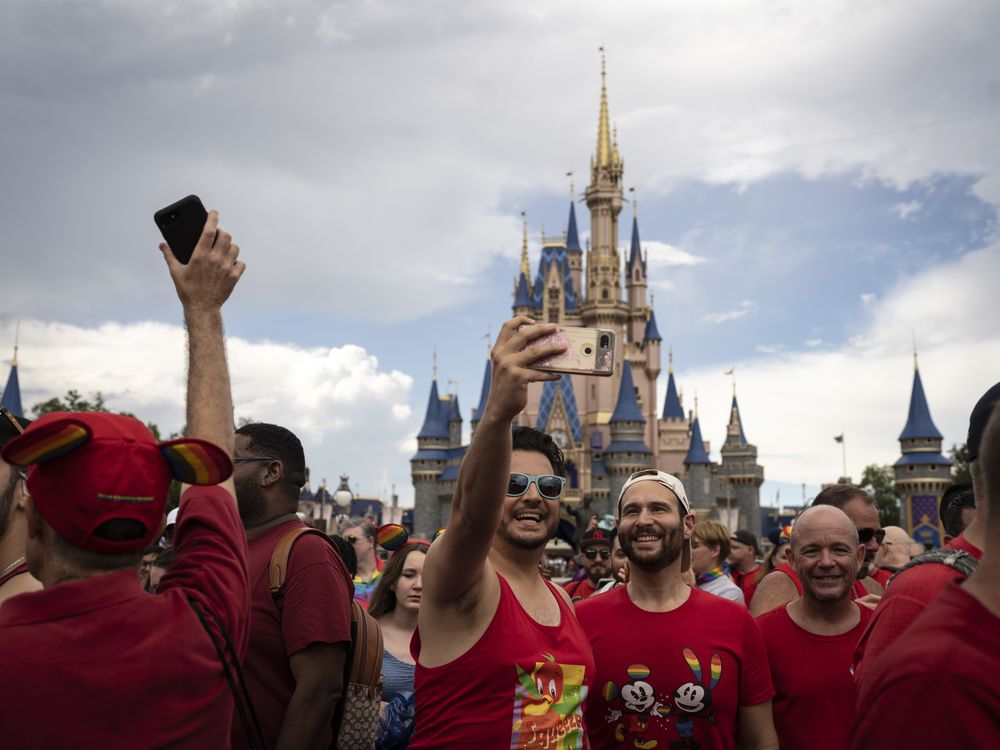 When the Smithsonian's National Museum of American History asked patrons for family photos taken at Disney theme parks last February, more than 30,000 shots came in. After a week and a half, staff had to shut submissions down because they were so inundated.
"And the stories that poured in were just as incredible," says Bethanee Bemis, curator of the exhibition "Mirror, Mirror: Reflections of America in Disney Parks," which opened this spring.
About 100 of the submitted photos made it into the exhibition; about 200 others will be featured on an accompanying website. Along with the more than 45 artifacts and graphics from the Smithsonian's own collection, they help tell the story of how Disneyland and Disney World have reflected the country and, in turn, how the American people have influenced the parks over the decades.
In the making for six years, the show in the museum's Albert H. Small Documents Gallery had its origins in a big democracy exhibition elsewhere on the museum's second floor.
"We were installing it, and there was a section on national narratives: Who gets to tell the story of America? Does everyone need to know the same story?" Bemis says. "And I kept thinking: It's Disney." Other academics and historians had come to similar conclusions, taking the creator of Mickey Mouse seriously as an arbiter of culture and history in the United States.
When Disneyland opened with great hoopla in 1955, it was dedicated to "the dreams and ideals and the hard facts that have created America," Bemis says. Walt Disney was already a successful animator and feature filmmaker, but he conjured up the theme park idea as a clean place he could take his daughters. "But he also had this patriotic streak, and he wanted to create a place where he could both have fun and learn about what it meant to be an American." For Disney, she says, that vision is "Main Street, it's free enterprise, it's the excitement of new technologies, the optimism of forward progress in Tomorrowland."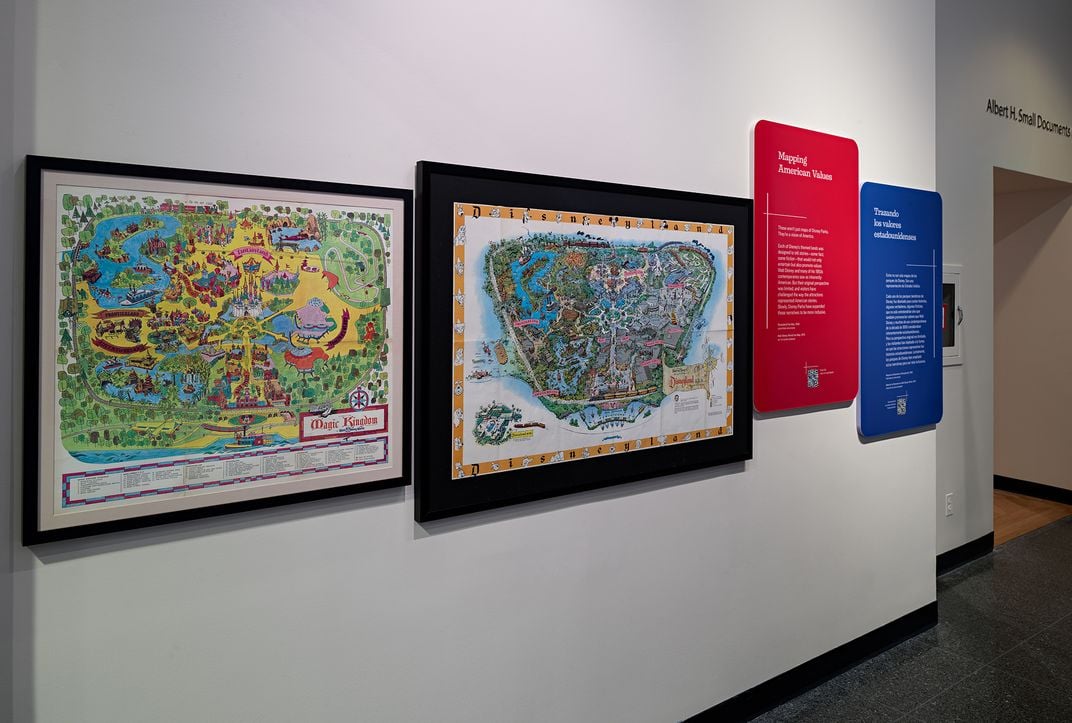 Half of the new exhibition showcases those original park values; the other half shows how Disney's approach evolved. For instance, older versions of the elaborate Disneyland map specified "Friendly Indians" and an "Unfriendly Indian Village" in Frontierland, an area that later became Bear Country and is now called Critter Country. The story of a cabin set on fire by a hostile tribe on Tom Sawyer Island has also been changed to blame a moonshiner.
The last ride Disney himself oversaw before his death in 1966, The Pirates of the Caribbean, originally had scenes of women being chased and a "wench auction." "We wants the redhead!" the pirate figures used to shout. A concept drawing of the scene, included in the exhibition, shows a redhead bound in ropes. "Today, she is a pirate herself," Bemis says. "Her name today is still Redhead, but now she gets to have some agency."
It's an example, she says, of "how they're taking things that are already there, figuring out how they can adjust it—rather than getting rid of it completely—so that it still tugs at the nostalgia of people who grew up in the '50s to the '70s, but isn't offensive to the culture of today."
The ride Splash Mountain, meanwhile, was based on Song of the South, a 1946 Disney film that was picketed by the NAACP when it was released because of its Old South depiction of the formerly enslaved Uncle Remus telling his tales of Br'er Rabbit and Br'er Fox. (The film was never issued on VHS or DVD and can be rarely found today.) In 2019, Disney announced that Splash Mountain would be adapted to tie into a more recent film. "It's changing over to be Tiana's Bayou Adventure," Bemis says, "featuring the first Black princess" in the Disney film roster, from The Princess and the Frog.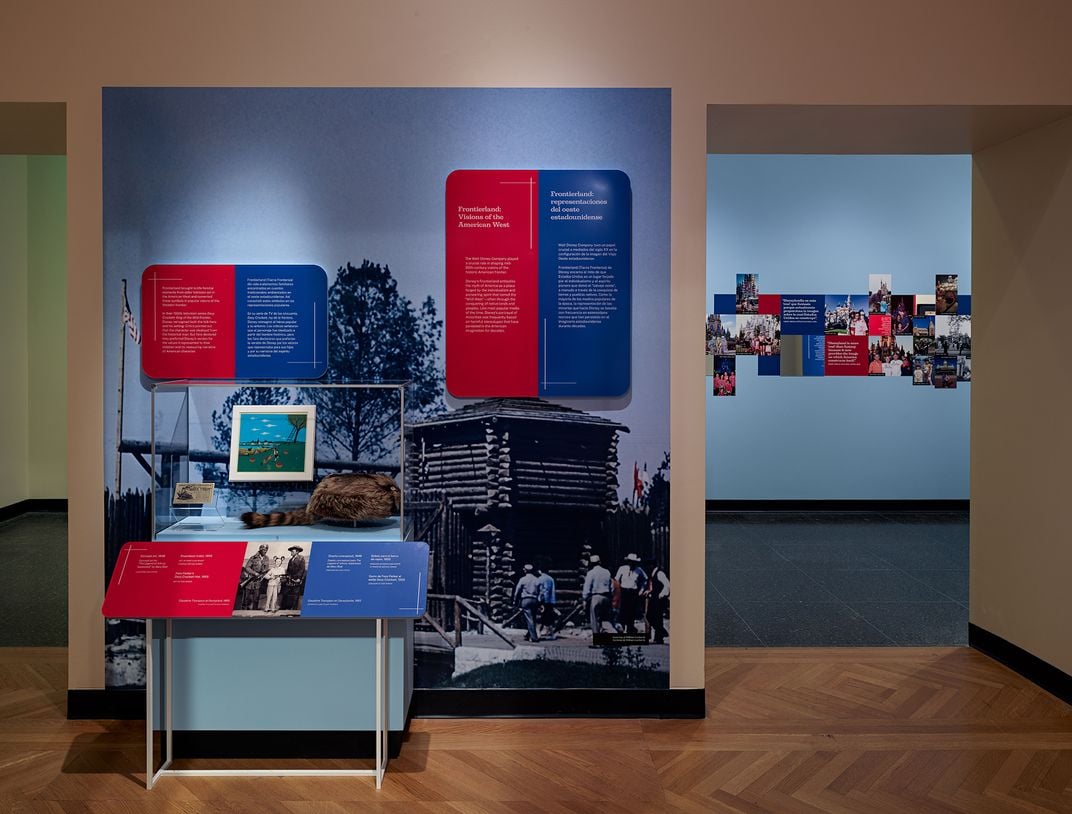 The exhibition's artifacts include 1950s relics like the coonskin Davy Crockett cap actor Fess Parker wore in a popular five-episode TV series that was later edited into a pair of theatrical movies, Davy Crockett: King of the Wild Frontier and Davy Crockett and the River Pirates, and a 1955 certificate from the Rocket to the Moon ride that belonged to then-Vice President Richard Nixon. Almost 14 years before the first actual moon landing, Nixon—a native of Orange County, California—went to the theme park and brought home a certificate stating, "Vice President Nixon has rocketed round trip to the moon from the Disneyland Spaceport."
These museum pieces sit alongside the photos and stories that flooded in from the public. Some pictures include Walt Disney himself. One Japanese American family sent in a shot of themselves with Disneyland's founder from the park's opening weekend in 1955. "It would have been a noteworthy submission already," Bemis says. "But the story that they sent was about how much this visit meant to them because 10 years before this, they had been incarcerated." For the family, going from a Japanese internment camp in Yuma County, Arizona, to a moment that felt so quintessentially American represented a real sense of belonging, Bemis says.
"That was a thread that I saw in a lot of the stories, particularly from immigrants," she says. "Coming to Disneyland, being able to take your family to Disneyland, really marked a sort of arrival as part of the American public."
One pair of twin brothers visited the park in 1965 and had their picture taken with Mickey Mouse. Later in life, the brothers had a long falling out. But when their mother was dying and wanted them to reconcile, they returned to Disneyland as adults—wearing similar clothes and striking the same pose from their visit as kids decades before, with Mickey presiding over the picture once again.
"We got a lot of photos that people would send in that said, 'My grandmother took this photo here, so I go back and I take this photo,'" Bemis says. "It was really indicative of the legacy that Disney has now in American families. It's become part of our familial identities, as well as a place that we go to just to have fun."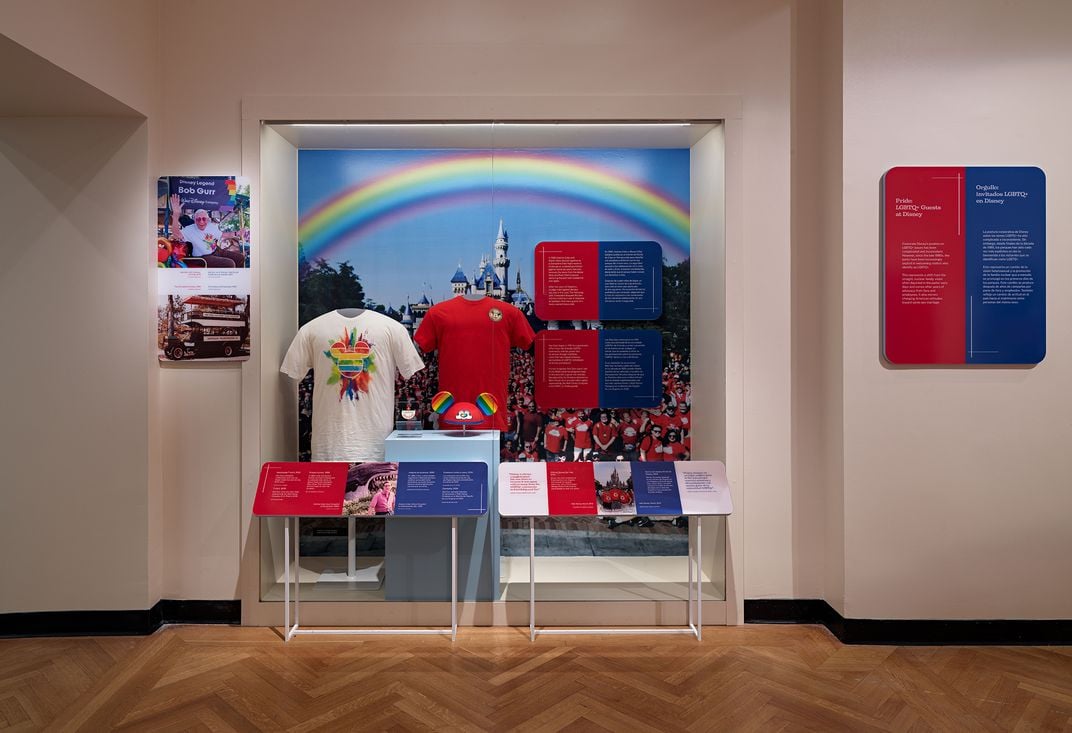 The Smithsonian collection also includes a button that says "I Danced at Disneyland," a donation from Andrew Exler. In September 1980, when he was 19, Exler was kicked out of Disneyland Date Night for dancing with another man. He filed a lawsuit that eventually led Disney to drop its ban against same-sex dance couples in 1985. He had the button made when he returned to the park in 1989.
Since 1991, says Bemis, unofficial Gay Days have been held at the Disney parks, inviting once unwelcome members of the LGBTQ+ community to show up with friends, family and allies "just to say: 'Hey, we're just like you; we're all having fun at Disneyland.'" This month, Disneyland marks its first official Pride Night in California, at a time when its Florida park is at odds with the state's governor over restrictive LGBTQ+ laws.
"It doesn't play a part in this exhibit," Bemis says of the headline-making Florida confrontations, but "it only goes to show, as this exhibit does, that Disney has always been and will continue to be a space where we negotiate what it means to be an American. It reinforces the importance of that space in our culture and our identity."
As Bemis writes in the book accompanying the exhibition, Disney Theme Parks and America's National Narratives: Mirror, Mirror for Us All, "A major factor in the Disney theme parks' ability to remain relevant for over 60 years as places of collective memory of the national narrative is that they adjust the narrative they present to reflect changes in prevailing cultural attitudes." And specific changes in the parks often come at the behest of the public, she says.
"I'm hoping that people will see that they're participating in creating and understanding American identity and history every day," Bemis says. "I think that we all understand that when we come to a place like the Smithsonian, that it's set up to do that. But we're doing it when we're going to Disney, too."
Like museums, the Disney Parks have become a kind of repository of cultural history for millions of visitors to absorb. "There's been a lot of debate about edutainment—how much should we entertain people, and how much should we straightforwardly be letting them learn?" Bemis says. "I see the Smithsonian and Disney as two halves of that, where Smithsonian has to entertain a little bit in order to do a lot of educating, and Disney entertains a lot to do a little bit of educating. So maybe together we tell one big story."
"Mirror, Mirror: Reflections of America in Disney Parks" is on display at the Smithsonian's National Museum of American History through March 2024.